GetAccept x Salesforce
Take a closer look at how we work with SuperOffice and what value we can give you. If you want to know more - don't hesitate to contact us →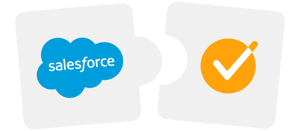 Favorite functions
Integration with CRM
Personal video and chat
Automated reminders
"We were looking for a solution to allow us to use videos to engage prospects, send trackable sales materials, forward proposals, and gather signatures on contracts all within our CRM. GetAccept was the answer."
Shared customers




Partnership
The partnership between Salesforce and GetAccept is all about offering the market the best sales tool there is. We believe in excellence and together we will give your sales organizations the best possible resources to hit your quota and thanks to data driven insights, you will always be one step ahead in the dialogue with your customers.
Integration
• Generate and send sales proposals from any Salesforce object and get insights if it has been opened, reviewed, or signed.

• Receive real-time insights and notifications in any device and be updated to take the next step to close the deal.

• Never miss a deal again with the help of intelligent sales automation (AI).

• Trigger actions and automate your workflows in Salesforce.
Value Together
Loved by sales and operations leaders, enablement pioneers, legal teams, and customer success professionals globally!
Turn prospects into customers, today
GetAccept is with you all the way! Understanding where you are in your digital transformation is the first step. Contact us and we will find a solution together.
About Salesforce
Salesforce is a customer relationship management solution that brings companies and customers together. It's one integrated CRM platform that gives all your departments, including marketing, sales, commerce, and service — a single, shared view of every customer. We bring companies and customers together on the #1 CRM.