Salesforce and GetAccept is a winning combination for sales reps and leaders. For teams already taking advantage of GetAccept's Salesforce integration, GetAccept's flow templates help businesses reach their goals with seamless process automation and customization options, all in one place.
What are Salesforce Flow Templates?
Salesforce flows automate business processes, making it easier for sales reps and sales team leaders to manage their selling operations within Salesforce.

Creating a flow from scratch, though, can be challenging work, even with Salesforce's Flow Builder tools.

Enter: flow templates! Flow templates are pre-designed flows that allow businesses to create customized processes for specific workflows.

Salesforce flows also enable Salesforce administrators to have similar developing capabilities as Salesforce developers. Admins can find a library of templates in the Salesforce App Exchange, including GetAccept's!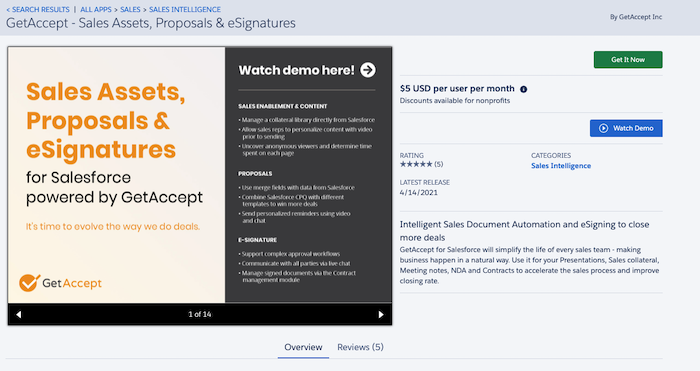 How do Flow Templates help automate the sales process?
Flow templates help map your company's sales process to an automated flow, eliminating limitations that sellers and sales reps might face.

With the right flow template, a sales rep can manage buyer relationships by timing outreach messages and sending contracts and proposals directly from the Salesforce CRM.

GetAccept's flow templates take business process automation to the next level with real-time insights on customer relationships and document workflows. GetAccept flow templates are also customizable, meaning Salesforce administrators can tweak any flow template to make it suit their business workflows.
With flow templates, these features all take place within the Salesforce app as part of GetAccept's Salesforce CRM integration. Sales reps don't have to worry about logging into separate platforms or missing notifications about critical documents.
GetAccept's Flow Templates
With GetAccept's Salesforce integration, sales reps can easily manage and send proposals, contracts, and presentations directly from Salesforce. Reps can also track when documents are viewed and signed, and automate actions based on recipient behavior.

Once the GetAccept integration is enabled Salesforce users can automate processes related to GetAccept documents using highly customizable flow templates.

The latest flow templates from GetAccept are:
On Doc Signed: Automates opportunity stage, setting it to "closed (won)" after a GetAccept document is signed.
On Doc Rejected: Creates a follow-up task automatically if a document is rejected by the customer.
On document action send notification: Sales reps can be notified in Salesforce if their document recipient approves or signs a document.
On fail to deliver send notification: If GetAccept cannot send the document to a specific recipient, this flow creates a notification that alerts the sender.
Send notification if recipient comments: Sales reps can use this to receive a notification in Salesforce if a document recipient writes a comment within GetAccept.
On Doc remaining in reviewed status:

If a document status remains "reviewed," this flow creates an automatic follow-up task for the sales rep to bring the deal back to life.
These are a few out-of-the-box flows sales reps can use for sales process automation in Salesforce. Sales reps can even customize each of these flows to suit their process's specific needs.
4 ways to customize Salesforce Flow Templates with GetAccept
Don't limit yourself to out-of-the-box templates (although we think they're pretty great!). Sales reps can customize these flow templates to prioritize interactions and engagements that are most important to them and their potential customers. Just select the select and duplicate the flow template that is closest to your requirements, and start customizing it to your needs.
1. Create automated follow-up activities
With our out-of-the-box Salesforce flow templates, you can decide how and when to follow up with customers who receive and view documents.
Automated follow-ups are easy to customize using Salesforce Flow Builder. This eliminates the need for calendar reminders or manually checking how long it's been since the recipient viewed the document.
Imagine the time you would save when all of your contract follow-ups send automatically based on certain conditions. That's just one of the sales automation possibilities with GetAccept and Salesforce.
2. Create an order from an opportunity
The customization options don't end when an opportunity is signed. Instead of creating an order in Salesforce manually, after a GetAccept contract or proposal is signed, create a custom flow that automates order creation so you don't have to do a thing!
This just eliminates one more step in the sales process and allows reps and managers to prioritize other aspects of the buyer experience.
3. Change opportunity stage
Keep track of all of your documents and deals in real-time. Customize your GetAccept flow template to change your deal's opportunity stage based on the customer's interactions with your GetAccept documents.
If you want to, for example, set all opportunity stages to "closed won" based on certain criteria, you can easily customize these criteria in Flow Builder.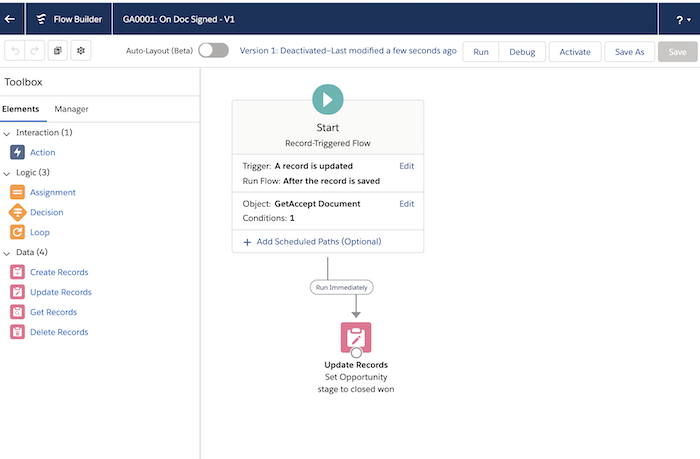 4. Create a notification
Get notified on your own terms. Use the GetAccept flow template to control when you're notified about document views, signatures, or stagnating deals.

You might not want to be notified about everything, so you can choose which notifications are most important to you.

For example, you can decide how and when you are notified if your document was sent to a bounced email but disable other notifications from Salesforce and GetAccept to avoid a crowded inbox.
Use Salesforce GetAccept Flows to automate your sales process
GetAccept's Salesforce flow templates make custom flows possible for sales managers, Salesforce admins, and sales reps. Use these templates to control your notifications, follow-ups, and opportunity stages, all in one place.

Automating your sales process doesn't have to be difficult. Flow templates give sales reps developer powers in an easy-to-use interface that will help them close more deals with just a few clicks.

Customization options also allow sales reps to fully automate follow-ups to get back valuable selling time. With notification customization options, only get notified about what you need to know and act on.

To get started with GetAccept Flow Templates, read our helpful guide here: