GetAccept has always been about making life easier for both buyers and sellers by enabling and empowering digital sales interaction.
Our product team spent countless hours these past couple of months talking to customers and pinpointing their pain points to understand how we could improve our tool. We're now super excited to share how we're putting that feedback into practice.
We're taking sales engagement to a whole new level by simultaneously releasing not one, but FOUR new capabilities within the GetAccept platform so you can become the innovative vendor you've always dreamed of becoming.
The new features will allow our users to go even beyond the 67% hit rate they currently experience on their sent documents.
But… why release new features?
Let's be honest, sending files and sales material over email has clear limitations:
You can't track engagement
You can't get it signed quickly
You can easily forget to attach the document before pressing the send button
And, was this your process before?
Word for the text → InDesign for the layout → Convert into a PDF
Working with an endless amount of different software or programs to create engaging sales content is:
Stressful
Time-consuming
Making the process prone to mistakes
To help you engage eager prospects with flexibility at your fingertips, we are releasing new capabilities to our powerful tool that makes creating engaging sales materials fast, easy, and error-free.
The new Editor and Content Library, along with the Link and Video blocks, make it super easy for all GetAccept users to create stunning documents and collaborate with their teams to satisfy buyers' needs for well-presented information. These new features also make GetAccept the perfect solution to create any type of non-signable collateral.


In the new GetAccept Editor, you build blocks of content that can be reused, re-arranged, and personalized in a jiffy. All in one place!
So, let's dive in and learn what use cases our content Editor, Library, Video, and Link blocks can assist you with. Sales engagement really starts here.
Conceptually - what is new?
Until now, content in GetAccept was created elsewhere and had to be imported into the platform with constraints on how much editing you could do.
Now, you can create any type of sales collateral like presentations, demos, case studies, or proposals. You can even mix it up with pre-existing content to present it just the way YOU want.
What type of content blocks can I create?
Snackable content pieces are our way of thinking with the new blocks (seriously, who doesn't like snacks?).
For a more engaging buying experience, you may want to share personalized bits of content that resonate with your prospects' pain points and make them easily digestible.
Enter the Editor blocks. Editor blocks are a new way to customize text and image content with easy-to-use layout controls.
Video blocks are snippets of recordings or helpful references to YouTube or Vimeo videos.
Link blocks are your new best friends for referencing whitepapers, customer reviews, or influential content you've stored online.
Editor Blocks: Work With Text, Images, and Tables
Our Editor block has a powerful suite of capabilities to help you lay out content in an attractive way.
Text: write directly or copy in from other sources. Apply formatting to fit your brand profile and organize it neatly for the best effect.
Images: Upload or add images from a URL. Easy to use, with image size formatting options at your fingertips.
Columns: Present text and images side by side in columns to guide your recipients to what matters to them.
Tables: Made easy to use with the most common options pre-defined. Move rows and use merge tags to populate data.
Merge Tags: Personalize your content with variable data from GetAccept. Data about recipient, sender, entity, or document details.
Video Blocks: Upload Videos From the Web or Your Camera
If you really want to be personal (and you should!), the video block is your friend. Record a video directly, add one from a URL, or grab one from the library.
Video makes all the difference in reaching your prospects and really shows your engagement. It's a great way to show video demos of your product, for example. And this effort will pay off: adding engaging communication channels like video increase the hit rate by 30.4%.
When you do use videos, make sure to consider all the different aspects that contribute to making a great sales video.
Link Block: Engage Recipients With Helpful Links
Serving the right information in a clear and engaging way is key to increasing engagement. With Link blocks, you can package reference material and links in an engaging way.
You have full control over text and image content that surrounds a link block so you can guide the recipient to the right place.
Here are some ideas of what you might want to link in your collateral:
Online reviews and case studies

Meeting links to your calendar

Share recorded Zoom meetings
Content Library: The Control Center for Your Content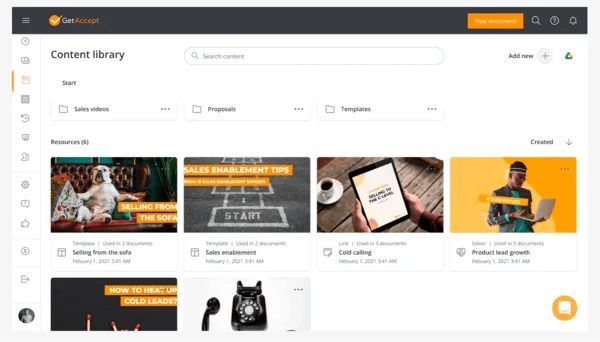 All content blocks are collected in the Content Library and are easily organized and managed. Your extended team can build up prepared blocks of content to facilitate great teamwork.
With the Content Library, you can build templates for your most common use cases and have them readily available for the team. Repetitive use of your most common type of blocks is now easier than ever.
Extra: Non-Signable Documents
These new features are a significant boost to interact with your buyers in new ways by creating stellar, revenue-generating proposals.
But that's not all!
The in-app editor allows GetAccept users to create any type of non-signable documents, from company presentations or video demos to onboarding documents or gripping case studies.
Want to give it a try? Start a free account and create your own document with our new in-app editor, today!