Attracting and retaining female sales talent is a more complex and nuanced task than ever before. Though we'd like to believe it's individual qualities that determine whether someone is a hiring fit, working women still face biases and barriers when navigating the job market. Here are 10 best practices for attracting and retaining female talent [Updated for 2021].
The benefits of hiring and retaining a diverse pool of sales talent are indisputable. The global pandemic, however, has adversely affected women's participation in the workforce just about everywhere. In many countries, women, and particularly working mothers, are often responsible for unpaid work, such as household labor and caregiving.
The pandemic only exacerbated these difficulties, as schools closed and traditional care options were unavailable due to health and safety concerns. This burden disproportionately impacted working women. According to McKinsey, almost 40% of working mothers reported consistently feeling exhausted at work in 2020.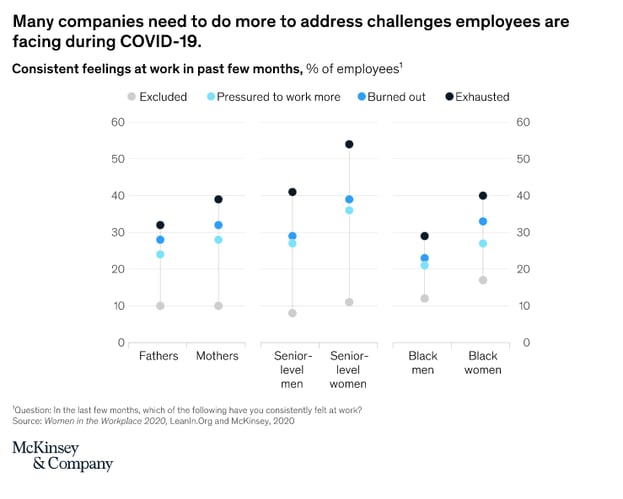 Sales managers, therefore, are particularly challenged to not only attract and hire female talent in a male-dominated industry, but also to make their working environment healthy, safe, and supportive for women in their workforce.
So, to attract, advance, and retain female sellers, what is most important to consider? Here are 10 tips for sales leaders and hiring managers to attract top female sales talent and create an environment for working women to succeed.
1. Make Pathways to Leadership Clear
Leadership is the second most important thing for women looking for a job, but research still suggests that a glass ceiling exists for women in sales leadership.
According to Gartner, women make up half of entry-level sales roles but are still underrepresented in sales leadership: just 30% of senior sales leaders are women.
Establishing a clear path for growth is critical not only at the interview stage but as female hires onboard and ramp up their responsibilities. Have a clear organizational chart that outlines a path for female candidates to rise through the ranks, and communicate the requirements for advancement clearly.
2. Offer Commensurate Compensation
All sales reps, and especially women, want to be rewarded for individual long-term performance. Sadly, though, a gender wage gap still exists and often factors into a woman's decision to accept or refuse a job offer.
According to salary and compensation company PayScale, women, on average, earn 82 cents for every dollar men earn. The gap is even worse for women of color, who were also more likely to experience unemployment as a result of the pandemic.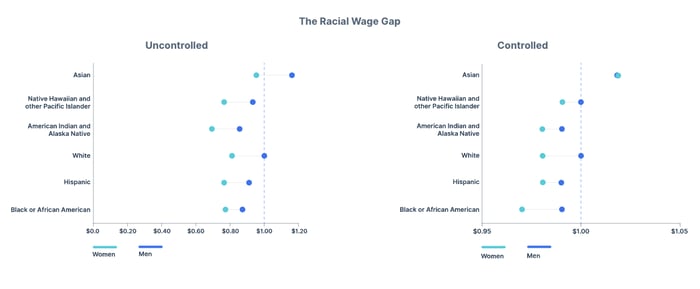 Offering a holistic and fair compensation package is one of the key ways you can attract female talent. Control for gender- and race-based wage gaps by:
Committing internally and externally to equal pay and equal work
Addressing systemic bias within your organization
Offering competitive compensation based on extensive market research
Creating commission structures that control for gender bias in sales
3. Establish a Culture of Allyship
2020 was one of the most challenging years for workers in the U.S. and around the world. Renewed calls for racial justice transformed how companies and individuals think about allyship and its important role in creating an equitable workplace.
Despite public corporate commitments to diversity, equity, and inclusion (DEI) principles, two-thirds of women of color reported being unsatisfied with company DEI efforts, according to Fairygodboss.
Allyship is the demonstration of empathy and inclusion in the workplace particularly to promote advancement and understanding of traditionally underrepresented and marginalized groups. Allyship is an important component of psychological safety in the workplace, allowing people of all backgrounds to bring their whole selves to work.
Without a clear roadmap enabling employees to be allies at work, your sales team could lose out on talent with diverse experiences and perspectives.
4. Provide Flexible Opportunities for Professional Development
Women and men both want opportunities for learning and skill development. The challenge, however, is making sure employees of all genders have the opportunity to take advantage of courses, webinars, or other skill-building opportunities.
A single mother working from home with three children during the pandemic, for example, might not be able to attend an evening training session on sales engagement, even though it might help her chances for professional advancement later.
Start by revamping your professional development or sales training program to be accessible to all employees. Make sure any mandatory training is held during working hours, and support individual employee efforts to develop skills.
5. Rethink the "Traditional" Sales Role
Many women who opt out of working in sales claim they do so due to outdated views of what it means to be a sales rep or sales leader. Most representations of the sales industry in film and television often center around these outdated tropes. And when sales leadership is still mostly male, it can be difficult for women in sales to envision themselves climbing this particular ladder.
This is where it's really important to highlight and emphasize what it takes to succeed in sales now.
In the interview process, highlight the personal qualities and experiences that are needed to succeed as a seller. Challenge the old stereotypical image of sales and reassure candidates that there are many hard and soft skills that can help them succeed in sales, regardless of their gender.
6. Provide Flexible Scheduling Options
The pandemic underscored a critical need for workplace flexibility. Remote work is increasingly becoming the norm, and with that will come different amounts of flexibility within individual workdays.
Even as early as 2018, 67% of companies were offering some form of flexible working arrangements. Fast forward three years, and what was once considered a perk has now become an expectation, particularly for working parents.
With sales going hybrid, combining in-person and virtual meetings with prospects, female sales reps can expect more flexibility with scheduling, working around in-person meetings with digital sales engagement tools.
7. Address Current Gender Imbalances
Many women also value having other female colleagues at a potential new workplace, particularly on a sales team. Companies with women leaders show female candidates that the business's leadership fosters an inclusive workplace that values growth for women.
If your company isn't there yet, that's ok! Acknowledge the gender gap as an area of growth for the company, both internally and externally, and pledge to make a change.
Many corporate pledges exist to hold companies accountable for diversity and inclusion efforts to employees and other stakeholders.
PwC's HeForShe pledge, for example, is a public commitment by the company to help women grow into leadership positions and men be better allies.

Find a pledge or program for inspiration and commit to it!
8. Establish or Expand Parental Lead Policies
Parental leave policies look different everywhere, but parental leave for both parents shows candidates that your business values its employees.
Creating a new benefits policy like a parental leave policy can be a huge undertaking, so partner with your human resources or people team to:
Understand basic laws and regulations around parental leave
Establish a parental leave policy that works for your company
Roll out the policy to current employees
Even if creating a robust parental leave policy is a work-in-progress for your team, establishing one will create a sense of safety among employees considering starting families.
9. Encourage True Work-Life Balance
With remote work blurring the boundaries between work time and home time, it's critical for employers to establish healthy work-life balance habits.
Don't just say, "yes!" when a female candidate asks if your company values work-life balance. Be prepared to demonstrate your commitment by offering a flexible work schedule and perks beyond offerings designed to keep workers at work.
Remember, sales reps who are also working parents in particular have a need for true work-life balance.
10. Promote Women from Within
Finally, elevate and promote women internally to the ranks of company leadership. This demonstrates to candidates and new employees that their work and unique perspectives are valued.
Having women in leadership positions means more diverse voices and thoughts at your next strategy meeting. A female candidate or new hire on the sales team, for example, might see a female sales leader as a potential mentor - driving job satisfaction, and retention, among women in your workforce.
This is the Year to Attract and Retain Female Sales Talent
Working women bring diverse experiences and perspectives to any organization, and yet they've been impacted the most professionally during the pandemic.
Now's your chance, as an employer, to offset some of that harm by attracting and retaining women on your sales team and in the rest of your company.
By fostering a culture of inclusion and flexibility, you will create a positive and healthy environment not just for women, but for all employees.