GetAccept + Pipedrive = 🔥
Pipedrive's intuitive CRM platform meets GetAccept's advanced sales engagement tools. No more scattered buyer communication and data or lost deals in the pipeline. A trusted single source of truth for your team. A clear win-win.
Create, share, and track your proposals and contracts – without leaving Pipedrive
Say goodbye to juggling endless client-facing emails, messages and navigating Google Drive chaos. Organize and store all your sales documents in a single place, ready to be personalized and shared with the right stakeholders. Build and manage proposals with dynamic videos, meeting summaries, sales decks, pricing tables, and so much more – all from your Pipedrive environment.
Branded contracts and proposals in no time
Deliver tailor-made proposals to your buyers in just three simple steps. Automate the infusion of your CRM data into contracts and proposals with merge tags. As the deal evolves, quickly make edits and update proposals to reflect changes in real-time, ensuring your buyers can always access the most current version using the same link.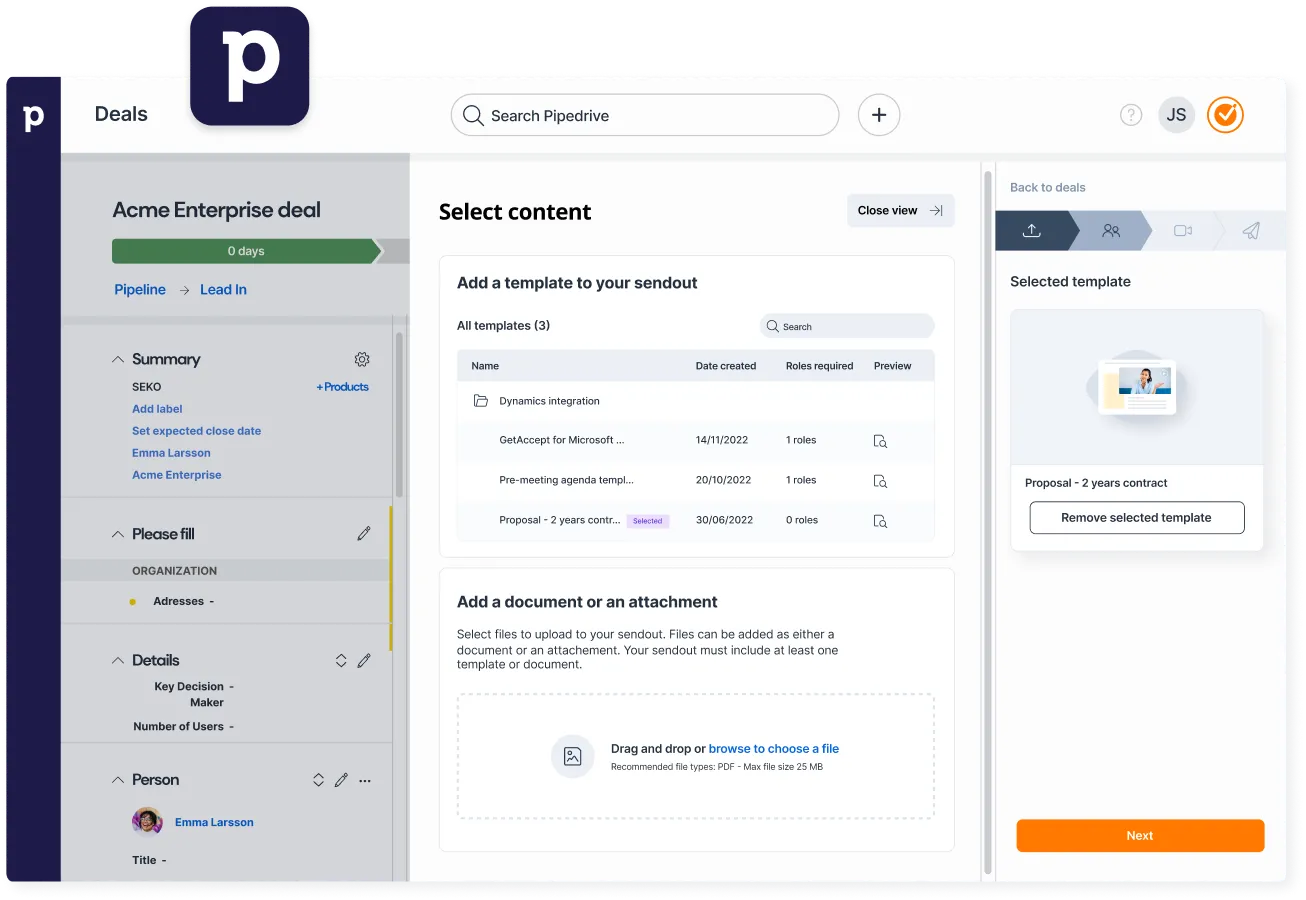 Fast, accurate quote delivery with flexible pricing table
Sending quotes in a static PDF format is outdated. With GetAccept's pricing table, you can automatically generate a modern-looking quote using product details stored in Pipedrive. Send quotes faster while keeping everything on-brand. Your quotes also have a responsive design, meaning buyers can conveniently sign from their mobile devices, tablets, or computers.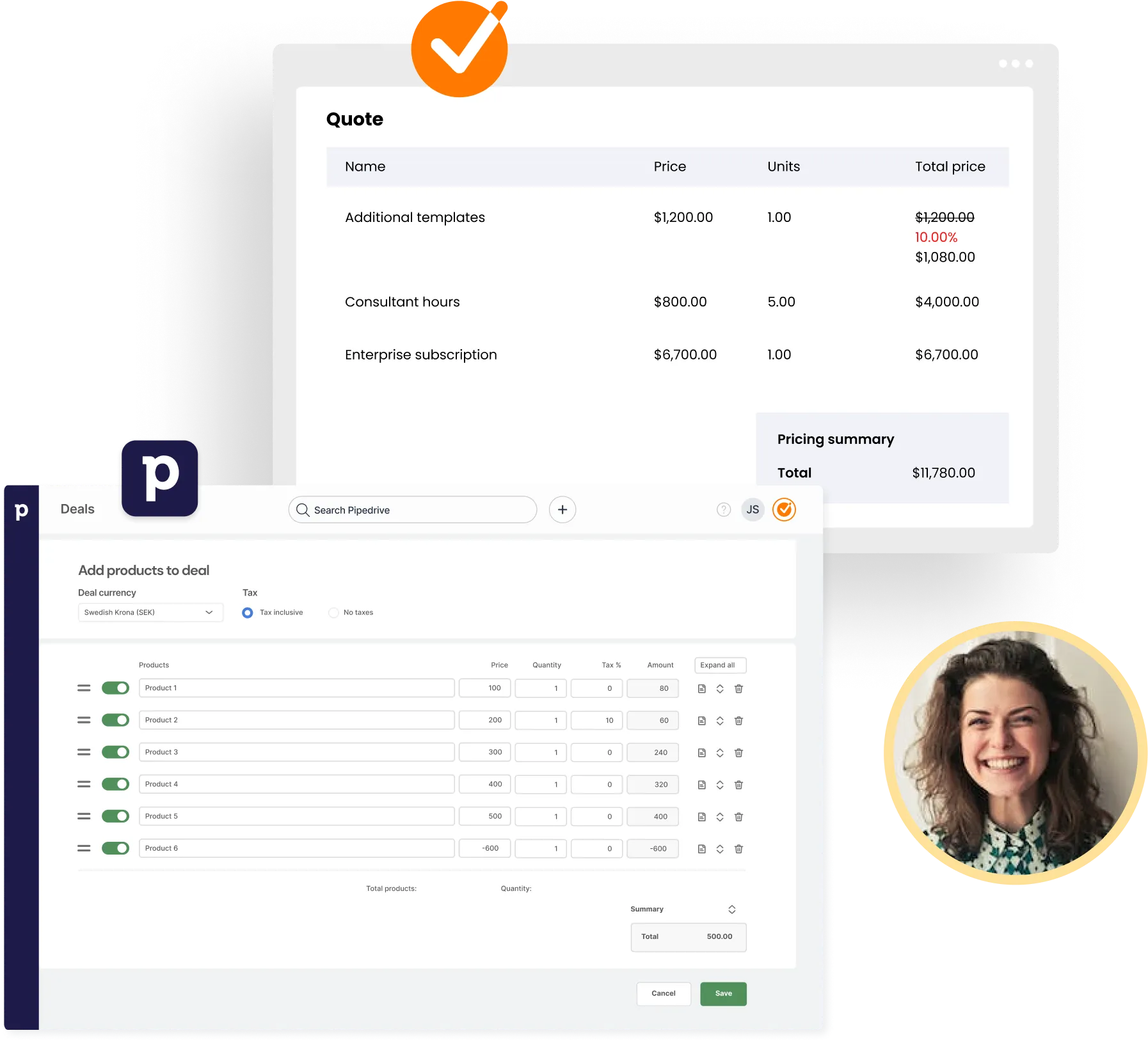 Add a personalized touch to every sales interaction
Foster trust with your customers by adding personalized videos to your sendouts that boost every sales communication – all within Pipedrive. Live chat with your customers or set up automated reminders to keep up the momentum.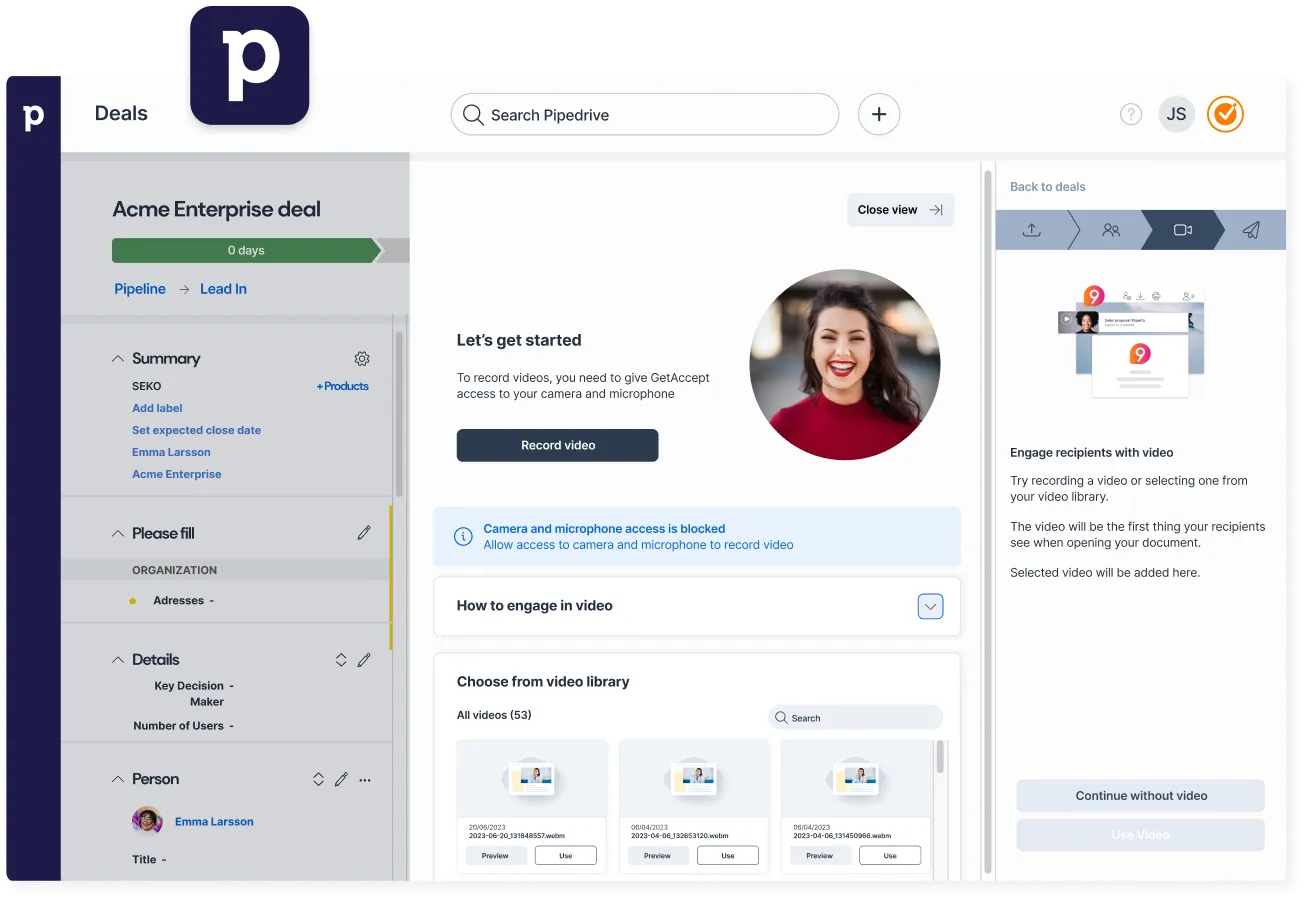 Track buying intent and uncover hidden stakeholders
Stay in the loop with real-time tracking of document engagement, providing valuable insights into your prospects. Receive instant notifications when your recipients leave a message, view the document, or share it with others, ensuring you're always on top of deal progression. Keep tabs on document opens, frequently viewed sections, and who your recipient has shared it with. Pinpoint all decision-makers involved to refine your outreach strategy.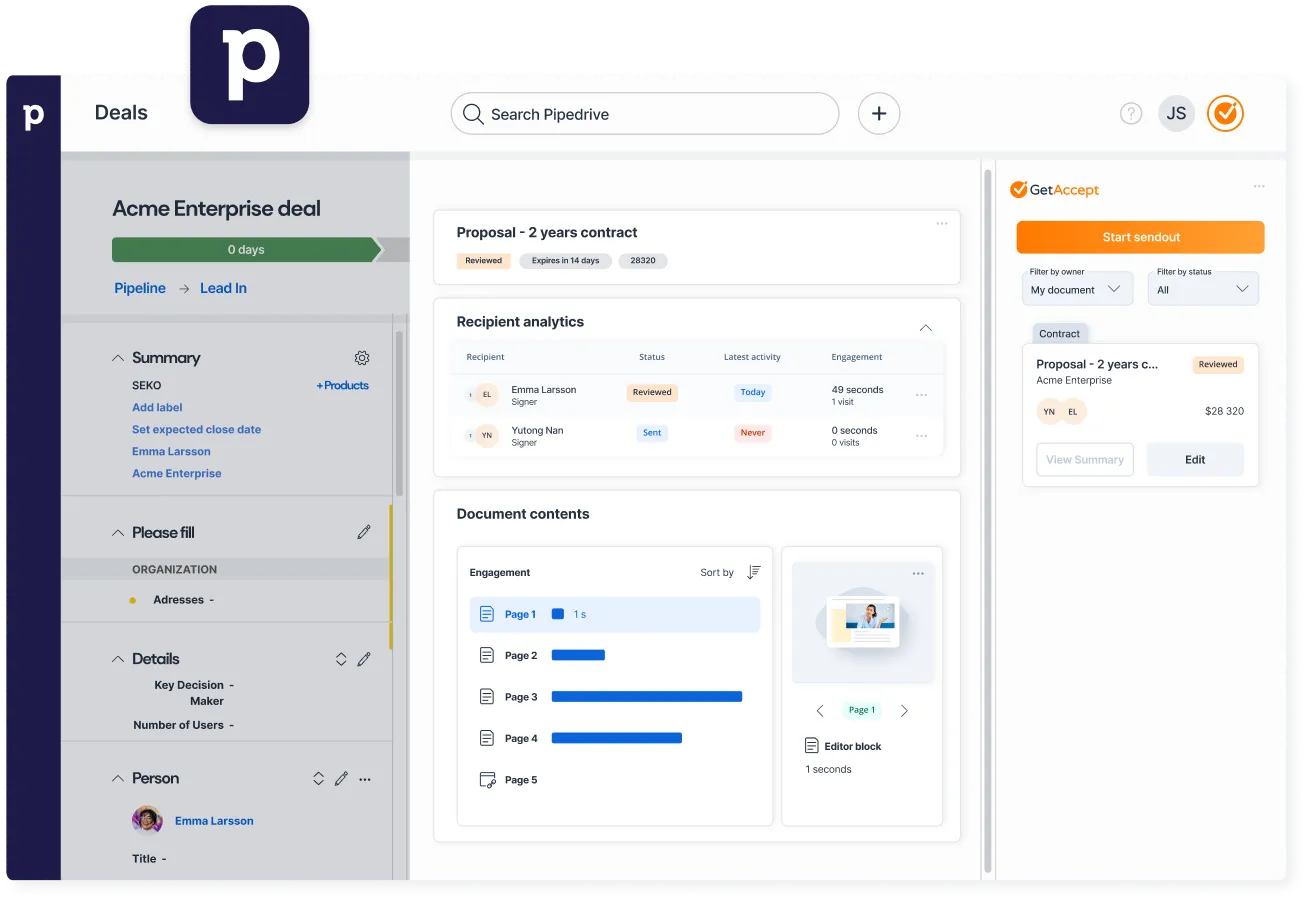 Collect all the signatures you need – fast and secure
Seal deals effortlessly with a single click using our legally binding electronic signatures. Send any document for electronic signing directly from Pipedrive. Once the signature is complete, the signed copy will seamlessly return to your CRM for secure storage.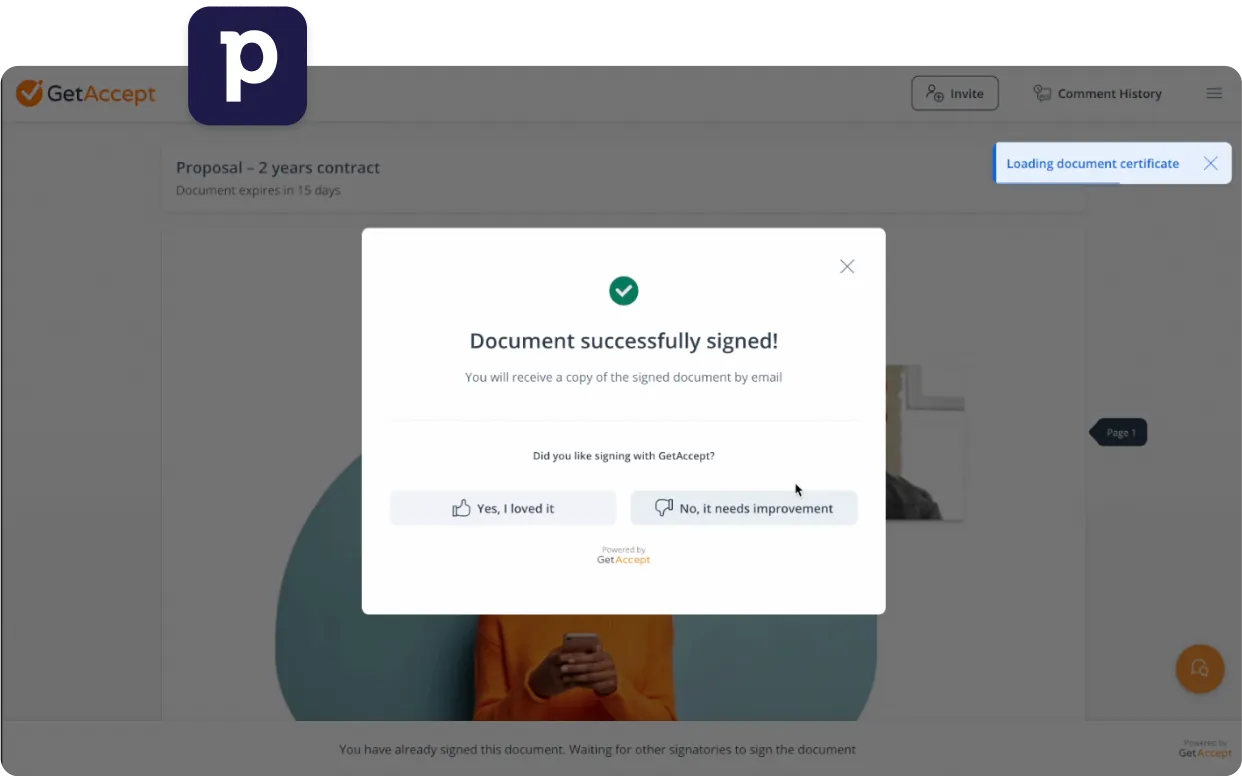 Your Pipedrive CRM = The single source of truth
Effortlessly store recipient input and signed contracts in Pipedrive. Automatically mark the deal as closed upon contract signing.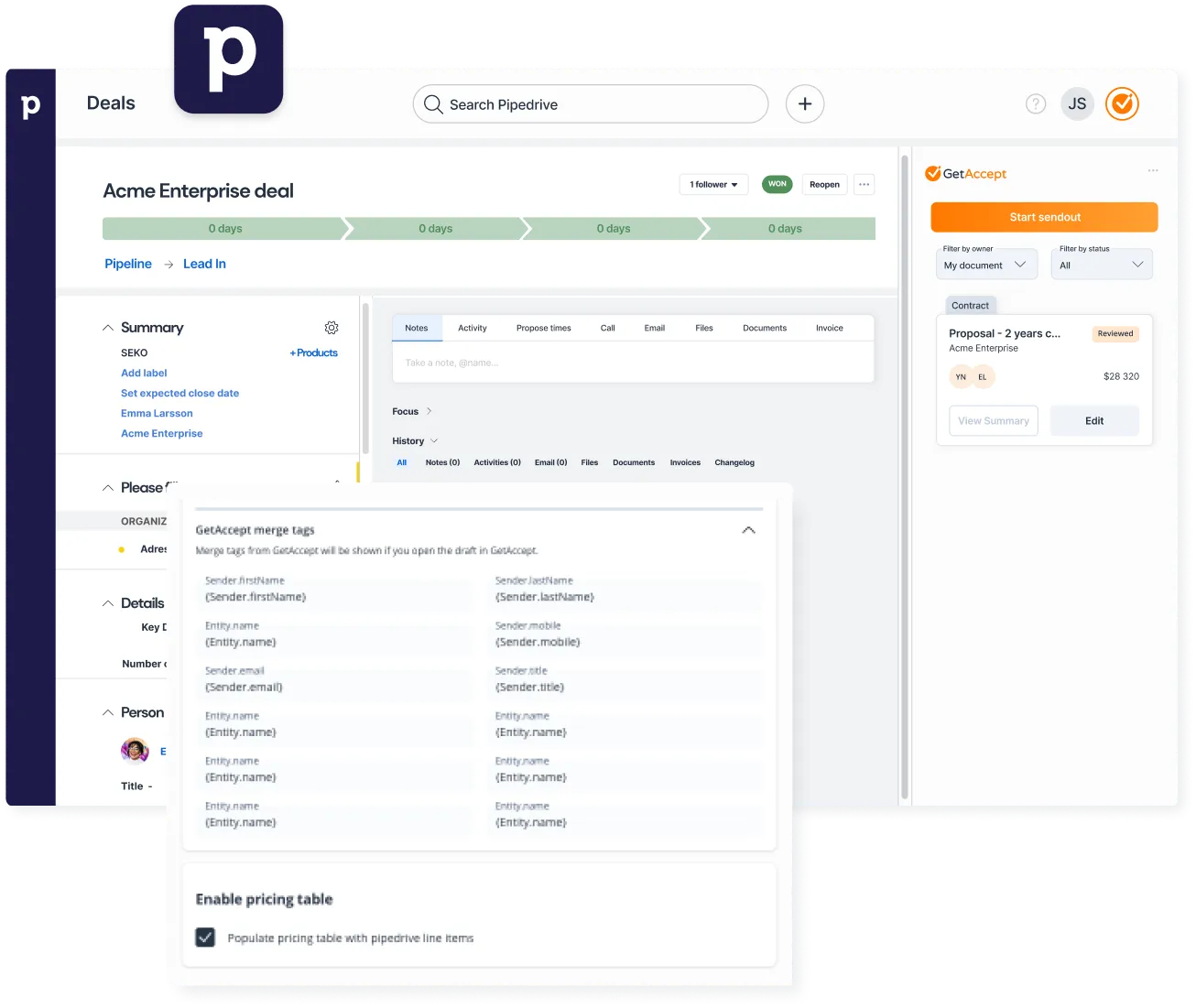 Who benefits from the GetAccept + Pipedrive integration?
Sales reps
Empower your reps to create and modify impactful sales content quickly, seamlessly merging elements like proposals, custom videos, case studies, and meeting notes into a personalized and engaging format. Increase deal wins and shorten time-to-close with automated reminders, live chat, and detailed document tracking analytics. This enables meaningful interactions with buyers during their decision-making phase.
Sales leaders
Ensure data completeness and integrity in your CRM via two-way data syncing. Elevate your sales team's efficiency while minimizing administrative burdens by directly establishing sales processes and workflows within Pipedrive. Gain valuable insights into individual rep performance by monitoring sent contracts and deal statuses, resulting in enhanced pipeline management and more accurate forecasting. Enable reps to connect with buyers in a modern and personalized manner, effectively shortening sales cycles.
Marketing teams
Empower your sales force with a library of marketing-approved templates and materials readily accessible and shareable via Pipedrive. Drive distribution and ensure the adoption of new marketing assets while tracking your sales team's utilization of these resources. Garner insights into the effectiveness of different templates to guide future content creation and asset adoption.
"Very easy integration from Pipedrive to GetAccept! Nice clean proposals sent easily for electronic signature."
Turn prospects into customers, today
GetAccept is with you all the way! Understanding where you are in your digital transformation is the first step. Contact us to book a demo and we will find a solution together!