GetAccept + Pipedrive
Extend the power of Pipedrive CRM with GetAccept.Leverage GetAccept's sales engagement toolbox and e-signature solution without leaving Pipedrive.
How does the GetAccept integration for Pipedrive work?
GetAccept is embedded inside the Pipedrive CRM environment via a Chrome Extension, allowing sales reps to build, send and track proposals, and accelerate deals with sales engagement and eSignature features all without leaving Pipedrive. Pipedrive CRM users can access GetAccept under deals, contacts, and organization records, creating a one-stop solution to increase sales velocity and your win rate.
Add a personalized touch to any sales interaction
Build trust with your buyer by recording and adding personalized videos to accompany any sales sendout. Sales reps can record and send personalized videos or upload pre-recorded videos straight from their Pipedrive environment either through an opportunity, deal or organization record. Schedule automated reminders or engage in real-time chat with your buyer when they are impressionable and engaging with your sent meeting summaries, proposals and contracts.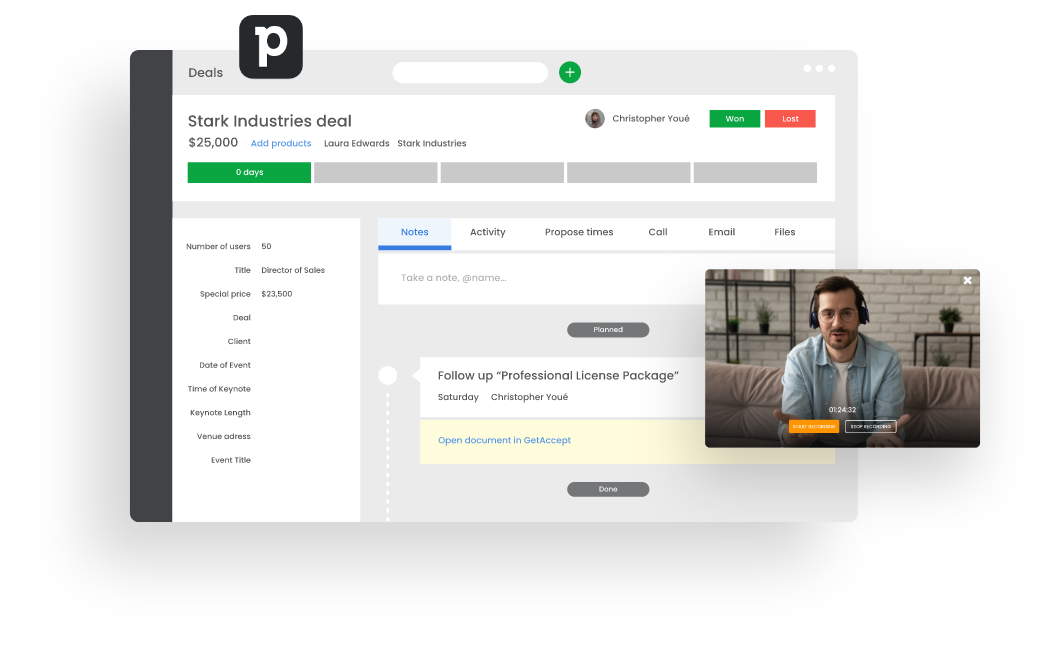 Monitor the status and engagement of sent documents
Monitor how buyers interact with your documents in real-time to optimize outreach and accelerate your sales interactions. Gain insight into the number of times a document is opened, the total time spent reviewing a document by page, chat history and an event log. Receive live document status updates to your email inbox, the GetAccept mobile app, or right in your Pipedrive Deal record or activity timeline.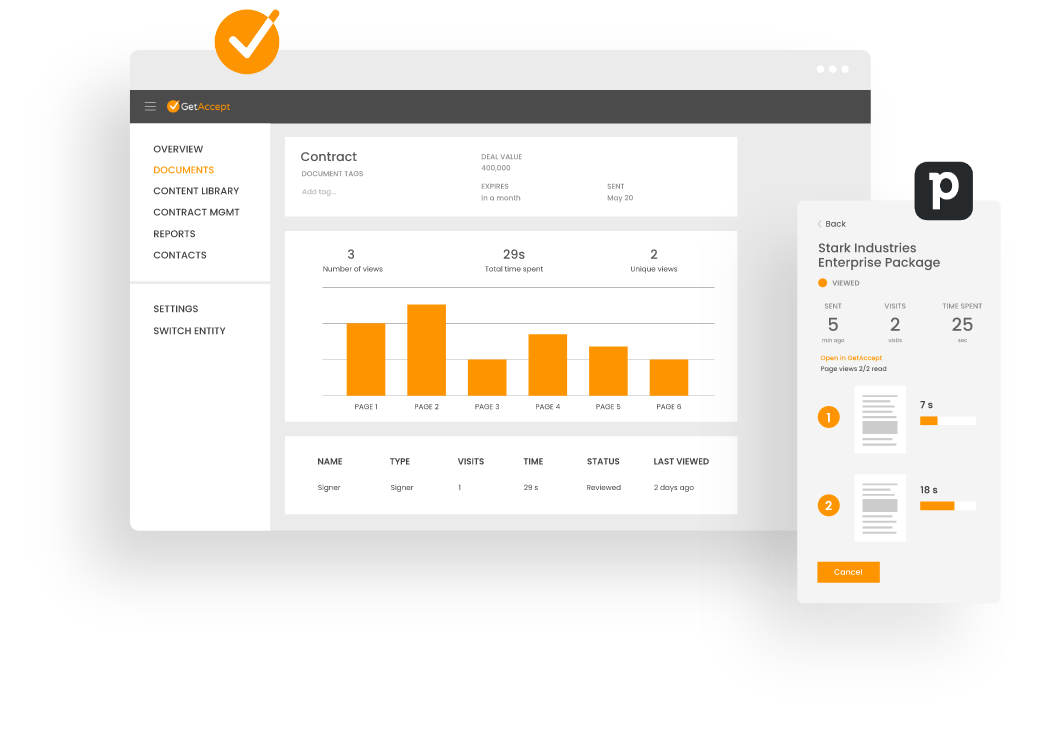 Identify Hidden Stakeholders
Uncover new stakeholders when your sales sendouts and proposals are forwarded to additional parties. Monitor the number of unique viewers who have interacted with your document and total time spent. Gain insight into all the players involved in the decision-making process in order to optimize your sales process and forecasting.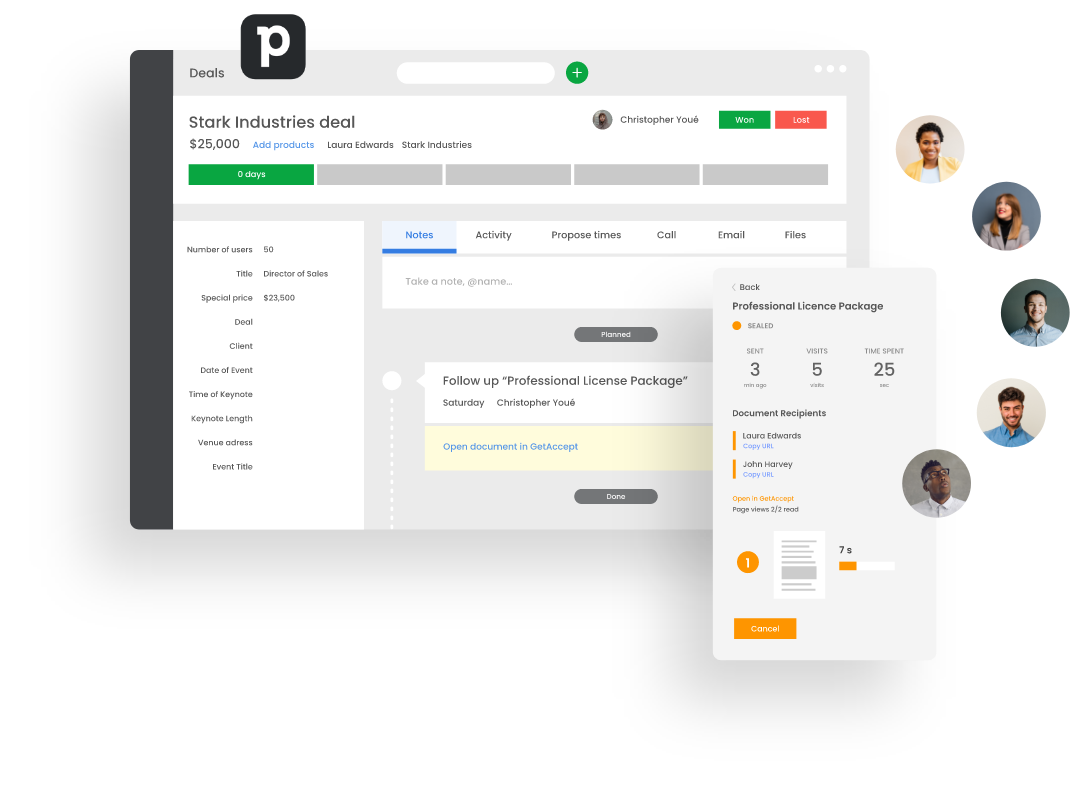 Request and Collect Electronic Signatures Fast
Seamlessly close all deals with a legally-binding eSignature. Send any document for e-signature straight from our Pipedrive integration. Create signing sequences to support multiple signers and approvers and specify the signing order. When the signature is completed, the signed copy will automatically be pushed back into your Pipedrive CRM for storage.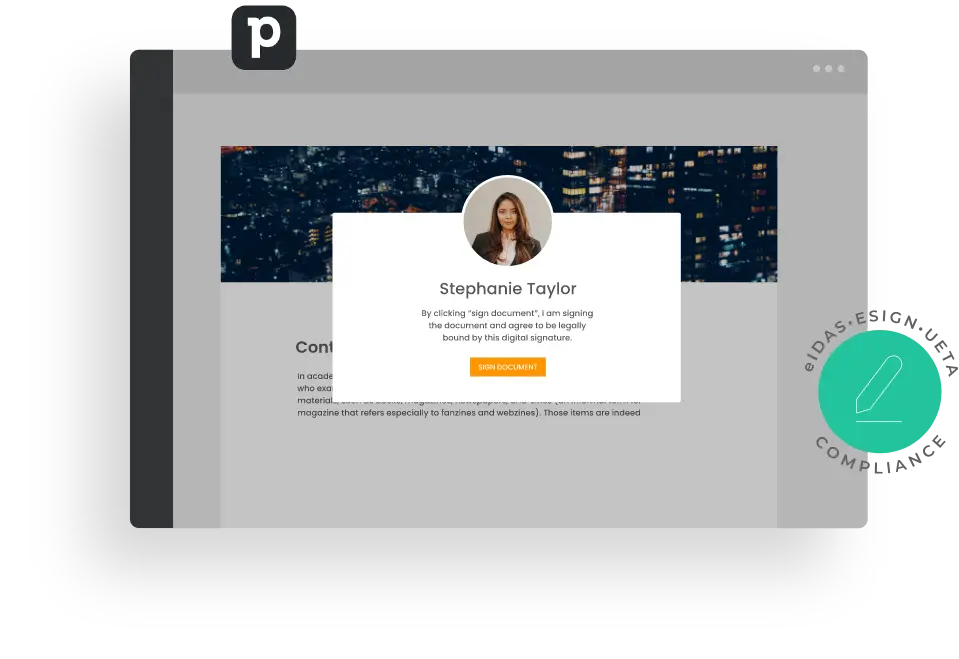 All-in-One Content Creation from One Place
Craft and send branded proposals and documents straight from Pipedrive. Assemble a sendout using existing templates and attachments or create a custom template from scratch using GetAccept's Editor tool. Build your sendout by weaving in dynamic video content with meeting summary notes, sales decks, pricing tables and more. Store and access your sales templates and content in Pipedrive in order to work from a single platform, reduce time on admin, and spend more time selling.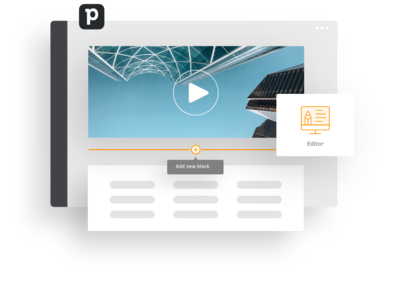 Auto-populate CRM data directly into your documents
Automatically build personalized proposals leveraging the data in your Pipedrive records and save time in the document creation process. Auto-fill your CRM data, including Pipedrive product data, into GetAccept or Google Suite templates using merge tags. Seamlessly embed CRM data right within your GetAccept Template. Need to fix or modify your proposal or quote after sending? Simply make the edits from Pipedrive and save. The outdated proposal or quote will automatically expire and a new version will be sent to your buyer.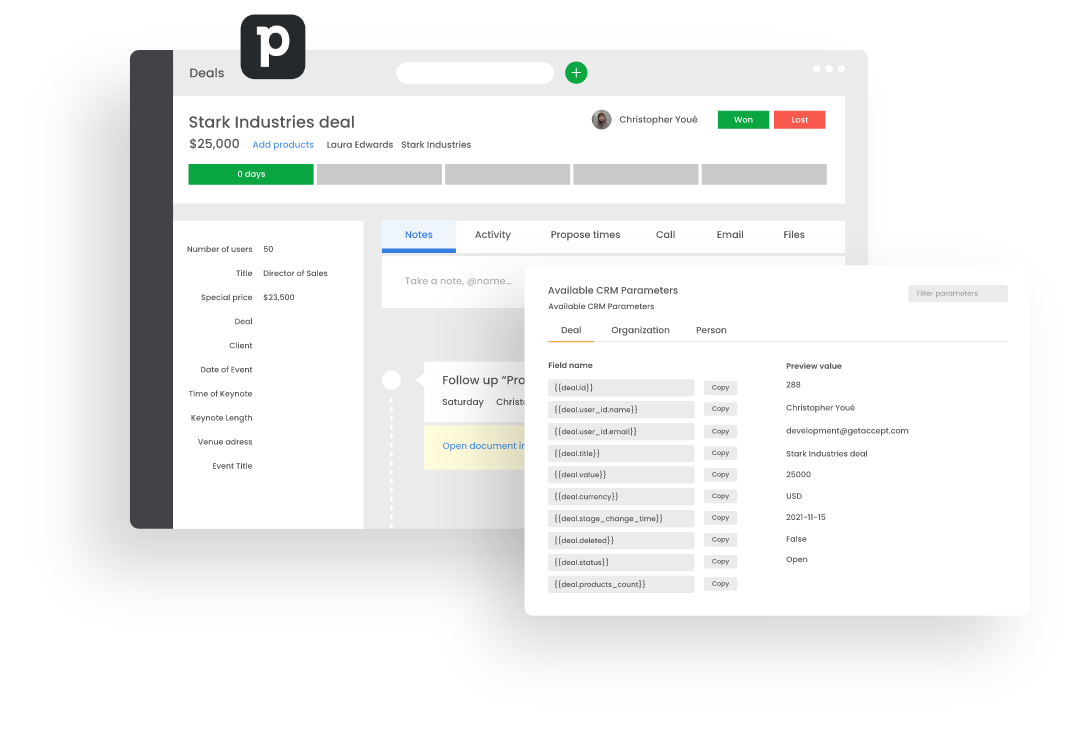 Trigger Automated Sales Workflows Based on Document Progress
Save time by configuring sales automations and workflows in Pipedrive based on buyer activity in GetAccept documents. Automatically update a deal's lifecycle stage based on interaction with a document, or add a Pipedrive task on a contact or deal after a contract is reviewed or signed. Activate a personalized email sequence from Pipedrive after a document has been opened, reviewed or signed.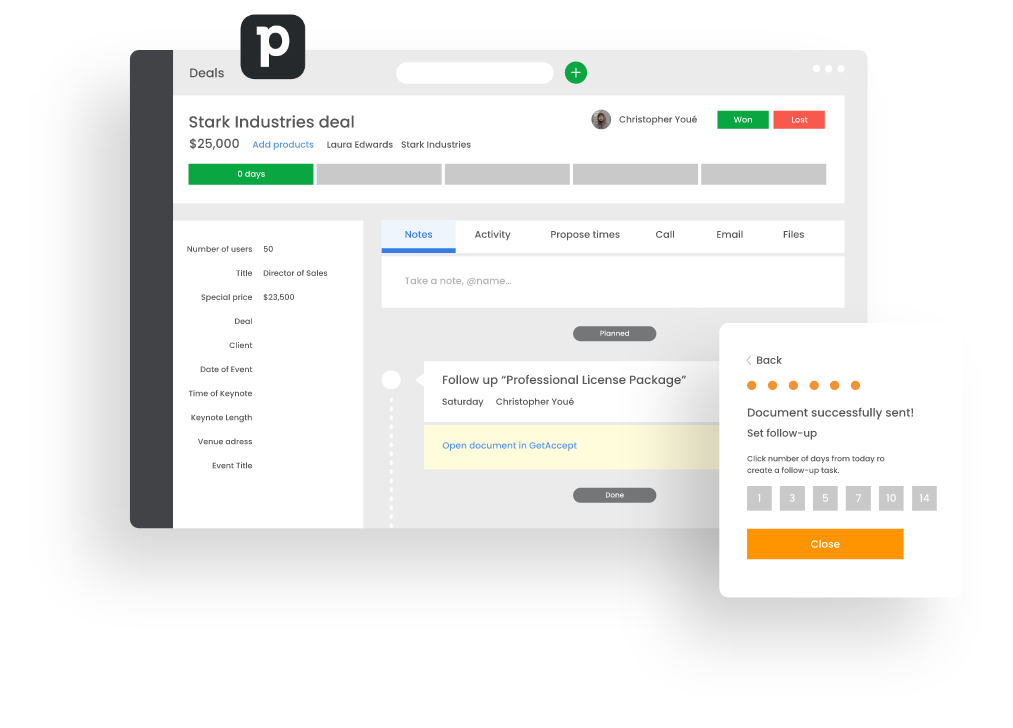 Who uses the GetAccept integration for Pipedrive?
Sales rep
Empower reps to easily craft compelling sales sendouts combining assets like proposals, custom videos, case studies and meeting notes in a personalized and highly-interactive manner. Win more deals and shorten time-to-close with automated reminders, real-time chat and document tracking analytics to engage and interact with buyers when they are in a decision-making mindset.
Sales leaders
Enhance the productivity of your sales team and reduce unnecessary administration by implementing sales processes and workflows directly in Pipedrive. Gain insights into rep performance by tracking sent contracts and deal status for improved pipeline management and forecasting. Help reps to engage with buyers and shorten their sales cycles in a modern and personalized way.
Marketing teams
Arm your sales team with a library of marketing-approved templates and collateral your sales reps can access and send straight from Pipedrive. Promote distribution and ensure adoption of new assets produced by marketing and track your sales team's usage of these assets. Better understand which templates are and aren't being used to help direct content creation and adoption for future assets.
"Very easy integration from Pipedrive to GetAccept! Nice clean proposals sent easily for electronic signature."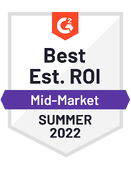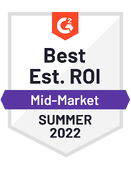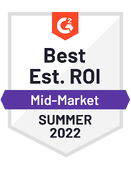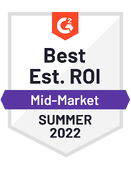 Turn prospects into customers, today
GetAccept is with you all the way! Understanding where you are in your digital transformation is the first step. Contact us to book a demo and we will find a solution together!