Dynamic Salesforce quote creation made simple
PDF quotes are static and non-mobile-responsive, making it impossible to edit or track engagement. Ready for a change? Experience precision at speed with GetAccept QuoteGen for Salesforce. Let your reps streamline the entire journey, from quoting to e-signing, all within Salesforce.
Quick quote creation
Create modern, attention-grabbing quotes in seconds, regardless of the quote complexity or customizations.
Configure your product catalogs, bundles, prices, and discounts in Salesforce, and let GetAccept QuoteGen display them into appropriate groups and tables, neatly. You can access them under any custom object in Salesforce at any stage in the sales cycle.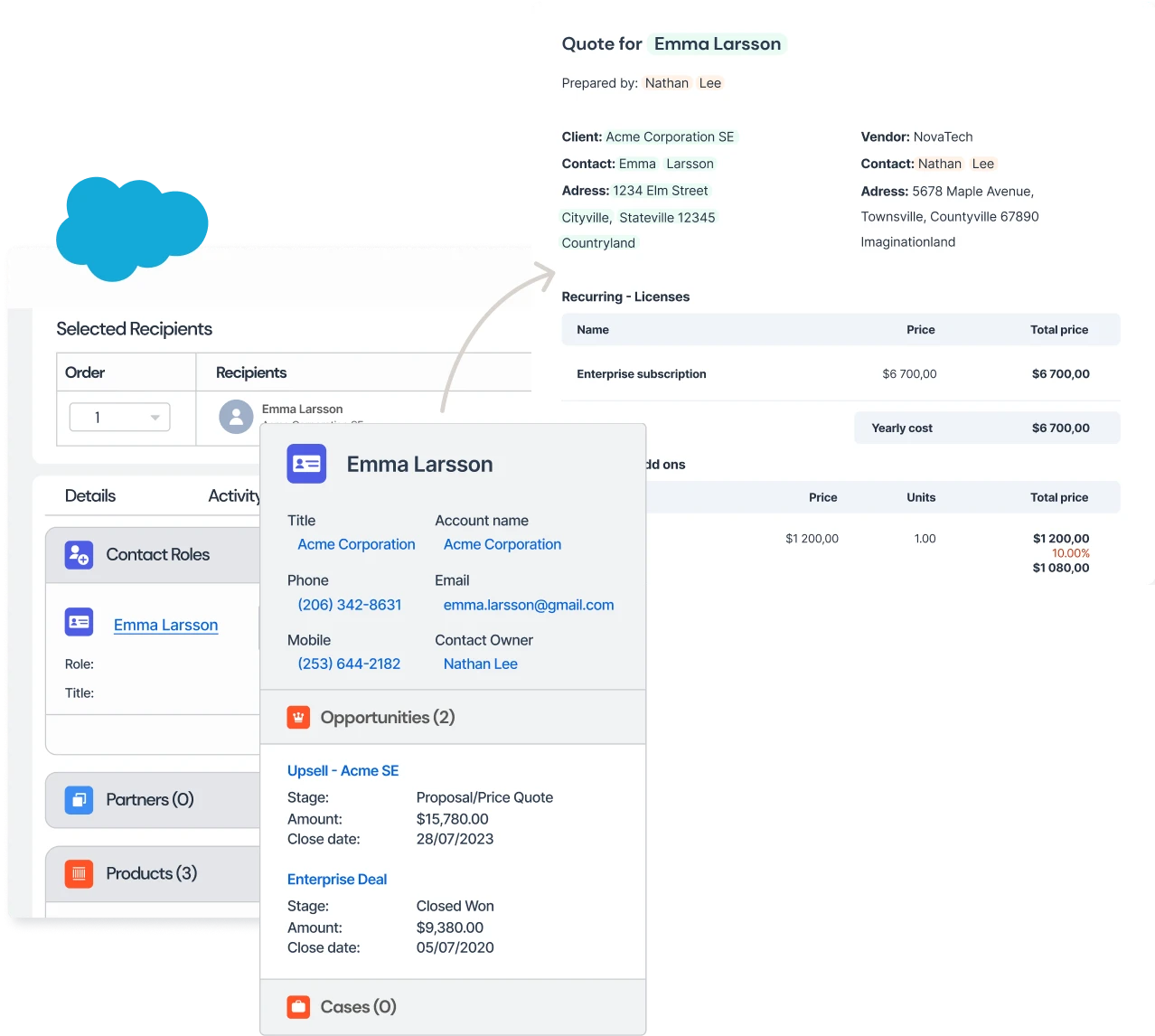 Flexible and highly customizable workflows
Tailor GetAccept integration with customized workflows to fit your sales process. Set the signing order, approval flows, pricing guidelines, and discounting threshold, and lock certain content when needed. Let your reps shine while maintaining a structured and monitored process, and free your RevOps from repetitive admin work.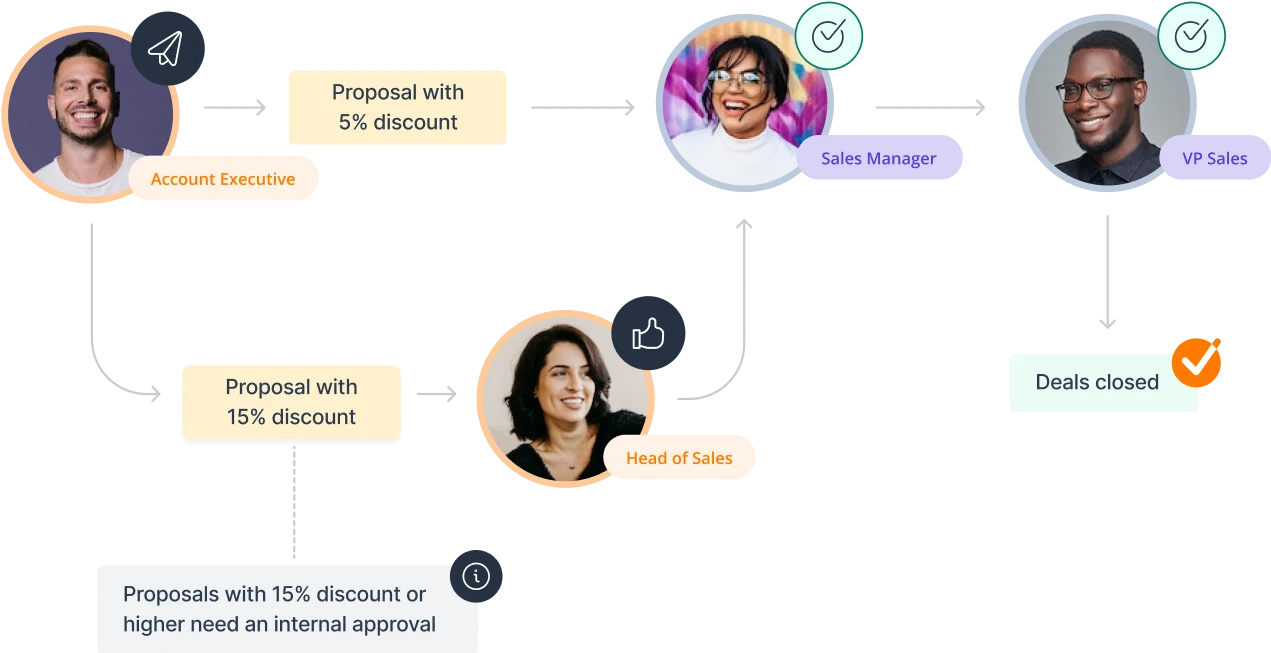 Real-time tracking and collaboration
Effortlessly collaborate with both internal and external stakeholders directly in your proposals and contracts. Chat, comment, and edit documents in real-time without resending a new version.

Receive instant updates about recipients' activities within Salesforce. Utilize this data to identify key decision-makers, adapt quickly, and close more deals.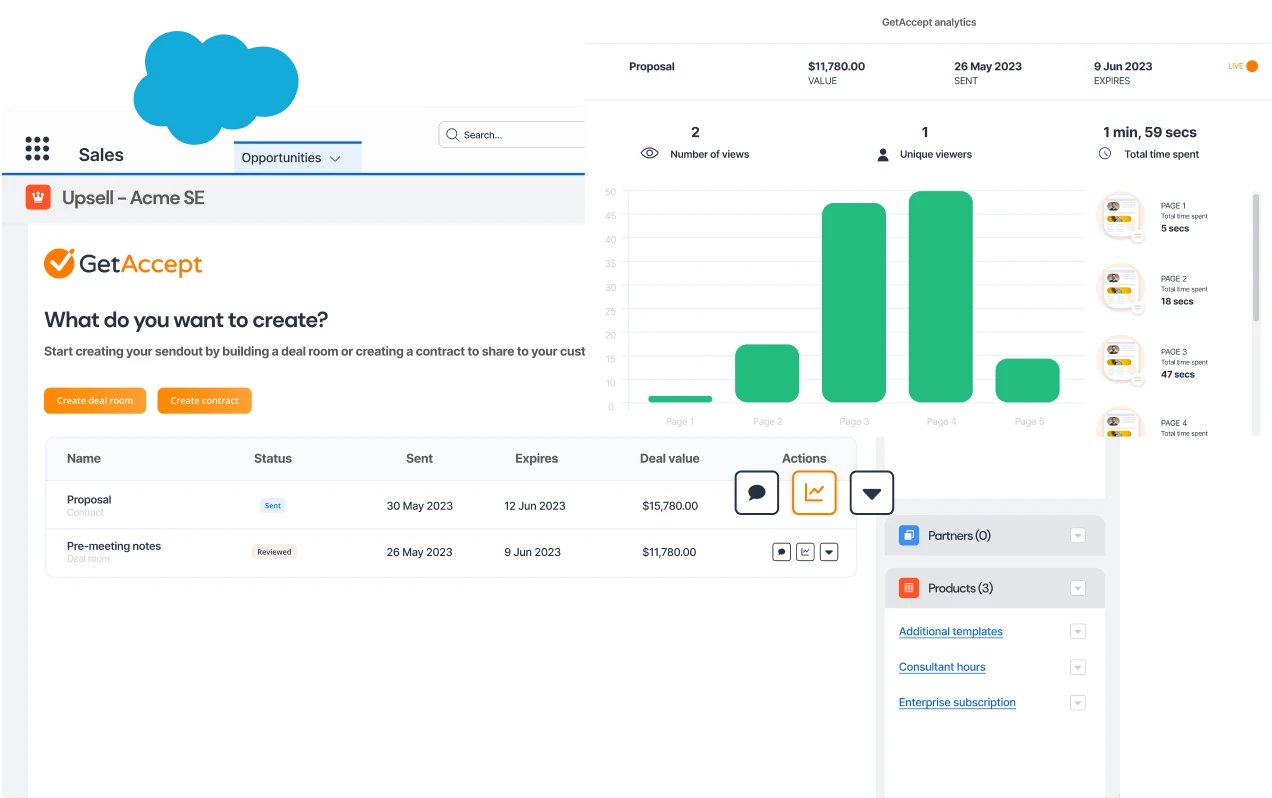 Smooth automations and 2-way data syncing
Eliminate human error and quickly generate proposals powered by custom CRM data. After your contracts are signed via GetAccept e-signature, automatically store the signed contracts and sync all the information filled in by your recipients – billing information, tax number, etc. – back to Salesforce. The opportunity stage will also be updated in real-time.
Experience the magic of GetAccept's automated workflows and 2-way sync, and allow your team to focus on what matters.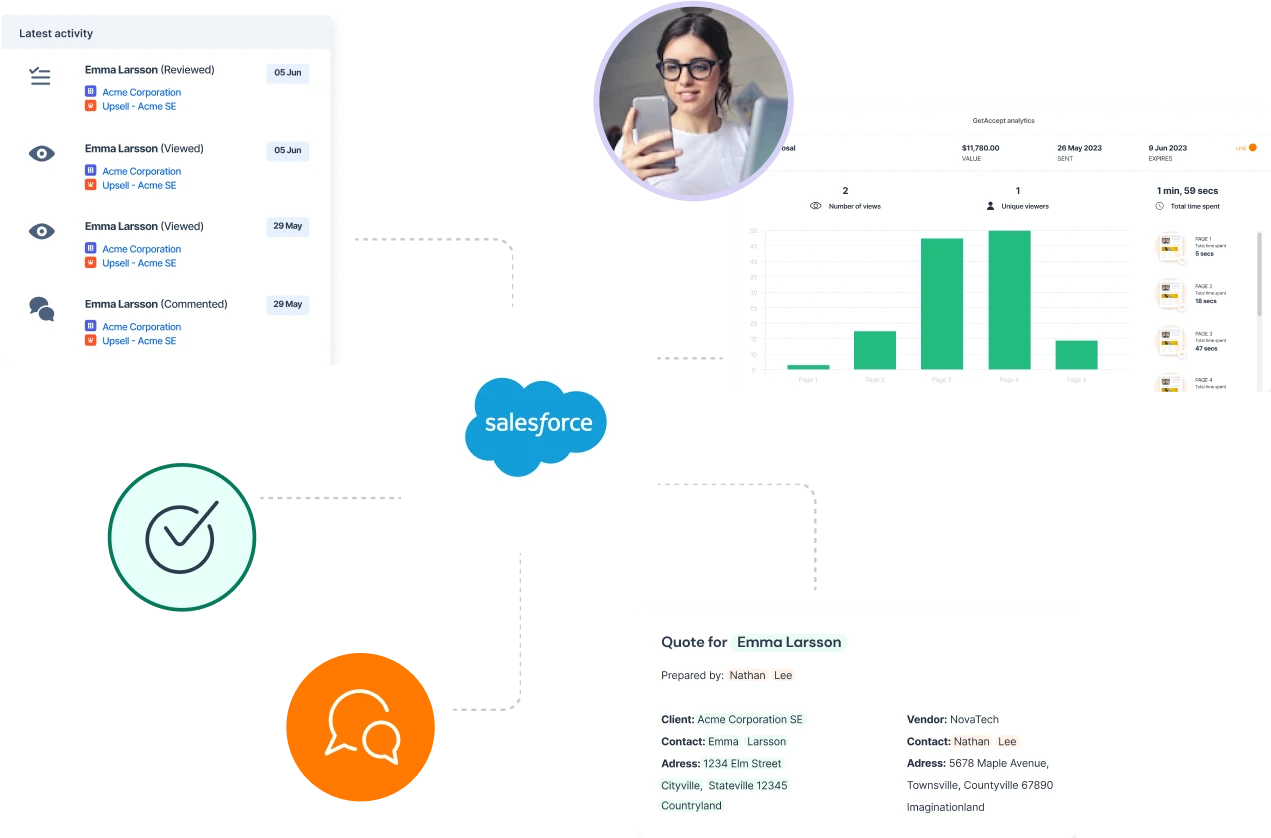 Easy to implement and intuitive to use
Connect and configure GetAccept QuoteGen quickly in your Salesforce CRM. No coding or external consultants are needed. Enhance and extend the power of Salesforce without the technical hurdles.
GetAccept QuoteGen is also intuitive to use. Onboard your reps in one day to sell with confidence and increase the adoption of underused Salesforce features like CPQ or CPQ+.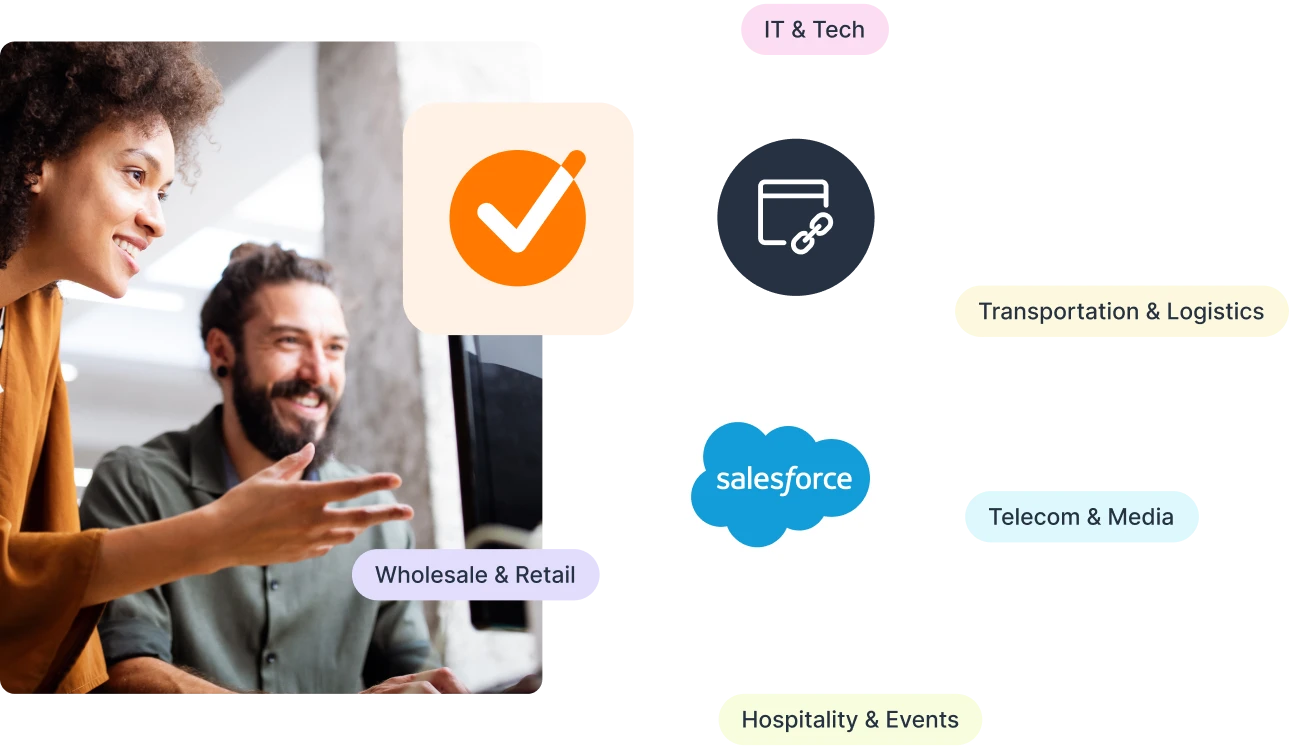 "We've improved the data accuracy, increased the quoting speed by 9 times, and finally fully utilized our Salesforce CPQ since we adopted GetAccept QuoteGen for Salesforce."
Enhance and extend the power of Salesforce
GetAccept for Salesforce helps increase your team's productivity in many ways. Let's check them out!
Read more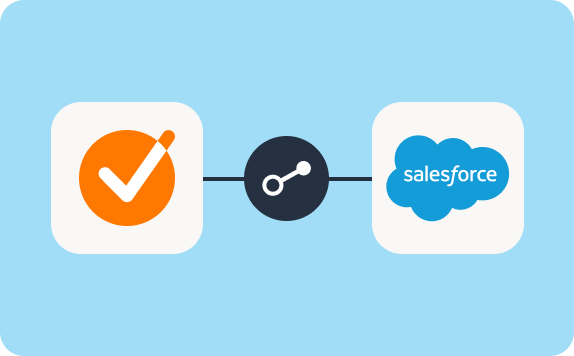 Frequently asked questions
GetAccept QuoteGen seamlessly integrates with Salesforce, enabling users to create branded, dynamic quotes.

GetAccept QuoteGen also helps Salesforce users update their quotes without sending a new one. As the deal progresses, users can update the pricing and product items within Salesforce, and these changes will be updated and reflected in real-time on the quote.

Price-wise, it's also cheaper than Salesforce CPQ and CPQ+, making it a good option before investing in a more complex tool.
GetAccept QuoteGen is easy to implement, flexible to customize, and easy to use. Customers using GetAccept QuoteGen don't need an internal tech expert or an external Salesforce (or SI) consultant, avoiding any possible technical hurdles.

Besides, GetAccept QuoteGen also brings in document generation and e-signature capabilities, filling the gaps and satisfying the needs of most Salesforce users.
GetAccept stands out from the crowd for its intuitive user experience, dedicated support, strong branding capabilities, competitive pricing, and more.

While some other tools request additional costs for extra documents sent, we offer a user-based pricing model, regardless of how many contracts or proposals are created and shared. We also continue to support customers as their business scales up, saving the hassle of shifting their tech stack when expanding to new markets or new business fields.
GetAccept QuoteGen is an included functionality in GetAccept's Salesforce integration, and there are no additional costs based on the number of quotes you send out. Check our pricing page to see which plan suits you the best.
The latest GetAccept and Salesforce integration version is available for download on the Salesforce AppExchange page.
Yes! Being a Salesforce ISV (Independent Software Vendor) partner means that Salesforce has recognized GetAccept for developing complementary software that adds value to the core Salesforce platform. It ensures that our integration meets Salesforce's strict quality, security, and compatibility standards.