When it comes to Salesforce, efficiency is critical for sales reps to close more deals with less administrative time. GetAccept's Salesforce engagement analytics should be part of every sales professional's toolkit. Here are the most important analytics sales reps should be tracking, all without leaving the Salesforce environment.
Knowledge is power, especially for sales reps looking to enhance their engagement while juggling multiple deals at once.
Setting up and implementing analytics and tracking can be a chore, though. Administrative overload can slow down sales reps in the most critical parts of their processes.
By leveraging Salesforce beyond its CRM functionalities, sales reps can decrease their time to close. GetAccept's Salesforce analytics provide real-time insights into:
The status of ongoing deals
How customers interact with sales collateral
How long it takes for a customer to sign a contract
With GetAccept's Salesforce integration, sales professionals can work fast and make the most of their administrative time so they can get back to what they do best: closing deals.
Why are analytics important for sales engagement?
Sales engagement encompasses the many interactions and touchpoints happening in a sales process.
Common sales engagement interactions include:
Inbound and outbound outreach
Website interactions
Social media interactions
Proposal and other sales collateral send-outs
The more deals a sales rep has in their pipeline, the harder it is to track every engagement manually.
Many sales professionals rely on sales engagement tools to automate and track their different touchpoints.
With real-time analytics, you can see which types of collateral are making the biggest impact.
Tracking and monitoring analytics, however, can require monitoring different tools and systems, slowing down reps yet again.
Benefits of GetAccept's Salesforce analytics
Salesforce and its integrations help sales reps access and track vital analytics without leaving the Salesforce environment.
The benefits of tracking sales engagement analytics include:
Easily identifying positive or negative trends in engagement
Seeing which deals are "hot" or which are likely to fall through the cracks
Understanding the full extent of your pipeline in real-time
Powerful analytics tools mean you as a sales rep have more information at your fingertips. This information minimizes your administrative tasks and allows you to make more informed decisions.
If you see a prospect has reviewed a presentation or document multiple times, for example, you can customize your follow-ups accordingly.
Your sales engagement is only as good as your ability to track and measure success. Arm your sales team with as much information as possible to make the best strategic decisions and close more deals.
How to track sales engagement analytics using GetAccept for Salesforce
GetAccept's Salesforce integration allows you to view engagement analytics and the status of sent documents, all within your Salesforce environment.
Getting started with GetAccept's sales engagement analytics in Salesforce is easy:
1. Send a document with GetAccept's Salesforce integration
Salesforce users can visit the Salesforce AppExchange and search for GetAccept's integration: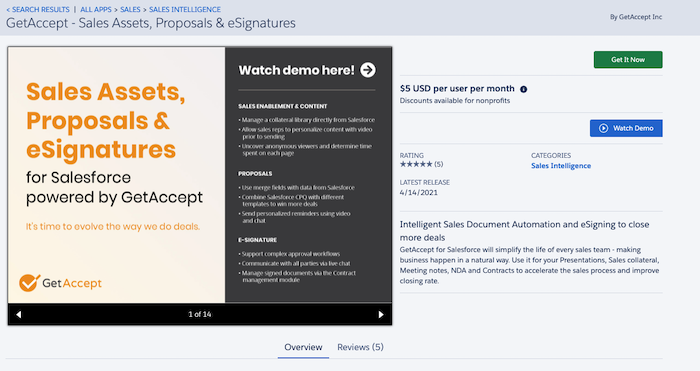 Downloading the integration will allow you to see your GetAccept documents related to current opportunities and contacts.
If you don't have a GetAccept account, create one to start sending documents for free.
GetAccept's Salesforce integration allows you to create recipient workflows, merge Salesforce data into templated GetAccept documents, and automate follow-up communication.
Once you send a GetAccept document in Salesforce, you will see that document, and all other related documents to your opportunity, contact or account, within the Salesforce environment.
2. Explore GetAccept's sales engagement analytics in Salesforce
Once you've sent a document, you will be able to see that document's status in your dashboard.

If you click the "view" icon on the document, you will also be able to see the send-out analytics as well.
With GetAccept analytics you can see:
The number of times the document has been opened
The total time spent on the document
The document's chat history
The event log
The number of unique viewers who have looked at the document.
The time spent on each page of your document
All of this data is updated live when you open Analytics and will update automatically as your recipients interact with your document.
These analytics help you understand what your recipients are most interested in. Is someone repeatedly viewing your pricing overview in your sales collateral? That could indicate they are weighing their options and signal it's time for a sales rep to step in.
GetAccept and Salesforce make your sales operations more efficient
Salesforce users can and should leverage GetAccept to send and track documents without leaving the CRM. These engagement insights are perfect for the entire process from opportunity to deal closure.
GetAccept's analytics give sales reps more power to make strategic decisions about engagement. By cutting down on manual monitoring, the GetAccept sales integration gives time back to sales reps to focus on what's most important: the customer.
Already a Salesforce user? See how GetAccept's Salesforce integration can improve your sales team's efficiency.