GetAccept + SuperOffice
Get your deals signed faster without leaving SuperOffice. Share, personalize, and track the performance of your sales content with the GetAccept Digital Sales Room.
One-stop solution to increase sales velocity and close more deals
GetAccept lives within SuperOffice CRM via a web panel on both the company and sales cards. This allows sales reps to build, send and track proposals, and accelerate deals with advanced sales engagement and e-signature features, all without leaving SuperOffice.
Track engagement and status of sent documents
Optimize the timing of your outreach by monitoring how buyers interact with your documents. Gain a 360 view of the performance of all documents sent from SuperOffice – status of the documents, time spent on each page, and detailed chat history. Never miss a beat by receiving live status updates directly in your inbox or via the GetAccept mobile app.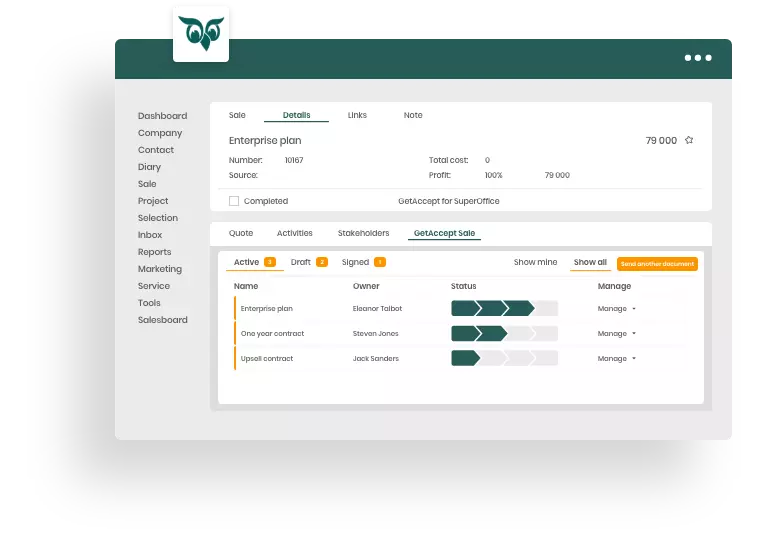 Auto-populate CRM data directly into your documents
Save time in the document creation process by automatically embedding SuperOffice data within your GetAccept Templates using dynamic merge tags. Modify and update your proposals even after sending them. Neither you nor your customers will be bothered by outdated information and multiple versions.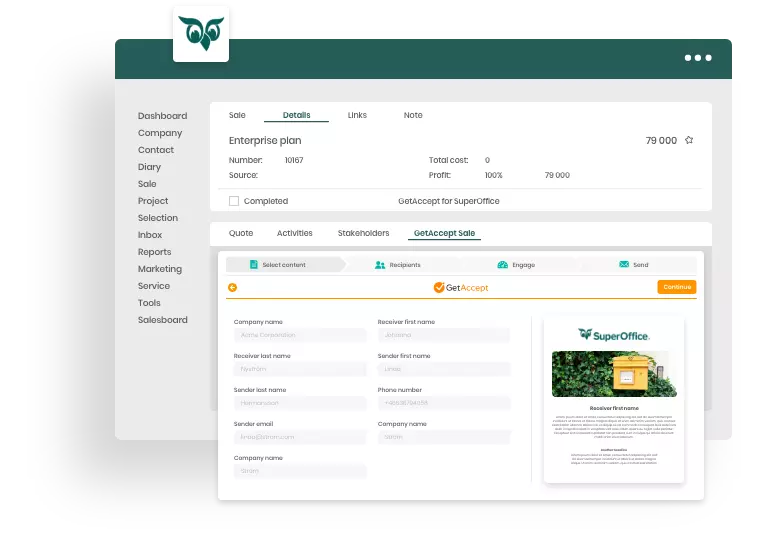 Add your personal touch to every sales interaction
Build trust and rapport with buyers by adding personalized videos to your sendouts within SuperOffice. Choose the best email messaging from premade templates, schedule automated reminders, and engage in real-time chat with your buyers to keep up the momentum.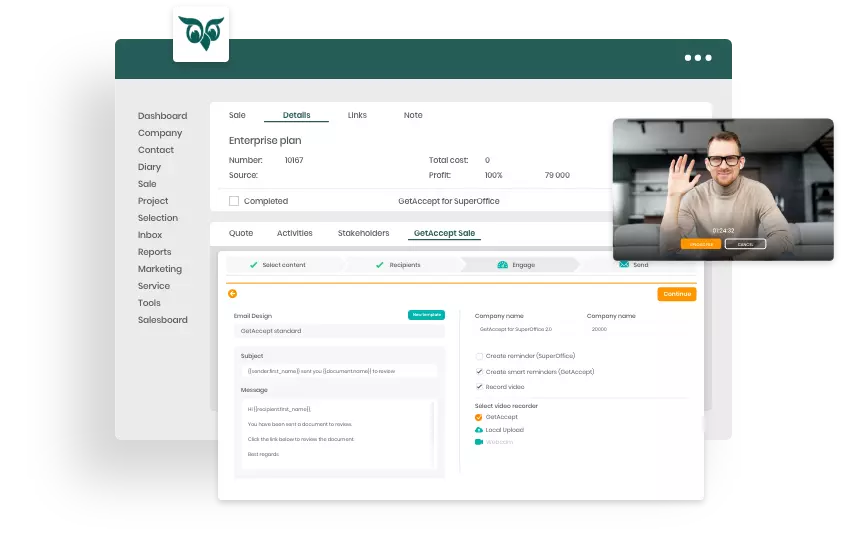 Request and collect electronic signatures fast
Customize the signing order based on the actual approval flow of your buyers. And get your documents signed with our legally binding e-signatures. We support BankID, MitID, or equivalent in all Nordic countries.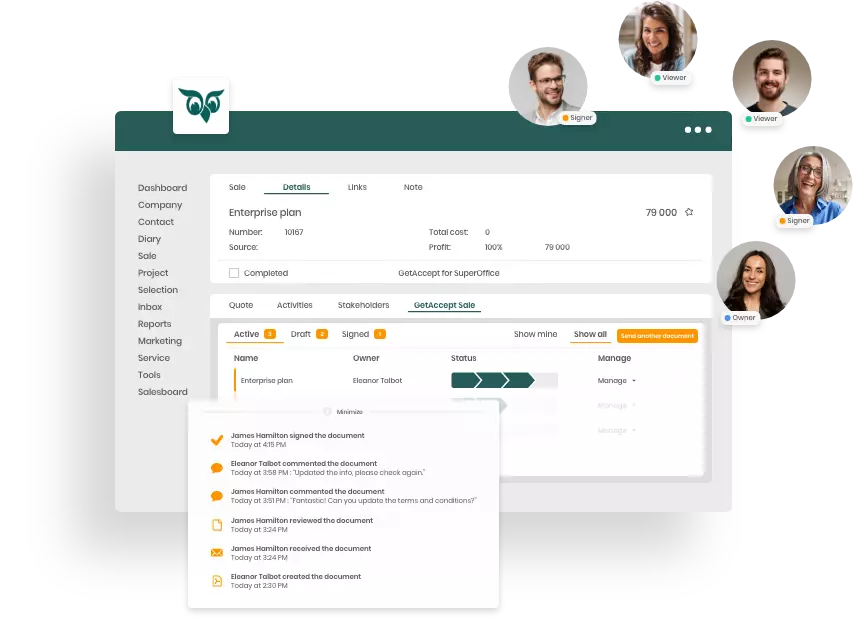 Identify new hidden stakeholders
Gain insight into all the players involved in the decision-making process to optimize your sales process and forecasting. Get notified when your buyers forward the documents you sent to others. Monitor the number of unique viewers interacting with your document and the time spent on each page.
Content creation from one centralized place
Build, store, and share your branded sendouts straight from SuperOffice. Let it be dynamic videos, meeting summary notes, sales decks, pricing tables, or any PDFs you have. Instead of juggling emails, Slack messages, and Google Drive, work from a single platform to improve your team's productivity.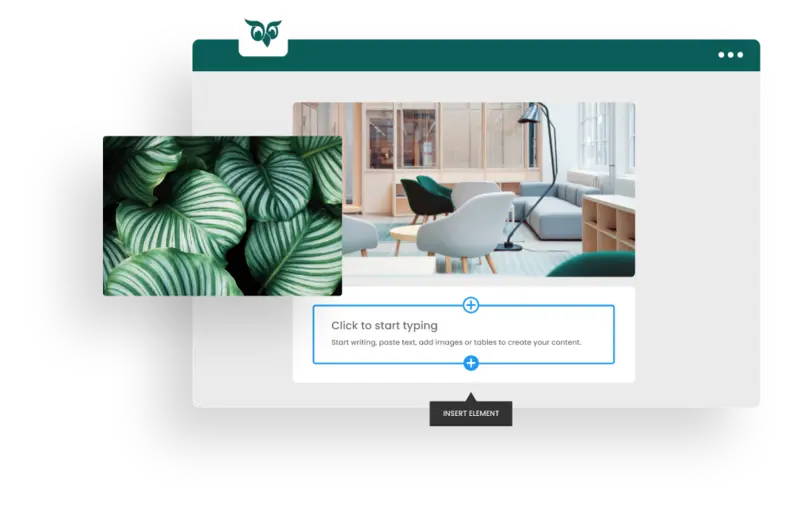 Who uses the GetAccept integration for SuperOffice?
Sales reps
Sales Reps use GetAccept for SuperOffice to engage buyers in new ways, stand out from the competition, and ultimately close more deals. GetAccept for SuperOffice helps reps to easily craft compelling sales sendouts by combining assets like proposals, custom videos, case studies and meeting notes in a personalized and highly-interactive manner.
Sales leaders
Boost the productivity of your sales team and reduce unnecessary sales administration by implementing sales processes and workflows directly in SuperOffice. Optimize pipeline management and forecasting, and gain insights into sales performance by tracking sent contracts and deal status. Help your reps engage buyers and shorten their sales cycles in a modern and personalized way.
Marketing teams
Build and manage a library of company-approved, branded templates and content to arm your sales team. Remove and add content to ensure your sales collateral is always up to date and the correct material is sent out. Promote the distribution of new marketing-produced assets and track your sales team's usage of these assets. Better understand which templates are and aren't being used to help direct content creation and adoption for future assets.
"SuperOffice uses GetAccept and also recommends GetAccept as a platform to other companies that want to become more efficient and professional through the use of digital tools. Both the decision time is shortened and the signing process itself takes significantly less time."
Turn prospects into customers, today
GetAccept is with you all the way! Understanding where you are in your digital transformation is the first step. Contact us to book a demo and we will find a solution together!