Shareable links are a helpful part of every sales professional's toolkit. This article will help you create and send shareable links with the help of GetAccept and your CRM.
The era of manually attaching a file to an email is drawing to a close. Attachments cost your sales team precious time when they're working against the clock to close a deal. Not to mention, traditional attachments can be pretty boring.

Thankfully, there's a better way to send documents. This can cut down on admin time and reduce the need to switch back and forth between files, programs, and documents.

Leverage the power of GetAccept by sharing documents in whatever way you want. We now support the generation of GetAccept shareable links from within all of our Chrome Extension CRM integrations including HubSpot and Pipedrive CRMs.

Keep reading to learn more about shareable links and their benefits for your sales processes.
What is a shareable link?
A shareable link allows you to share one or more digital resources via a unique URL.

The content you share in a shareable link does not have to be a document. With shareable links, you can send videos, PDF quotes and contracts, presentations, case studies, and other sales content.
Shareable links take cumbersome attachments out of the equation when sending material to a prospect or client. GetAccept uses shareable links to improve sales operations with documents that are easy to access and track.

Because GetAccept content is stored digitally, you do not have to worry about common challenges with email attachments.
Why use a GetAccept shareable link?
GetAccept shareable links provide your prospects and customers with a WOW experience.

GetAccept's intuitive Sales Engagement platform allows you to combine sales documents and relevant media to create a comprehensive sales experience for your buyer.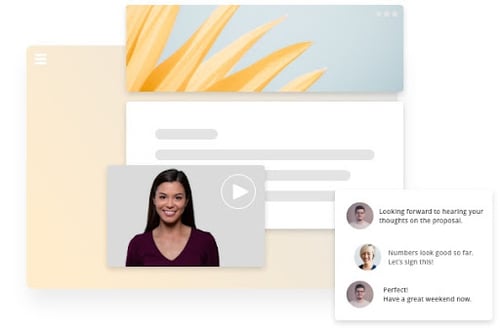 Each sales send out equips the buyer with a centralized place to access relevant sales content and supplemental information, such as calendar meeting links. In this way, GetAccept acts as a single hub for buyer-seller communication.

Your prospects and customers will have a more informative and immersive buying experience and will be able to contact you via chat when they are in a decision-making mindset.

To top it all off, you are able to provide buyers with a fully branded experience complete with your company's colors, logos and brand feel.
How can I use a shareable link?
Generating and sending a shared link to your prospect or customer allows you to deliver sales documents in endless ways. For example, you could include the generated link in the body of an email, a Slack or Microsoft Teams chat, in a text message or in a LinkedIn chat message.

We support the generation of multiple links so you deliver documents such as sales presentations, quotes, contracts, NDAs, case studies and meeting agendas via shared links.
How do I generate a shareable link in GetAccept?
GetAccept makes it easy to create and send a shareable link. What's more, sales reps can generate and send a unique document link.

Here are the 6 steps for generating a document link that can be manually shared via GetAccept's Chrome integration in compatible CRMs, including HubSpot, Pipedrive, Upsales, and LimeGo:
When your document is ready to send, navigate to the "Prepare Sending" screen. Click on "Sign and share document link."
The document will be successfully created and you will see the option to create a follow up task.
Click "Close."
Select the sent document from under related documents. Note that the document status will be
Sealed and that a link symbol will be visible to the left of the deal value.
Click "Copy URL" for the Recipient. Note that if there are multiple recipients, each recipient will have their own unique URL that needs to be copied to enable document tracking.
Share the URLs with your recipients as desired.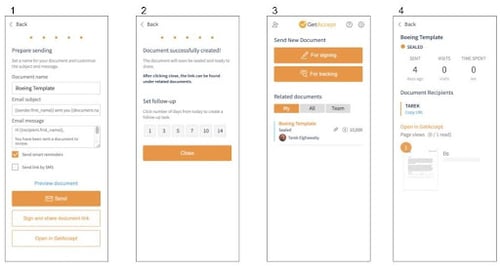 Shareable links are the way of the future
As more sales processes go digital, it's time to move beyond outdated ways of sending and receiving documents.

Shareable links harness the power of GetAccept to provide seamless experiences for both the sales rep and the prospect or customer.

Take your impressive sales collateral and turn it into a shareable link to easily send and track its progress.

Shareable links work from any of GetAccept's CRM integrations, including HubSpot. Avoid the complications of email attachments and start sending shareable links today.
Interested in the impact of shareable links for your sales team? See shareable links in action!