GetAccept + Microsoft Dynamics
Streamline your sales process with GetAccept, the leading Digital Sales Room platform. Simplify how you create, share and e-Sign sales documents directly within Microsoft Dynamics CRM.
Automate your Sales Process with GetAccept's Native Integration to MS Dynamics
Automate your Sales Process with GetAccept's Native Integration to MS Dynamics GetAccept is embedded inside MS Dynamics 365 Sales and can be placed under Opportunities, Accounts, Contacts and Quotes.Your sales reps can create, share and track their sendouts without leaving MS Dynamics. The GetAccept integration is a full-service solution to shorten your deal cycle and increase your win rate.
Create, share, track contracts & proposals all in one place.
Simplify your sales process with GetAccept. Store all your documents in one place and easily personalize and share them with selected recipients. Create dynamic videos, meeting summaries, sales decks, pricing tables, PDFs, and more - all within Dynamics CRM. No more juggling through emails, slacks, and Google Drive to find what you need.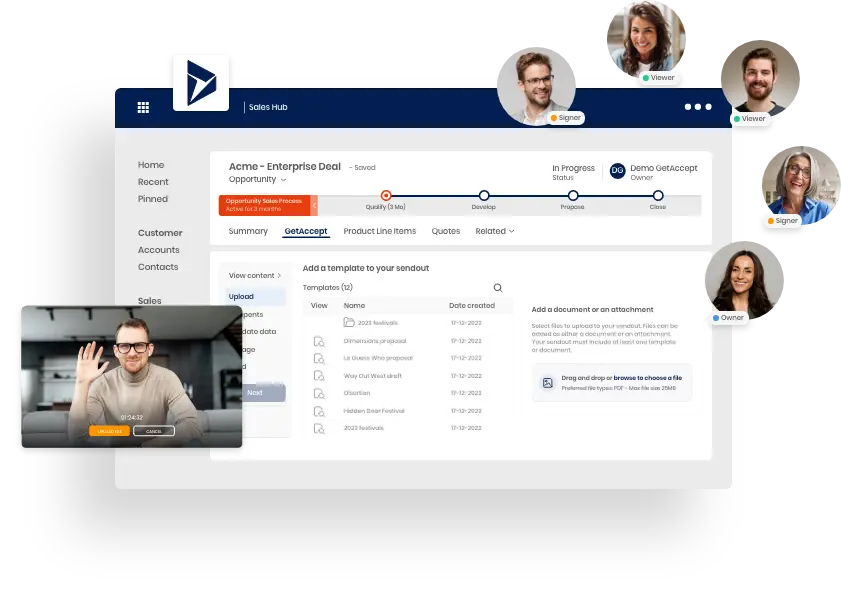 Flexible and easy-to-use pricing table
There's no need to manually add static PDFs to your sendout anymore. Automate this process instead! Seamlessly push Product Line Items stored in Dynamics to your quotes using GetAccept's Pricing Table. Send your quotes out faster, more easily, and even more aligned to your company's-brand and style. Your quotes will also be responsive so your buyers can sign them from their mobile, tablet, or computer.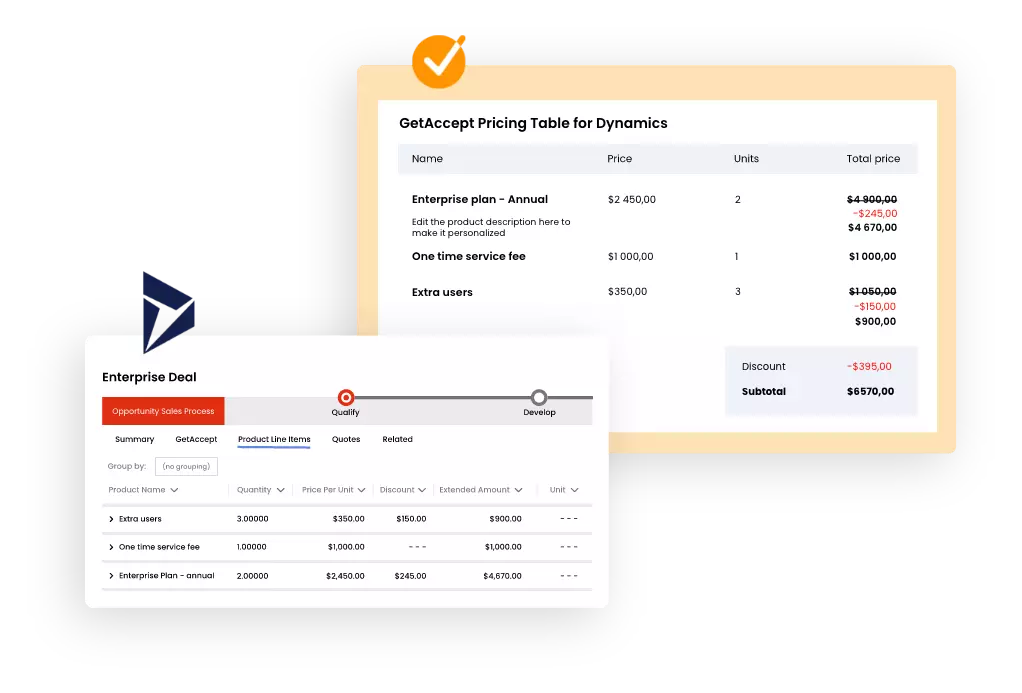 Engage buyers and negotiate on the fly
Record a personalized video within Dynamics or upload a pre-recorded video to accompany your sales sendout. Build trust with your buyer and stand out from the crowd. As the deal progresses, edit your proposals and implement agreed changes quickly, even after they are sent. Your buyers can always use the same shared link to view the latest document version, keeping everyone in the buying process engaged and aligned.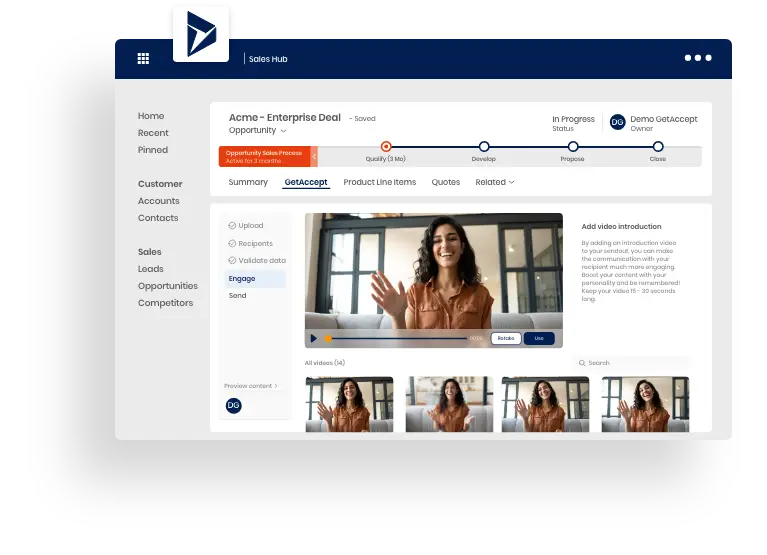 Track buying intent and uncover hidden stakeholders
Monitor document engagement in real-time to gain insights on prospects. Track opens, popular pages, and to whom your recipient has forwarded the document. Identify all stakeholders involved in the decision-making to optimize your outreach. Stay informed with live updates via email, GetAccept mobile app, or Dynamics timeline so you never miss a beat.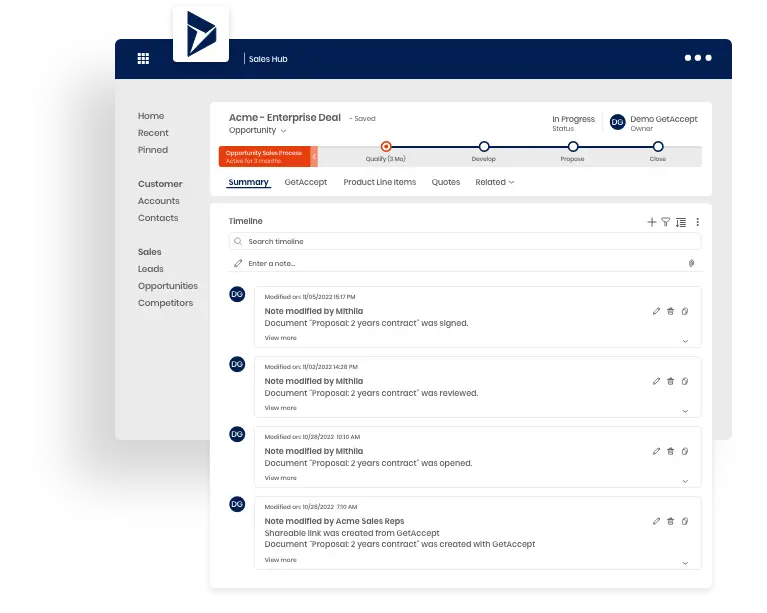 Get your deals signed and sealed
Close all deals easily with a one-click, legally binding eSignature. Send any document for electronic signature straight from Dynamics CRM. The signed copy will automatically be sent back to your CRM for storage when the signature is completed.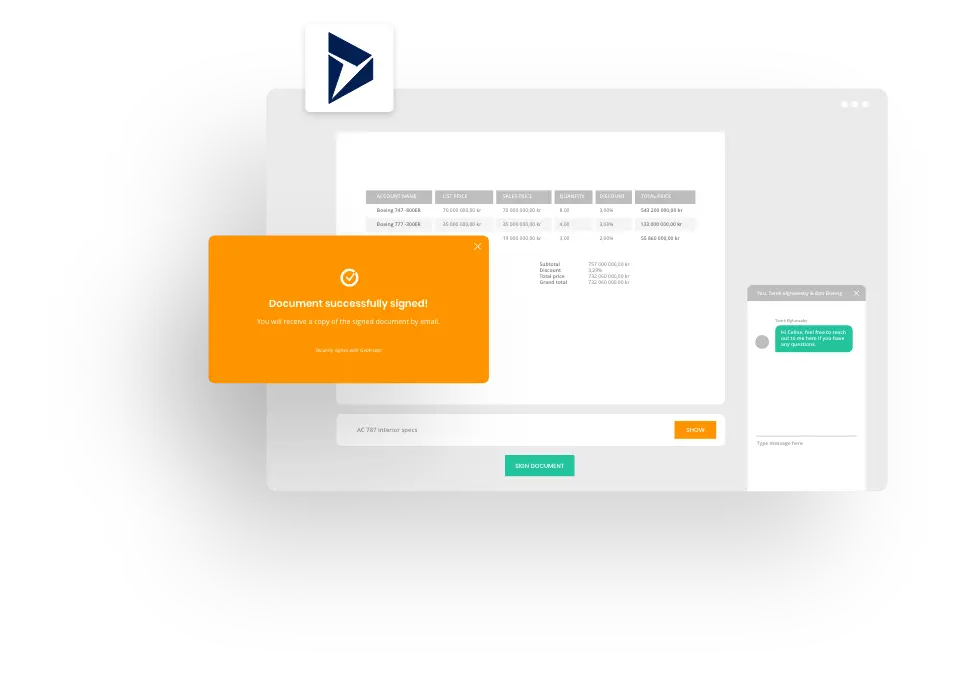 "With GetAccept, the documents become more accessible. I can read through and sign an agreement while I sit and wait for something else, directly on my mobile. "
Turn prospects into customers, today
GetAccept is with you all the way! Understanding where you are in your digital transformation is the first step. Contact us to book a demo and we will find a solution together!