Share documents via direct links
As more sales processes go digital, it's time to move beyond outdated ways of sending and receiving documents.
Previously, Microsoft Dynamics users could only share documents via email through GetAccept. But with this update, you can share your engaging sales collaterals with your recipients via a direct link.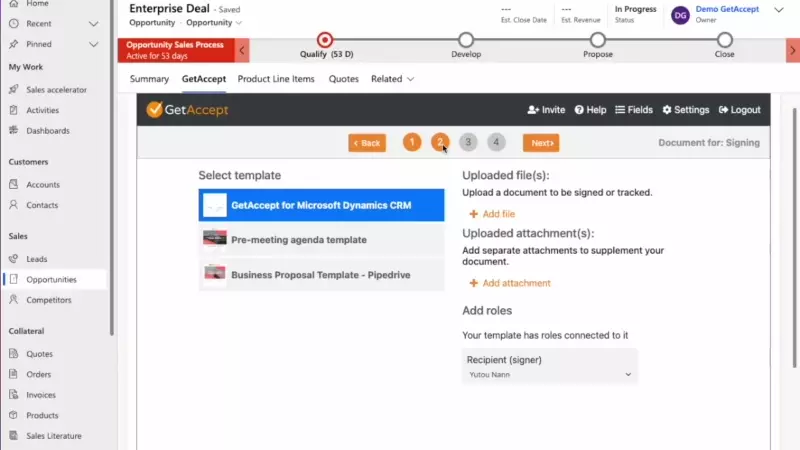 After a document is created, simply copy the shareable link, and paste it into your ongoing email threads with your buyers, Slack or Teams messages, LinkedIn messages, or any other channels you prefer.
Never worry about the challenges when sharing email attachments, and enjoy the flexibility to close deals in your own style.
Edit the pricing table even after it's sent
Negotiating in a timely manner is important to get deals closed.
To make your sales process more efficient, you can not only discuss with your buyers via the chat function but also update the pricing table on the fly.
With the latest update, you are able to edit the pricing table (e.g., prices, number of units, product descriptions, etc.) via the GetAccept core app even after you've already shared it with your buyers.
In addition, you can also display discount percentages on your pricing table.
Here's how to do it:
Uncheck the "Lock after send" under CPQ profiles in the GetAccept Settings in Dynamics

Update the pricing table of an already sent proposal via GetAccept

Remember to update the pricing in your CRM as well
Please note that the changes on the pricing table will only be reflected in the proposals you sent out. You still need to update the latest pricing in your Dynamics CRM manually to keep the data consistent. But stay tuned! The data synchronization is under development as we speak.
Check this article to learn more about Dynamics Pricing Table Integration.
Any questions, thoughts, or feedback?
We'd love to hear it! Get in touch by sending an email to marketing@getaccept.com.