You send several documents to your prospects at every stage of your sales process. But here are 13 reasons you must stop sending these documents as an email attachment, today!
Did you know that there are roughly 3 billion email users around the world, and 319 billion emails are sent and received every day?
According to the latest research by Constant Contact, this number is anticipated to increase to more than 376 billion emails exchanged daily in the next four years. That's A LOT of emails.
Email is still one of the most popular channels for business communication, especially when it comes to sales.
If you are in B2B sales, your sales process probably includes several emails throughout your sales funnel, most of which have an email attachment, such as brochures, catalogs, proposals, decks, or contracts.
Attachments are a chore. Finding the right file version, uploading it to your Gmail or Outlook, and waiting for it to load all take valuable time that could be better spent selling. Stop sending email attachments today!
Of course, you have to send these sales documents to your prospects, and we're not saying you have to get rid of documents completely. Documents no longer have to be an attachment to your emails.
Here are 13 reasons why you should switch to a link-based document sharing system today!
In a hurry? Don't worry! Download the blog post and read it when you have the time.
1. You lose confidentiality
When you send a confidential file to your prospects via email, you can never guarantee they won't share it with others.
Even if you explicitly mention that the file you're attaching to your email is confidential, there's no stopping someone from sharing that file with other employees, external entities, or, worst of all, your competitors.
You can control who sees your documents with a link-based solution due to unique tracking codes and technology that lets you see who interacts with your document in real time.
2. You increase security risks
Sending a sales document by email means storing the same file on multiple devices: on your computer, in your outbox, in all the recipients' inboxes, and, most likely, on all their computers.
Even if all parties keep the file confidential, the file itself becomes more vulnerable to cyber-attacks. With a link-based alternative, your file is stored in one location only, and individuals are granted access.
3. Your email will last forever
Things change in business life. Your products, proposals, quotes, people, roles, and many things change over time.
But once you send an email, it lasts forever in your prospects' inbox. Two years later, you might wish you have never sent that file. With a link-based solution, you can easily set an expiration date, so your file isn't living forever in someone else's hands.
4. You might send your email to the wrong person
As salespeople, we send so many emails throughout the day that it's easy for attention to detail to lapse. Sending an email attachment with sensitive information to the wrong person is enough to keep even seasoned salespeople up at night.
What's worse, there's no way to retrieve an email sent in error. If you share your sales document as a link, you can at least disable the link or revoke access and avoid the wrong person seeing it.
5. You have to deal with large files
Sending huge files by email is definitely a bad practice.
First, it clogs inboxes, and everybody hates it. Second, with so many people sending and receiving emails on mobile devices, nobody wants to open huge files. Mobile devices often require users to download specific apps to open large documents, and no one wants to sacrifice their storage space for a large file.
Finally, some mail servers don't allow files larger than certain sizes.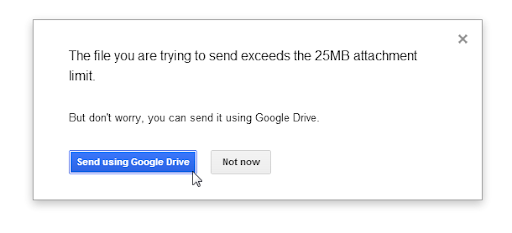 When you send a link to your document, there are no size restrictions or slow load times to worry about. Links even give mobile users the option to view a document in their browser for easy access on the go.
6. You require recipients to download
Today nobody wants to download anything, especially with mobile devices with limited connectivity and storage.
Requiring your recipients to download a file adds just one more barrier to getting your contract signed. Downloadable files might also trigger a spam filter, delaying your contract's journey even further.
When you send a link to your sales collateral, they can easily view it without downloading your file.
7. Your email address might get blacklisted
When you send large email attachments, you increase the chances that your email gets lost in spam filters.
And, even worse than that, if you keep sending large attachments and getting flagged as spam, your email address might get blacklisted.
An email blacklist is the last thing a salesperson wants, and it could have consequences for your whole company.
If you send a document via a link, you reduce your chances of getting caught by today's sophisticated spam filters.
8. You can easily go off-brand
One of the problems with larger sales teams using old-fashioned PDFs is that every salesperson in the team creates his own version of a sales document.
With so many different designs, colors, logo sizes, and fonts floating around, you risk creating a confusing brand experience for your customers.
Many link-based solutions offer a central content library, and all team members share the same documents.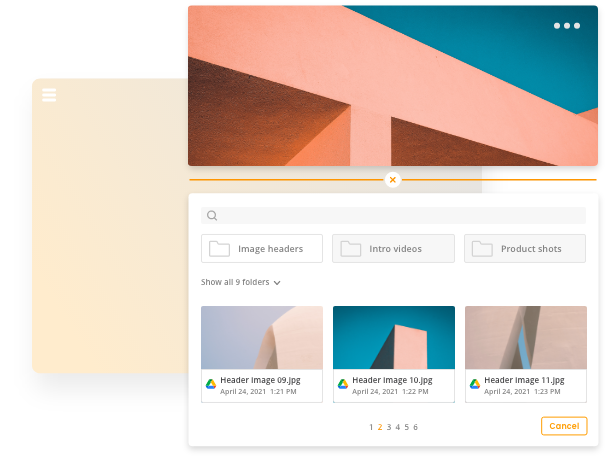 You can also control who has access to what documents at what time and create templates for sales representatives to customize easily.
9. You end up with multiple versions of the same document
It's common to need to modify a document several times during the sales process.
If you're sending email attachments and need to make changes, it's easy to inadvertently end up with a second version of the file.

This might create many problems, such as having to send each version to everybody again or managing different versions coming from different people.
When you share a link, though, you just modify the source file, and you're done.
10. You might forget to attach your file
How many times have you sent an email and forgotten to attach a file to it? It feels terrible, right?
This happens because when we are writing the text of the email, we mention the attachment, but we don't attach the file and wait until we finish the whole email.
Email clients are getting better at prompting you to attach files before hitting send, but usually only if you use the word "attach" or "attachment" in the email text.
If you don't notice that you've forgotten the attachment in time, it could create an awkward experience for your clients, who have to politely reply asking for the attachment.
When you send a document link in the email message itself, however, you won't have to worry about the awkwardness of forgetting to upload an important file to your email.
11. You can't get your document signed quickly
If you are sending a contract to a buyer, you want to get it signed as quickly as possible.
Unless your prospect has an eSignature solution, though, they'll have to manually sign it by printing it out, signing the paper copy, scanning it, and returning it to you.
If your link-based solution has eSignature capabilities, you can get your document signed and returned super quickly.
12. You can't track how customers interact with your document
Even if you use email tracking, you can't track how your prospect engages with your email attachment in detail.
How much time did they spend on each page of the document? Did they forward it to another decision-maker? Did they print it, or download it?
A link-based document tracking solution will allow you to track where your prospects spend the most time in the document. With this valuable information, you can proactively answer prospects' questions and follow up quickly before the deal stalls.
13. Email attachments aren't engaging
Sales teams now use all sorts of digital tools to engage their prospects. With an email attachment, you send it, and that's it. Your only chance to engage is with an email follow-up.
Digital tools for document sharing open up a lot more opportunities to engage differently with buyers. Send a personalized introduction video, set up a chatbot, or automate reminders to keep your recipients engaged and make sure that the document gets signed.
What are your alternatives to sending email attachments?
It's 2022, there's a much better way to get customers the right documents.
Use a file-sharing solution
If you do just one thing, at least start to use a file-sharing solution like Dropbox, Google Drive, or OneDrive.
Having an organized, cloud-based filing system will help improve visibility across your documents, but it still might not be enough to manage multiple versions of files team-wide.
Explore a proposal management tool
Proposal management tools help sales teams create and keep track of files and send-outs in a digital environment.

Creating templates and controlling who can access those templates can solve issues with branding and version control. It can also make it easier for sales reps to customize their content for individual send-outs without having to work with a PDF.

Invest in eSignature
Electronic signatures are the icing on the cake when it comes to effective sales documents. It doesn't matter how great your document is if the recipient can't sign and return it.

It's time to stop sending email attachments once and for all
If you want to close more deals, stop sending email attachments and start using a link-based modern solution to send your sales documents!
For better sales results, you need to track how your prospects engage with your document and get it e-signed quickly. It's time to switch to an all-in-one sales solution.