Sales managers play a crucial role in the success of any organization. They are responsible for leading and motivating a team of sales executives to achieve their sales goals. In order to be an effective sales manager, there are several essential sales management skills that one must possess.
In this blog post, we will explore these essential skills needed to thrive as a sales manager.
What are the roles and responsibilities of a sales manager?
A sales manager is responsible for leading and directing a sales team to achieve sales targets and goals. Along this journey, they must bear the following responsibilities:
Staying within a budget and accomplishing expected goals.
Provide feedback to the company based on the needs of the sales team.
Identifying and solving roadblocks and problems.
Using their experience and knowledge base to train and lead the sales department.
The factors that affect the market in any industry are ever-changing and dynamic. However, the skills required by sales managers to perform efficiently and deliver results remain the same in nearly all fields. They are: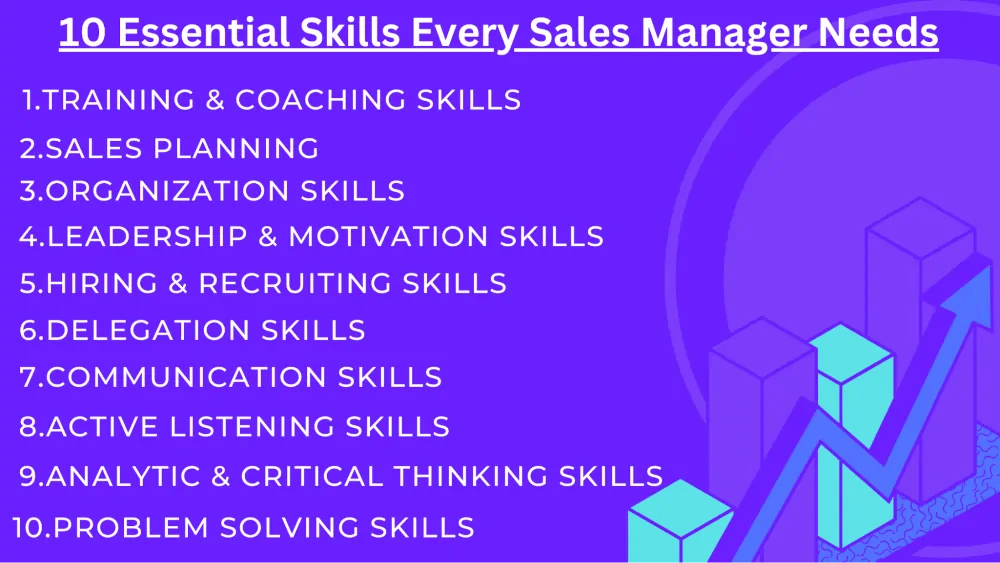 1. Training and coaching skills
Training and coaching skills are crucial for a sales manager to build and lead a high-performing sales team. A sales manager should be able to design and deliver effective training programs that effectively coach team members. Sales coaching includes identifying areas where the team needs improvement, creating training materials and activities that address those needs, and providing ongoing support and feedback.
2. Sales planning
Effective sales planning is a key skill for sales managers. They are responsible for creating a sales plan that outlines the goals, strategies, and tactics to achieve the desired results. The plan includes setting sales targets, identifying target markets, and developing sales strategies that align with the company's overall goals and objectives. A sales manager must also be able to forecast future sales trends and adjust the plan accordingly.
3. Organizational skills
Organizational skills are essential for successful sales managers. They allow the sales manager to prioritize tasks, set goals, and effectively manage their time. This is important in a sales role where time is often limited, and there are many different customers and deals to keep track of. A well-organized sales manager can better stay on top of leads, follow up with customers, and make sure no opportunities are wasted.
4. Leadership and motivational skills
Leadership and motivation are vital for any sales manager to lead their team and achieve their sales goals effectively. A sales manager should have strong leadership skills to guide and mentor their team members, set clear expectations, and hold them accountable for their performance. They should also be able to inspire and motivate their team members to reach their full potential.
5. Hiring and recruiting skills
Hiring and recruiting skills are critical for a sales manager to build and maintain a high-performing sales team. A sales manager should have a clear understanding of the skills and qualifications required for the role and should be able to identify potential candidates who possess these qualities. They should also be able to screen and interview candidates effectively and assess their qualifications, skills, and potential fit within the team.
6. Delegation skills
Delegation skills are essential for any sales manager to manage their workload and achieve their sales goals effectively. A sales manager should be able to identify which tasks can be delegated to their team members in a clear and effective way. This involves breaking down tasks into smaller manageable pieces and assigning them to the appropriate team member based on their skills and experience.
7. Communication skills
Sales managers must also be good communicators in different forms of business communication, such as grapevine communication, vertical communication, etc. They must be able to clearly and concisely convey information about products/services to clients, conduct business deals, and communicate with team members and other managers.
8. Active listening skills
By actively listening, a sales manager can build trust and rapport with the customer, uncover their true needs, and tailor their sales pitch to address those needs. Additionally, active listening allows a sales manager to identify any objections or concerns the customer may have and address them proactively. This can help to increase the likelihood of closing a sale.
9. Analytical and critical thinking skills
Analytic and critical thinking skills are essential for a sales manager to make informed decisions and drive sales growth. These skills involve analyzing data and trends, identifying patterns, and making connections between different pieces of information. A sales manager with strong analytical skills can use this information to make informed decisions about sales strategies, forecasting, and resource allocation.
10. Problem-solving skills
Problem-solving skills are crucial for a sales manager to navigate the market's complex and ever-changing landscape. Sales managers often face various challenges, such as demanding customers, unexpected market changes, and internal issues within the team. A sales manager with strong problem-solving skills can analyze these challenges and develop practical solutions.
What are the technical skills of a sales manager?
As a sales manager, you're expected not only to lead and motivate your team but also to possess technical skills that will help you achieve your sales goals. These technical skills are:
1. Product knowledge and service expertise
A proficient sales manager must thoroughly understand the product/service the company is offering to the market. This helps increase the company's credibility and answer questions posed by potential customers.
2. Conflict resolution
Sales managers must be able to effectively manage and solve conflicts such as customer care issues, disputes, and problems incurred during the sales process. Tackling such situations is a vital technical skill required by managers for the company to thrive.
3. Understanding customer needs
Detailed and efficient market research is a key technical skill every sales manager needs to possess. A sales executive needs to study market trends and behavioral science and conduct surveys to understand buyers' requirements. This strategy will help create a personalized customer experience, build customer trust, and strengthen the partnership.
Sales management skills that make a sales manager stand out
Sales management involves overseeing a sales team and ensuring they meet or exceed sales targets. To be an effective sales manager, one needs to possess a combination of technical, interpersonal, and leadership skills. These skills include:
1. Forming a sales team
A successful sales manager targets recruiting talented and skilled sales professionals to form a sales team. They must identify and select the best-suited candidates through a rigorous job interview process.
2. Sales performance management
Sales managers must be effectively able to manage the performance of sales executives. This is done by communicating performance expectations, monitoring behaviors, assessing results, and providing frequent feedback.
3. Sales coaching
A sales manager can help in boosting company sales revenue through impactful sales coaching. They must share their knowledge base and teach sales executives the skills to become effective salespersons.
4. Sales leadership
A great sales manager can use their skills to achieve outstanding results. They lead by example and positively influence sales executives working under them to reach their full potential and meet sales targets.
Sales metrics that managers should watch daily
Sales metrics are key indicators of a company's performance and success in the marketplace. As a manager, it's important to track these metrics daily to monitor the progress of your sales team and make informed decisions about how to improve. Some of the most important sales metrics to watch include: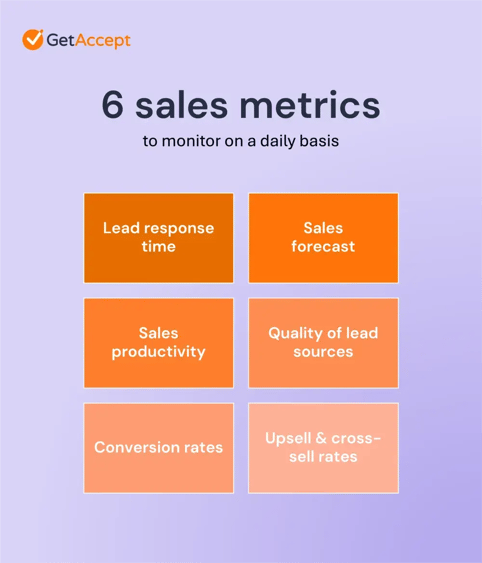 1. Lead response time
An efficient sales manager ensures the time required to respond to leads is as minimal as possible.
2. Sales forecast
A sales forecast is an estimate of future sales, usually created by a sales manager, that is used to plan and budget for a company's future sales activities.
3. Sales productivity
A sales manager plays a crucial role in ensuring the productivity of their sales team. This is done by closely observing and tracking key metrics like sales numbers, conversion rates, and activity levels, as well as conducting regular performance evaluations and calculating expenses and incoming revenue.
4. Quality of lead sources
Another key metric a sales manager must always keep their eye on is ensuring the sales team has a steady stream of high-quality leads to work on. This is done by analyzing data, studying market trends, and understanding consumers' needs.
5. Conversion rates
A sales manager's primary responsibility is to ensure that the sales team can effectively convert leads into customers. To do this, it's important to closely monitor and analyze conversion rates, a key metric that measures the effectiveness of sales efforts.
6. Upsell & cross-sell rates
Upselling is the process of encouraging a customer to purchase a more expensive version of a product or service. At the same time, cross-selling facilitates a customer to buy additional products or services that complement their original purchase.
How to be a good sales manager?
Being a successful sales manager requires a combination of leadership, communication, and sales skills. In order to become a competent sales manager, a person should have a strong skill set in the following areas:
Time management: A sales manager must be able to effectively manage their time to meet sales goals, manage their team, and handle administrative tasks. This includes setting priorities, creating a schedule, and staying organized.
Personnel management: A sales manager has to recruit the most promising candidates and offer them training, initially and ongoing, to give the company a competitive advantage.
Credibility: A sales manager with credibility is trusted and respected by both their team and customers. They can build relationships based on trust and honesty, which is crucial for success in sales.

Future forecasting

: A sales manager must be able to assess long-term sales numbers by thoroughly understanding key metrics such as sales forecasts and monitoring sales productivity data.
Leadership style: An important quality possessed by a good salesman is their ability to adapt their management style according to a particular situation and person.
Conclusion
In conclusion, being a successful sales manager requires a diverse set of skills, including strong communication abilities, the ability to lead a team, a deep understanding of the product or service being sold, and the ability to analyze and interpret data.
Building and maintaining relationships with clients, as well as being able to adapt to change, is also essential. A sales manager can lead a team and drive sales success by developing and honing these skills.