HubSpot + GetAccept
Harness the power of GetAccept without leaving HubSpot. Enhance your HubSpot sales experience with the top Digital Sales Room tool.
How does the GetAccept integration for HubSpot work?
GetAccept is embedded inside the HubSpot environment via a Chrome Extension, allowing sales reps to leverage advanced sales engagement and eSignature features without leaving their CRM environment. GetAccept can be accessed under a deal, contact or company record, creating a full-service solution to shorten your deal cycle and increase your win rate.
Personalize your sales interactions
Personalize your sales sendouts with videos from within HubSpot. Record a video or upload a pre-recorded one to build trust with your prospects and customers. Easily send personalized videos through your HubSpot account via deal, contact, or company records. Use automated reminders or start a chat to engage with buyers in real-time when they're ready to make a decision.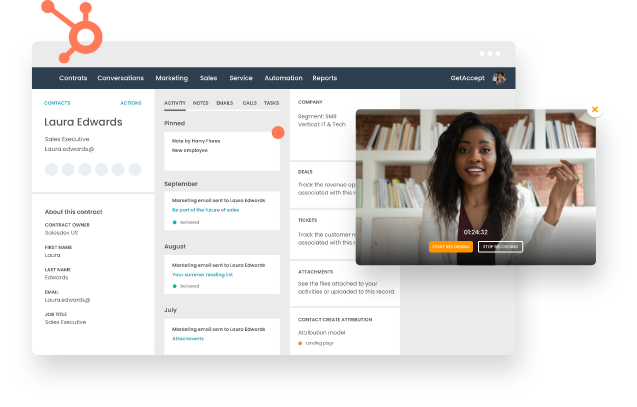 Track document progress and buyer engagement
Optimize your outreach by tracking prospect interactions in real-time with GetAccept Analytics. View document activity including opens, review time, page breakdowns, chat history, and event logs. Receive live updates on status via your inbox, the GetAccept mobile app, or in HubSpot's record or activity timeline.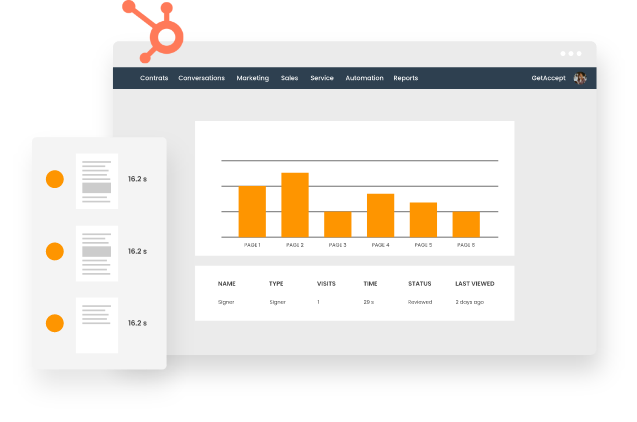 Identify hidden stakeholders
Track forwarded documents and uncover new stakeholders. With GetAccept, you can see how many unique viewers have looked at a document and for how long. Understand all parties involved in the decision-making process and optimize your sales outreach, talk track, and pipeline management.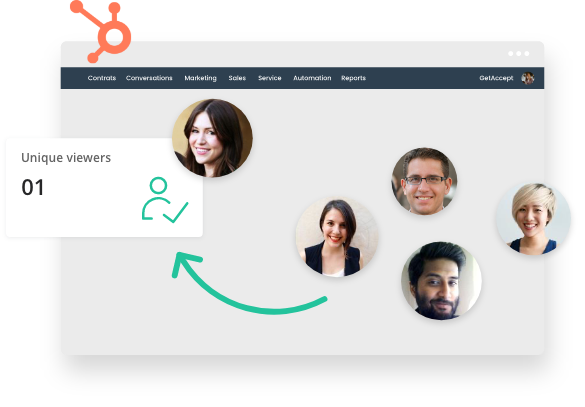 Secure electronic signatures
Close all deals easily with a one-click, legally-binding eSignature. Send any document for electronic signature straight from our HubSpot integration, and when the signature is completed, automatically send the signed copy back to your HubSpot CRM for storage.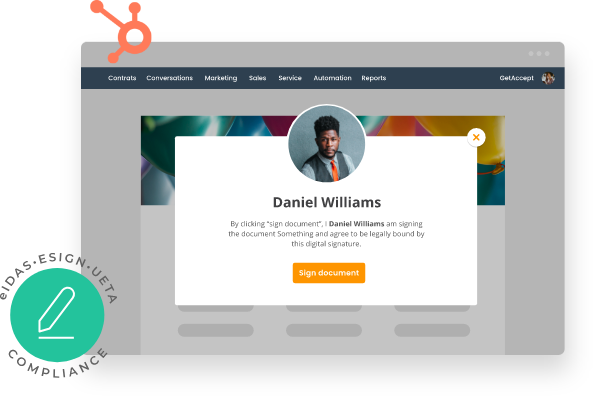 Create and send content in a single environment
Easily combine dynamic video content with case studies, sales decks, meeting links, tables and more into your proposal templates. Store all relevant sales collateral in HubSpot for quick and easy access so you can work from a single environment, save more time on admin, and spend more time selling.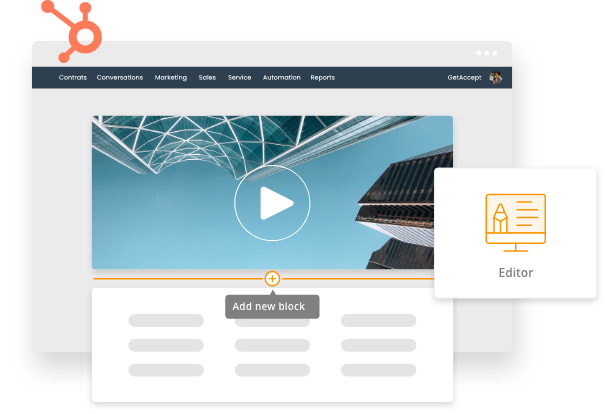 Populate CRM data in your quotes and proposals
Auto-populate your CRM data into templates using merge tags for GetAccept or Google Suite. Integrate HubSpot data with GetAccept and create documents, even for complex quotes. Add your product details from HubSpot like type, quantity, and price into an editable pricing table. Made a mistake in your sent proposal or quote? Just update it in HubSpot, save, and send the new version to your buyer.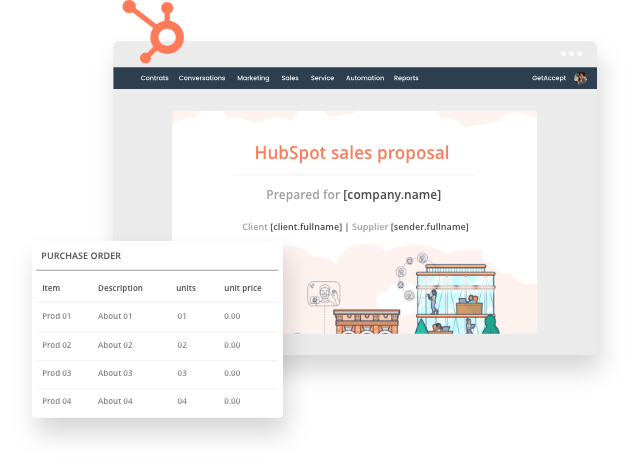 Automate your sales workflows
Level up your sales automation by triggering HubSpot workflows based on activity in GetAccept documents. Trigger a personalized email campaign from HubSpot after a document has been opened, reviewed or signed. Automatically update a customer lifecycle stage based on activity inside a document, or add a HubSpot task on a contact or deal after a contract is e-signed.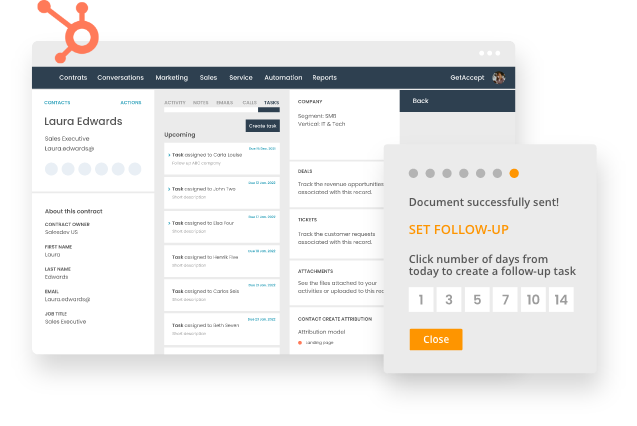 Who uses the GetAccept integration for Hubspot?
Sales teams
Efficiently craft and send compelling sales assets, proposals, and agreements in a highly interactive and personalized way, engaging buyers from your first sales interaction all the way to an e-signed contract. Track document engagement and activity in real-time to follow up with buyers when they are ready to buy, and identify hidden stakeholders in the decision-making process.
Marketing teams
Equip your sales team with a centralized library of on-brand, marketing-approved templates and assets your reps can access and send straight from Hubspot. Facilitate and increase document standardization and adoption while tracking the usage of these assets by your sales team. Gain insights on how templates are and aren't being used to optimize future content creation and adoption.
Sales and revenue operations
Reduce maintenance overhead and increase sales productivity by implementing streamlined sales processes and workflows directly in Hubspot. Set up the foundation for an aligned internal machinery through the creation of a centralized hub for sales assets and insights into rep performance and insights on sales pipeline.
"When GetAccept was introduced to us we immediately were drawn to its ability to effortlessly integrate into our HubSpot CRM system"
Turn prospects into customers, today
GetAccept is with you all the way! Understanding where you are in your digital transformation is the first step. Contact us to book a demo and we will find a solution together!