Integrating GetAccept with HubSpot can help you win more deals, faster, with features like document generation/management, sales engagement, CPQ, and an e-signature add-on.
Over the last few years, the old-school selling strategy was largely abandoned in favor of remote-friendly sales models. Today's client-facing revenue teams face the unique challenge of having to create a custom, human buying experience while relying on digital selling tools—many of which remove the human element from the sales process. Worse still, many of those tools don't provide high-quality customer experiences and require a lot of manual effort from sales teams.
That means reps spend more time on processes and less time closing deals and nurturing customer relationships.
One of the most time-consuming steps in the sales process is creating and managing contracts and other sales documents. Ensuring each contract is accurately customized to the buyer, up to par with legal requirements, and sent and received promptly can be a tedious process. And relying on individual reps to create each contract leaves a lot of room for human error.
But there are better ways to generate and manage contracts and engage with buyers—and one prime example is the GetAccept integration for HubSpot.
GetAccept is a powerful digital sales room platform that helps sales reps engage buyers in new ways with advanced sales engagement, scalable personalization, document generation/management, and eSignature features.
HubSpot is an all-in-one CRM platform that makes it easy for your entire company to work together —from marketing to sales and customer service.
The GetAccept integration for HubSpot equips revenue-generating teams with powerful features that enhance the HubSpot sales experience and help reps close more deals. Let's take a closer look at what this integration can do.
5 ways to enhance your HubSpot sales experience with GetAccept and HubSpot
GetAccept and HubSpot help sales teams leverage advanced sales engagement and eSignature features without leaving their HubSpot CRM environment. Reps can access GetAccept tools under a HubSpot deal, contact, or company record, and GetAccept offers a full-service solution to shorten your deal cycle and increase your win rate.
1. Personalize sales interactions with video
The GetAccept and HubSpot integration makes it easy for salespeople to record and share personalized videos within HubSpot or upload a pre-recorded video to accompany their sales send-outs, which helps to build trust and rapport with potential customers. Sales reps can create and send personalized videos straight from their HubSpot environment through a deal, contact, or company record.
Did you know? Reps see a 41% increase in buyer engagement when sending proposals with personalized videos.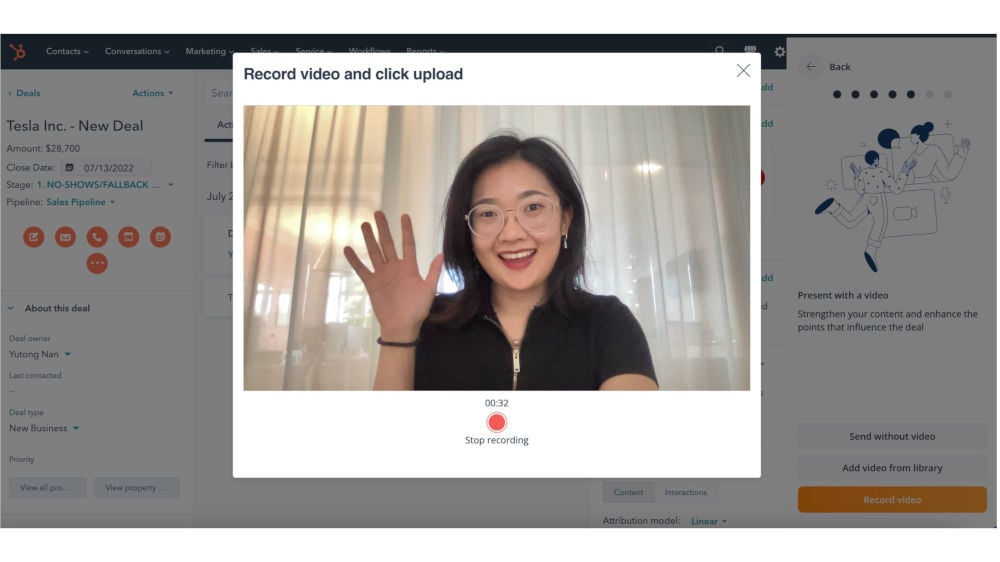 2. Two-way data sync to automate sales processes and ensure a clean CRM
Reps can save time and reduce manual data entry by auto-populating HubSpot data into GetAccept templates. The GetAccept integration helps streamline the creation of both common and complex proposals by making it easy to embed dynamic merge tags for HubSpot deal, company, product, and contact data directly into sales documents.
This feature helps maintain a clean CRM while saving a ton of time for sales teams. So when a sales rep sends out a contract, they can create and assign mandatory input fields such as billing contact info, registration numbers, and more—once the recipient fills in those fields, the data will be automatically stored within the corresponding HubSpot fields.
And if anything changes after a proposal goes out, it's easy to update or modify quotes. Reps can make the edits within HubSpot and send a new version to the buyer—the outdated proposal will expire automatically.
3. Sync Hubspot product data into a GetAccept pricing table
If you use the Hubspot Product Library or HubSpot product line items, you can easily insert a GetAccept pricing table element into your template editor when crafting a quote/proposal. Sales reps can then automatically populate HubSpot product line item data (i.e., product type, quantity, and discounts) into the GetAccept pricing table element in their template. The end result is a clean, mobile-friendly way to present quotes to your customers.
Calculating and presenting the costs of your products or services to buyers can be a tedious and time-consuming task for sales reps. Instead of generating a static quote PDF that cannot easily be changed or updated, the GetAccept pricing table allows reps to easily edit and update quotes to reflect a price change or a newly added discount without having to recall and regenerate an outdated quote PDF.
In addition, sales teams can build out their quote/proposal templates to combine the GetAccept editable pricing table with supplemental content such as text, images, and videos to deliver a modern, comprehensive proposal to their buyers. For example, a manufacturing or construction company with hundreds of product line items and varying equipment/services product combinations can incorporate even more detailed product information in the form of descriptive text, video, and images (i.e videos describing types of machines) to accompany their GetAccept pricing table to better describe their product offerings to their buyer.
4. Create and send content in a single environment
Lengthy sales talks can create a mess of email chains, forwarded documents, Slack threads, and more. And sales reps are the ones stuck mining through those disconnected conversations to send follow-ups, answer questions, and move the process along. But GetAccept offers a better way to connect with buyers: the Digital Sales Room. A Digital Sales Room is a single, living environment for sales professionals and their buyers to connect, collaborate, and close deals efficiently.
Sales reps can quickly assemble a Digital Sales Room from the Deal, Account, or Contact level within HubSpot. They can select and combine relevant HubSpot sales collateral alongside pre-made GetAccept templates and third-party content stored on their local drive.
By storing all relevant content in a centralized location, buyers have everything they need to make a decision at their fingertips—which creates a better buyer experience and prevents the fragmented communication common to never-ending email chains.
And since GetAccept automatically updates HubSpot records with live activity updates, reps can monitor how prospects interact with their content in real-time—even when it's forwarded to someone else. GetAccept makes it easy to identify hidden stakeholders so your reps fully understand who is involved in the decision-making process.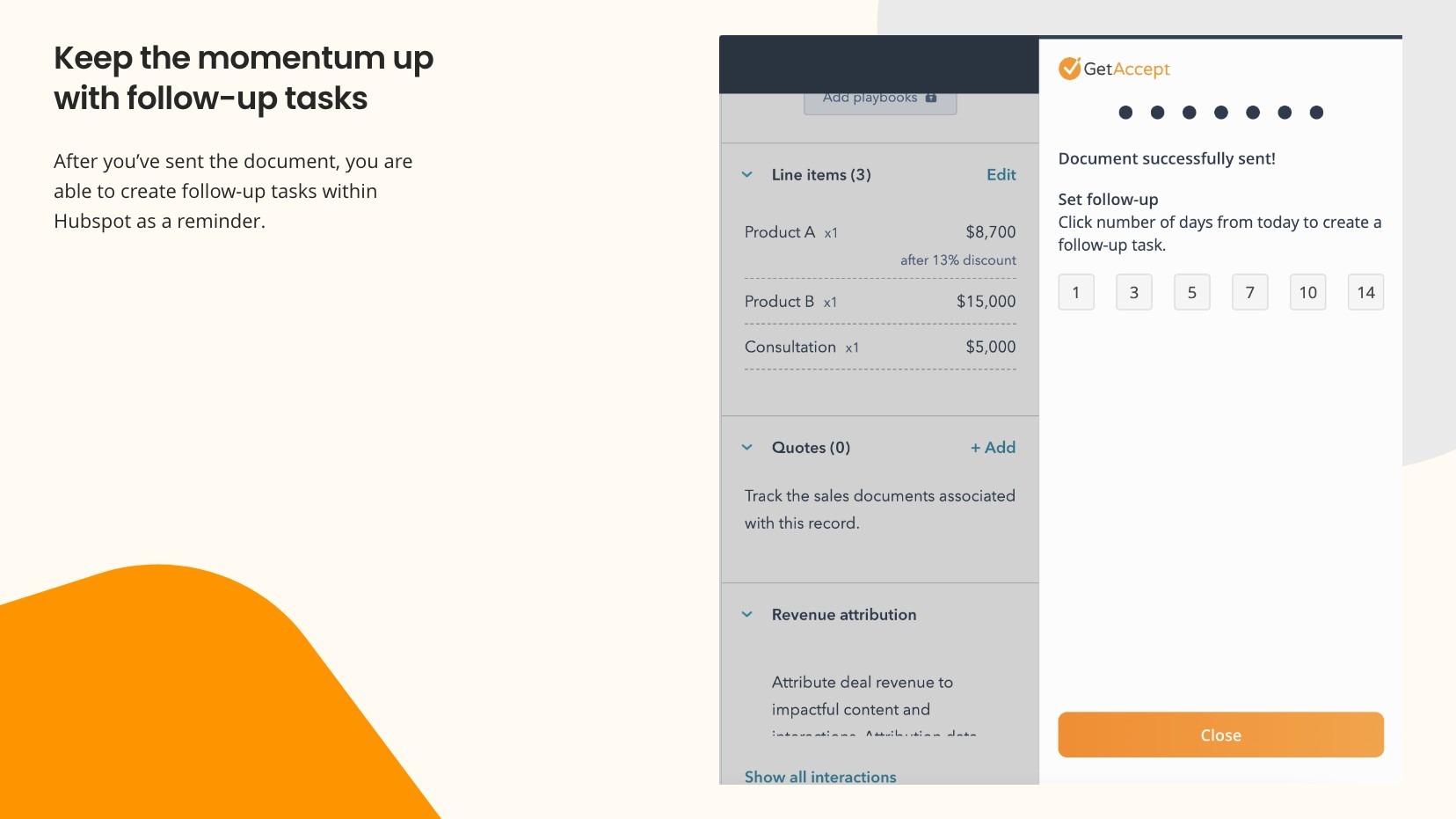 5. Automate your sales workflows
Gone are the days when you have to leave yourself reminders on a sticky note to make sure you follow up with a prospect. The GetAccept integration for HubSpot offers workflow automations that help reps increase efficiency and reduce the likelihood that important follow-ups slip through the cracks.
Once a proposal has been shared, reps can trigger personalized email campaigns from HubSpot after the document has been opened, reviewed, or signed.
Here's an example of how a salesperson could use HubSpot custom workflows with the GetAccept integration to save time:
A sales rep sends a proposal out to a prospect on Tuesday morning. They set up a smart reminder that will send the prospect an SMS reminder on Friday AM if they haven't interacted with the document yet.
A

fter the document has been opened, reviewed, or signed in GetAccept, a personalized email campaign is automatically triggered from HubSpot.

The prospect e-signs the contract—yay! Even better? There's no need for manual data entry. Once an e-signature is submitted, the workflow automatically updates the Contact, Company, and Deal properties accordingly.

A new task is assigned to the sales rep to remind them to follow up with the prospect to confirm receipt of the signed contract.

The new customer is added to the company's "New Customers - Need Onboarding" contact list in HubSpot.

A new task is assigned to a CSM so they know to introduce themselves to the customer and begin the onboarding process.
How a B2B EdTech company used GetAccept and HubSpot to coach reps and put customers at ease
Digital Theatre is a B2B company that provides ELA and Theatre students with engaging teaching and learning resources. They're not a typical B2B company—they target teachers, schools, and higher ed institutions who may not be used to working with contracts and signing away their budget. They were looking for a new e-signature platform that allowed them to better personalize their correspondence and build rapport with their customers. They were also looking for a tool that was easily integrated into their HubSpot CRM.
"We were immediately drawn to GetAccept's ability to effortlessly integrate into our HubSpot CRM system," says Derek Fisk, Licensing Director at Digital Theatre. "It pulls all the data matching we require to create a contract directly from HubSpot. We love the fact that within the HubSpot integration, you can also create a short video that can be included with your contract or proposal. This is a massive advantage, especially if the contract is being forwarded within an organization."
Using GetAccept and HubSpot together helped Digital Theatre personalize their sales interactions, get analytics into their sales reps' performances, and create a content control center to streamline outbound communication to prospects.
Harness the power of GetAccept without leaving HubSpot
The GetAccept and HubSpot integration equips client-facing revenue teams with frictionless selling tools to deliver a better, more-personalized buyer experience. By connecting GetAccept to HubSpot, sales reps can take advantage of features like document generation/management, sales engagement, CPQ, and legally binding e-signatures to win more deals, faster.