Running a remote sales team comes with its own unique challenges. In the end, technology is what keeps your team in sync and on track with the goals of the company.
And when it comes to sales tech, your CRM is the most important piece of the puzzle.
This is where your reps spend most of their time during the day, keeping track of relationships, contacting new leads, and engaging with prospects who are ready to buy.
If you're implementing a new CRM, how can you get your remote team on board and enabled for improved sales?
Let's look at 7 steps you can take to make your CRM implementation go smoothly for your remote sales teams.
1. Look for a CRM that fosters visibility
In the early stages, choosing a CRM that works for a remote team is essential. Of course, a remote sales CRM will include features that keep your team in good communication with each other and with prospects and leads.
For example, look for a CRM that includes:
Historical view of each lead's interactions with your company
Pipeline view that can be filtered by team or by rep
Easy view of reps that are currently on calls
Integrations with remote communication tools, like Zoom
With better visibility, your team will be able to support each other, and you'll have a better view of each rep's strengths and weaknesses, even though you're not in the office together.


2. Show your team how the new CRM will help them
One of the biggest challenges in the CRM implementation process is adoption.

If you approach this as a pre-made decision being forced on the team, your reps will probably resent it.

But if you include them in the process and let them have some skin in the game, they'll be more likely to accept the change in the system.

Start by letting your reps use the new CRM as a free trial, or getting them into the product demo. Let them see the features that will simplify their workflow and make their lives easier. Prove that the new CRM will help them do their jobs better.
3. Build a business case for the CRM to leadership
Getting your team on board is one problem—getting your boss on board is another.

The more people involved in purchase decisions at your company, the more difficult this will be. When advocating for a new CRM, it's your responsibility to show how this decision will benefit the company.

This is when you need to build a business case. Be sure to include this information:
Specific problems you're looking to solve
Clear reasons why the CRM you've chosen is better able to solve these problems than other CRMs on the market
Customer stories that prove your point
Clear, measurable goals for the new CRM
A timeline for implementation and adoption
Expected ROI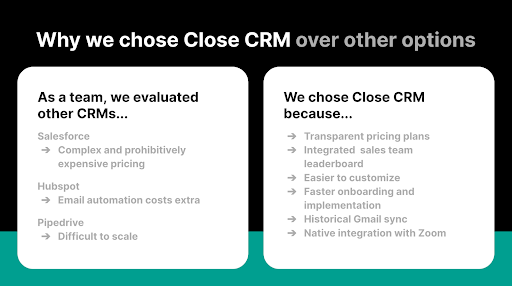 When you use real data and customer stories to prove your points, you'll have a more convincing business case for your new CRM.
4. Clean up your data before migration
It's no surprise that migrating your data is a pain in the rear. This is probably the most complex, frustrating part of CRM implementation—but it doesn't have to be.

Here's the simple truth: migrating dirty, outdated data is time-consuming and won't help your team.

So, start by cleaning up your data, BEFORE you migrate to the new CRM. This includes:
Merging duplicate data
Normalizing the structure of your sales data
Cleansing your CRM of leads that never purchased or are no longer in business
Updating your main POC for leads, and deleting contacts that no longer work for that company
Refreshing contact information such as emails and phone numbers
Cleaning up your pipeline so everyone is where they need to be
When you migrate clean data into your new CRM, the process will be much smoother, and your reps will walk into a new CRM that's clean, fresh, and ready to use.
5. Connect your digital sales room tools to your CRM
When you're using digital sales room tools like GetAccept to track documents and files for leads and prospects, you'll need to make sure this integrates smoothly with your new CRM.

For a remote team, this is even more important—after all, the smoother their workflow is to access, send, and receive important documents, the faster they'll be able to get contracts signed and close deals.

That's why Close CRM has a no-code integration with GetAccept. With these two tools working together, you can:
Push opportunity data automatically into GetAccept to create pre-filled contracts
See sendout activity from GetAccept inside the activity stream of each lead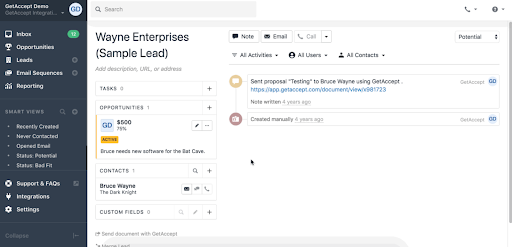 GetAccept document activity recorded in Close
CRM and digital sales room integrations ultimately make sales processes more efficient.
6. Customize features that matter to your team
Remote sales teams thrive when their CRM system is built for their specific use case. That's why customizations are extra important when your team is working from home.

This includes setting up your lead routing to match reps in different time zones, building a customized pipeline that includes the right remote communication process, or building workflows for remote coaching.

When you customize your CRM for remote sales, your team will get the most out of the new system.
7. Train your team to succeed in the new CRM
To implement a new CRM system across the team, your reps need to know how to use it effectively.

Let's be real: They're already used to the system you were using before, and they'll probably be resistant to change. That said, when you provide them with full onboarding and training in the new system, you're giving them the resources they need to be more effective in the new tool.

So, talk with your CRM vendor about onboarding and training before you commit. Look for online resources, videos, and in-depth reviews that can help your team better understand how the new system works. Give them time to adapt, and expect that they'll be a bit slower until they get a handle on the new CRM.
Kick-start your remote selling operations with an intuitive CRM
When you follow these 7 key steps, you'll have a more successful CRM implementation and enable your team to use the new tool to its full potential.
Want to learn more about implementing a CRM integration with GetAccept's Digital Sales Room? Learn more about our suite of integrations.