Traditional business models often rely on in-person communication and engagement to build solid working relationships.
Between the ever-growing evolution of technology and the increasing need for virtual communication, your company needs to be able to adapt to meet buyers' needs.
While building relationships online may seem difficult without in-person contact, there are ways that you can optimize your sales tactics to make meaningful business connections and demonstrate the value of your product.
Tips for improving your selling with a digital sales room
Selling remotely can be an intimidating transition from face-to-face interactions, but digital sales can help increase your efficiency and open your business up to a larger market than what is possible with traditional in-person business models.
However, to optimize the use of your digital sales room, there are some key practices you should focus on to help optimize your sales.
Specifically, a digital sales room (DSR) is a secure online space for sellers to pitch their product or service and interact with potential clients.
Digital sales rooms benefit all parties, as they allow buyers to have a streamlined experience and sellers to track consumption and content effectiveness.

Here are 13 tips to help you make the most of digital sales:
1. Humanize the digital experience
In a world where people heavily rely on virtual meetings, it is imperative for you to make these digital interactions feel more realistic by humanizing the online experience.
While nothing can compare to the genuine connection of an in-person relationship, you should try to recreate the personal aspect of these gatherings. To accomplish this task, you should use different engagement tools, such as:
Introducing yourself and letting your personality show through.
Keeping the presentation specific to your prospect.
Allowing your viewers to interact with you in real time.
2. Encourage interaction
Similar to the idea of humanizing the virtual world for your prospects, you should also encourage interaction.
This element creates a welcoming and accepting environment for your presentation. Also, frequent communication shows that you care about more than just making the sale by giving off an empathetic and understanding vibe.
There are many ways you can try to engage with your audience on a more personal level. Some methods of driving interaction include encouraging potential prospects to ask questions about your product or reach out to learn more about what you are offering.
This method allows you to clarify key points of the presentation and gauge a reaction from your viewers. Also, make sure to have your team available to facilitate communication in all aspects of your core offering whether it be a product specialist, customer success, or sales solution engineer. Prospects will appreciate chatting with your full team all in one space.
3. Work from a secure network with a shared collaboration space
As a seller, you want to make sure you have a secure shared space that allows you to communicate with prospects so that only the intended recipient can access the documents.
After sharing your documents with the intended recipient, they can access everything and add more participants to the room.
This method allows you to customize the experience of each prospect, and keeping a secure network ensures you don't share private information with others.
4. Share meeting recordings in your DSR
A large part of digital sales rooms can include meeting recordings, so it is important to understand what parts of meetings seem most engaging for your prospects and where you can improve.
While you can try to gauge the potential clients' reactions to your sales pitches in real time, you do not want to appear distracted or disengaged because you focus so much on them instead of your sales.
Instead, record your in-person or virtual meetings so you can watch them back and dissect how they went. This practice allows you to get a better feel for what part of your pitch seems to be most effective and where you can make changes to improve your digital sales room close rate.
Then, you can share the best meeting recordings in your DSR.
5. Use a sales specific content
Enhance your sales pitch and close more sales with a sales content within slide or a deck.
Having a visual aid that shows your sales content can help increase the engagement from the prospect and provide additional information that may slip your mind if you only rely on a verbal sales pitch. Our DSR facilitates your pitch and discovery meetings and streamlines communication in between meetings.
To create a digital sales deck, you can use programs such as Microsoft PowerPoint or Google Slides to create a slideshow presentation. You can also use a content creation tool like a built-in editor in some digital sales rooms that some providers offer.
If you use a digital aspect to add to your presentation, take advantage of cloud collaboration to keep everyone in sync, from you and your sales team to prospective clients.
6. Have an engaging product demo
Depending on what you try to sell, it may be beneficial for you to present a product demo that introduces your product or service by emphasizing its value.
Instead of simply reading off a preset list of talking points, keep your presentation relevant to the prospect. Try to avoid relating facts or testimonies about your product that are not relevant to what your potential customer is looking for.
To ensure you sound natural and not like a robot listing off memorized facts about your product, create an engaging product demo that showcases how your offering works and the value it has to your prospective buyers.
7. Guide buyers to the right information
Another key element of a successful digital sales room is guiding buyers to the right information. This strategy works on a variety of levels.
For one, providing potential clients solely with information that pertains to them proves that you did your research about them, which shows that you care about what they have to offer beyond a sales level.
You should also use the design of your presentation to guide prospects to the right information. By focusing on the visual aspects of your presentation, you can make it more effective.
Use basic design techniques like the visual hierarchy to attract the reader's eye to the most important part of the presentation first.
Also, use color and whitespace to your advantage by highlighting important information or special deals in different colors. Remember to avoid overwhelming viewers with excessive colors, designs, or patterns that distract from the content of the presentation. Instead, use these features sparingly to draw attention to sales points you want your prospect to notice.


8. Focus on efficiency
Make it as easy as possible for prospects and all stakeholders to access important information about the deal in a single location at any given time. Efficiency is essential for closing more deals while spending less time on administrative tasks.
To be as efficient as possible, keep a set schedule. Make sure that your sales pitch includes all important information in a short time slot, keeping everything brief enough that the presentation is engaging but in-depth enough that prospects can understand the importance of purchasing your product or service.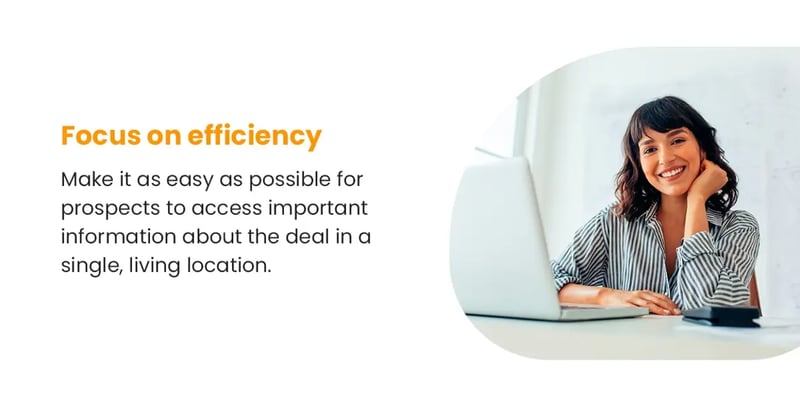 9. Make sure all documents and data are up-to-date
Impress the potential buyer and give yourself and your company a good image by keeping the information in your presentation consistent and accurate. One way you can accomplish this task is by ensuring any documents you share with prospects ahead of time are the same as the ones you go over during the proposal.
Before any big meeting, make sure that you collaborate with other company teams so that you have the most accurate and up-to-date information about both your own proposal and about the people you plan to present to.
Use a digital sales room system that allows you to update documents in real time, keeping only the most recent version of the document. This software will notify the participants involved in the presentation about any changes, keeping everyone up-to-date.
10. Follow up any meetings with a summary
Follow up with both your team and prospects after a meeting. With all the different online interactions people have these days, it can be easy to get lost in the shuffle.
To prevent your sales pitch from falling to the wayside, be vigilant with keeping your prospects in communication early and often. Encourage an open and honest line of communication to keep track of possible consumers more easily and effectively.
Remember, following up within the DSR is important because one final email or message regarding a proposal can be the defining factor that makes you stand out from your competition. You can streamline communication and view when someone has opened and read your DSR.
Keep yourself and your company ahead by fostering these genuine connections, as well as showing interest in prospects and communicating their value to you.
11. Offer efficiency and easy e-signature contracts
Digital sales rooms can offer legally binding e-signature options that allow you to secure the deal without the hassle of emailing back and forth.
This feature lets you quickly and easily secure deals that arise from proposals or contracts issued through the DSR.
12. Minimize distractions
With our product, you can access a centralized online microsite where you can introduce yourself as a seller with personalized videos, share sales decks, and negotiate contracts in real time using automated chat.
To minimize distractions while making your personalized videos, one of the most important things you can do is turn off any alert sounds. These alerts include notifications for emails, messages, and phone calls, along with reminders from both your cellphone and computer.
Another thing you can do to dial down interruptions from your end is to simplify your background so that it looks clean and professional. Avoid having a busy background with bright colors or movement. Sticking with a solid color background with minimal things to look at can help prevent others from looking past you instead of at you.
13. Use digital sales room software to your advantage
Getting accustomed to using a digital sales room instead of an in-person meeting can be challenging. However, with the right digital sales room platform, you can have everything you need in one place.
Digital sales room platforms can help you create a realistic and authentic buying experience online by helping organize information, showcasing important company information, and putting a face to the name of a person or company with a custom video introduction.
By using this type of software, you can make your proposals and presentations simple to use and ensure they stay updated.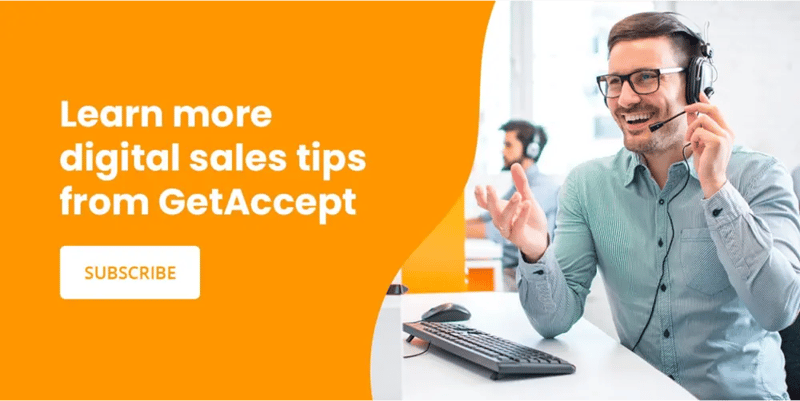 Learn more Digital sales tips from GetAccept
Each of these tips for improving your digital sales room tactics is important to keep in mind during every sales pitch you do. Always remember to put your prospects first, creating a comfortable and reliable environment that caters to the individual so that you can gain their trust and essentially their business as well.
The world of digital sales is constantly changing and improving as technology advances and becomes more sophisticated. Staying up to date and adapting to these changes is crucial in the business world.

GetAccept has a number of resources with information on topics ranging from digital sales rooms and presentation tips to sales engagement and integrations.
To stay on top of the best sales practices and techniques, subscribe to our newsletter today!