What is a digital sales room?
Digital sales rooms are the best thing since sliced bread.
No, but really. It's safe to say they are a game-changer for everyone working with virtual selling.
These sales tools started to spring up like mushrooms because companies relied more on technology and wanted better sales processes.
Modern deal rooms replace physical sales rooms, allowing sales teams to create, store, organize, and access sales materials. They also enable the creation of sales proposals that prospects can sign with electronic signatures in the same place. After long decades of doing business physically, just imagine the potential and ease of it all.
You've all seen the scary illustrative map of the B2B buying journey. And you all know that your sales reps have roughly 5% of a customer's time during this long journey. A digital sales room helps you maximize that time. It ensures you've got your prospects' attention and offer the best buyer experience.
Challenges businesses face without digital sales rooms
If you haven't invested in digital sales room software yet, you might already suffer from the symptoms.
Here are seven potential signs you might be experiencing if you're struggling with closing deals.
Inefficient sales processes. You miss opportunities if you rely on traditional, manual methods for handling sales documents and processes. You have difficulties with time-consuming manual tasks, locating and accessing relevant information, and long deal cycles.
Limited collaboration and communication. Communication and collaboration within your sales teams and prospects is fragmented, leading to misunderstanding and delays in decision-making. Tracking and maintaining a centralized view of customer interactions is also challenging.
Disorganized document management. You struggle to manage sales-related documents without centralized digital storage. This causes problems finding the latest sales collateral, duplicating work, and leads to losing or misplacing important documents.
Missed opportunities for personalization. Sales deal rooms help you deliver personalized sales experiences with interactive content and tailored materials. Without these capabilities, you struggle to provide a personalized touch, potentially missing opportunities to wow your prospects and clients.

Lack of insights and data-driven decision-making

. You miss out on improving sales strategies and identifying growth areas without analytics and valuable insights about customer behavior.
Security and compliance risks. Manual handling of sales documents presents security risks, such as losing or unauthorized access to sensitive information. Without the security features and controls offered by a sales deal room, ensuring compliance with industry-specific regulations will be challenging.
Reduced sales productivity and effectiveness. You experience shortcomings, manual workarounds, and increased administrative burdens for your sales teams. Your sales reps' ability to focus on building relationships and closing deals slows down, decreasing productivity.
TL;DR:
Without a digital sales room, you might face a series of setbacks. Lack of productivity and data-driven decision-making, collaboration and customer engagement issues, and incredibly long sales cycles.
If you believe your business might suffer from these symptoms but don't know where to start, keep reading! We have hand-picked seven of the best digital sales room platforms to get you started.
Remember that your company's unique needs should drive the purchasing decision. Think about your sales team's size and structure, sales processes, essential features, and available budget. Evaluate options, request demos, and gather feedback to find your best fit.
Your goal is to find a tool that seamlessly integrates into your existing sales workflows and aligns with your business objectives, which is probably easier said than done. Luckily, we're here to help!
EnableUs by Mindtickle is an all-in-one seller and buyer enablement platform helping sales teams improve sales effectiveness. It allows sales professionals to streamline content management by storing and organizing sales collateral in a centralized platform. This secure system easily integrates with other sales and marketing tools and is the single source of truth for all things content. EnableUs by Mindtickle also helps quickly build and share content tailored to your buyers' needs.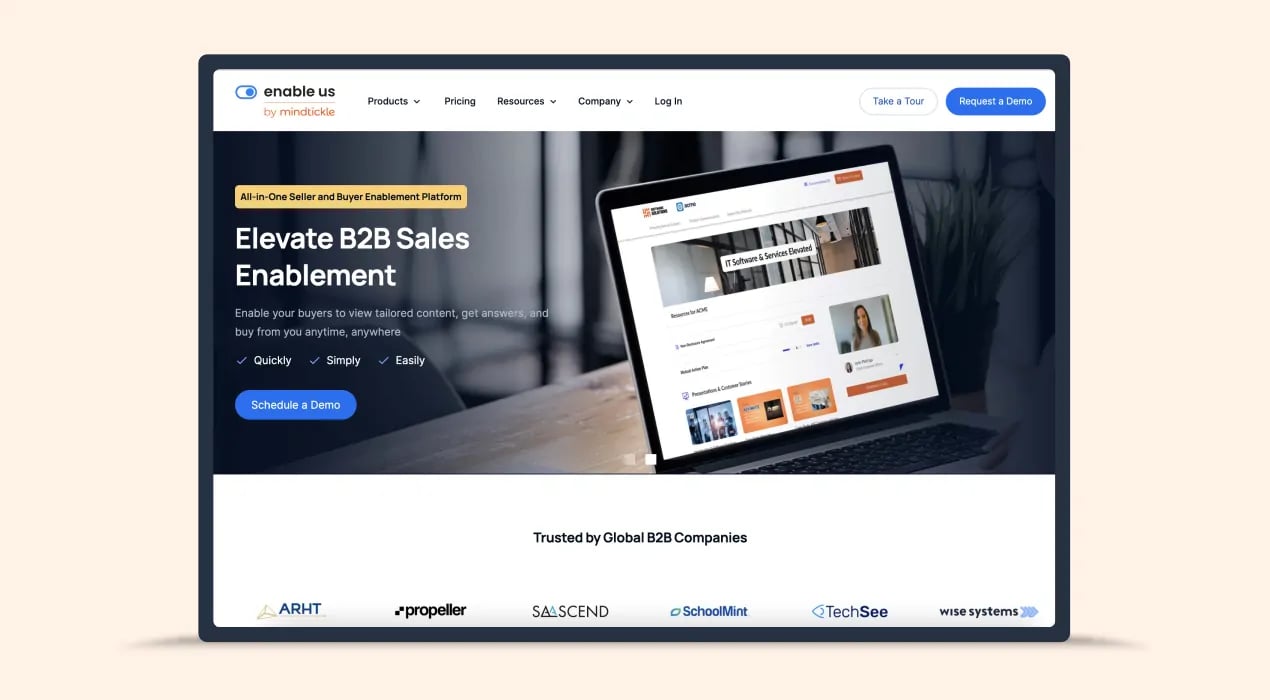 Key features and functionalities:
digital sales rooms
sales content management
mutual action plans
onboarding and training rooms
customer reference management
seller and buyer insights
CRM integrations
Loved by:
Sales Reps
Account Executives
Sales Enablement Managers
Sales Operations Managers
Sales Managers
Customer Success teams
Marketing teams
Pros and cons (from G2):
+ "I particularly appreciate the user-friendly interface of enable.us, which ensures effortless navigation even for individuals using it for the first time. The well-structured and organized layout greatly facilitates the process of finding relevant content, a crucial aspect for our clients."
- "Insufficient Interactivity: If the platform fails to foster dynamic and meaningful interactions among users, it may diminish the collaborative learning experience and limit the potential for networking and knowledge exchange."
Cost:
Starter plan from $25/user/month.
Trumpet is a relatively new, super cool tool that simplifies the life of B2B sales teams. Its intuitive, modern user interface empowers sales professionals to easily share, monitor, and manage sales collateral, from cold outreach to onboarding.
The deal rooms are personalized sales "pods" that function as collaborative digital workspaces. Trumpet provides real-time notifications and updates, ensuring sales reps stay updated about document interactions and progress. It also streamlines document management, improves collaboration, and simplifies the sales process.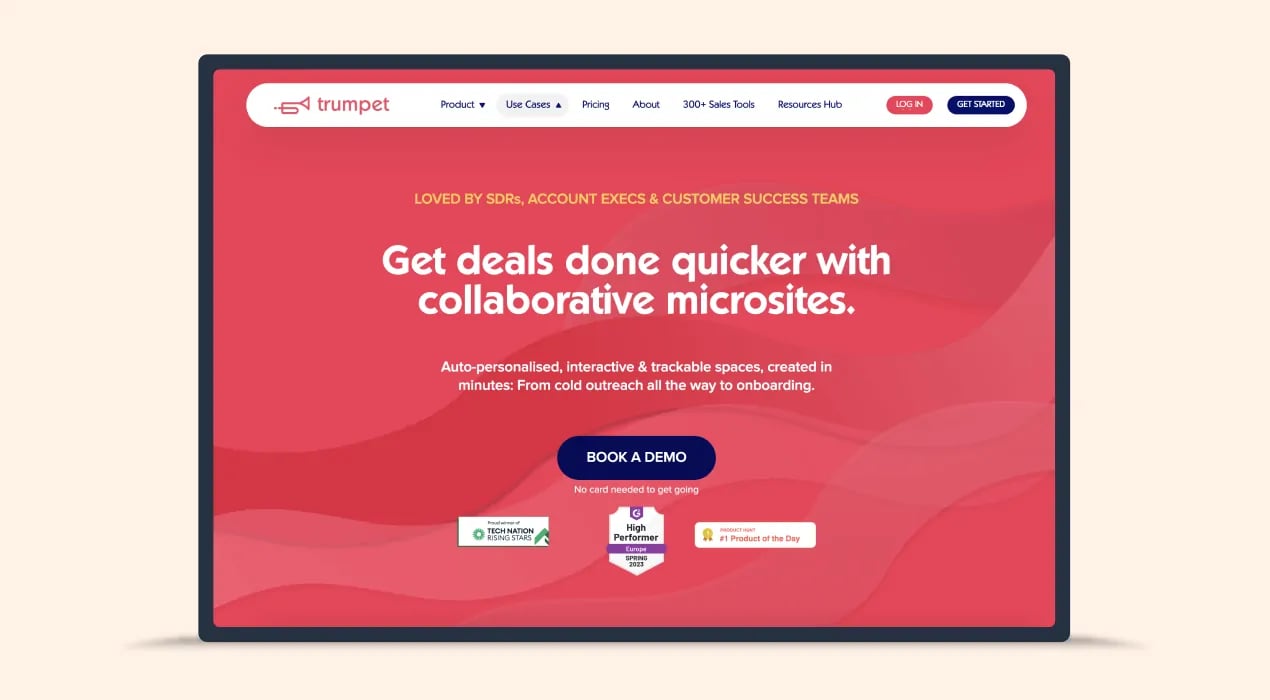 Key features and functionalities:
auto hyper-personalized pods
mutual action plans
video and screen recording
electronic signatures
revenue intelligence
30+ integrations
Loved by:
Sales Reps
Account Executives
Customer Success
Account Management
Chief Revenue Officers
Partnerships
Pros and cons (from G2):
+ "Trumpet is a brilliant way to build one source of truth for our customers, and create a seamless handover experience between Sales and CS."
– "It can be tricky at the start to get the hang of all the widgets and features."
Cost:
Starter for free, Pro plan £36 /user/month.
Backed by cutting-edge behavioral science and algorithms, RELAYTO is a no-code document experience platform focusing on personalized and interactive web content. It empowers sales teams to tailor their sales materials to individual prospects, creating more engaging and impactful buying experiences that drive sales success. The platform also helps B2B marketers generate more leads by transforming boring static documents into interactive presentations and web pages.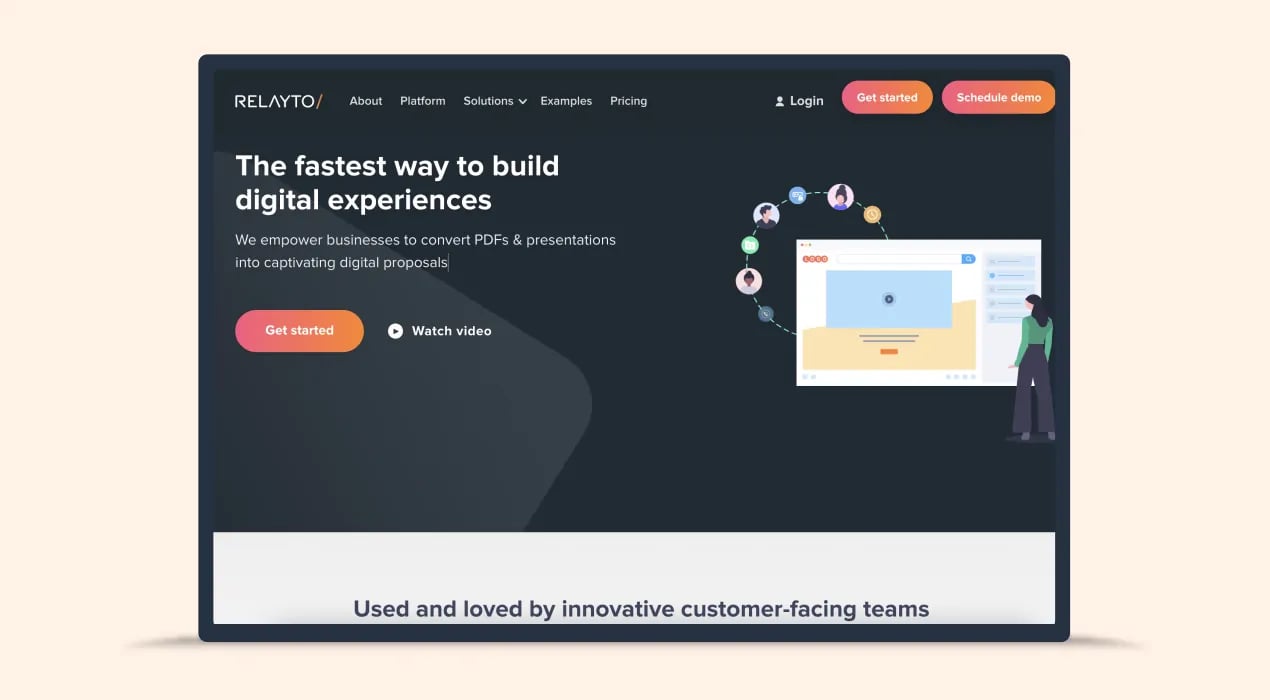 Key features and functionalities:
AI-powered, personalized, and interactive content creation
dynamic content updates and tracking
integrated meeting scheduler
collaborative content hubs
real-time engagement analytics
500+ integrations
Loved by:
Marketing teams (demand generation)
Sales teams (sales enablement)
Agencies
Pros and cons (from G2):
+ "It works great for proposals and pitch decks. You might not want to work extra hours for a low-intent prospect or a cold lead. This works well for such situations especially because it appears as if you've invested a lot of time and effort, and it translates well professionally."
– "I would like to be able to easily export a list of content. I think the analytics features could be improved. I wish I could make more style changes. I would also like to see more detailed metrics."
Cost:
Free for qualified individuals, Pro plan for $65/month/1 user.
DealHub is a complete quote-to-revenue software designed to streamline and optimize sales processes. The Revenue Hub helps sales leaders manage their teams, sales workflows, and pipeline more efficiently. With its more complex features, DealHub targets mid-market and enterprise leaders and has everything in one place to drive sales processes faster.
With CPQ, CLM, Billing, and Subscription Management solutions powered by an intuitive sales playbook, teams can issue proposals, close deals, manage contracts, and automate their subscriptions and billing from one unified location.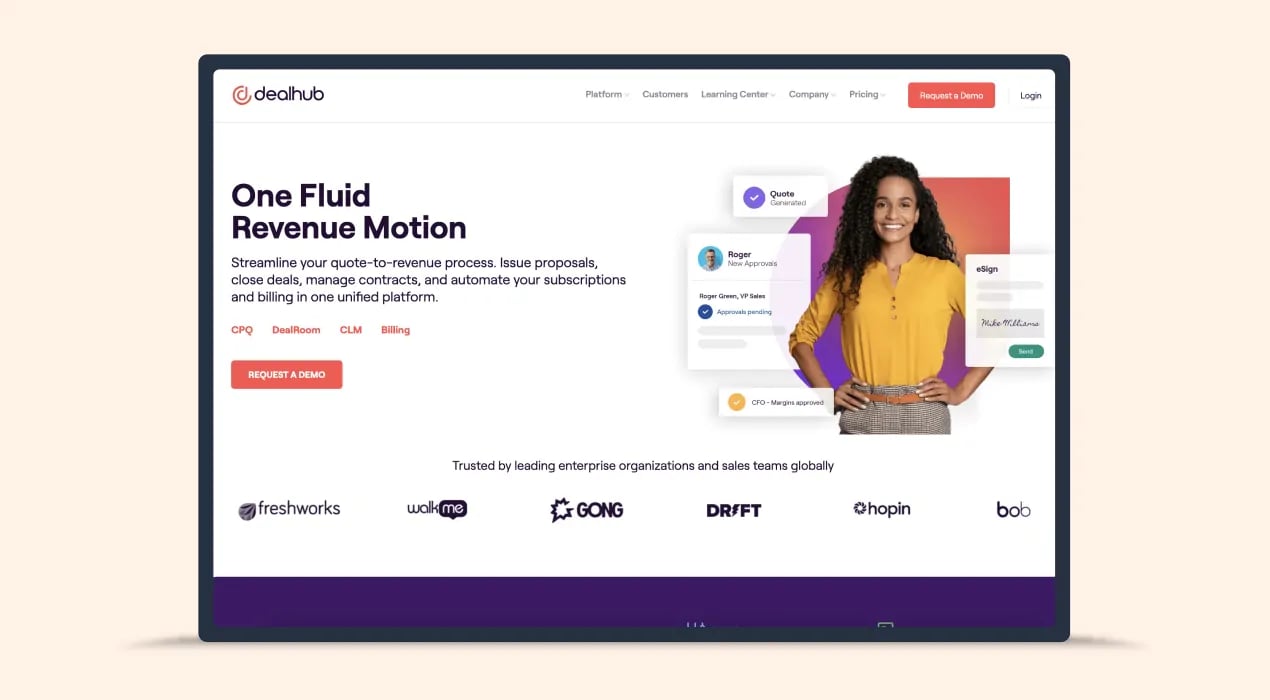 Key features and functionalities:
DealRoom
Contract Lifecycle Management (CLM)
Configure Price Quote (CPQ)
subscription management
document generation
electronic signatures
buyer engagement
advanced data analytics
CRM integrations
Loved by:
Sales Executives
Sales Operations
Revenue Operations
Customer Success
Finance
Pros and cons (from G2):
+ "The best part about DealHub on the marketing side is the ability to configure everything to your liking and needs. From the sales perspective - the DealRoom is truly unparalleled. The DealRoom is so eye-catching and professional it really stands out from competitors."
– "The admin interface is not so intuitive, there is a high learning curve, and the implementation takes longer than expected."
Cost:
N/A.
GetAccept is a digital sales room software that helps sales teams eliminate bottlenecks and streamline sales processes. With two powerful modules (Deal Room and Contract Room), sales teams get full support from the first meeting to the signed deal. The all-in-one digital sales room helps boost win rates by making collaboration between buyers and sellers easier.
With GetAccept, any rep can become a top performer and create outstanding proposals in just minutes. Intelligent tracking and analytics help sales teams discover hidden decision-makers, understand prospect behavior, and optimize their approach. The complex buyer journey is a thing of the past with this engaging and personalized experience.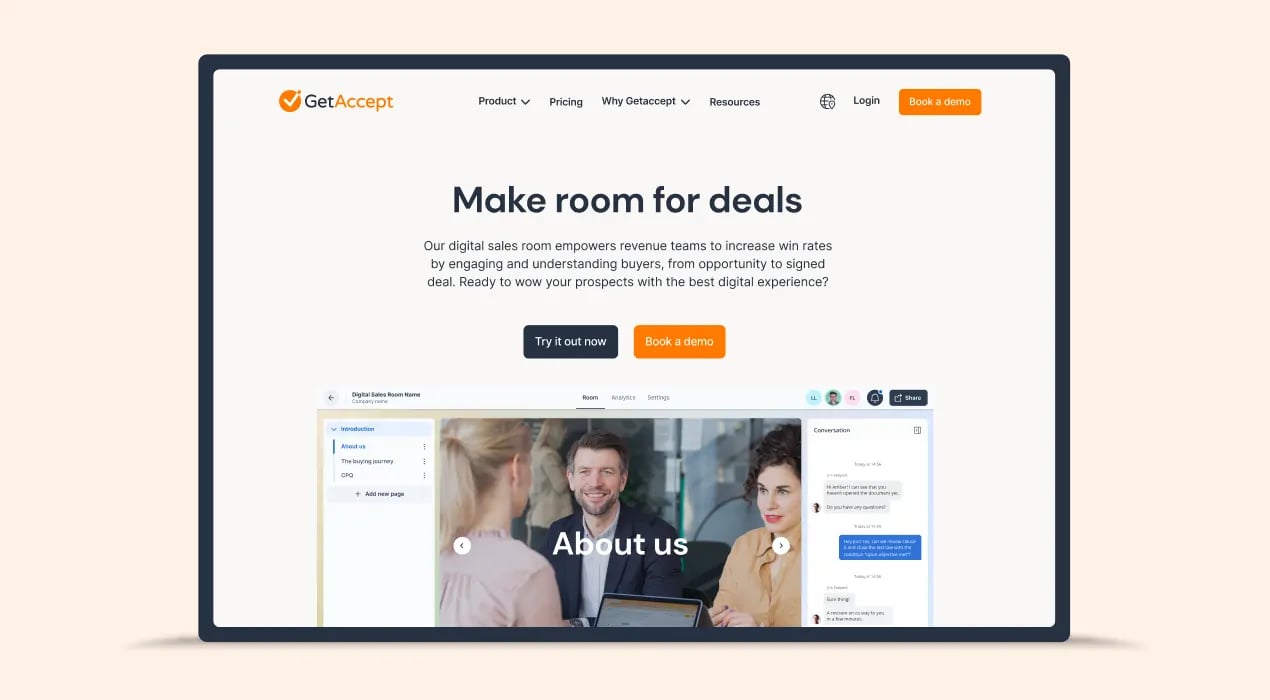 Key features and functionalities:
digital sales rooms
electronic signatures
proposal and contract management
CPQ
document tracking and analytics
sales content management
buyer engagement
500+ integrations
Loved by:
Account Executives
Sales Leaders
Sales Operations Managers
Sales Enablement Managers
Customer Success Managers
Pros and cons (from G2):
+ "It makes my sales job efficient; it's a fantastic, intuitive and complete tool. We can personalize every mail we send, which is a lovely way to contact the customer. I can rate the customer interest tracking the activity on the documents sent."
– "Might be the same reason as I like it - there are many different options and functions, that it's sometimes difficult to know what's good enough."
Cost:
Free trial, Essential plan from $15 /user/month.
Journey is the new kid on the online sales suite block. This storytelling platform turns endless email threads and boring email attachments into one interactive workspace with a collection of blocks, where each block represent a piece of content.
The platform offers a centralized repository for sales collateral and helps sales teams stand out with follow-ups, deal rooms, onboarding guides, pitches, and more. Journey seamlessly integrates with your CRM and email platforms, enabling a holistic view of sales activities and empowering sales reps to build repeatable processes and drive successful sales journeys.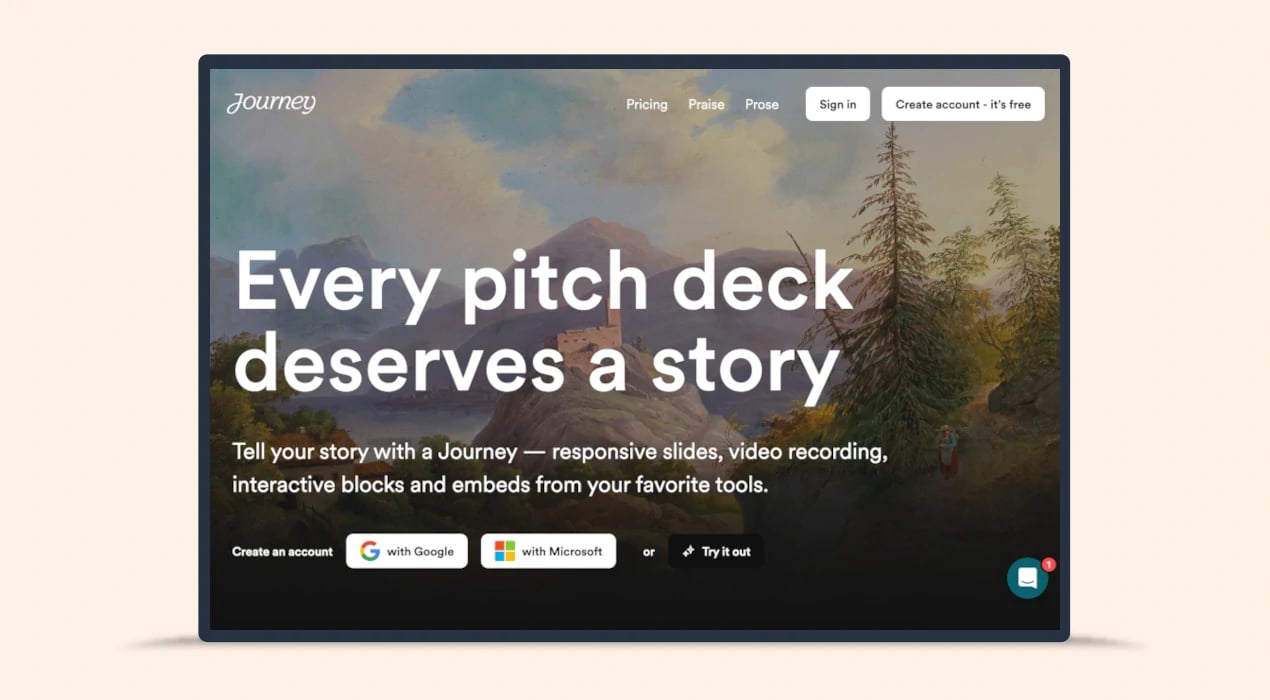 Key features and functionalities:
content creation
deal analytics
proposals
content management
virtual sales rooms
chatbot
mutual action plans
generative AI
Loved by:
Sales Reps
Sales Managers
Founders
Fundraisers
Pros and cons (from G2):
+ "We use Journey to provide a better follow-up experience for our prospects. Rather than having to search through endless emails to find the information they need, everything's neatly stored in their Journey instead. It's slick, looks great, and provides us with real added value throughout our sales process. Prospects like it and simply put, it just works."
– "Parts of the UX could be improved, especially on the prospect side. A more seamless way of editing documents in the app, and configurable permissions to determine when/how a prospect can edit their journey page."
Cost:
Free plan, Pro plan starting at $29 /user/month.
Allego is a sales enablement software focusing on video-based learning and training for sales teams. The all-in-one platform offers sales coaching and feedback features, helping sales managers optimize their team's success and close deals faster. Allego's AI-powered coaching and peer-to-peer collaboration help the way sales teams onboard, train, collaborate, and sell. The platform also provides mobile accessibility and offline access to sales content, allowing sales reps to access training materials anytime, anywhere.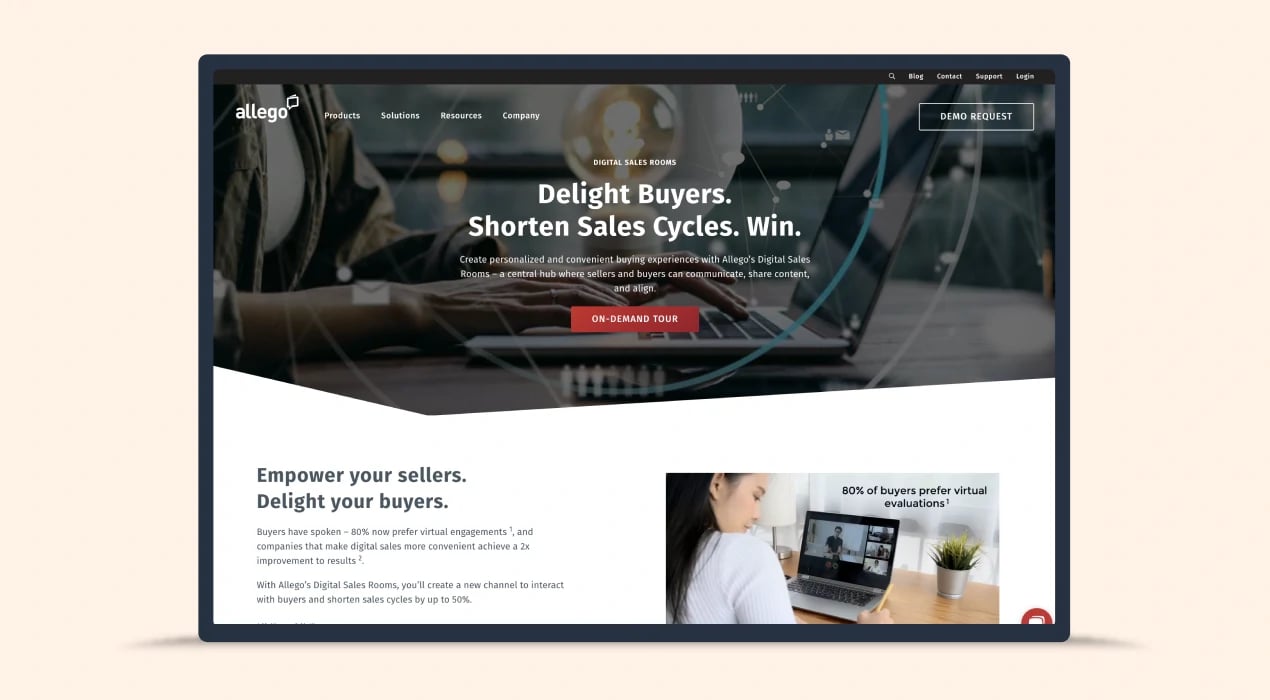 Key features and functionalities:
sales content management and analytics
digital sales rooms
conversation intelligence
readiness & learning
channel sales enablement
Loved by:
Sales Leaders
Sales Enablement Managers
Sales Coaches
Marketing teams
Pros and cons (from G2):
+ "Allego's intuitive interface and client support model makes creating and curating content a breeze. The ability to comment on videos makes this the ideal tool for peer-to-peer learning and asynchronous coaching."
– "Some of the reporting doesn't drill down to the level I would like."
Cost:
N/A.
Conclusion
In conclusion, digital sales rooms have become vital for helping sales teams take their productivity to a whole new level and achieve stellar results.
In our article, we have explored seven solutions. Each brings unique strengths to the virtual table, offering intuitive interfaces, robust features, and seamless integrations. Whether you seek advanced analytics, customizable branding, collaborative functionalities, or streamlined document management, these choices have you covered.
However, the best digital sales room software for your organization will depend on... wait for it... your specific needs, priorities, and of course, budget. Not a surprise, right?
So grab a cup of coffee, take your time, and evaluate these options to make a smart decision.
Too many choices? Book a personalized demo with one of our sales experts today, and we will help you get started.