Are you a business-to-business sales rep based in the UK?
If so, you might have noticed a shift in the industry over the past few years.
Not only is the industry growing (B2B eCommerce sales are predicted to reach £188 billion per year), but UK B2B decision-makers are moving away from traditional, linear customer journeys.
Buyers are using different technologies, have new demands, and prefer to communicate with B2B vendors in alternative ways.
So, what are those? And how can your sales team keep up?
This guide uncovers 7 major UK B2B sales trends to keep on your radar as we start planning for 2023.
Let's dive right in!
1. Self-serve options for B2B buyers will become more common
The COVID-19 pandemic wreaked havoc on the day-to-day running of most businesses.
Nationwide lockdowns meant more UK employees worked from home than ever before, with 25.9% of the population (8.4 million people) working remotely at some point over the last year. That's an increase of 13.5% from 2019.
B2B businesses were involved in that shift to home working. Buyers were forced to head to digital channels.
Just a month into the pandemic, more than 90% of B2B businesses shifted to a virtual sales model.
But even when they got there, buyers didn't want traditional lines of communication with potential vendors. Data shows half of UK buyers think repeated cold calling and email are the #1 disqualifying sales activity.
Because of this, sales processes are already longer than they were pre-COVID. Little over half (53%) of B2B buyers in the UK say the length of their average purchasing process has increased throughout the last 12 months.
They now spend up to 20 hours researching their next investment.
It's a figure that rises to 40 hours when spending more than six figures.
According to McKinsey, the vast majority (96%) of B2B buyers say they'll make an end-to-end, digital self-serve purchase. The self-serve model is most prevalent when they've made a purchasing decision, with 34% of buyers interacting with a supplier's sales reps during the ordering process.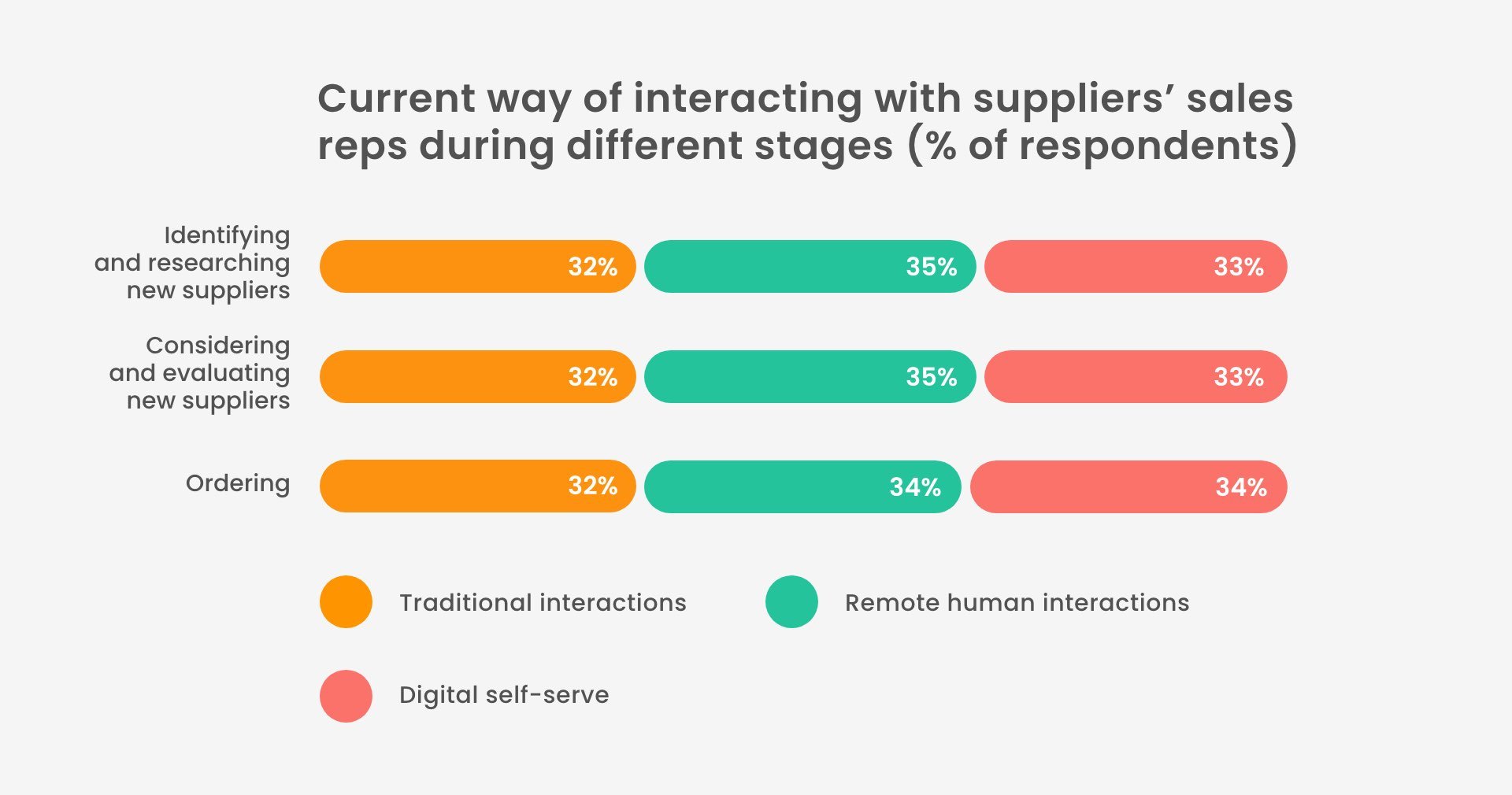 So, what does that means for UK B2B sales teams?
It's simple, really:
Ditch the need to have qualifying calls with your leads.
Reserve one-to-one conversations for buyers who ask for them.
Forcing anyone and everyone on a call to purchase a product or service only lengthens an already-prolonged B2B purchasing process.
2. B2B buyers will expect Amazon-like responses
Did you know that 80% of B2B buyers are influenced by their personal buying experiences when setting expectations for business purchases?
That's not great news when Amazon has paved the way for online customer experiences.
B2B buyers can't always compete with same-day product shipping, personalised product recommendations, and the solution for any budget that Amazon offers.
But your sales team can compete on one thing:
Response times.
When B2B buyers avoid self-serve and get in touch with your sales team, you need to be fast.
Some 72% of buyers in the UK say the timeliness of B2B businesses' response to their inquiry is very or extremely important.
So, what is the benchmark your sales reps need to meet when responding to inquiries?
Data puts the sweet spot at five minutes.
If you don't meet (or beat) those speedy expectations, you run the risk of losing a customer to another B2B business that does – especially considering 78% of B2B buyers go to the company that responds to their inquiry first.
That's right – if you don't respond first, someone else will.
And you lose out on new business.
Sadly, 1 in 3 UK sales reps waits until the next day to respond.
If ever there was a quick win for UK sales teams in 2023, it's this:
Respond quickly.
Like, really quickly.
3. Personalised sales outreach is here to stay
Granted, remote working is a major reason why B2B purchasing decisions are longer than ever.
But, it's also because more people are getting involved in those decision-making processes.
According to one report, nearly a quarter (24%) of all UK buyers say more than five people were involved in their last B2B purchase. The sheer volume of people involved means 60% of C-level executives struggle to communicate internally when making a B2B purchasing decision.
One way to work around this is to customise the messaging of your sales pitch depending on the contact. Figure out the pain points people in each job title struggle with the most and pitch your product or service differently to solve it.
Let's put that into practice and say you're selling accounting software to a Fortune 500 business. You have the following people involved in the buying decision:
Marketing department: This contact will likely use the accounting software to track marketing and advertising budgets and pay contractors. Explain how to do that when communicating with them.
Accounts payable team: This contact will be most interested in the expense tracker and invoicing tools. Spend more time talking with this person about those features.
Company CEO: This person will have the most interest in understanding the company's bottom line. Showcase any features, reports, or tools to help them do that.
Slightly personalising your sales pitch means each buyer doesn't need internal back-and-forths like "what does this software actually do?"
Everyone involved in the B2B buying process has the information they need to make a decision.
Want more tips on how to personalise your sales outreach? Listen to the prospecting queen, Charlotte Johnson from SalesLoft:
4. Hybrid work will require an omnichannel approach to sales
Modern customers no longer have linear sales journeys.
They go back and forth with vendors, read their content, follow them on social media, and open up a live chat window to engage with a sales rep.
Embedding your B2B sales team in that omnichannel approach is a competitive advantage. Our own research shows just 1 in 5 UK B2B sales reps use a multi-channel approach to engage with new prospects (email, social, live chat).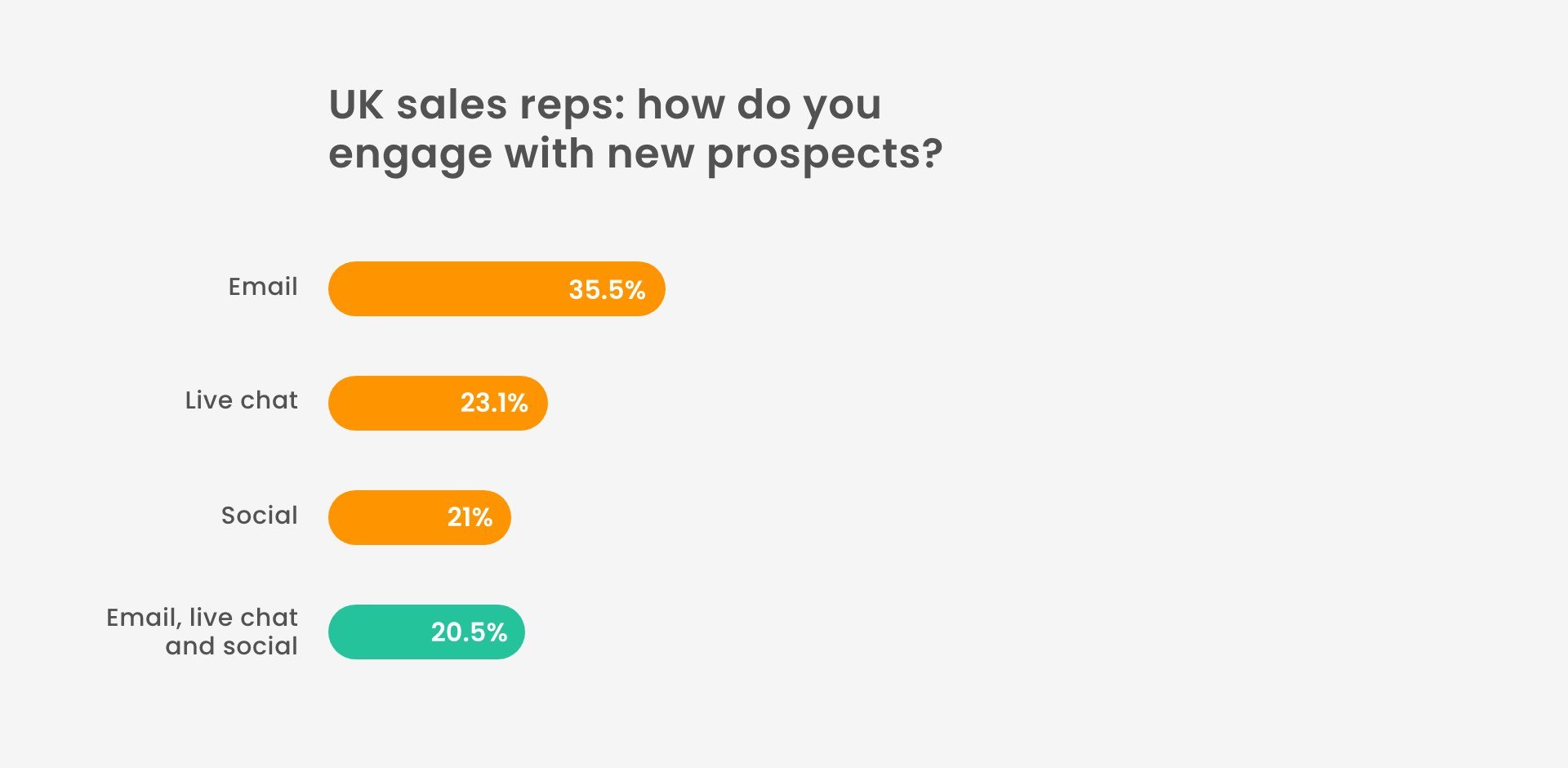 That's a significant discrepancy between the 83% of B2B sales reps who think an omnichannel approach is effective and the number of reps actively using it.
So, wondering how you can go omnichannel?
Developing a hybrid sales strategy is the answer.
According to McKinsey, 64% of B2B companies plan to increase the number of hybrid sales reps on their team over the next six months
They're described as "representatives who interact with customers via video, phone, apps, and occasional in-person visits."
Train your UK B2B sales team on how to sell through the channels people are using to research your products or services.
This could be anything from training on how to spot body language cues through an online video conference, right the way through to how they can use live chat engage with ideal customers browsing your website.
5. Social selling will dominate
Speaking of the competitive advantage in going omnichannel, you might have recognised one huge channel has gone amiss: Social media.
Our data shows just 21% of UK B2B sales reps have a social selling strategy.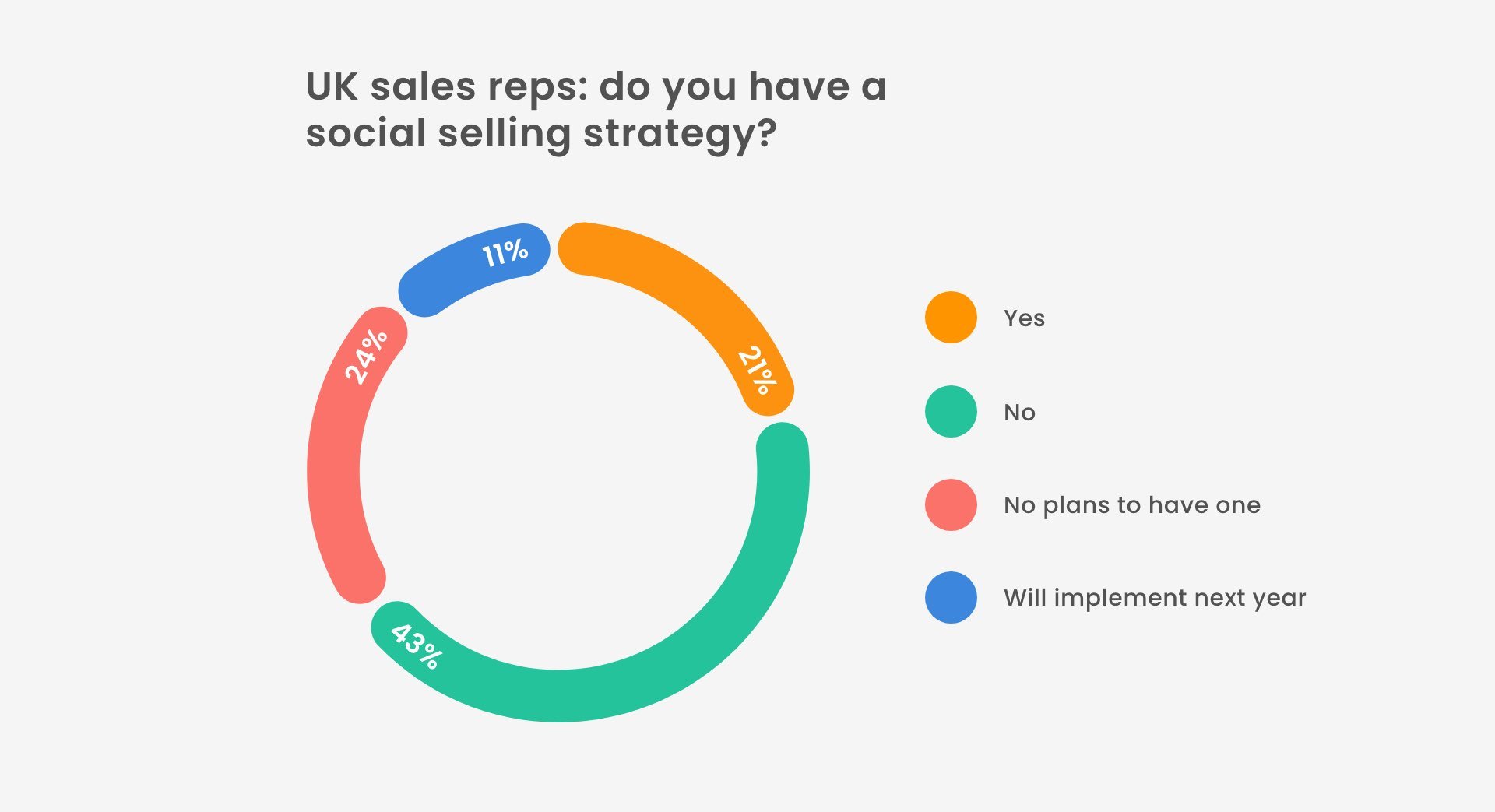 ...Despite the fact that a third of B2B decision-makers consult LinkedIn throughout a product research process.
Access to social media platforms is typically reserved for B2B marketers.
It's their job to raise brand awareness and drive relevant traffic to your website, right?
Not necessarily.
Social media is an exciting channel to sell through and over the last 18 months, sales teams have had to find new ways to reach prospects and build relationships.
That's where social selling comes in.
One channel that beats them all? LinkedIn.
That makes LinkedIn the go-to social platform for prospecting, generating leads, and convincing them to take the next step in the sales process.
But, here's the thing:
Don't overcomplicate it with funnels and automation.
Start off simple.
You can:
Use

LinkedIn Sales Navigator

to identify people working at companies that fit your ideal customer profile.
Send a personalised connection request to those people to start a conversation.
That's it. Focus on building relationships first, and then worry about selling.
6. More businesses will go paperless
There are tons of online tools that make B2B sales easier and more efficient.
But it seems like UK sales reps aren't taking advantage of them.
Take digital signature software, for example. Most B2B sales involve some kind of contract and platforms like GetAccept (that's us!) were built to stop back-and-forth emails to get documents signed within minutes.
There are dozens of benefits when using electronic signature tools, but one clear advantage, to help you "go green", is that they reduce paper usage. You don't need to find a printer/scanner to sign the document. It's all done online.
The best part? Documents that have been signed electronically are legally binding and show when your contact opened the document, who signed, and when. Perfect!
Despite the many advantages, over half (52%) of UK B2B sales reps have never used digital signatures in their sales process.
Even more surprisingly, just 19% have switched over to digital signatures only.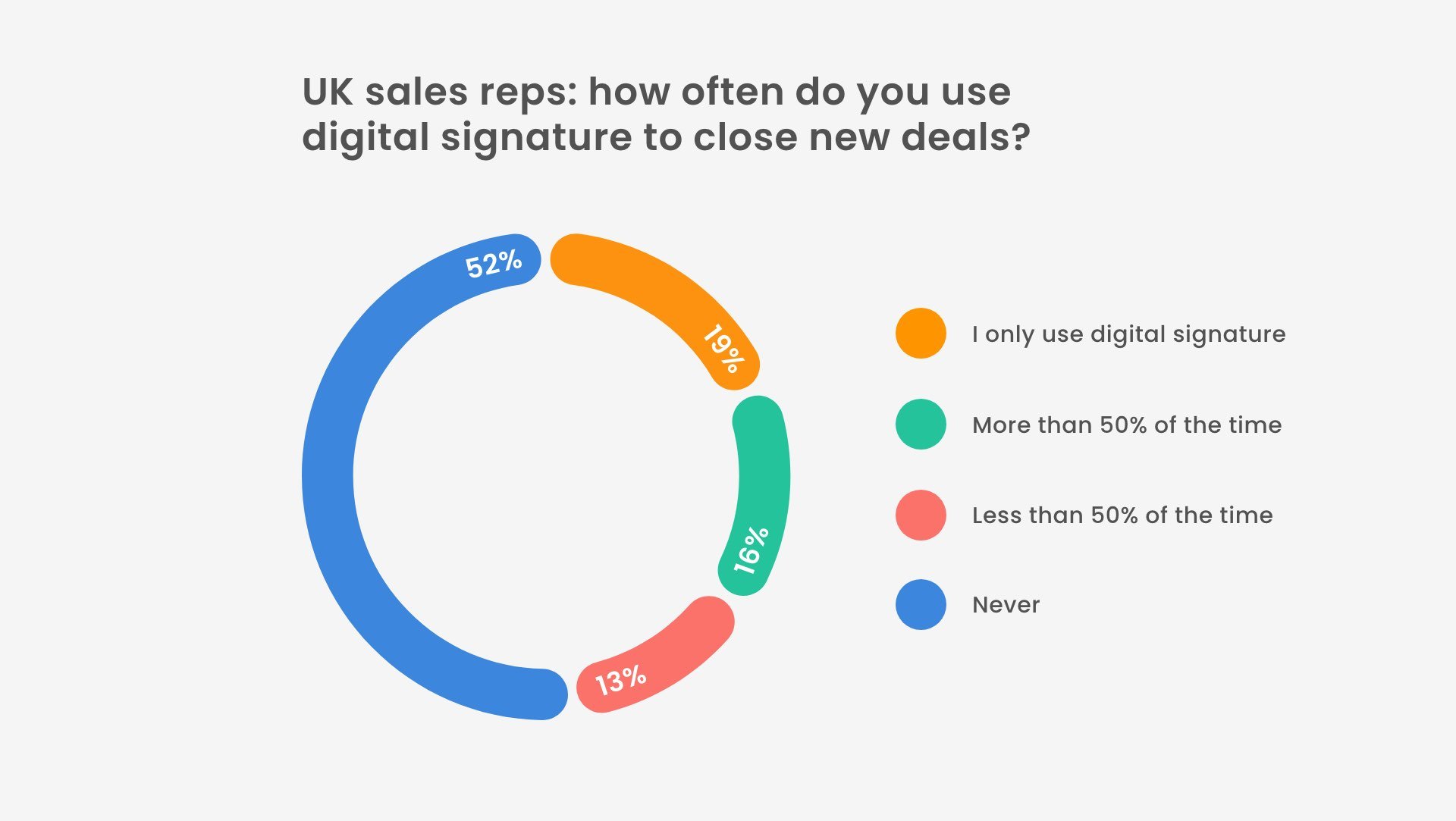 7. Sales and marketing teams will align for bottom-funnel content creation
Did you know that 4 in 10 businesses in the UK believe that 30-60% of their sales are driven by search engines?
That's because the majority of buyers conduct research on a vendor's website before reaching out to a sales rep.
However, most B2B sales funnels are top-heavy. They focus on broad terms that your ideal customer isn't necessarily searching for – such as "top 10" type posts, top-level tutorials, and explainer guides aren't always as impactful as content targeted towards leads closer to purchasing.
Not having enough information, especially content relevant to the purchase, was the biggest factor that slowed down the average B2B purchase for most buyers.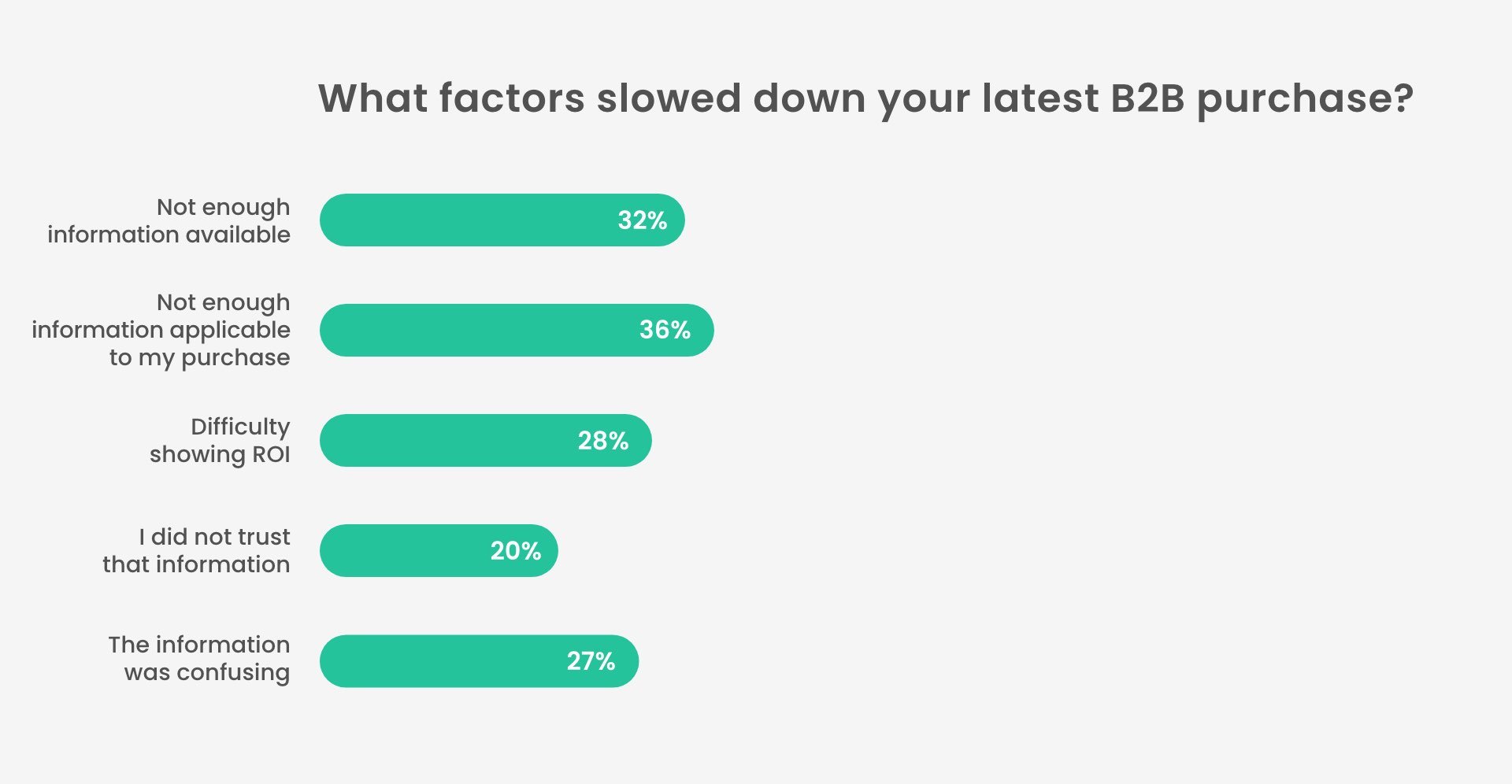 Sales and marketing alignment is a hot topic in the B2B sales world. Having both departments on the same page helps B2B companies generate 32% higher revenue and a 38% higher win rate.
Do this by involving your sales teams in your B2B content marketing strategy.
Have them share common sales objections with your marketing team. Help leads to overcome them before contacting a sales rep by presenting them in a format they're looking for:
Make these pieces of content accessible to leads before they reach out. Chances are, it'll save your B2B sales team from answering repetitive questions – and leaning more into the self-serve model that UK buyers prefer.
Makes sense, right?
Stay ahead of the top B2B sales trends in the UK
There's no doubt that B2B sales are competitive, regardless of which industry you're in.
The key to succeeding--and generating more sales of your products and services--lies in staying ahead of the curve.
Use these UK B2B sales trends to guide your strategy over the coming year. Whether you're giving buyers a self-serve model or ditch paper contracts altogether, listen to what your B2B buyers want--and do your best to deliver on it!