Having a plethora of sales enablement tools might seem exciting and promising at first. But having too many options or too many to use can often lead to less productivity and feeling overwhelmed. Tech stack fatigue is real, it's likely only going to get worse, so how can you make it better? In sales, you want to help your prospects solve their pain points, and close your deals as quickly as possible. These 4 Sales Enablement tools are the best to use and will help you decrease your stack.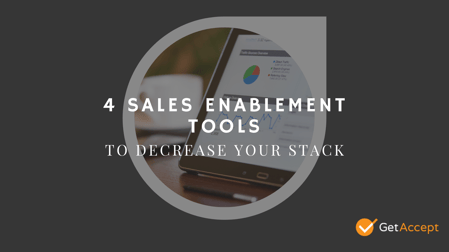 The Sales Enablement Tool Dilemma
Now, more than ever there seems to be every possible software tool you could imagine.
A tool for e-signature....
A tool for onboarding and training..
A tool for sales enablement content...
It feels like we are constantly being told what we need and how we can improve our sales process. But are we just creating a bigger stack, with more to manage, costing us more time?
Maybe you're a new sales organization and don't know where to start. Or maybe you're an existing organization and you feel overwhelmed by the amount of tools you are using.
These 5 Sales Enablement Tools are essential to any team, and will help you eliminate other software that isn't necessary.
4 Essential Sales Enablement Tools
Hubspot for Sales Enablement
What started off as a basic marketing tool, turned into a robust CRM, that now has sales and marketing features - Hubspot is a jack of all trades. It's crucial that in any sales organization you will need to use some type of sales enablement CRM and automation outreach tool. It can be daunting when there are so many out there and you're wondering if you should go big by using Salesforce or keep it simple. Hubspot is easy to use, has everything from storing contacts, email automation and multiple marketing features.
Zoom for Sales Enablement
This may seem like an obvious one as most sales enablement teams have Zoom integrated with their calendars in this day and age but if you don't, start today!
Zoom is great because it can be used internally for meetings & training and externally with prospects in sales motions. Zoom allows you to easily and effectively share screens, exchange remote control, and has impeccable video quality.
Chorus.ai for Sales Enablement
There is no better way to improve your sales calls than by listening to them afterwards. It's also important to have a record of important details discussed. Another tool that is easy to use and has the ability to be of value cross-organizationally makes it the best option for your sales enablement team, leaders, and even customer success teams. Chorus integrates with Zoom as well, so you have the ability to record video to send to your prospects after, or for your reference as well.
LinkedIn Sales Navigator for Enablement
Not only does LinkedIn Sales Navigator allow you to research your prospects without them seeing you've looked at your profile, it also helps your team focus on finding the best qualified leads. It can be time consuming to switch in and out of different platforms and being able to do this all within your LinkedIn homepage helps to save you time.
Your Sales Enablement Strategy Going Forward
In a sea of endless sales enablement software tools, it can feel daunting when deciding what is important to use. It can feel even more daunting when you realize that you are in the midst of using too many. Take a moment to think about what is most important with you and your team and don't over complicate the process.

Evann Rose I Growth Marketing Specialist.
Evann is a previous customer success specialist turned marketing. Passionate about bringing tech and people together.

__
GetAccept change and simplifies a seller's processes and allows the digital signing of the agreement to take place on the customer's terms with the seller's control. Read more about our product and how you can streamline your sales processes with sales enablement!