You're on the tube - out and about.
A client asks for the contract and all you can do is reply with:
"I'll be back in the office tomorrow morning. I will send it to you then".
By the time you send it, the client is lost and they will do business with a competitor.
Why? Because the competitor uses a digital signature platform.
Your company doesn't.
Sound familiar?
Electronic signature—or e-signature—platforms have risen dramatically in popularity in recent years.
The reason is simple: It makes it easy to do business.
In 2018, BEFORE the pandemic, the e-signature industry was on pace to do £800 million.
Next year – it'll be worth £3.2 billion by 2023!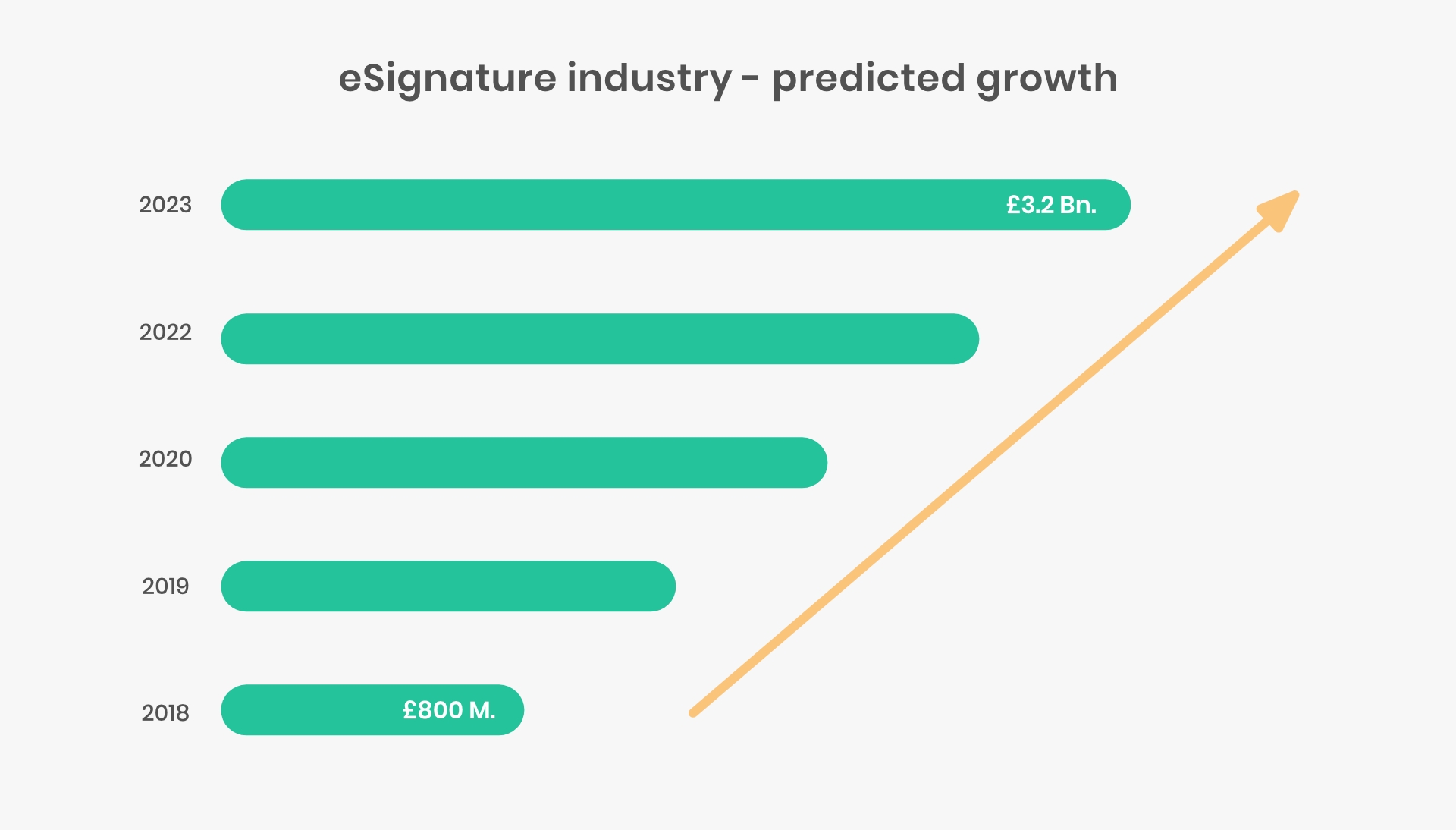 How's that for hyper-growth?
As well as the general convenience of using e-signatures to sign contracts, paperwork, and legal documents, the rise in usage is perhaps mostly due to the changing world of work.
Many companies now embrace hybrid working, which allows employees to work remotely (especially since the COVID-19 pandemic).
E-signature software helps you go paperless with this process, which is especially important when working from home (who buys a printer nowadays?).
And like the example above, it solves the issue of lengthy delays in having documents signed.
The best part?
Documents are signed electronically in hours, compared to five days for traditional signatures.
This is especially useful in the sales field:
The sooner you can get that contract signed, the better.
And yet, more than 50% of UK sales reps have never used digital signature to close a deal.
It's time to rethink your sales tech stack and join the digital revolution.
How to choose the right electronic signature software
You're interested in streamlining your signature processes and having the ability to sign and request signatures electronically.
But there's a lot of choice in terms of platforms.
When choosing your e-signature platform, it's important to know which key features you'll need.
Here are 8 features to look for when shortlisting a vendor.
1. Sign documents on mobile devices
Mobile devices are now an essential part of a salesperson's toolkit, with 83% of sales professionals reporting that having access to mobile sales tools gives them an edge over competitors.
A digital signature platform needs to be able to cater to this growing need and allow the functionality for stakeholders to sign when on the go, no matter the device they're using.
To secure software running on mobile, a code sign certificate is necessary. A developer or publisher can sign a software code with strong encryption using a code signing certificate.
2. Access to real time analytics
Having access to real-time data can help you to understand how prospects and leads are engaging with proposals. Are they opening the document multiple times? Taking a long time to sign?
On-demand access to this information can help you to refine your proposals and get deals signed quicker. The best e-signature software will include helpful analytics, so you know when prospects are opening your proposals and (hopefully) signing on the dotted line.
3. CRM integrations
The vast majority of sales teams use some kind of CRM (customer relationship management) technology. One of the great things about CRM platforms is that they often allow integrations with other apps, platforms, and tech to streamline your processes.
A reliable and useful e-signature platform will be able to integrate with your chosen CRM platform, making it much easier to keep an eye on what's happening across your entire business pipeline – helping sales reps save a lot of administration time.
4. Compliance with security and privacy regulations
Users, clients, and document signers need to be confident that communication is secure.
For that reason, your chosen e-signature platform must conform with (and even exceed) privacy regulations in the territories in which you operate.
For example, in the European Union (EU) and the UK, legal documents and the processes surrounding them must conform to the EU General Data Protection Regulation (GDPR) Act.
There are also specific guidelines around e-signatures:
The Electronic Signatures in Global and National Commerce Act (ESIGN) and the Uniform Electronic Transactions Act (UETA) in the USA.

The electronic Identification and Authentication Services (eIDAS) in the EU.
For documents signed electronically to be legally binding, your e-signature platform must be highly secured and compliant with the governing standards of your country or state.
So, make sure you read through the fine print and look for specific features on authentication, record keeping, and encryptions.
5. Scalability
Once you've seen success within the sales team, it's likely that there'll be interest from other areas of the business. You may find that human resources teams are interested in using e-signatures for internal documents, or that it improves the signing experience when recruiting remote staff.
A good electronic signature solution will offer the ability to scale as your use case grows, easily allowing you to add users and expand the license to different teams.
6. Automation capability
Automation helps to save time and streamline processes, which can be especially useful for salespeople, considering that only 35% of their time is actually spent on selling.
Having automations in place helps to reduce the time needed to be spent on admin and repetitive tasks, and e-signature software is another place where time savings can be found.
Some platforms offer automated responses or reminders, meaning sales teams can focus more on creating new opportunities.
There's a clear business value in this:
According to our own data, based on 100,000 documents – UK sales reps that use automated reminders have a 24% higher hit rate than those don't!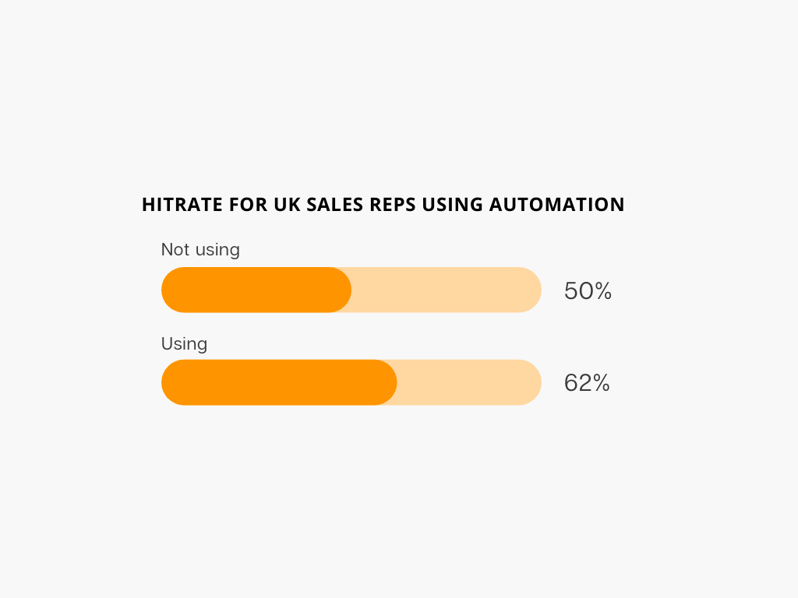 7. Flexible or reasonable costs
Many solutions offer free trials so you can test them against one another before choosing your favourite. There are also different subscription levels or packages to choose from.
A good way to choose your digital signature software provider is to understand the value for money and take advantage of any freemium options before signing up for a fully paid service.
(While you're here – try GetAccept for free. It costs you nothing and you get 3 send outs per month. For free).
8. Ease of use
One of the most important things about any solution is that it makes your life easier.
An e-signature platform needs to be straightforward for salespeople, and also for clients and leads to use. Time spent explaining how to use a platform or how to digitally sign a document isn't productive for either party.
5 e-signature platforms to consider
So, what are some of the leading options when it comes to choosing your e-signature software?
Here are five of the leading candidates.
GetAccept

HelloSign

SignEasy

PandaDoc

DocuSign
1. GetAccept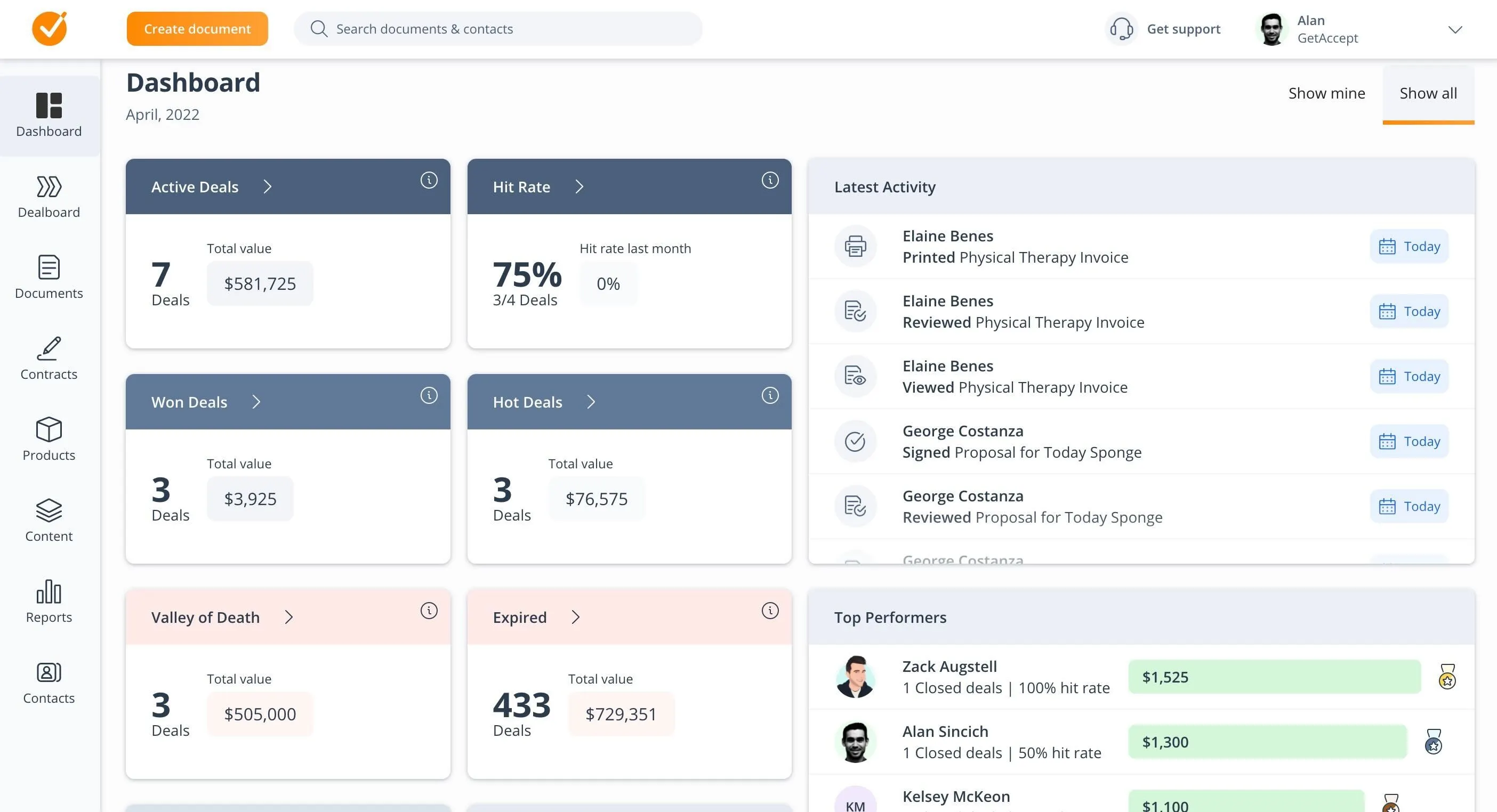 GetAccept is a digital sales room that helps UK sales teams close more deals by sending sales content with personalized video reminders, live chat and e-signature. The most popular features among customers are:
Pricing: GetAccept offers a free plan with unlimited electronic signatures. But, you can also subscribe to our premium plans, starting from only £13 per user, per month.
2. HelloSign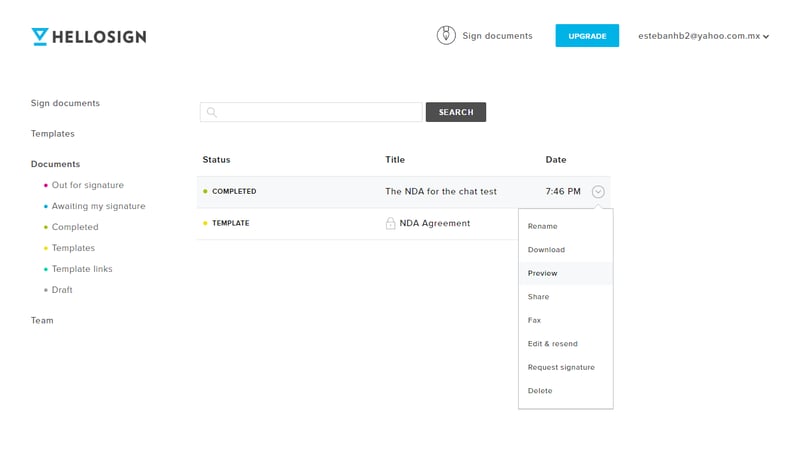 HelloSign is a popular e-signature platform that promises to be easy and intuitive. A plan with HelloSign gives you access to:
Legally binding contracts

User-friendly interface

Mobile app
Pricing: Free plan available. Premium plans start at £18 per user, per month.
3. SignEasy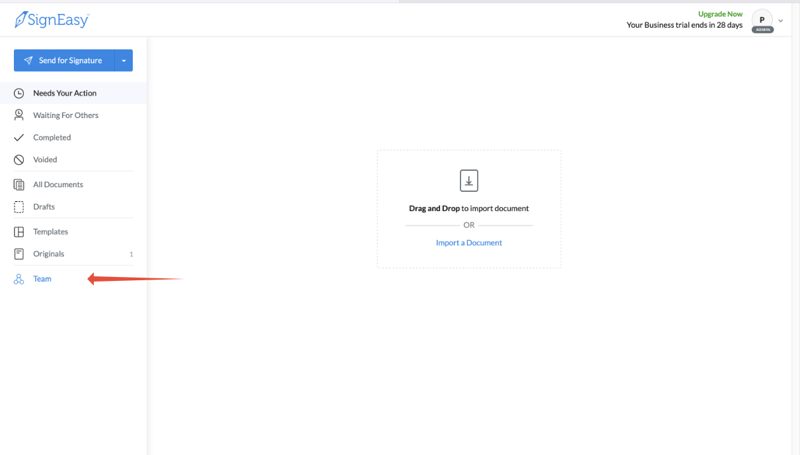 SignEasy is marketed as the go-to e-signature platform for remote sales teams, and suggests that by using it, you can close deals at least 60% quicker. Top features include:
Mobile device compatibility

Real-time tracking, so you know instantly when your deal is signed

Guided signature workflows to make the process completely self-serviced for the signer

Pricing: Starts at £6 per user, per month, billed yearly.
4. PandaDoc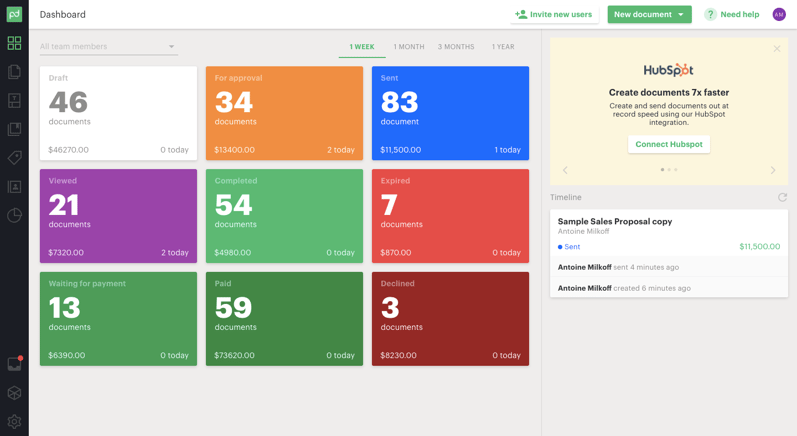 PandaDoc prides itself on its simple and easy user interface and its robust security features. Amongst its top features include:
Compliance with legal regulations to keep your information secure

Integrations with CRM platforms

Real-time updates and notifications

Pricing: Starts at £14 per month, per user. Freemium plan available.
5. DocuSign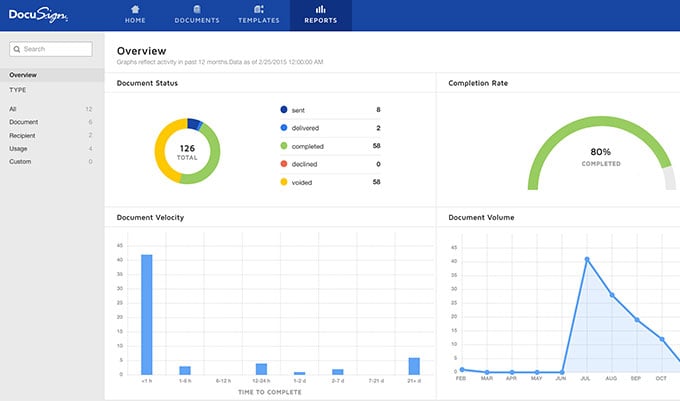 DocuSign is one of the most popular e-signature solutions, used by many sales teams because of its ease of use and automated notifications. You can also check out how DocuSign compares to GetAccept.
Top features include:
Compliance with legal regulations to keep your information secure

Integrates with CRM platforms

Real-time updates and notifications

Pricing: Starts at £8 per user, per month, billed annually.
Conclusion
Getting sales contracts signed has always been a stumbling block.
But a good e-signature platform can help to improve the document signing process, reducing friction in your sales funnel and saving time on admin tasks.
So, ask yourself:
Could an e-signature platform help you and your team?
If the answer is yes, then try GetAccept today and see how it can boost your sales process and reduce sales cycles by 400%.