Small and medium-sized enterprises (SMEs) account for 99.9% of the business population.
That's around 5.6 million businesses in the UK.
Electronic signatures help many small businesses to sign legal documents and increase productivity.
According to this study, businesses can make around 55% to 78% cost savings by changing to e-signature solutions. The estimate takes into account the cost of material, shipping, subscription, and administrative processes.
It's no wonder it's one of the biggest sales trends in the UK!
That being said, small companies with lower budgets don't want to fork out lots of cash on electronic signature platforms that are not fit for purpose or take a long time to set up.
That's why free electronic signature platforms are such a great fit.
Now, there are many free electronic signature platforms available. With so many to choose from, how do you find which platform is right for you?
In this article, we share five of the best free electronic signature platforms for small businesses.
Whether you're a sales rep and a team of one or a small business with a team of five, this guide will help you decide on the perfect electronic signature software and avoid the costly mistake of signing up to a platform that doesn't meet your business needs.
But first…
Which type of electronic signature is best for my small business?
Finding a free electronic signature platform that suits your small business can be daunting. Many are expensive, complicated to use, and have limitations on use.
The good news is that many electronic signature companies have free plans that allow you to sign and audit your documents at no charge, increasing productivity, streamlining workflows, and getting your documents signed faster than more traditional methods.
In fact, digital signatures help documents get signed in hours, compared to days through traditional methods.
It's hardly surprising that the global electronic signature market is projected to be worth $14.1 billion in 2026, an increase of 31% since 2020.
The first step in choosing your free electronic signature platform is understanding what type of signature your business will need. According to eIDAS, there are three different types of electronic signatures to consider when choosing your platform:
Simple electronic signatures.

General usage and typically low security. The identity of the signer is not checked.

Advanced electronic signatures

. High probability of identifying the signer. Optional multi-factor authentication is optional.

Qualified electronic signatures

. Similar to advanced electronic signatures, however, the signer is 100% authenticated.
Choose e-signature software with security and functionality and a secure audit trail. Your decision should be based on the nature of your business, types of documents needing signatures, and risk level.
For example, high-value property sales meet the requirements defined in signature law for signer ID verification, control, security, and integrity.
The best electronic signature software for small businesses
Electronic signatures are a safe and secure way for customers to sign documents.
They're easy to use, have audit and tracking features, and provide safe document storage for long-term archival. Here are five we've identified as perfect for small businesses in the UK.
1. GetAccept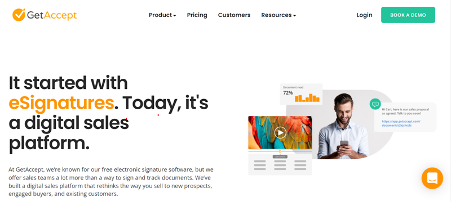 GetAccept's award-winning digital sales room aims to be the online solution where all B2B sales happen, investing in building relationships with customers and bringing back personal and engaging interactions.
GetAccept offers plenty of features and functionality with an unmatched experience that gives sales teams of small businesses an edge over the competition – making it a perfect fit for sales teams that work in IT, retail, recruitment, and many more.
GetAccept reports that on average, 3 out of every 4 proposals sent get accepted.
Why choose GetAccept:
3 active send-outs per account

No credit card needed to use

Unlimited electronic signatures

Unlimited users

Integrates with your favorite apps such as Salesforce, HubSpot and Pipedrive.
2. HelloSign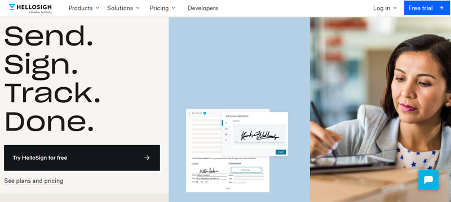 HelloSign is another commonly used free electronic signature platform which thrives on being easy and intuitive to use, whether you are tech-savvy or not. HelloSign has no hidden fees.
Great for marketing freelancers, small, medium, and larger businesses, you can add legally binding signatures to new employee documents, contract management, loan agreements, and more.
With a 4.7 out of 5 independent customer review rating, HelloSign is simple to use and easy to track pending signatures.
Why choose HelloSign:
3 signatures requests per month

Audit trail

Reminders and notifications
3. PandaDoc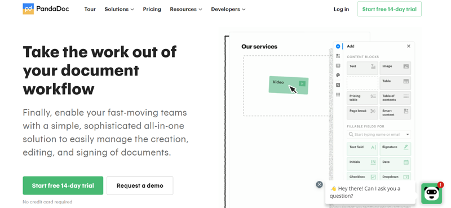 With over 180,000 customers, PandaDoc has been rated the top proposal and contract electronic signature platform by its customers year after year on app review sites, such as G2 and Capterra.
PandaDoc offers free electronic signatures and has a straightforward pricing plan that will never charge additional fees for sending out more documents than you have originally planned for.
Why choose PandaDoc:
Unlimited document uploads

Manage your document lifecycle from a mobile app

Unlimited document sends for e-signature
4. Wondershare SignX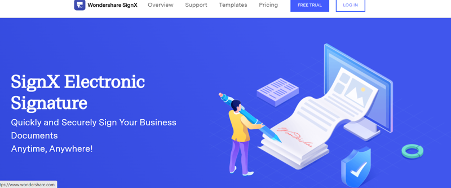 Wondershare SignX reports being the most affordable and intuitive electronic signature platform for small and mid-sized businesses.
SignX has one of the highest levels of compliance with the most demanding regulations in many countries worldwide. Get access to a range of free templates to download, fill out, and sign along with real-time alerts every time your document is opened, read, or signed.
Why choose SignX:
5 document sends

Audit log and history

Email notifications
5. eversign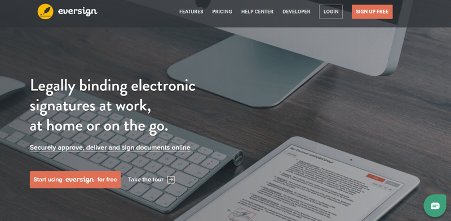 eversign is another great electronic signature software to help freelancers, small and medium-sized businesses right up to larger corporations go paperless.
The electronic signature platform offers a generous free plan with affordable premium pricing plans that can grow with your business, along with an in-person signing feature, allowing customers, employees, or contractors to sign documents directly on your PC, tablet, or mobile device.
Why choose eversign:
5 documents per month

2 SMS credits allowing you to add 2-factor authentication via SMS per month

Custom solutions available
Conclusion
With remote work now in full swing, many small businesses are turning to digital solutions.
One such solution that's driving new revenue is electronic signature.
Electronic signatures help you create a great customer experience by simplifying processes and providing timely responses and updates in an efficient and organized way.
Before you buy, read the small print as many platforms offer free versions, free trials, and paid subscriptions, varying in cost, features, and contract length.
Use this list as a starter to help you decide on the right solution for your small business, automate workflows and save on the most valuable resource of all: your time.
Ready to add a free electronic signature platform to your existing sales tech stack?
If the answer is yes, then create a free account at GetAccept today.
It takes less than 2 minutes to create an account, and you can have your first document electronically signed before the workday is over. It really is that easy.