"Know thy customer." Yeah, yeah, we know that.
But it's a really hard thing to do.
Demands and preferences change based on the slightest discrepancies in your buyer personas. Add in targeting different regions in there, and you've got cultural differences wreaking havoc with your approach.
But in a world where sales teams are more disjointed than ever, it's not just your end customer that decides the nurturing process. Sales teams in the UK and US have completely different approaches to how they acquire new customers.
Everything from culture and compensation to the sales process changes depending on which side of the pond your team is located.
Unsure of what those differences are?
Whether you're attempting to bring both regions together or, you are switching from one to another, this guide will help you prepare.
Starting with sales culture and how it differs between the regions.
1. Sales culture
Sales culture—people, attitudes, and core values your sales team base all of its decisions on—is one of the most important factors to consider when building a sales team.
It doesn't matter where you're based. A poor culture reflects your ability to collaborate with other reps, close deals, and prevent staff turnover. Research shows that companies with a healthy sales culture have a 13.9% employee turnover, compared to almost 50% for those with a poor culture.
So, what's the sales culture like in the US? How does it compare with the culture in the UK?
Here's what GetAccept Co-Founder and US-sales expert Carl Carell had to say:
"The US sales culture is significantly more goal and quota driven than the UK, and it's a lot more cutthroat, too - meet quota and sales targets or you are out!."
Carl continues: "This kind of culture leads to a very competitive sales environment and survival of the fittest mentality. Although, sales trends are changing and, in the US, sales is much more technical in terms of knowledge and process compared to the UK."
2. Training and coaching
Sales training is a natural division of healthy culture. The more a team focuses on continual improvement, the better equipped they are to handle difficult situations—and close high-value deals.
GetAccept's Harry Bandell, a former account executive and now customer success manager, shares how UK companies approach sales training and coaching: "UK companies can often bring in sales coaches to run seminars / training sessions for their reps, with direct line managers often listening to calls live to provide feedback."
Harry continues "Generally, though, sales instinct and common sense is relied on - there is perhaps a less forgiving managerial culture in UK sales (not quite Glengarry Glen Ross, but more motivating than encouraging better sales practice)."
When it comes to sales development, the US is miles ahead, according to Carl:
"In the US, sales training and coaching is significantly further ahead than in the UK. In the US, there's a structured process and documentation in order to support training and sales ops. US sales leaders are much more open to bringing in external sales trainers and they have more internal sales enablement teams than their counterparts in the UK."
3. Salary and compensation
You only have to look at average salary data for sales reps cross-border to see huge differences.
Glassdoor reports sales reps in the UK earn £28,454 per year. That's roughly $40,000, on average. When we compare that against Indeed's US sales rep salary of $64,000, plus the average $25,000 cash bonus and $12,000 in yearly commissions, it's clear that the compensation odds are in the US's favor.
UK sales reps earn $40,000. US sales reps earn up to $100,000. That's more than double!
That's a huge difference!
So, why is this the case?
We turned to Harry Bandell again to find out why: "Entry-level salaries for sales reps are very low so you have to climb the ladder a lot to earn a good salary."
"Commission structures are where reps earn their keep in the UK, but even these are often capped in smaller businesses - the old-fashioned logic would be that you don't incentivise sales reps to push up beyond targets if their base salary makes them comfortable in life, but you also don't want employees lower in the chain to make more money than the higher-ups."
It's simpler than that, according to Carl:
"You earn more in the US because the country is built on lower taxes and more personal financial liability. Top sales reps can earn up to twice as much as low performers – and given the competitive nature of US sales, there's less risk for the companies promoting top performers allowing them "weed out" underperforming reps."
Now we know the cultural differences between sales teams in each country, it won't come as a surprise to learn that the sales process differs depending on which side of the Atlantic you are working with.
4. Responses to inbound opportunities
Lead response times are one of the most important metrics for any sales organization, regardless of what (or how) you're selling. Leave a buyer waiting too long and there's a risk of a competitor swooping in—or leaving the purchase frame of mind entirely.
Interestingly, average response times differ depending on where the sales team is based.
Our data shows that 34% of UK sales reps will wait until the next day to respond to a buyer. Half will leave a prospect waiting up to seven hours for a response—which suggests speed and urgency aren't important to sales teams in the UK.
We don't see the same pattern repeating in the US, where one-third of all US reps will reply within 60 minutes.

Separate to our research, we asked Carl what the average response times were in the US?
He didn't hesitate: "In the US, It's a same day minimum but top organisations promote real time conversations and at the very latest, the same hour."
Wow! It's no wonder US sales reps are way ahead!
5. Sales prospecting
Sales prospecting is an integral part of any sales process.
It's how you find new prospects to sell to, keeping your pipeline full.
So, how does the prospecting process differ between countries? The biggest difference is the channels being used to find those prospects.
For 35% of UK sales reps, email is the preferred channel to engage with new prospects. That's shortly followed by live chat (23%) and social media (21%).
It's no surprise that email leads the way. It's more effective in the UK.
What channel is missing here?
The phone.
Harry explains why: "Call-back rates for left messages are incredibly low - with most calls going to voicemail or reception. It's very hard to incentivise a cold prospect to call back someone they don't know for something they don't know anything about!"
However, the preferred channel for US reps IS the phone, with 37% of American sales representatives dialing a prospect's number to sell to them for the first time. Email and live chat are closely followed.
6. The omnichannel approach
Here's where things get interesting:
Regardless of location, sales teams don't have to stick with one line of contact throughout the sales engagement process.
A combination of phone, email, live chat, and video conferencing is considered industry best practice, with sources like McKinsey reporting:
"The pandemic has cemented omnichannel interactions as the predominant path for B2B sales. Even as in-person engagement reemerged as an option, buyers made clear they prefer a cross-channel mix, choosing in-person, remote, and digital self-serve interactions in equal measure."
Teams in the UK don't seem to be taking up that approach, though, with just one in five UK-based sales teams using an omnichannel approach to engage with new prospects.
Why is this happening?
Well, it's because UK sales teams don't report as strong results as their US counterparts—especially in our new-COVID-19 world.
Statista reports that just 15% of UK B2B sales teams find an omnichannel sales approach much more effective than they did pre-COVID.
When we compare that with the 27% of US teams who've found omnichannel selling to be much more effective than last year, it's clear why their UK counterparts are still hesitant to double-down on cross-channel sales.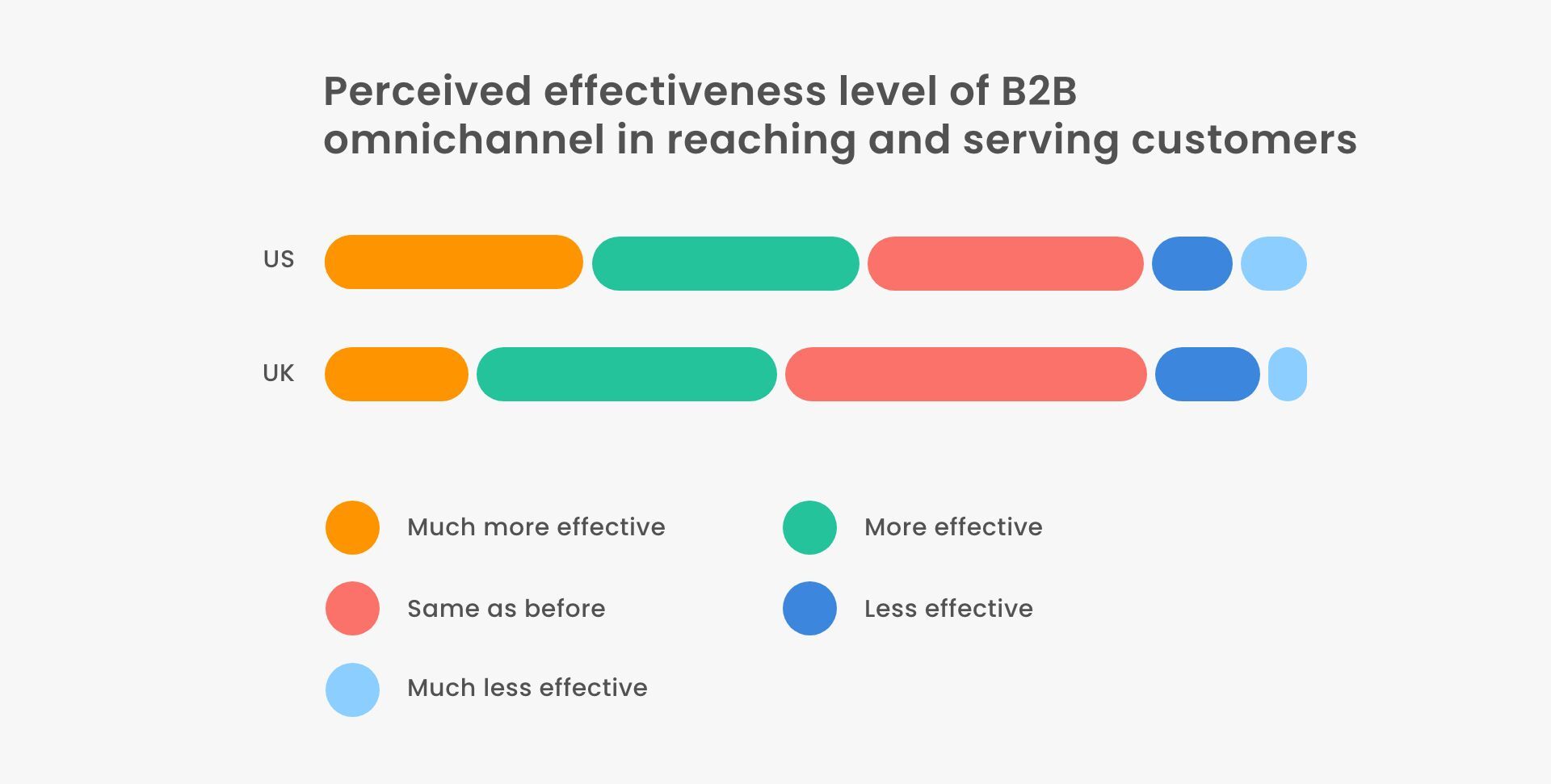 7. Digital signatures
Remote working is on the rise globally—not just in the UK and US. Some 30% of companies are now fully remote. Another 60% take a hybrid approach, with employees split between office and home working.
This switch to remote working pushed both teams to be more efficient and cloud-based. Storing documents in-person, at the office, was no longer working. Everything had to be digital, stored in the cloud, and accessible to the entire team wherever they were working from.
The UK struggled with this more than teams in the US. Some 52% of UK sales representatives said they're not fully utilizing the tools in their toolkit. Reasons for this vary from poor training to poor adoption.
One tool not getting the much-needed attention it deserves?
Electronic signature software.
It prevents the back-and-forth, in-person signing process that sets large deals in stone. Documents are signed and authenticated in a few clicks.
Our data shows 18% of UK sales representatives exclusively uses digital signatures. That's lower than the 23% of US-based representatives scrapping the old-fashioned in-person process entirely.
Even more surprisingly, only 52% of UK sales teams have never used digital signatures, compared to just 34% US representatives.

8. Self-serve
Not every customer needs contact with a sales rep before they decide to purchase. In fact, the move to a self-service, eCommerce-style model became even more popular as a result of the coronavirus pandemic.
Statista found that UK B2B firms generated 28% of their revenue from eCommerce. That's a significant increase from the 22% pre-COVID.
In the US, however, there was very little change. Some 19% of revenue from US-based B2B companies came through eCommerce pre-COVID. That's marginally increased by 20% — but still a long way behind the UK's shift to eCommerce sales.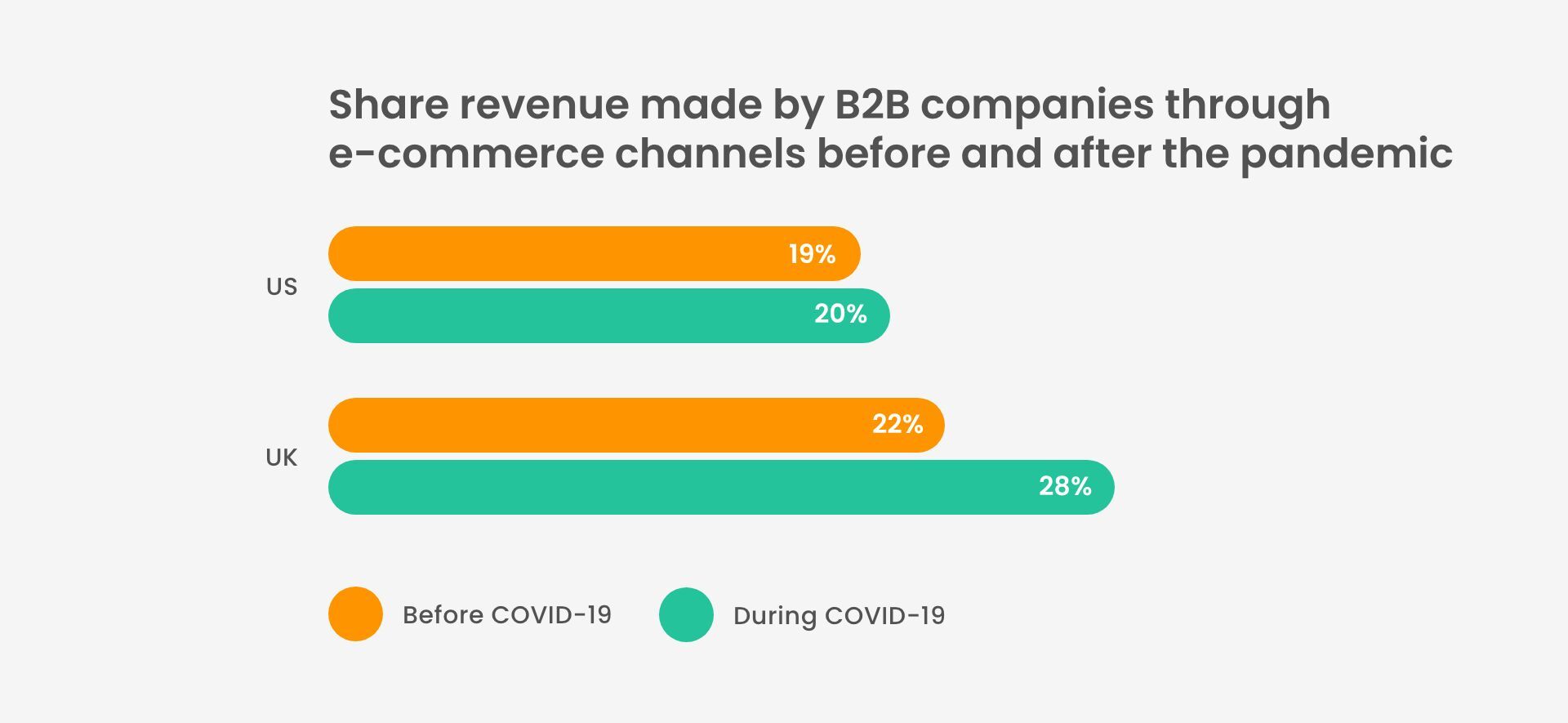 To understand the differences between sales teams in each region, it's important to dig deeper into the buyers they're serving. After all, a high-performing sales team—one that closes most of its deals—knows the person they're selling to, and crafts a strategy based on what each buyer needs to hear throughout the sales funnel.
9. Personal information sharing
One of the biggest differences between UK and US buyers is the openness to share personal information.
Sales reps need basic information about a lead, including their full name, email address, and contact number. Otherwise, they have no line of communication to nurture and sell through.
The only problem? It's harder for US sales teams to collect that information in the first place. Data shows that 34.5% of Americans are not willing to share personal information with a company compared to just 26% of Brits.
10. Buying online
It's not just personal information preferences that differ depending on which side of the pond you're selling to. The way in which buyers are willing to purchase items depends on the continent.
Research has found that UK consumers are more open to completing tasks online. Whether they're dating, booking a doctor's appointment, or attending a virtual job interview, it gives sales teams in the UK an upper hand.
Not only does it make it easier for UK sales teams to expand their pool of potential buyers, but there's less of a need to convince potential buyers that doing business online is the way to go.
Conclusion
Yes, we speak the same language – but as you can see, we're a lot different!
The research shows there are multiple differences between sales cultures, prospecting, and buyer preferences between UK and US teams.
What works for one region doesn't necessarily work for the other - especially when it comes to how they approach sales and the digital tools they use.
What's clear is this:
UK sales teams are behind their US counterparts. Their approach to training isn't as concrete, digital signatures aren't the norm, and you'd be hard-pressed to find a UK team finding success with the omnichannel approach.
The good news is that YOU can change that. You can learn how to get better at sales, you can experiment more with omnichannel and you, can start using digital tools to help you improve the sales process.
Don't wait for everyone else in the UK to catch up. Start today.
Not sure how digital signatures can support your sales strategy?
Book a demo with a GetAccept sales expert and we can walk you through the entire process.