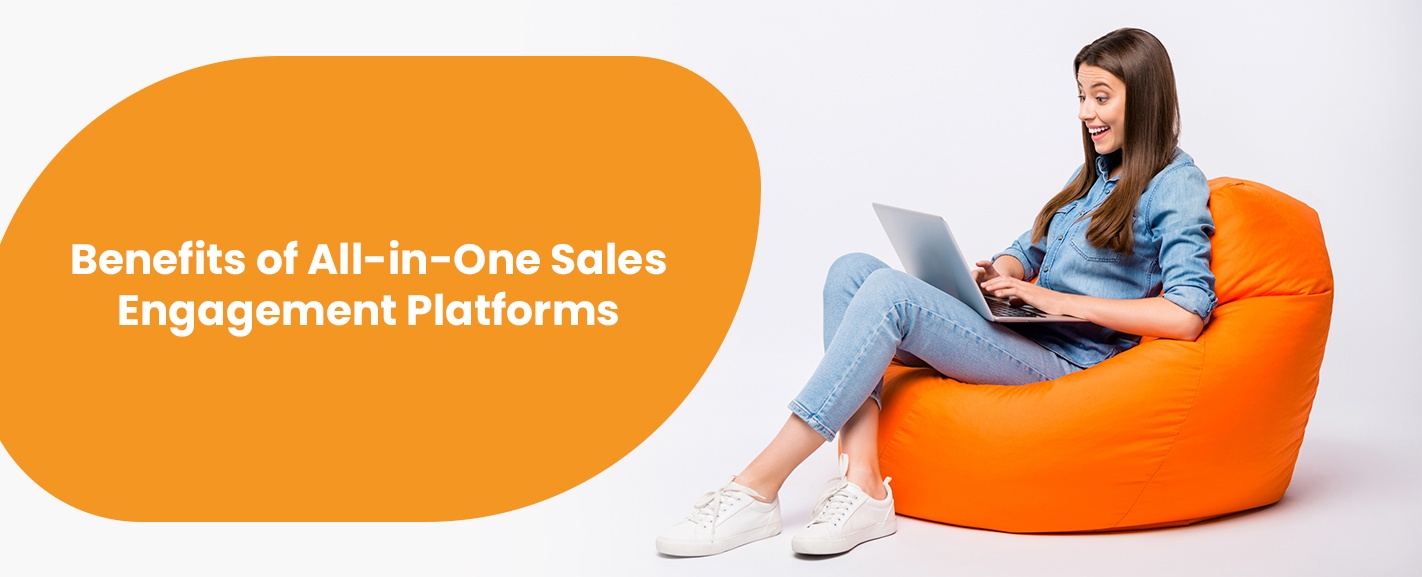 With every year that passes, your sales prospects get more and more in-tune with your practices. They don't want to be bothered, but they want to know they can get in touch with you in the way that's easiest for them. Sellers have a complex map of buyer demands to navigate if they want to close a sale.
All-in-one sales engagement platforms offer the ideal solution. They offer the tools for meeting your prospects where they're at and improving upon nearly every aspect of the sales process for a humanistic, efficient and modern approach to closing deals.
What is sales engagement?
Sales engagement refers to the interactions that occur between a seller and their prospects. This process can include everything from a simple cold call to a long-term, nurtured lead that you've been working on for months. Sales engagement is all about reaching the right people at the right time and with the right information. Sellers need to understand their prospects' needs and preferences when engaging with their buyers.
There are many different factors at play with sales engagement, such as:
Personalization: Incorporating your prospects' unique needs is key to reaching them in the right way. You'll need to keep track of their industry, their preferred method of communication, where they're at in the sales process and what they're looking for, among other things.
Marketing strategies: Sales representatives also need to consider the current company goals, such as campaigns or new products. These aspects can be a big part of converting leads or reaching new clientele.
Assessment: Any sales engagement strategy needs to be regularly assessed and modified according to goals and effectiveness. That means collecting data and analyzing progress.
Efficiency: While quality sales strategies are important, sales reps also need to stay efficient so they can get to more prospects and focus on making the most of their leads.
Technology: Most companies working on sales engagement need a sales engagement platform to help teams incorporate all of these factors and successfully close more deals.
What does a sales engagement platform do?
A sales engagement platform is a powerful program that gives sellers all the tools needed for effective sales engagement in one easy-to-use program.
Many sales teams use a variety of disparate sales tools, like a customer resource management (CRM) platform, email inboxes, social media profiles and phones. This variety of tools leads to data silos, with information stored in multiple places, and inefficient practices, along with a host of other problems. An all-in-one sales engagement platform brings your information together from these separate platforms and incorporates it with valuable sales tools to create a system designed for closing deals.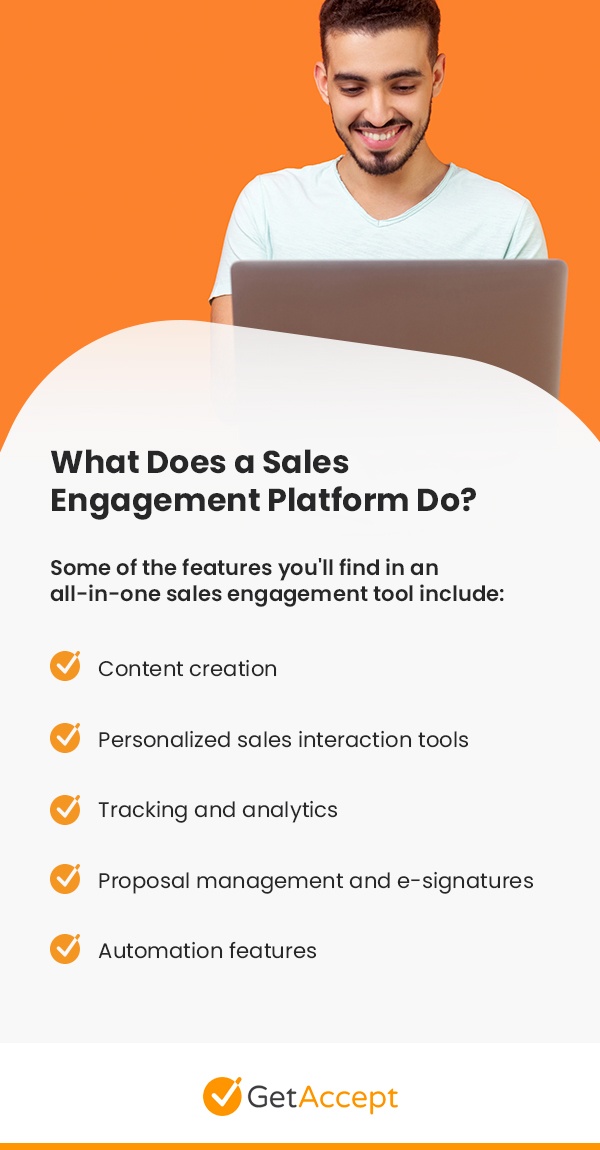 Some of the features you'll find in an all-in-one sales engagement tool include:
With remote work becoming more and more popular, digital sales engagement tools have become even more essential. B2B decision-makers may find online and remote selling as effective and sometimes even more effective than in-person engagement.
Your sales engagement tool should go beyond your CRM and offer a vast range of tools to reach your company's growth goals with touch points both digitally and in-person.
What are the benefits of using a sales engagement platform?
With an all-in-one sales platform, you reap a wide range of benefits that affect everything from efficiency to sales quality to profitability. Take a look at the benefits of a sales engagement platform your business could enjoy:
1. Fully digital processes
People don't want to have to speak with a sales rep unless they absolutely need to. With a sales engagement platform, you can offer your prospects plenty of digital access to the information they're looking for through presentations, digital contact options and other info-gathering methods that don't require a phone call.
Even if you're not making sales self-service, you can still provide more information through a remote channel via the features of a sales engagement platform, such as document access.
2. Faster closing
Efficiency is key. The faster a sales rep closes a deal, the faster they can get to the next lead. With easy access to sales tools through a centralized system, sales reps can close deals faster and get onto the next prospect. Efficiency is also essential if you want to make the most of a salesperson's labor and ensure they're fitting in as many sales as possible during their time at work.
3. Omni-channel connections
Meet your prospects through the channel that works best for them. Your existing systems integrate with the sales engagement platform, allowing sales reps to use a streamlined, all-in-one communication system and build a strong rapport with their prospects. From videos and live text chat to classic email systems, easy communication options will gain client appreciation and increase their likelihood to respond.
4. Cohesive operations
When you have a bunch of disparate systems that don't play well together, they're not working as efficiently or as well as they could. A sales engagement platform brings them together into one tool with one login. Collect your data in one place and eliminate silos through extensive integration. Users can access inter-departmental information in one easy-to-use dashboard without switching between 10 different apps.
5. Speedy onboarding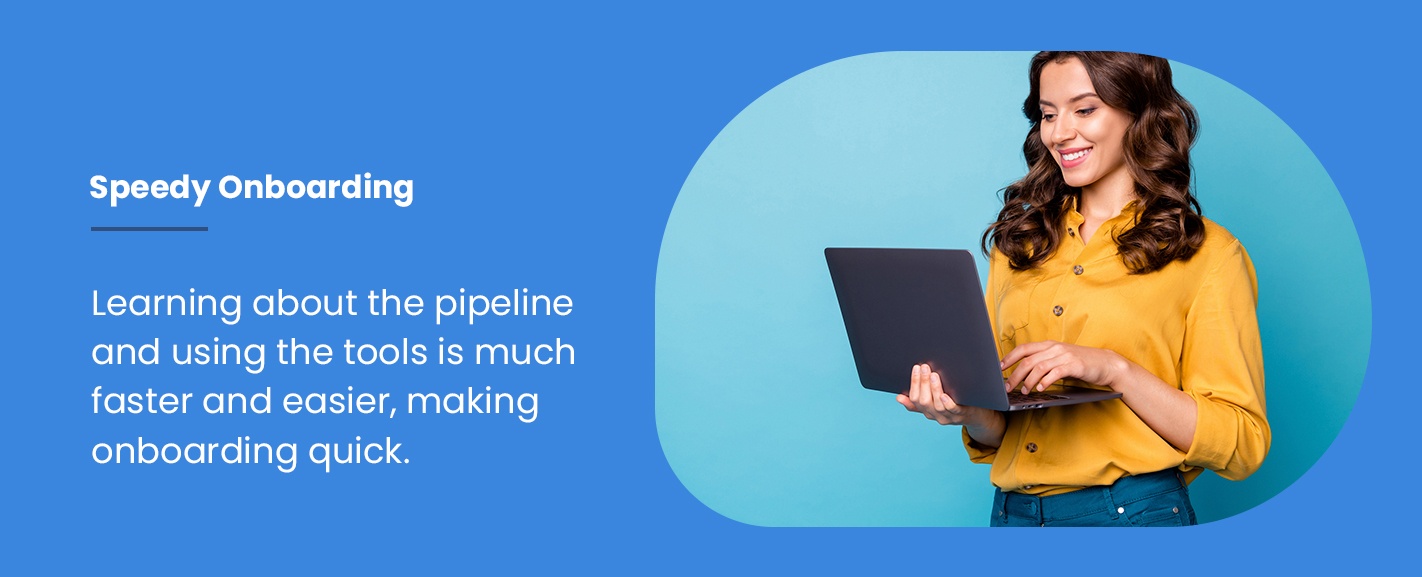 A sales engagement platform offers guidelines for new employees so they have a step-by-step resource for the sales process. Learning about the pipeline and using the tools is much faster and easier, making onboarding quick. If you get a user-friendly platform, you'll also avoid steep learning curves that come with some other sales systems and CRMs. Everything is intuitive and easy to use from the start.
6. Extensive Personalization
With the help of features like sales intelligence and analytics, sales engagement platforms can offer a personalized experience for your prospects. Sales reps will get up-to-date information on where their clients are in the sales funnel, how they should be contacted and many other aspects of communication. Representatives are able to offer a humanistic experience that makes their prospects feel valued and better reaches their needs.
7. Improved efficiency
Many salespeople spend less than 36% of their time actually selling. They often waste time on tasks like logging into multiple systems, switching to one of seven sales programs they use or trying to gather and organize intelligence on their prospects. A sales engagement platform eliminates much of this administrative work, leaving sales reps to focus on selling and get more done. They can reduce time spent on logistics or simple paperwork with an automated, all-in-one system.
8. Smarter selling
A sales engagement platform tracks, monitors and analyzes all touch points and interactions with prospects, ensuring they are documented. This benefit allows for robust data collection and analytics. Combined with sales intelligence features, sales teams can use this information to create data-driven plans to close more deals based on real-world information. They learn from their performance and are better able to adjust sales pitches and touch points based on the data gathered in the platform.
9. Content management
Comprehensive tracking allows you to analyze the content you create and send out, gaining a full understanding of what your prospects find engaging and interesting. Sales reps can learn what makes a valuable piece of content and use that to inform future practices. Plus, some platforms allow you to create or edit your content within the app for an even more streamlined approach.
Some sales engagement platforms also allow you to create professional content, like video presentations and proposals, fully within the platform for an even more streamlined experience.
10. Better forecasting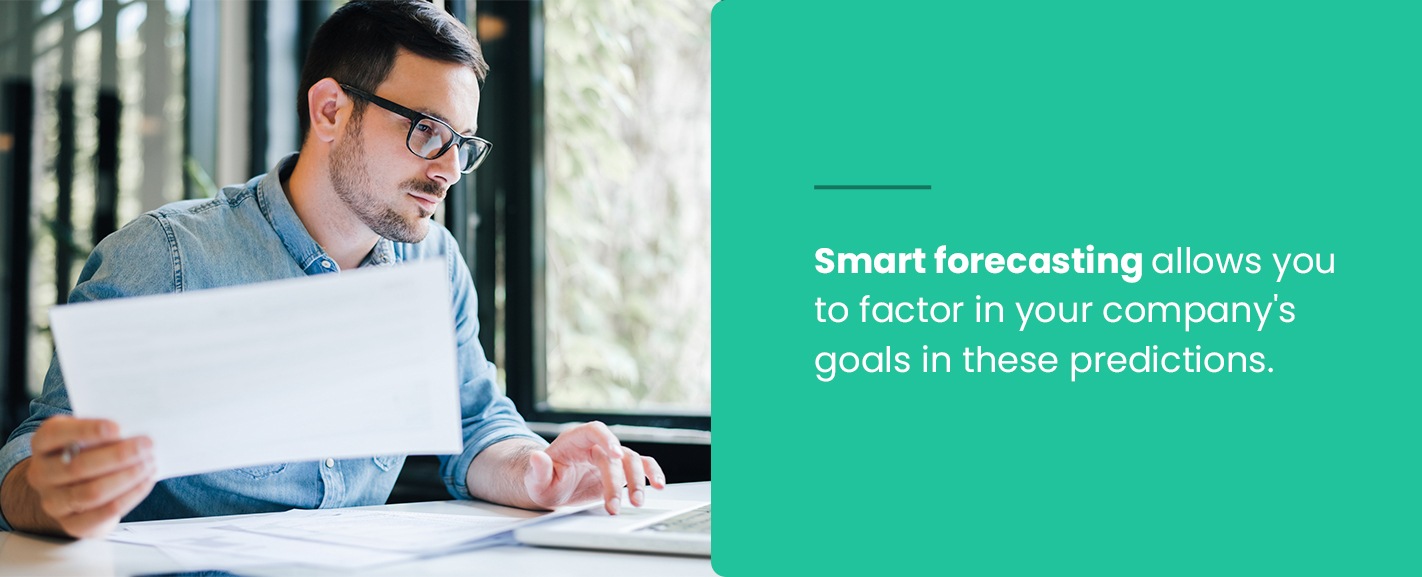 While a sales CRM might give you some basic forecasting insights, a sales engagement platform provides a better picture of the entire sales pipeline with more data related to your customer engagement strategy. Sales teams use this data to predict their next moves. Forecasting can play a significant role in determining both the best ways to contact a customer and the best customers to reach out to.
Smart forecasting allows you to factor in your company's goals in these predictions. Data, especially when driven by smart algorithms, is a huge part of optimizing a selling strategy, no matter how you communicate with the prospects.
11. Better close rates
More information on prospects means a higher chance of closing the deal. A sales engagement platform can help with everything from identifying a strong lead to scripting sales pitches, making the ideal offer and overcoming common objections. Your sales representatives can drill down and target the best prospects for the sales goals they're trying to reach.
12. Real-time updates
A sales engagement platform linked to a CRM means the CRM is always updated in real time and matches the data in the sales platform. No more duplicate calls to a client or outdated phone numbers not making their way to the CRM. This functionality reduces the chances of errors and helps the entire operation run more smoothly. No one wants to lose a sale because of something as simple as outdated information.
13. Robust analytics functionality
The analytics features in a sales engagement platform offer all sorts of insights into your sales process. Identify the most valuable leads, understand what's working and what's not and make data-driven changes to the sales process. Analytics are a key part of adjusting your sales strategy to address problem areas for your team and capitalize on their successes, as well as inform countless other sales goals.
14. Greater visibility
From detailed reports to at-a-glance dashboards, sales engagement platforms allow both administrators and sales representatives the chance to get a comprehensive view of the company. They can better understand where the team is and how they're meeting their goals, enabling greater communication and insight into their work. Users don't need to swap into tons of other platforms to do so, either. All the sales data they need is just one login away.
The visibility of these platforms is also great for working with documents shared to prospects, as sales reps can see immediately when their lead has opened a document, such as a proposal. They can follow up when appropriate and give the prospect a gentle nudge where it's needed.
15. Better team communication
Breaking down data silos and centralizing your sales can improve team communication. Team members can better understand their goals and the progress of their team. They can communicate with each other to problem solve and offer up solutions when needed with the visibility improvements a sales engagement program offers.
Learn more about sales engagement platforms
Sales engagement platforms come with a lot of advantages, from more sales to more profitable leads — but only if you get the right program. GetAccept offers all of the valuable benefits listed above to help your sales team boost sales, better engage their prospects and take advantage of advanced analytics. GetAccept has a wide range of features, from smart reminders that keep your team members updated to fast e-signature functionality that eliminates paperwork and saves time.
Whether your team lacks a sales engagement platform or you're looking to upgrade from one that's underperforming, look no further than GetAccept. Our document sending features help users get an average hit rate of 67%, with personalization and artificial intelligence increasing that hit rate by 30%. This all-in-one sales engagement platform makes B2B selling natural and straightforward.
To learn more about what our sales engagement platform can do for your organization, please reach out to us to set up a demo!