We all want to grow our sales and revenue. But it's not easy. There are so many tactics, channels, and opinions out there that it's hard to know what to listen to.
In this guide, we'll keep it simple.
You'll learn timeless and actionable sales tips that you can implement today. You'll gain a huge competitive advantage over your competition and will prove to every prospect that you care about winning them as a customer.
All of these tips are tool agnostic. You won't need to buy expensive software, hire multiple new sales reps, or increase your sales budget by 200%.
Sounds good?
Let's jump straight in.
1. Niche down on your ideal customer profile
Our first sales tip starts at the fundamentals: your prospects.
Even if your product or service has a broad appeal, your sales team needs to be laser-focused on one type of ideal customer.
For example, if you work at a software company that offers a sales intelligence platform, your first inclination might be to think: "we can sell this to any business in the United States."
However, that will leave your sales team without a clear direction.
To improve your sales process, niche down.
For example, you could add criteria like:
Our customers work for a company doing $5M+ in annual revenue
They need to have a minimum of 10 people on their sales team
The buyer we contact is typically a Head of Sales, VP of Sales, or Sales Director
These extra details make it easy for your sales reps to identify relevant prospects.
It'll also allow you to spend more time talking to your ideal customers, understanding their pain points, and personalizing your sales outreach to their unique needs.
An added benefit is that most sales prospecting tools allow you to easily search for prospects based on the abovementioned criteria.
Platforms, including UpLead and ZoomInfo, allow you to search for prospects based on their company revenue, number of employees, job title, and even the technology they use on their website.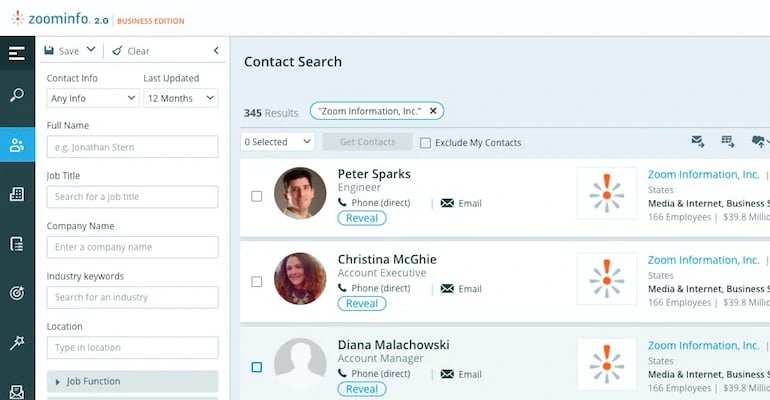 By having a clear idea of who your ideal customer is, your team can focus on people who are more likely to convert and spend less time on inefficient prospecting due to not having a clear focus.
2. Personalize every sales touchpoint
Personalization is vital if you expect to stand out. Busy decision-makers receive cold calls and emails every week and are bombarded with targeted ads on social platforms and search engines.
Personalization is the only way you can cut through that noise.
You're not limited when it comes to personalization. You can add it to:
Take this email template from AppSumo when they reach out to SaaS founders to promote their products: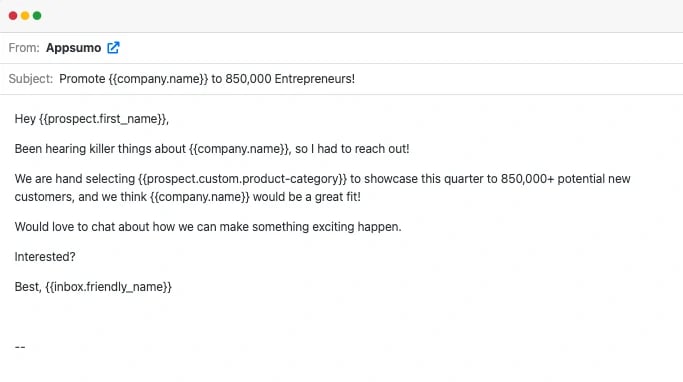 The template is simple, but it's personalized to the recipient.
They mention the recipient's name, company name, and product category. The template also includes social proof that would be relevant to the recipient.
If that were the first sales email you received, you'd immediately trust the sales rep who sent it more than you would if they had sent a generic template to you.
3. Use social proof to build trust with cold prospects
Not every prospect knows what your company does. People will hear about your product for the first time when they see your first sales touchpoint.
To quickly build trust, find ways to integrate social proof throughout your sales process.
This means:
Name-drop clients or past success stories in your cold emails
Add client logos or testimonials to your

sales deck

Share case study PDFs during the lead nurturing process
Even something as simple as adding someone's personal details to an email subject line can increase open rates by 26%, so it's worth doing.
See this email from RePurposeHouse as an example: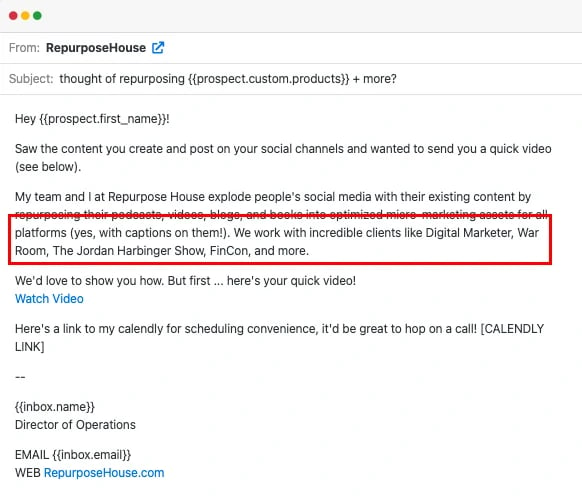 The sender included a whole sentence where they spent time adding their client names.
Even if the recipient had never heard of the company, this social proof instantly improves the sender's legitimacy and builds credibility.
If you don't have any examples of social proof, you need to run a survey or schedule video interviews with your customers. Ask them about their pain points and how your product or service has helped alleviate them.
After running five to ten interviews, you'll have a bank of social proof that your team can reference in their sales outreach and meetings. This process will also help overcome sales objections.
4. Use follow-ups to boost response rates
Sales teams need to follow up.
Data from 65+ million sales campaigns found that 55% of replies come from a follow-up step.
You won't annoy your sales prospect by sending a follow-up email, making a second cold call, or sending a second LinkedIn message. Instead, it's a friendly reminder that you have something of value to them.
All good sales outreach or cold email software allows you to add automatic follow-ups.
For example, in QuickMail, you can choose the number of days you want to wait after your first contact and schedule a second email to send if you haven't received a response by then.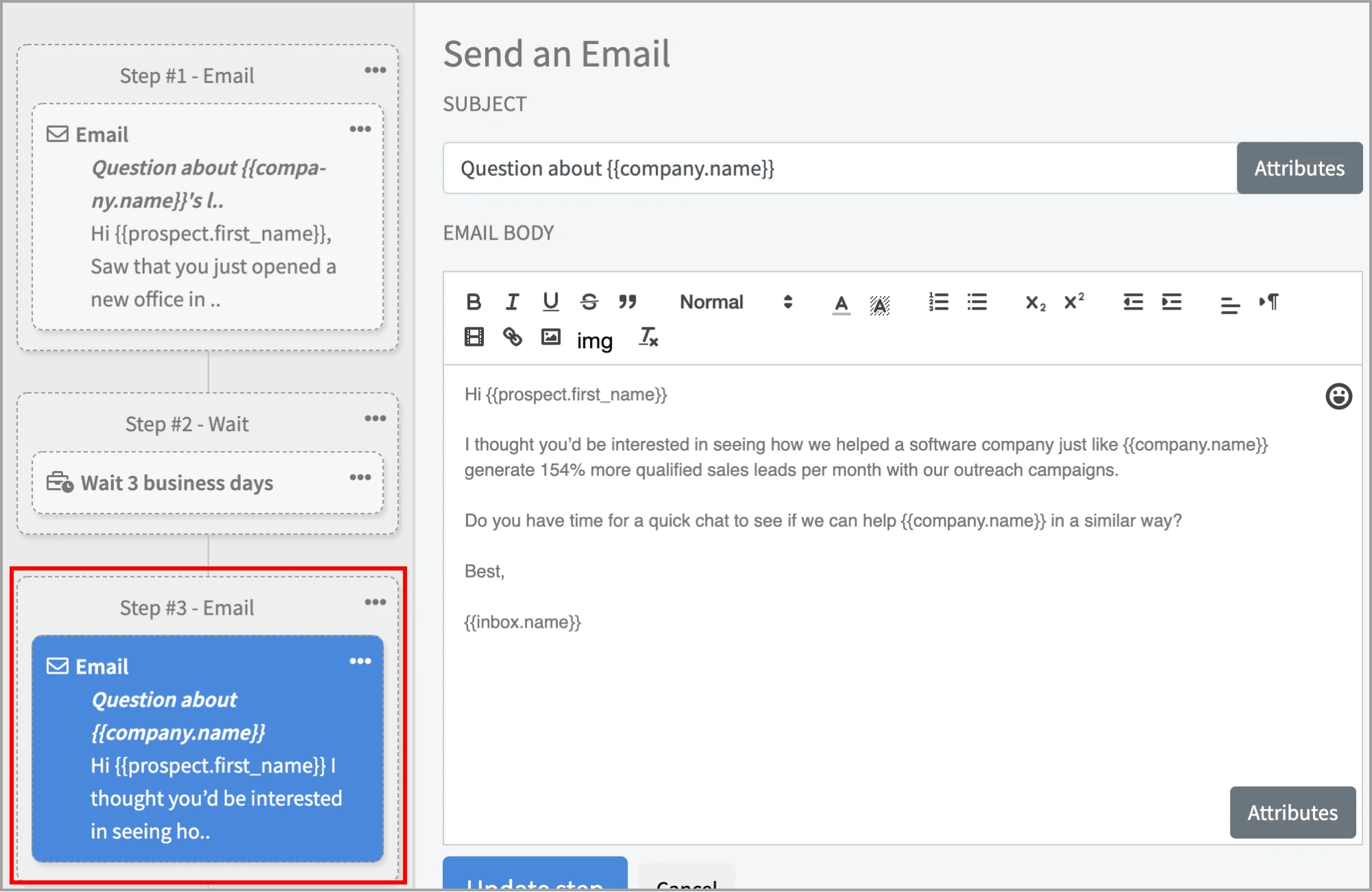 If a sales prospect replies, they will be automatically removed from the campaign so that they won't receive any more follow-ups.
You can also send follow-ups using a multi-channel approach. For example, add a cold call follow-up, a LinkedIn message follow-up, or any other channel you use.
It's the best way to increase your chances of getting a response.
5. Improve productivity with a digital sales room
Sales teams have a tendency to adopt too many tools that all do similar things.
The result is that your sales process is disjointed, and your reps don't have a single source of truth.
To avoid this, use a digital sales room like GetAccept. A digital sales room helps you streamline your activities, get more visibility into your overall sales process, and eliminate unnecessary sales tools from your budget.
For example, you can get notified when prospects interact with your sales documents, watch videos you've sent them, or share your proposals with other team members.
You can use that information to improve the timing of your follow-ups, prepare for potential sales objections, and show your prospects that you care about winning their business.
You can also track the progress of every lead in your dealboard, from initial contact all the way through to closing them.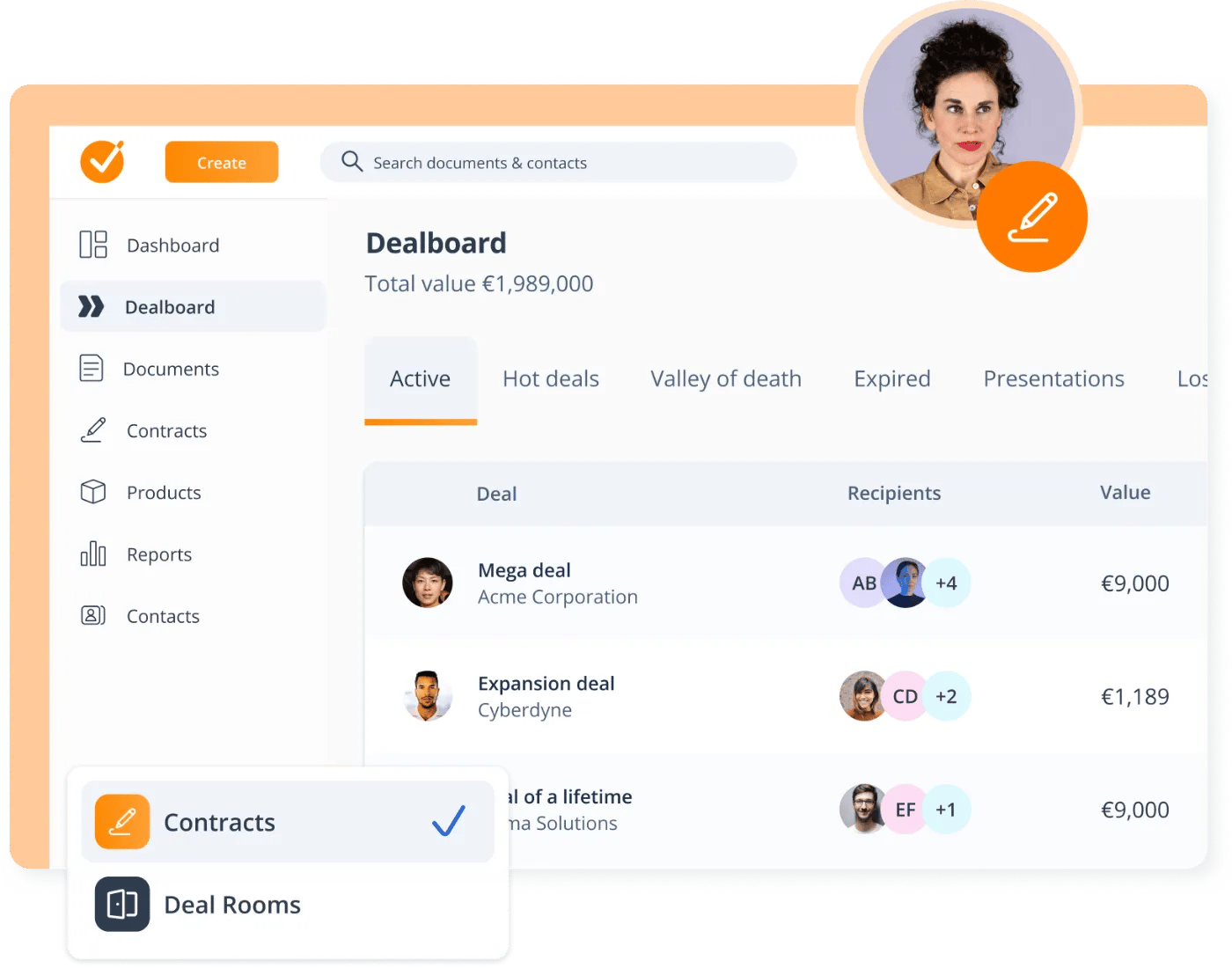 Your team will always know the status of each lead, where they are in your sales process, and what the next action they need to take is.
6. Leverage automation tools to eliminate manual tasks
This next sales tip is all about saving you time.
Account executives and sales reps have multiple manual tasks to do every day.
For example, when you book a meeting with a prospect, you need to do a few things:
Create or update your CRM record with information on the prospect
Log the meeting on your team calendar
Create a task in your free project management software and attach relevant sales assets you'll need for the call.
Some teams will have more steps than others, but these three are a core example of what might be expected.
If you expect these to be done manually, you're setting your team up for failure.
Sales reps won't always remember to update your CRM or notify other team members of the meeting because they know it's happening.
However, this can lead to gaps in your sales team's knowledge. You risk other sales reps contacting the lead, assuming there's no meeting booked, making your team look unprofessional and unprepared.
To avoid this risk, use automation tools like Zapier or Make.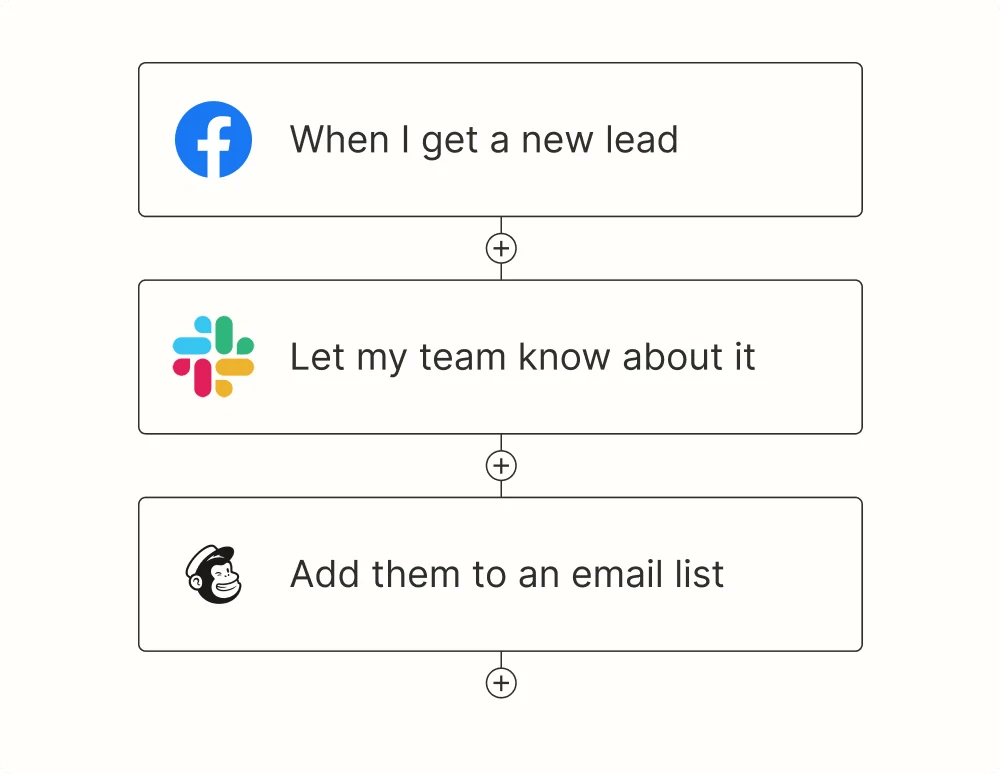 These allow you to connect sales tools to other apps in your tech stack and create custom workflows that automatically trigger based on an action.
For example, once a new meeting is booked through Calendly, your automation tool sends a message to your team in Slack, creates a new record in your CRM, and updates a Google Sheet with details to help you track your total number of monthly meetings.
You can also use one of the best notion widgets, like Plus, to manage and analyze this data by automating updates in one place, allowing for the customization of metrics and facilitating real-time data exchange with your team.
Every manual task you'd have to complete is automated, freeing your team to focus on what matters: conversations with qualified sales leads.
7. Measure every variable and focus on optimization
Once you have the basics down and start conversations with prospects regularly, it's time to start optimizing.
Sales teams that take a data-driven approach can increase profits by 8% while reducing their costs by 10%.
First, you'll need to write down the key metrics you care about for every sales channel you use. For example:
Your email open rate
Your email reply rate
Your meeting booking rate
Your overall win rate
Once you know your metrics, you can identify which ones need improving.
For example, the best sales outreach campaigns see a 20% reply rate or more.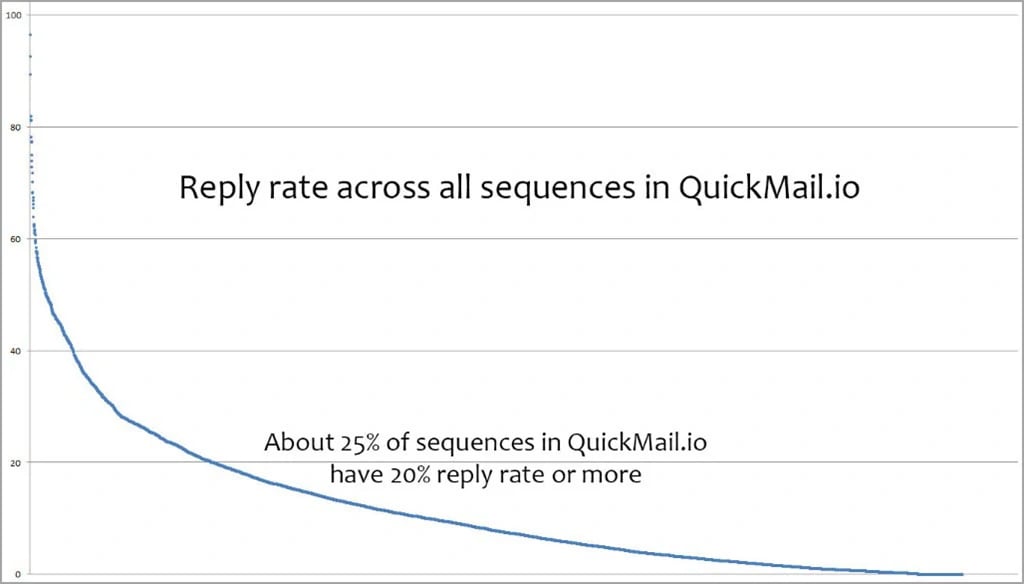 If you see a 10% reply rate, you know you have room to improve and optimize your email templates.
Another example of this is your meeting-to-close ratio.
If you're regularly booking meetings but struggle to close new deals, you can assume that the issue may be:
Your sales deck isn't well optimized
Your original pitch was potentially misleading
You're targeting the wrong decision-makers.
Using this information, you'll be able to test new hypotheses. For example, you can add social proof to your sales deck and incorporate more qualifying questions into your script. You might also consider targeting a different type of decision-maker at your target companies or asking your lead to bring the key decision-maker onto the call.
By taking a focused, data-driven approach, your sales process will always improve, and your team will have a competitive advantage over other companies selling to your audience.
Wrapping up
These sales tips will help you level up the way you sell. Your team productivity will increase, the quality of your sales outreach will improve, and the number of leads you close every month will skyrocket.
When you're ready to start using a digital sales room to improve how your team sells, check out GetAccept and book a free demo.