Sales interactions are increasingly taking place online.
According to Gartner, 80% of B2B sales interactions between vendors and buyers will take place in digital channels by 2025.
Sales leaders must become adept at these channels to engage their prospects or risk losing sales to competitors.
Social media might come to mind, but an even more effective channel is email. Brands generate an average of $42 for every dollar they spend on email, delivering a much higher ROI compared to other marketing channels.
Keep reading if your company is already using emails as part of your sales strategy but not generating the desired results.
Here's an in-depth look at seven things to include in your sales emails to increase conversion rates.
Let's dive in.
1. Personalized subject lines
Let's start with the most important aspect of your sales email — subject lines.
Most people simply don't have time to open and read every email they receive. Instead, they scan the subject lines in their inbox and quickly decide which emails to open.
Low open rates indicate that your subject lines aren't compelling or relevant enough.
Asking open-ended questions and highlighting a pain point is a great way to engage and start conversations with your prospects. (e.g., "How do you handle [pain point]?").
You can take things even further by personalizing your subject lines. Adding a prospect's name or other personal details increases open rates by 26%.
It's a small touch, but it can help you increase your open rates.
2. Value-added benefits
Your prospects are all asking the same thing: "What's in it for me?"
It may sound harsh, but your prospects don't care about your company or how you beat the odds to start it.
They want to know what your products or services can do for them. Help them by adding clear benefits to your sales emails.
Here's a good example of a sales email from Instapage with value-added benefits:
Instapage highlights clear benefits ("increase conversions with the same ad spend") that its target audience can relate to.
Identify the main pain points your prospects face and add a few quick bullet points to your emails regarding how your products or services can resolve those problems.
3. Quality visuals
Our brains process visual information much faster than text. Research also shows that we're 65% more likely to remember information if it includes an image.
Adding visuals to your emails is a great way to increase engagement and improve conversion rates. Examples can include images, GIFs, and even infographics.
Here's an example of how Somnifix includes infographics in its emails:

The infographic provides bite-sized information that readers can quickly digest whether they're at home or on the go. Infographics even help you build quality backlinks.
Even if you don't have graphic design experience, you can use a tool like Canva or Piktochart to create eye-catching images and infographics. But make sure to use images that reflect your brand in your emails to maintain consistency across each channel.
4. Social proof
Social proof is the idea that external factors influence our behaviors.
For example, seeing a product with many positive reviews will make you feel more confident about your purchase. But you might think twice if the reviews say to stay away.
Adding social proof to your sales emails can increase conversion rates and lend more credibility to your brand.
As an example, take a look at how Brooklinen uses customer reviews to bring shoppers back to its site: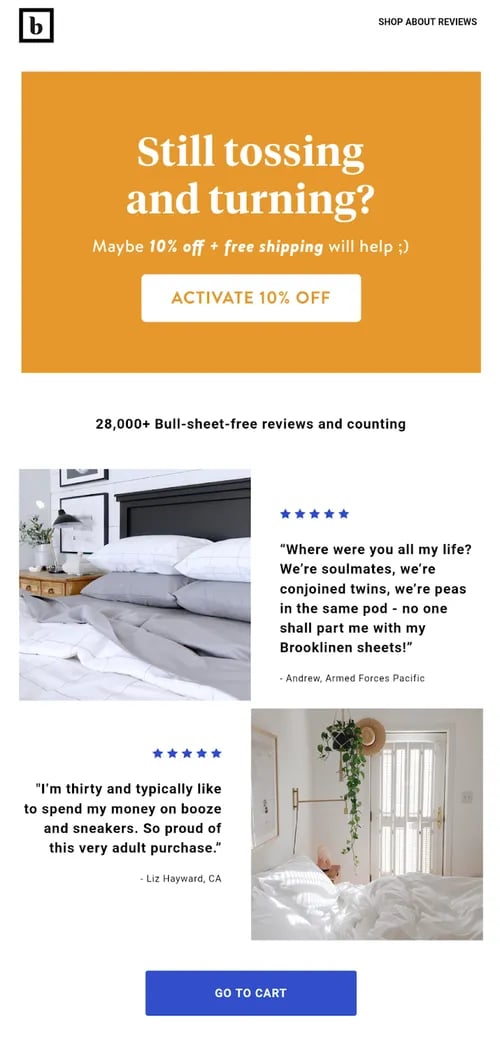 Whether you've been featured in a major publication or received glowing testimonials, find ways to add instances of social proof to your emails.
5. Call-to-actions
A call-to-action (CTA) is a button or line of text that tells your prospects exactly what you want them to do, whether it's scheduling a consultation or making a purchase.
Make sure to use clear CTAs in your sales emails. You should also use contrasting colors to help your CTA stand out.
Here's an example of a CTA button that Asana adds to the bottom of its welcome email: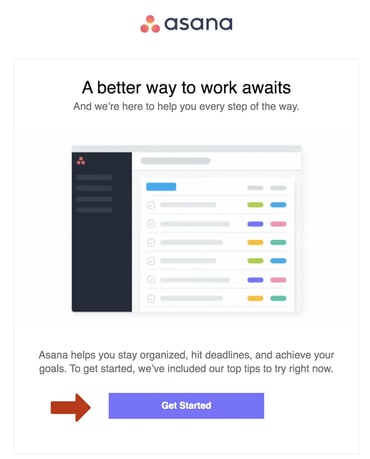 Experiment with different CTA buttons and optimize the copy itself to reflect what you want your prospects to do (e.g., Start a free trial today).
6. Email signatures
Starting a cold dialogue with prospects is challenging. They don't know who you are yet so they will instantly mistrust you.
Make sure to add a professional email signature to your sales emails and include the following:
Image
Full name
Job title
Website
Contact info
Social handles
Prospects can learn more about your company and reach out on the channel of their choice.
7. Mobile-responsive design
More people are accessing and reading emails from their mobile devices. In fact, you'd probably be hard-pressed to find someone without a smartphone.
Make sure that your emails are mobile-friendly. Prospects shouldn't have to pinch and zoom or scroll horizontally just to read your emails. Most won't even bother.
Here are some email templates that you can use for your next campaign. Each template is responsive and fully customizable.
Sales email best practices
Before you start your next marketing campaign, follow these best practices to get more out of your sales emails:
Run A/B tests: Don't make any assumptions. The only way to know what resonates with your audience is to run A/B tests with your sales emails. Test a few variations and measure open rates to find which subject lines and offers generate the best results.
Reduce bounce rates: Bounce rates are the percentage of emails that couldn't be delivered. A high email bounce rate can raise flags with your email provider. Use an

email verifier

before sending your campaigns to avoid your emails bouncing back.
Get to the point: Nobody has time to read lengthy emails. Keep them short and cut out any content that doesn't add value. Shorten your sentences and include bullet points to improve readability.
Avoid "salesy" words: Most email clients have spam filters that flag and move unsolicited emails to a user's spam folder. Avoid using trigger words like "free," "deals," "limited time," etc., in your emails.
Follow up: Your prospects won't always have the time to respond. If you don't hear back, wait a few days and send a short follow-up email. Remember to focus on adding value and include a CTA.
Final thoughts
Email is one of the most effective marketing channels for turning leads into customers.
But you can't just send out an email blast and expect sales to start pouring in. Taking this approach will alienate your prospects and could even undermine your brand.
Include each of the things detailed here in your sales emails for better conversions. Personalize each message, embed quality visuals, and add social proof to lend credibility to your offer. Don't forget to include a clear call to action that will encourage a consultation or purchase.