There are over 2 million podcasts out there, and 48 million podcast episodes.
Simply said, if you're podcasting, you've got competition to grow an audience. Or even survive.
However, you also have competition reaching out to potential guests.
As a recent first-time podcaster myself, I was confronted with a lot of different channels to invite guests to my podcast, The Sales Ladder.
I consumed a lot of online content, spoke with several vendors (in fact, I highly recommend a chat with Brad from Revenue Rhino and Logan from Sweet Fish Media), and here are the main channels I came across:
I'll also walk you through what to do after you've confirmed a guest from one of the above channels.
Channels to reach out from
Social media
These are the easiest and the most popular channels, and for two main reasons:
You can reach out without having to find contact information
If your guest is active on social media, he/she will also be able to promote it there, giving you extra exposure
There are plenty of social media platforms, and depending on the themes of your podcast, some will be more relevant for you. The Sales Ladder focusing on sales reps from the B2B sector, I've been mostly using LinkedIn and it has worked great.
You can use social media platforms in many ways to acquire guests for your upcoming episodes:
Send inmails to your connections
Send connection requests to targeted guests
Comment on posts relevant to your podcast theme
Join groups
How does it work, practically? Here's an example of how I acquired a guest simply by commenting on a post.
I stumbled upon this post from Danielle, advertising a new sales role within her organization.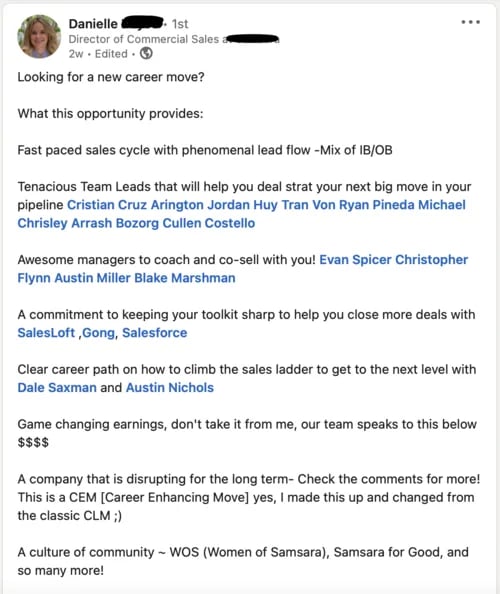 This was great for me since my podcast talks exactly about climbing the sales ladder (keywords even used in the post itself). So I publicly reached out to Danielle, and voila.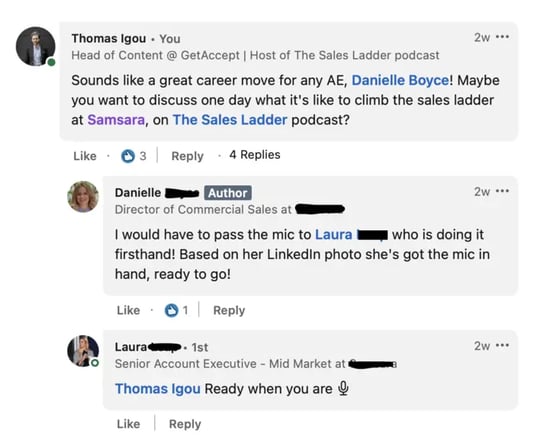 Laura will be a guest in an upcoming episode of the Sales Ladder.
Online communities
There are a lot of online communities for podcasters to find guests, like MatchMaker, Audry, Podcastguests, and even a Reddit thread, r/podcastguestexchange.
In short, they're like Tinder for podcasters.
Personally, I've only used MatchMaker and cannot recommend it as it's not really brought me anything.
However, in a thread I started on Reddit about podcasting, one member mentioned Audry as a very successful channel. See the post below.

Your network
As Daniel Disney, the social selling guru, said, your network is your net-worth. In your thousands of LinkedIn connections, Facebook friends, or Twitter followers, you very likely have a couple of great guests sitting in there.
Just comb through your network and reach out.
You can use a tool like Phantombuster to extract the list of your LinkedIn contacts and see how many followers each of your connections have, so you can target the ones with the highest amount.
Referrals
Sometimes, success is all about knowing the right people, and daring to ask. That's how I landed the former CMO of Salesforce as a podcast guest.
You just need to be persistent.
There are two different starting points to go about it:
Ask your friends and your current (and former) colleagues for the most high-profile person they could refer you to.
Reverse engineer the process: find a couple of high-profile targets and work backwards to see what connections you have in common that you could reach out to for a referral.
Another tip: after every episode you record, make sure to ask your guests for referrals for more additional guests.
Publishers
This is not a channel I've used myself, but it was mentioned on a Reddit thread I started, and makes sense.
If your potential guest is not of Simon Sinek or Jordan Belfort fame, and has published a book, you could target the publisher directly, who will welcome the extra advertising.
See the third paragraph in the post below.

Email lists
You can also go the old-fashioned, mass marketing way. Find emails of your prospects, put them in a list, write a generic email with a few merged cells for the illusion of personalization, and click send.
The hit rate will be much lower, but hey, the less you put in, the less you get back. General rule of life.
And now... so what?
You've reached out, and initiated contact with a potential guest.
But how do you ensure the best experience in the ensuing relationship?
Most podcasters will continue the conversation via email so they can send relevant information about the podcast theme, calendar invites for the discovery and actual recording, and prepared questions for the interview.
However, there are at least 13 reasons you should not send emails.
What I did to continue the conversations with my guests was use our own tool, GetAccept. Although it is primarily built for sales reps, it has all the ingredients for creating a unique experience for each of my guests that they probably will not experience with any other podcast.
Template invitation
First, I create a template using the in-app editor, for an invitation to be a guest on the Sales Ladder. This means that every time I send a new invitation, I don't have to start from scratch; instead, I use the template as my base.
I keep it fairly simple (for the moment), with information about the podcast, about the process, about the tech requirements, as well as link to the Sales Ladder website so guests can check out previous episodes.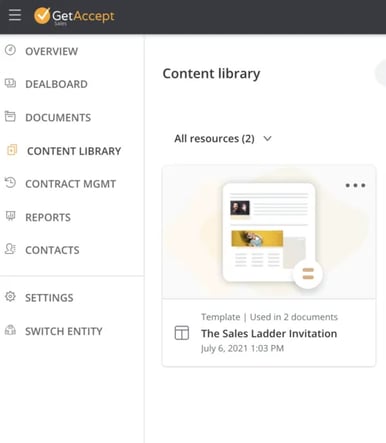 Personalize the invite
Each invite will be personalized, but because I use a template, the personalization will require minimum effort.
I primarily do two things:
Add a welcome/intro video
Add the questions specific to that podcast episode
The welcome video allows me to humanize the process, as I've not necessarily interacted face to face or even via video with the guest previously. So, he or she will get a visual of who I am. Here is an example of a video introduction I've done.
Then, I add a one-pager with all the questions I intend on asking during the podcast recording (based on my research). This includes one signature question I ask all my guests (what's the craziest thing you've ever done is sales) as well as guest-specific questions related to their experience and the theme of that specific episode.
By the way: wondering if the first two steps actually have an impact on your guests? Listen in below to Laura Erdem, one of my guests on the Sales Ladder, talking about my invitation during the episode.
Track the progress
One of the main benefits of using such a tool, as Laura Erdem herself suspected, is the analytics.
With GetAccept, you can see when and how many times the recipient has opened the document, which pages they have looked at and how long they spent on each page, if they viewed the video or other links you inserted.
All that information will help you understand how engaged your guest is, and also over time, you will get a better understanding on which part of your template is the most important for your guests, so you can always optimize the invitation.
Interaction anywhere, anytime
You can send the link to the document via email but also via SMS. You can also automate reminders if the recipient has not opened the document.
More importantly, you can set up a chat so that your guest can contact you with any questions and/or comment. If you have the GetAccept app on your phone, you can answer from anywhere, at anytime.
Legalities
Some podcasters require their guests to sign a contract or release form. This can be due to monetary exchange for having the guest on the show, or simply to get a formal consent for exclusive rights for the podcaster to redistribute the content of the episode.
With GetAccept, you can create or upload your contract or release form, optimize it, brand it, and send it out to your guest to get it signed electronically. This will save you and your guest the hassle of printers, scanners and photocopiers (not to mention the old pen running out of ink...).
You can create a free account with GetAccept today and get your podcast invitation ready in just a few minutes!