With so many tools out there, how can you decide which one is the best software for your sales proposals? We outline how to choose the best sales proposal software for your team.

A sales proposal can make or break your deal, whether through its appearance and accuracy or through the time it takes for reps to create one.
Fortunately, it's easier than ever to create a well-crafted sales proposal to wow your buyers. Intuitive content editors, content libraries, and basic design tools make creating a winning sales proposal simple.
Still, though, sales teams have more tools than ever to choose from. Each tool comes with so many factors to consider, such as time to value, integrations, and pricing.
According to one study, companies have an average of 5.8 tools in their tech stack and spend $325 a month per sales rep. How can you make sure your team is getting a good return on its investment?
Here are a few steps your buying team can take to choose the best sales proposal software to wow your customers.
[Editor's note: This blog post was original published in October 2018. It has been updated for 2021.]
Decide what you need from your proposal software
Finding the best software for proposals is going to come down to individual perspectives and needs.
Before you even start researching proposal software or tools, ask yourself where you have the biggest pain in your proposal process.
Maybe you have to create very complex proposals and you waste a lot of time there, and that creation process definitely has to be improved.
Or maybe it's the other way around: instead of creating proposals, you want to improve how you manage and optimize your proposal content.
Fortunately, the best proposal software typically helps you with two things:
Proposal creation
Proposal management
Proposal creation
Which tool or tools do you use to create your proposals today? Some popular basic tools to create proposals include:
Microsoft Word
Google Docs
In-Design
Canva
You can replace these tools with proposal software that allows you to create your proposals online. With digital proposal tools, you can collect important assets, outline the scope of work, and create timelines to amaze your prospects.
Online proposal creation software typically covers two aspects of the creation process:
Design and content
Many online proposal tools let you create proposals yourself from scratch.

If your team doesn't have that bandwidth, don't worry. A lot of tools let you choose and customize a proposal template, reusing pieces of previous proposals from a content library.

Think about what type of tool you want. Does it have a drag-and-drop interface where you can add different sections and embed interactive content such as video, maps, dashboards to your document? Or perhaps a tool that lets you create interesting visuals with brushes for procreate?

Features like these will shorten your creation time, ensure consistency across all of your documents, and help you stand out from the competition with beautiful sales proposals.
Collaboration and teamwork
Communication is an essential part of the proposal creation process when working alongside a team.

Think about how your team communicates when putting together a proposal. Do you prefer to restrict access to master templates? Or do you have a strict version control system in place to prevent any errors?

Depending on your team's size and work style, you may need a system where you can set up roles and assign permissions, including what access team members have to each section of the proposal and tracking changes with version history. Comment features are also common and make real-time collaboration easier within your team.
Proposal management
Once the hard work of proposal creation is over, it's time to send your proposal to your prospect, and hopefully, close the deal.
The best proposal software solution is one that helps you with several aspects of this part of your sales process, including:
Document tracking and analytics

Discover what happens after you send your proposal with real-time notifications and comprehensive document analytics on document opens, views, and how much time your recipients spend on every page within the document.

This accelerates your sales cycle, enables you to hit perfect timing with follow-ups, and helps you to improve your collateral.
Engagement

Getting your recipients engaged more with your proposals is probably one of the most important aspects.

With the ability to attach personalized videos, have a live chat directly on the document, provide click-to-call opportunities, remind the recipients with SMS, and use remarketing ads, proposal software significantly increases sales engagement.
Approval workflows and eSignature

Include approval workflows both within your and your customer's organization to review and approve your document.

Get your sales proposals signed much faster, typically within 1 or 2 days, with legally binding electronic signatures captured online from any device.

This lets your customers sign at the moment they decide to buy and avoid the hassle of printing, signing, scanning, and sending your documents.
Performance and reporting

Having a centralized dashboard and advanced reporting gives you an overview of your sales document pipeline and helps you focus on the important deals to get them signed electronically.

Reporting enables you to manage team performance by closely monitoring metrics like the number of closed deals, revenue generated, and time to close.

Today, most of the solutions in the marketplace focus heavily on the proposal creation part. They provide extensive editors with all the creative functionality you need to create great content.
However, you might be totally happy with the way you create your proposals today. Maybe your documents aren't that complex, or you like the tool you have today very much and don't have any issues.
Some proposal software, including GetAccept's, lets you keep designing and creating your proposal with an external tool and completely focus on the management of your proposals. This ensures you get the highest sales engagement and close rate.
If you are happy with your creative process but want to improve proposal management, look for specific proposal management software.
Identify integrations with your existing sales stack
To find the best proposal software for your business, the second major thing you have to consider is that how well this software integrates with your existing sales technology stack.
Your sales team probably already uses one, or many, of the following tools:
CRM integration

Probably the most important integration is with your CRM solution. Integration with a CRM such as Salesforce can save your sales reps a lot of admin time.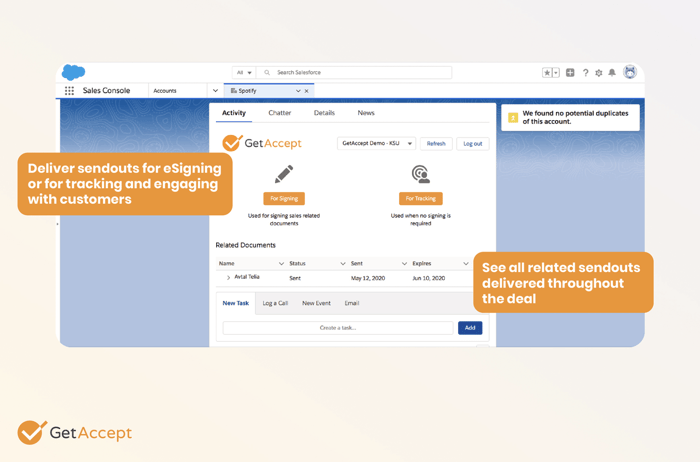 When evaluating a proposal tool's CRM integrations, ask yourself these questions:
Can you send your proposals directly from your CRM?
Can you populate your proposal with customer data?
Can you track the progress of your proposal inside your CRM?
Do some research and make sure the proposal software you're evaluating integrates seamlessly with your CRM.
Payment solution
Once your customers sign your proposals electronically, the next thing you want is to secure payment.
Check to see if the proposal management solution integrates with your existing payment system and other sources of data your team might use.
Answer these important questions when evaluating a potential solution:
Can you collect payments directly inside your proposal?
Does it integrate with your existing payment gateway (like Stripe, Recurly, etc.)?
File solution
Every sales organization uses a storage solution, such as Google Drive or Dropbox, to maintain its sales collateral. Your proposal software should naturally integrate into your storage, both to retrieve and save your documents.
Invest in the best proposal software for your sales team's needs
There are so many proposal software providers in the marketplace. To choose the best one for your organization, first, decide whether you need more help with the creation or management side of your proposal process.
Then, before committing to one solution, make sure it integrates with your existing sales stack seamlessly.
It's time to go out and do your own research! But before you do, book a demo of GetAccept's solution for business proposals.