If you work in sales, you can't avoid the age-old 'ABC' acronym:
Always Be Closing.
The thing is, you can't always be closing deals when you have other stuff to do.
Activities like going back and forth with leads on contract terms, waiting for digital signatures, and filing important documents take up time.
A lot of time.
First, some reassurance:
You're not alone.
According to research by SalesGig, salespeople spend just 2 hours a day actually selling.
(That's just over 1 day per week. Not a lot, is it?).
So, what do they do with the rest of their time?
Well, it's spent on all the things needed to get a deal over the line, like proposal prep, document gathering, and chasing signatures.
… instead of actually selling.
So, how do you cut out all those non-sales-related activities?
Simple:
Use contract management software.
Contract management software helps sales teams save time, meet their goals, and increase revenue by simplifying and automating these 'in-between' tasks.
New to contract management software?
Don't worry, we've got you covered.
In this article, we'll cover everything you need to know to help you decide if it's right for you — and which type of platform you should choose.
Contents:
Introduction
What is contract management software?
Who is contract management software for?
Key features of contract management software
Why you should use contract management software
3 of the best contract management software providers
Compare contract management software
How to choose contract management software
Contract management software that ticks all the boxes
Conclusion
FAQs
What is contract management software?
Contract management software is a tool used by sales teams to prepare, deliver and sign digital documents and legal agreements.

With a focus on the contract management process, the software ensures that documents like new contracts and proposals can be electronically delivered, reviewed, and signed by leads.
Contract management software is more than just e-signature software; the best tools will also help you manage the contract lifecycle, including contract execution, renewal, and expiration.
Who is contract management software for?
The typical use case for contract management software is sales teams, including:
We say 'typical' because, generally, they're the ones responsible for managing contracts as part of new business deals.
However, they're not the only people in your business who could – or should – be using contract management software.
Customer Success Managers
According to a recent LinkedIn survey, at least 78% of CSMs are now responsible for revenue retention and generation.
As a result of their role shifting, CSMs can often be involved with the renewal of the main contract, as well as making additions mid-term or issuing further agreements during the relationship with the customer.
In-house legal team
If your company has an in-house lawyer – or even a whole team – they should also be involved in using contract management software.
This involvement from your legal team is most likely to happen during the 'negotiation and amendment of terms' phase of the contract lifecycle.
Now you know who contract management software is for, let's consider some of the key features that you, your sales team, your CSMs, and your legal team will be using.
Key features of contract management software
By now, you probably know that contract management software is something you're going to be seriously considering for your business.
To help you in your thought process, we've outlined some of the key features you can expect to find in a contract management solution that will both meet you where your company is now and be able to scale alongside you as your company grows.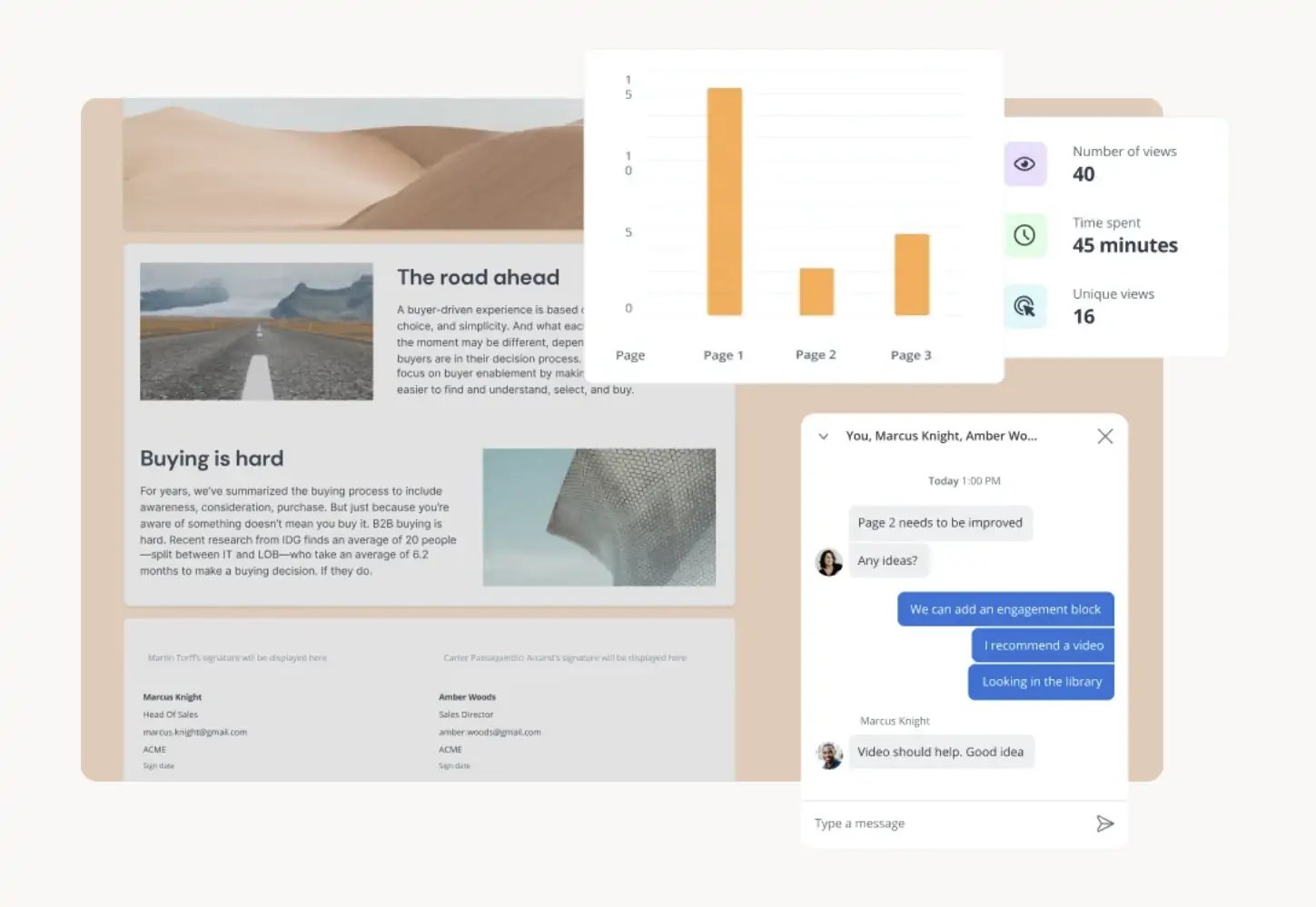 Proposal and contract builder – to help you and your team consistently produce great proposals, contracts, and documents that are accurate, typo-free, and 100% on brand every time.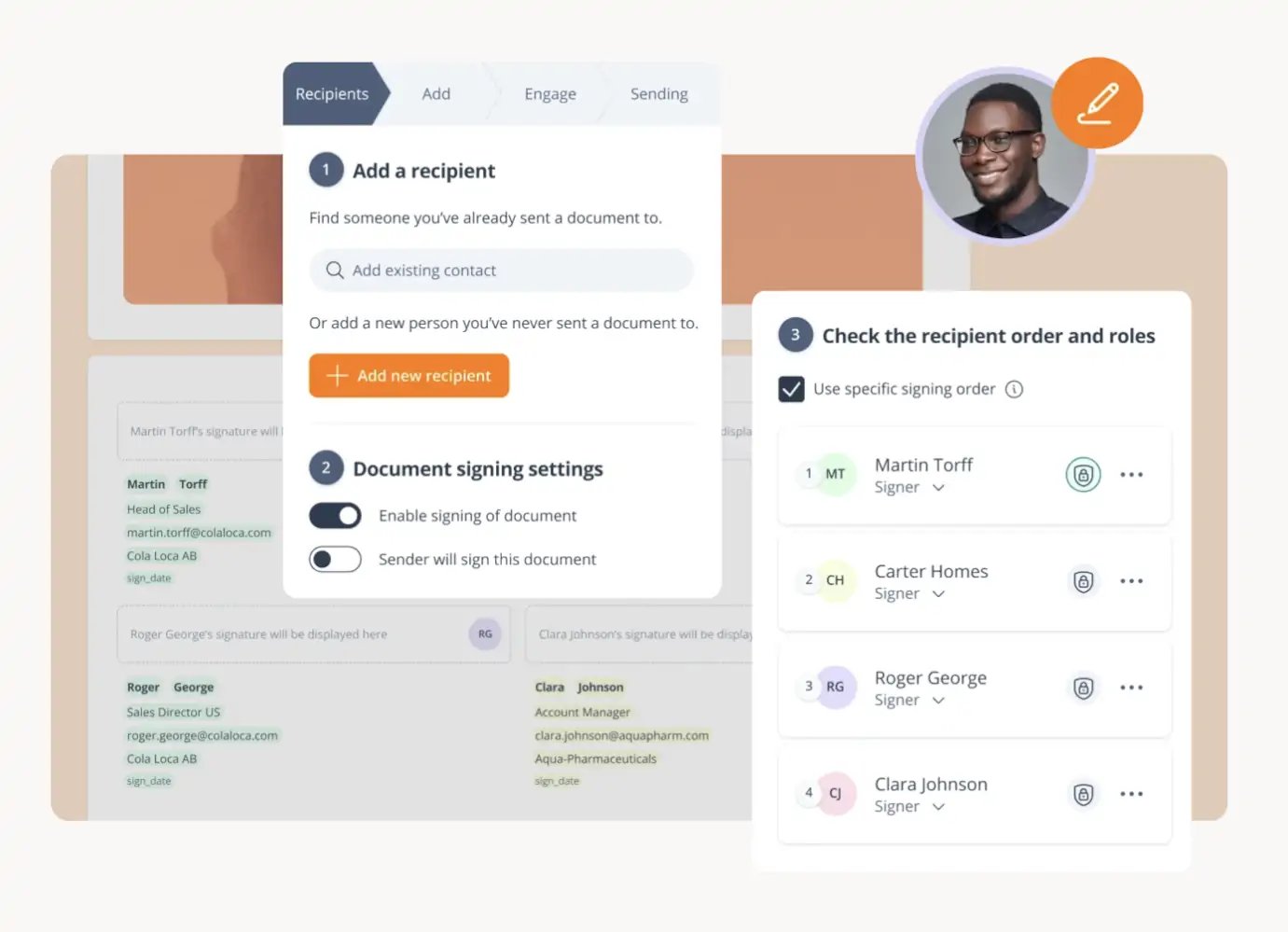 E-signature – say goodbye to the days of time-sucking delays when it comes to signing contracts and documents. No more waiting for prospects to return to the office to print, sign, and scan contracts. Thanks to e-signature technology, prospects can become customers in real-time by signing digitally – reducing friction at the 'close' and reducing your sales cycle time as a result.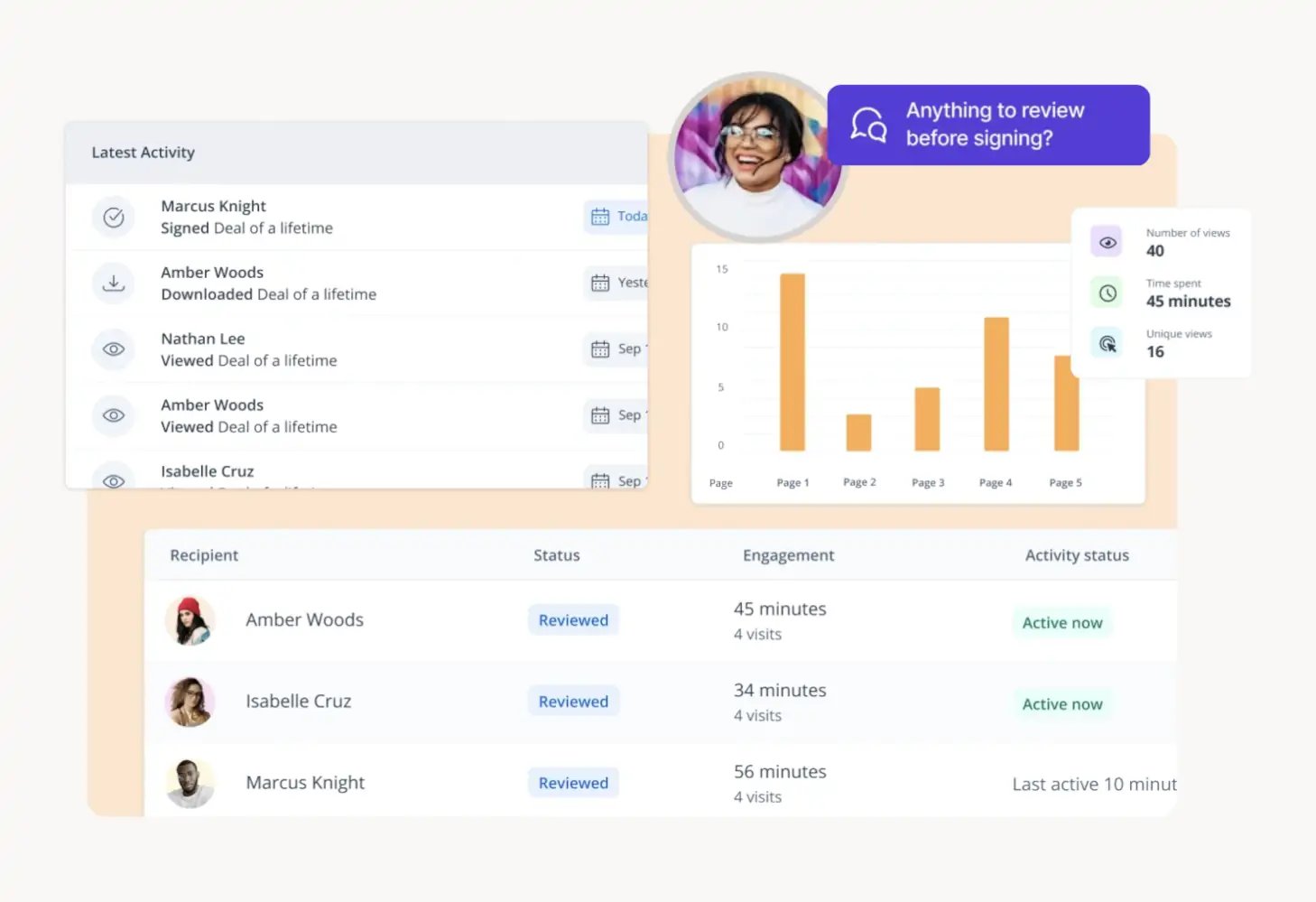 Tracking & analytics – when you've sent a proposal, a contract, or any other collateral as part of your sales process, you want to know that your prospect has received and read it. Instead of second-guessing what's happening, the best contract management software platforms include tracking and analytics to help you see exactly what is happening with your prospects and documents.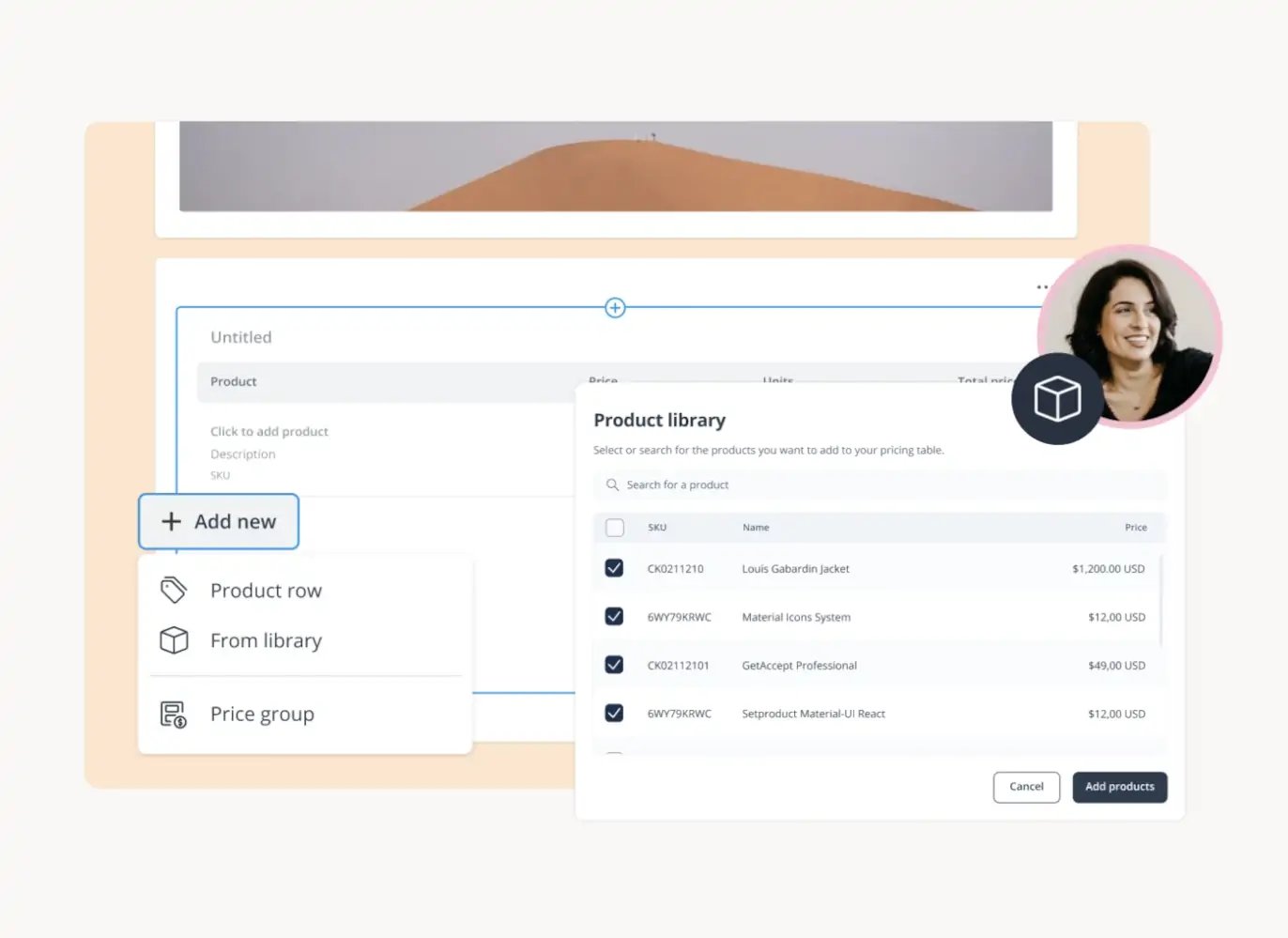 CPQ pricing controls – There's no point having beautiful-looking proposals – or even the ability for prospects to sign them quickly – if your sales team hasn't given them the right pricing information. At best, you're stuck honoring an unprofitable deal. At worst, your prospects will decline to do business with you if they think you're bringing in sneaky pricing changes.
This is where Configure, Price, Quote (CPQ) pricing controls come into play, ensuring everyone has the most up-to-date and accurate pricing information, which they can use automatically in proposals and contracts. No more mistakes, miscalculations, or surprises – just clear, honest pricing every time.
Why should you use contract management software?
A contract management solution modernizes traditional sales methods.
Here are five reasons why you should consider using one in your sales department.
1. Save time
You already spend enough time prospecting, nurturing, or grinding away at other tasks.
When it comes to the decisive part – getting the deal over the line – you want a process in place that quickly allows you to close the sale.
A contract management solution can help you do that with built-in approval workflows and automation.
In fact, according to McKinsey, "Early adopters of sales automation consistently report increases in customer-facing time, higher customer satisfaction, efficiency improvements of 10 to 15 percent, and sales uplift potential of up to 10 percent".
Not only can it improve the speed at which your sales team can close a deal, but it also reduces the risk of losing clients to competitors as a result – by beating them to the deal.
2. Increase revenue
When it comes down to it, a salesperson is judged on one thing: revenue.
But revenue isn't won or lost in prospecting and lead nurturing only.
It's estimated that poor contract management costs businesses around 9% in lost revenue per year.
A reliable contract management system can help to reduce delays and improve governance during a critical part of the sales closing stage – the signing of contracts.
The result?
More deals closed, faster, and higher revenues.
Here's how it pans out (according to research from Aberdeen Group and PWC):
1% increase in average deal size

5% increase in annual renewal rate

12% higher proposal volume

20% higher lead conversion rate

24% shorter sales cycles

39% higher team attainment of sales quota
3. Easier admin and collaboration
One of the key benefits of contract management software is its ease of use.
From personalized templates to real-time analytics, sales teams have a range of contract data available at their fingertips.
You can even have your client sign on the dotted line electronically, making it seamless for both sides.
This creates a much easier process to oversee than traditional contract negotiation.
Cloud-based solutions allow you to work with other sales managers in your team on larger opportunities.
Use version control to collaborate with your colleagues by leaving comments and suggestions.
You can also see the audit trail of your contract – including who's made amendments to documents – so you know how engaged your lead is and, more importantly, whether they're on the verge of signing.
4. Lower costs
Using software and automation at the contract stage of your sales funnel is another way of boosting your bottom line because it can help reduce your costs.
In fact, research shows that administrative costs related to contract management are reduced by up to 30% when using automation.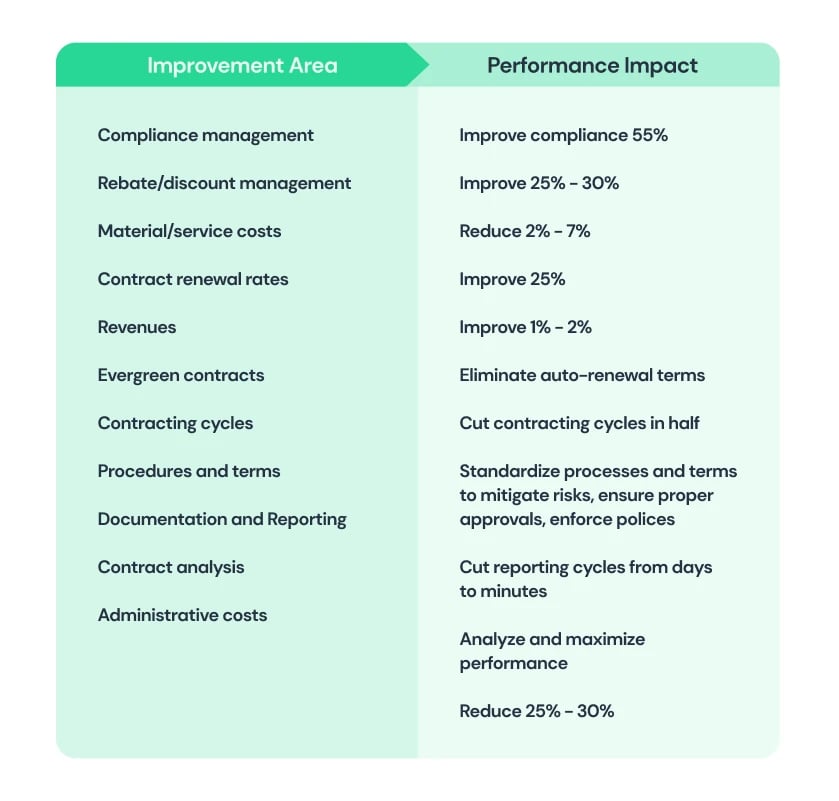 OK, contract management software sounds great in theory, but what's the best contract management software on the market?
3 of the best contract management software tools
While there are many different providers of contract management software, we wanted to save you some time by focusing on 3 of the best contract management tools to consider.
1. GetAccept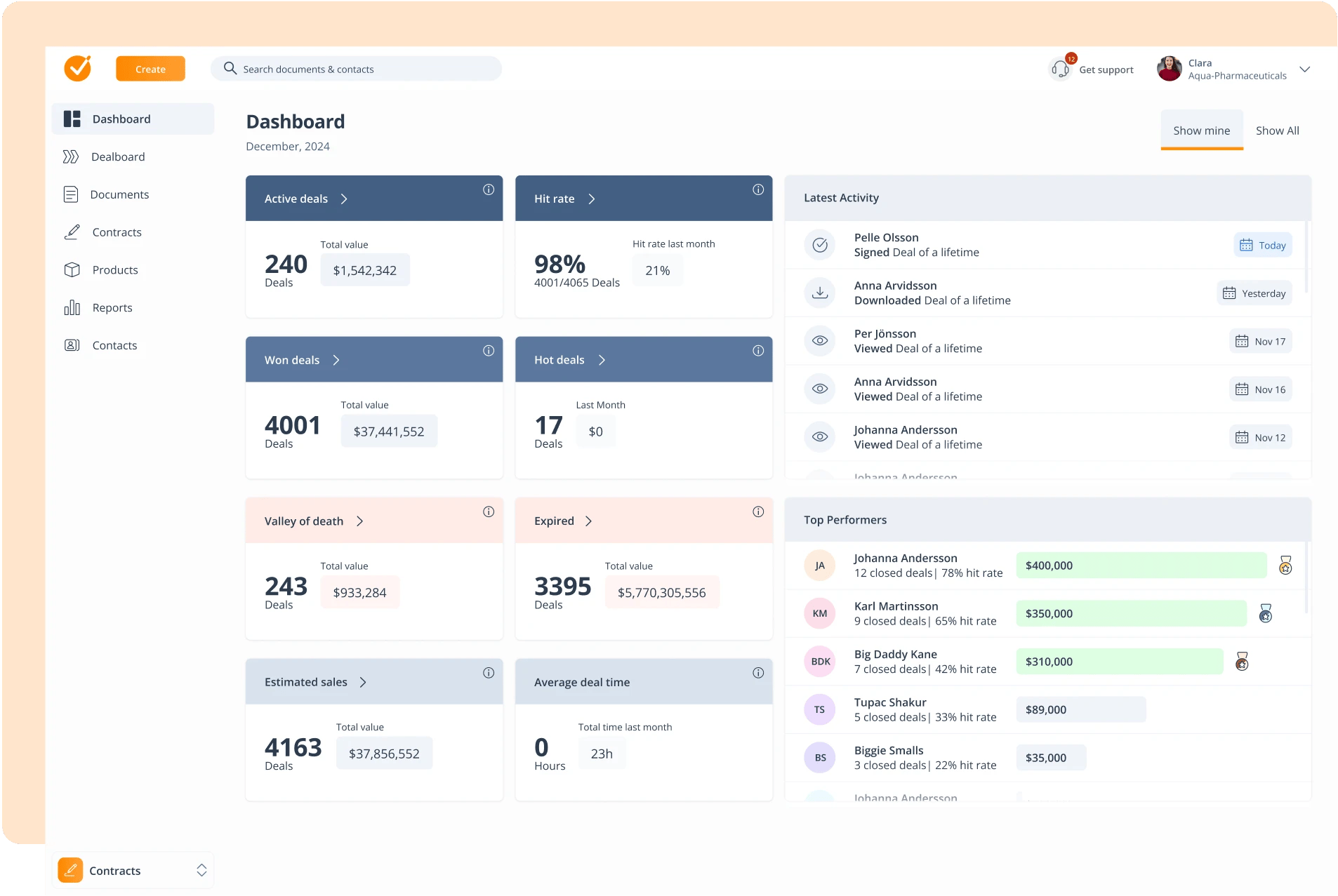 GetAccept is Europe's leading contract management software provider.
It offers a full suite of digital sales room tools in one platform, including a robust contract management solution.
Everything in GetAccept is designed to help you shorten the sales cycle and increase the amount of business you close as a result.
Easy to use, GetAccept's contract management tool is safe, secure, and compliant with global and local regulations such as GDPR, ESIGN, and the UK's Electronic Communications Act 2000.
GetAccept offers a free trial for you to get started today, with pricing for paid plans starting from just $49 per month.
2. PandaDoc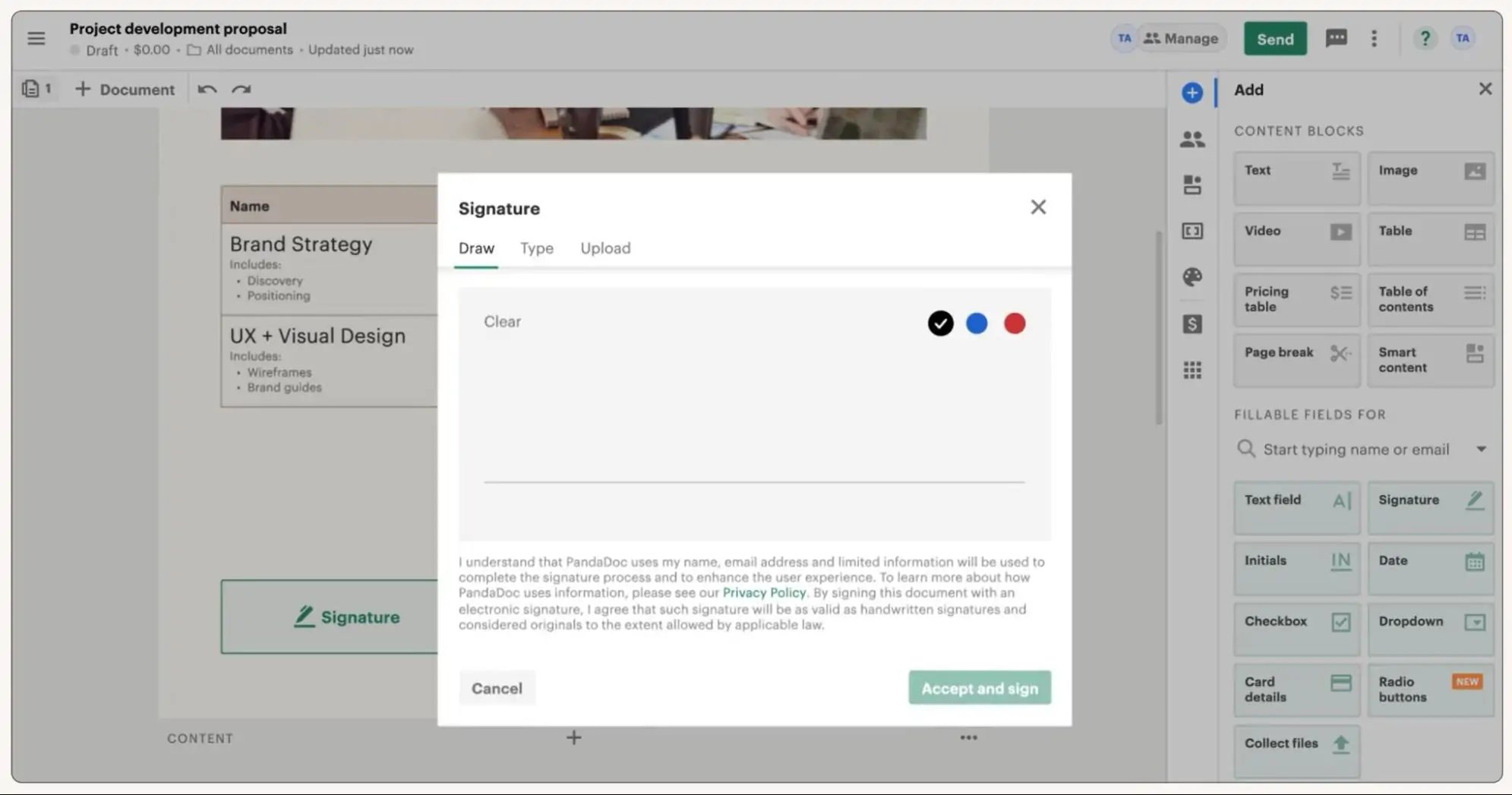 PandaDoc offers a content management solution with an easy-to-use, content block-based user interface. Create proposals and contracts in minutes, and clients sign them remotely with the built-in electronic signature feature.
PandaDoc's most popular plan starts from $49 per month.
3. Proposify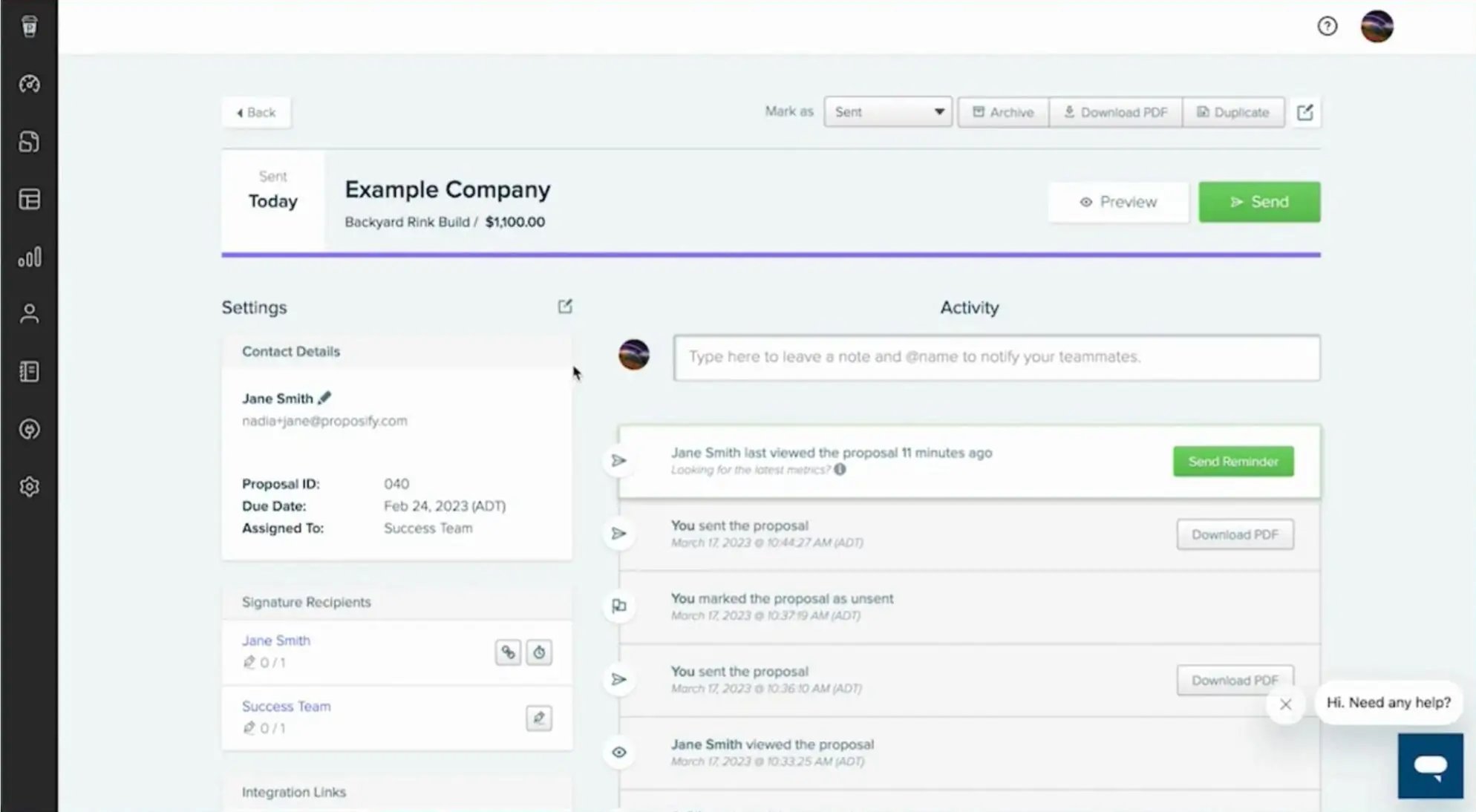 Proposify promises to help you untangle your sales document process with their proposal software. They do this by helping sales teams quickly produce consistent, high-quality proposal documents.
Proposify offers a free trial, and their team pricing tier starts at $49 per month.
Compare contract management software
We've put together a brief comparison table to give you everything you need to know to help you compare each of the top 3 products in the contract management space.
| | | | |
| --- | --- | --- | --- |
| | GetAccept | PandaDoc | Proposify |
| Proposal & contract management | ✅ | ✅ | ✅ |
| E-signatures | ✅ | ✅ | ✅ |
| Mutual action plans | ✅ | ❌ | ❌ |
| CPQ pricing controls | ✅ | ❌ | ❌ |
| Sales content management | ✅ | ❌ | ❌ |
| Tracking & analytics | ✅ | ✅ | ✅ |
| Pricing | From $49/m | From $49/m | From $49/m |
| Avg. G2 rating | 4.6 | 4.7 | 4.6 |
How to choose contract management software
Now, it's decision time.
By this point, you're familiar with what contract management software is and how it can help – but how do you choose the right tool?
To help you get started in your decision-making process, take a minute to think strategically and answer the following questions.
Armed with the answers, you'll be in a great place to choose the right contract management software for your business.
What problem are you trying to solve?
What processes do you already have in place?
What resources do you have in place to help you?
What have your prospects asked for?
How do you currently manage your sales and contract lifecycle?
What systems do you already have in place?
What are your 1-year, 3-year, and 5-year growth plans?
What other systems do you need to integrate with?
By the time you've answered these questions and thought strategically about what's right for you, you're probably torn between more than one type of contract management software.
Luckily, dedicated contract management software like GetAccept has everything you need rolled into one incredible platform – which means you can leverage a full suite of contract management tools to radically improve your sales process.
Contract management software that ticks all the boxes
What if you could combine proposal and contract management, e-signatures, mutual action plans, CPQ, sales content management, tracking and analytics, and more all in one easy-to-use platform?
With GetAccept, you can.
Our tools will give your sales-focused teams a complete suite of digital sales room tools, all with a layer of automation on top, giving you everything you need to work smarter, including:
Create and manage stunning proposals at scale
instant document signatures to help shorten sales cycles by 75%
Set

mutual action plans

for your sales to build momentum with prospects
Include accurate pricing details in every proposal with our CPQ features
Centralized repository of all your most up-to-date sales collateral
Real-time insights into how your prospects interact with your proposals
Conclusion
Contracts and proposals play an important role in the life of a sales professional.
However, they are notorious for stalling deals and slowing down the sales process.(The back and forth, the typos, new versions, and so on).
It's a necessary evil – without them, you won't close a single deal. So, why fight it?
Instead, embrace the digital revolution and start using contract management software.
It'll help you and your sales team save time, close more deals, and increase revenue.
On the flip side, it also makes it easier for the buyer.
A happy buyer, an easy-to-use process, and a tool that minimizes admin work are all hallmarks of a great sales experience. Who wouldn't want that?
We've outlined some of the key features you should expect from any contract management software you choose, including proposal and contract builders, e-signature technology, CPQ pricing controls, and tracking and analytics.
We've also covered what contract management software is and who should use it - hint: it's not just your sales team – as well as some of the key benefits you can expect from choosing a platform.
On top of that, we've tried to make your life just that little bit easier by scanning the market for 3 of the best contract management software tools out there and comparing them for you.
If GetAccept, or any of the other options we've highlighted look like the right tool for you, then we've also included some helpful tips to help you choose your next contract management software platform.
Still have questions?
Check out our FAQ section below, otherwise, our team of experts is on hand now to talk to you in more detail about your contract management software needs.
FAQs
Q: How much does contract management software cost?
A: For most people procuring software, this is often the million-dollar question. However, don't worry, contract management software isn't expensive.
Take GetAccept as an example, our pricing starts at $0 with our 14-day free trial, whilst our professional plan is just $49 a month. Meanwhile, if you have enterprise needs, we have a plan that can help you with them and tailor the pricing accordingly.
Q: Why would companies use contract management software?
A: With few exceptions, almost every B2B company is going to be issuing and managing contracts.
With this in mind, contract management software is the perfect solution to help these B2B companies expedite their sales close process, keep all their contracts under control, and make sure they're being executed and renewed properly.
Q: What is the difference between CRM and contract management software?
A: Contract management software is purpose-built to manage the entire contract lifecycle from creation and negotiation through to approval, signature, and execution. Not only that, but it'll also help when it comes to renewal time. Too.
Meanwhile, a CRM is a customer relationship management tool. It helps you to keep track of your ongoing relationship with your customers through the sales process and beyond.
Put simply, whilst both are incredibly useful tools, you wouldn't use a CRM to manage contracts or contract management software to manage your entire business relationship.
Q: Why do you need a contract management system?
A: If you want to do your best work, you need the right tools for the job.
Have you ever tried to manage sales with a spreadsheet? Eventually, it becomes impossible to manage.
How about managing customer support through your email inbox? Again, it may work in the very early stages of your business, but as it grows, you need to invest in the right tools.
For sales, you're now using a CRM. For customer support, you're now using helpdesk software, and for contract management, you should be using contract management software. It's as simple as that.
Q: What are the advantages of contract management software?
A: There are many advantages when it comes to contract management software. It obviously helps to keep your contract workflows organized and under control. This is great as it makes your team more efficient – reducing the cost of sale and increasing profitability.
But more than that, it helps you to transform your sales and renewal processes, improving the experience you can offer customers and helping you secure revenue you may not have won before as a result.