If you work in sales, you can't avoid the age-old 'ABC' acronym:
Always Be Closing.
The thing is, you can't always be closing deals when you have other stuff to do.
Activities like going back and forth with leads on contract terms, waiting for digital signatures, and filing important documents take up time.
A lot of time.
First, some reassurance:
You're not alone.
According to Pace Productivity, salespeople spend just 22% of their time actually selling.
(That's 1 day per week. Not a lot, is it?).
So, what do they do with the rest of their time?
Well, it's spent on things like admin, reporting, or training…
… instead of actually selling.
So, how do you cut out all those non-sales-related activities?
Simple:
Use contract management software.
Contract management software helps sales teams save time, meet their goals and increase revenue.
It's benefits like these why the contract management software market is expected to grow from $1.5 billion in 2019 to $2.9 billion by 2024.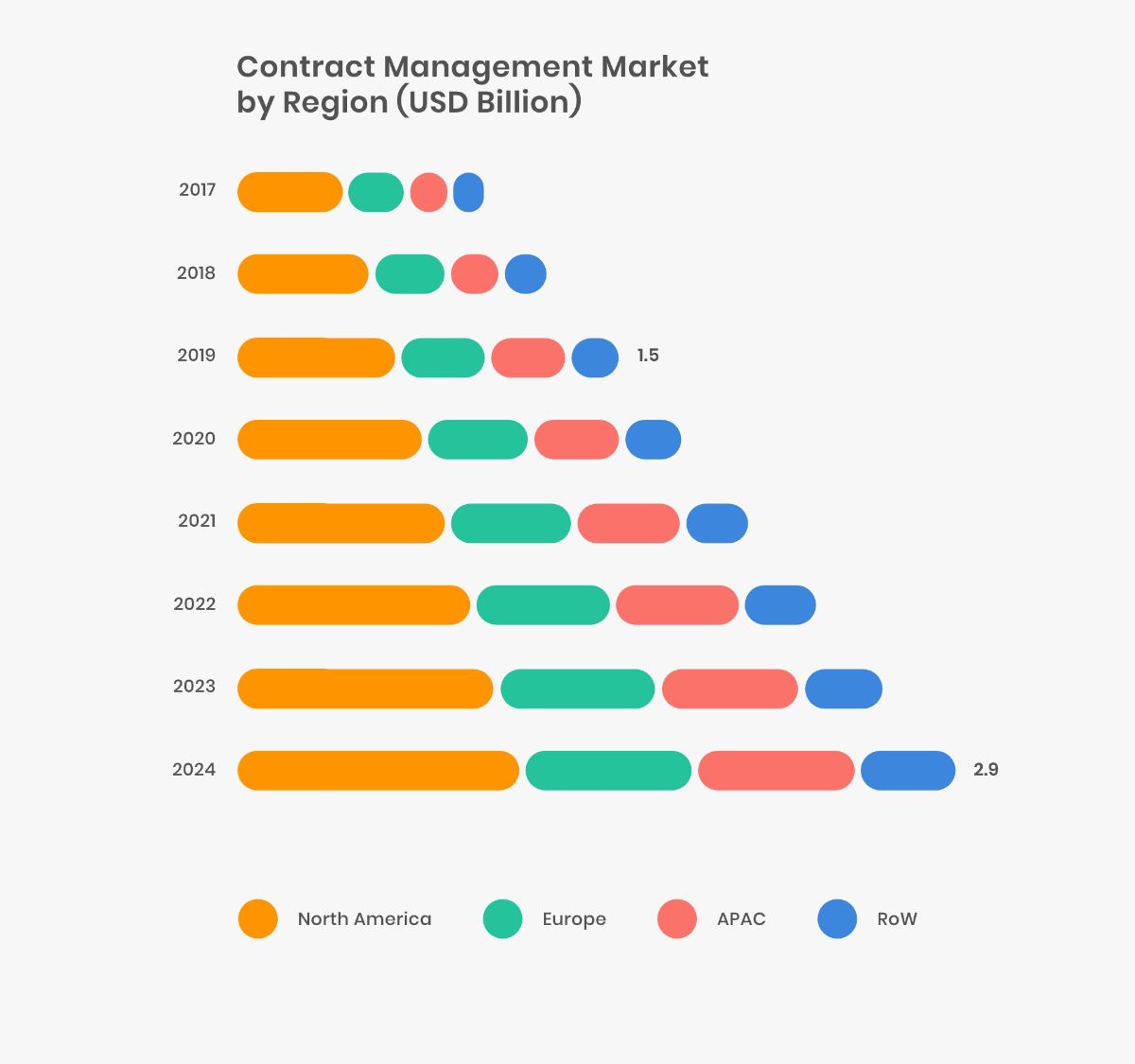 New to contract management software? Don't worry, we've got you covered.
In this article, we'll cover contract management software is and how it can streamline your sales process. We'll go into detail on:
What is contract management software?

The benefits of contract management software

The 3 best contract management software platforms

How to implement a contract management software process
What is contract management software?
Contract management software is a tool used by sales teams to prepare, deliver and sign digital documents and legal agreements. Documents, such new contracts and proposals, can be electronically delivered, reviewed and signed by leads.
There are a range of contract management software providers (like GetAccept) that offer similar services, but all are focused on the end goal: streamlining the contract management process for salespeople.
5 benefits of contract management software
A contract management solution modernizes traditional sales methods.
Here are five reasons why you should consider using one in your sales department.
1. Save time
You already spend enough time prospecting, nurturing, or grinding away at other tasks. When it comes to the decisive part—getting the deal over the line—you want a process in place that quickly allows you to close the sale.
A contract management solution can help you do that with approval workflows and automation. Sales teams that automate everyday tasks say they're saving six hours per week.
Investing in contract management software can also help you speed up your sales process. Not only can it improve the speed at which your sales team is able to close a deal, but it also reduces the risk of losing clients to competitors. Before investing in it, you should consider the SaaS development cost.
2. Meet your goals
Contract management software isn't just there for your convenience; it's a tool that can help you do your job more effectively. And when you can do that, you're much more likely to hit your sales targets.
Last year, 40% of sales teams failed to hit their revenue targets.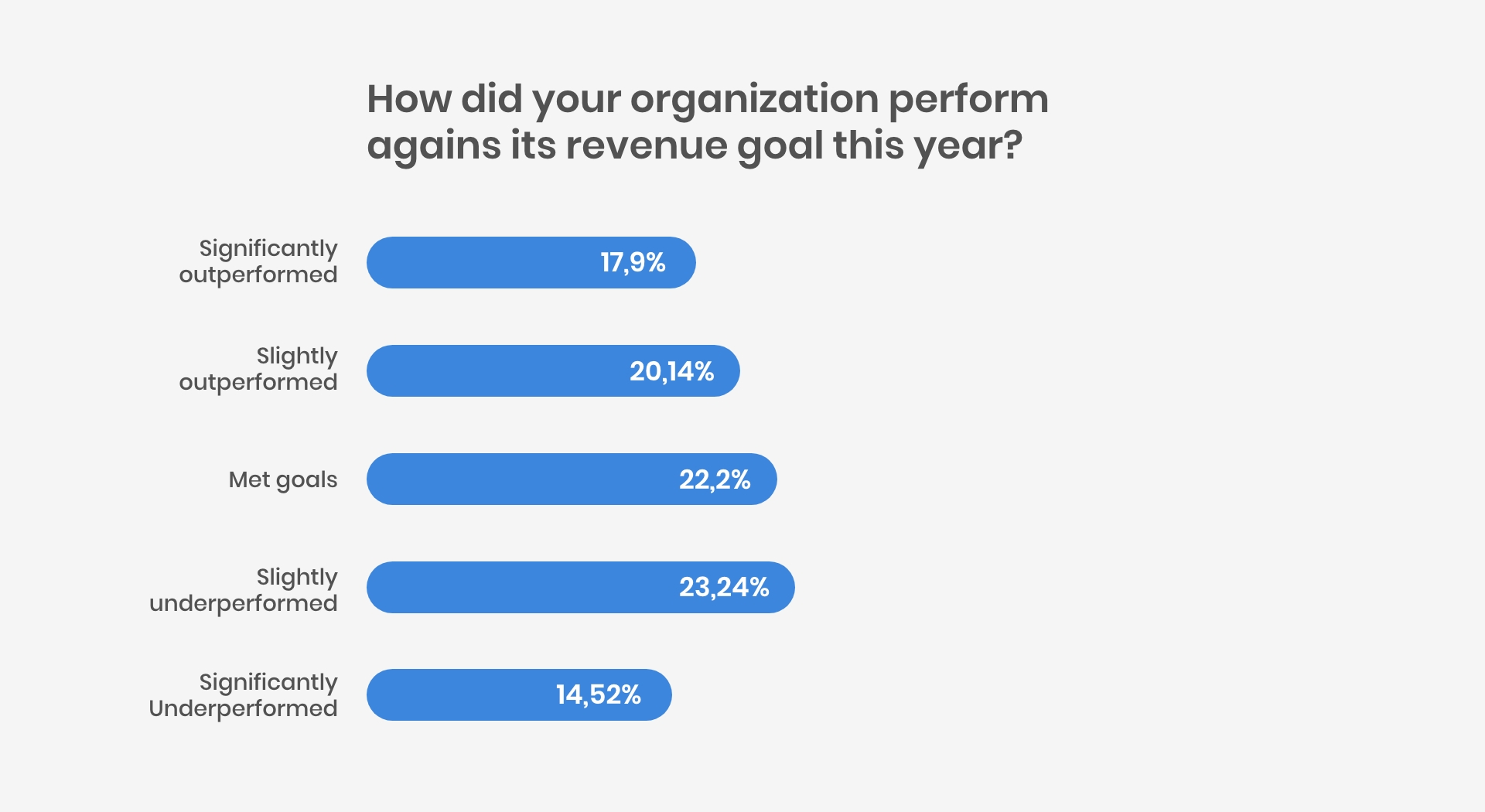 Of course, there was a pandemic to contend with, but this led to a change in behavior for many sales teams, with remote sales becoming the new normal.
All the more reason to use a remote-friendly contract process, right?
3. Increase revenue
When it comes down to it, a salesperson is judged on one thing: revenue.
But revenue isn't won or lost in prospecting and lead nurturing only. It's estimated that poor contract management costs businesses around 9% in lost revenue per year.
A reliable contract management system can help to reduce delays and improve governance during a critical part of the sales closing stage – signing of the documents.
The result? More deals closed, faster and higher revenues.
Here's how (according to research from Aberdeen Group and PWC):
1% increase in average deal size

5% increase in annual renewal rate

12% higher proposal volume

20% higher lead conversion rate

24% shorter sales cycles

39% higher team attainment of sales quota
4. Easier admin and collaboration
One of the key benefits of contract management software is its ease-of-use.
From personalized templates to real-time analytics, sales teams have a range of contract data available at their fingertips.
You can even have your client sign on the dotted line electronically, making it seamless for both sides. This creates a much easier process to oversee than traditional contract negotiation.
Cloud-based solutions allow you to work with other sales managers in your team on larger opportunities. Use version control to collaborate with your colleagues by leaving comments and suggestions.
You can also see the audit trail of your contract—including who's made amendments to documents—so you know how engaged your lead is, and more importantly, whether they're on the verge of signing.
5. Lower costs
Using automation at the contract stage of your sales funnel is another way of boosting your bottom line because it can help to reduce your costs. In fact, research shows that administrative costs related to contract management are reduced by up to 30% when using automation.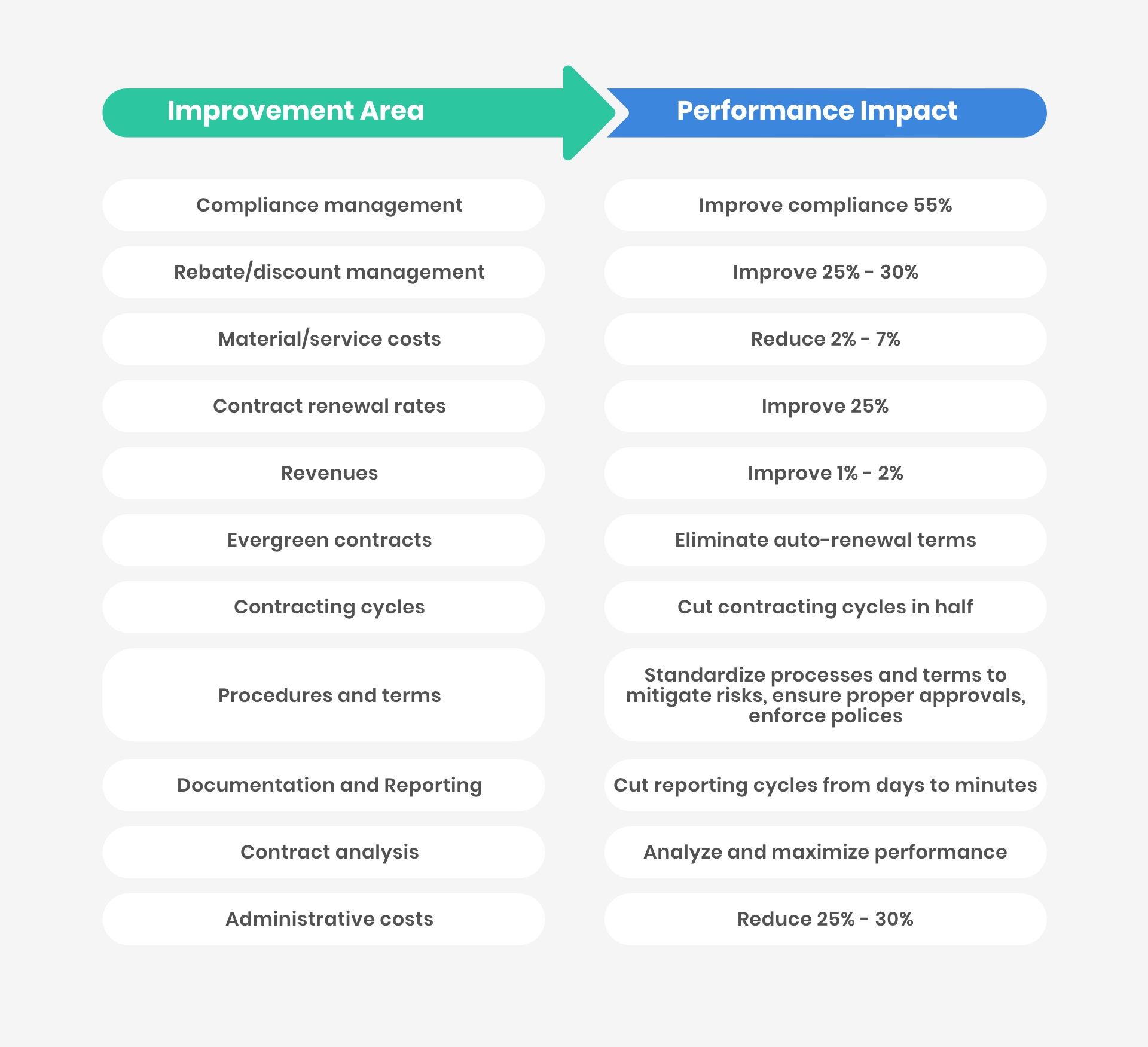 OK, so contract management software sounds great in theory, but what's the best contract management software on the market?
3 contract management software tools
There are many providers of contract management software, and although some of their features are similar, they do offer something unique to their target audience.
Here are 3 of the best contract management tools to consider.
1. GetAccept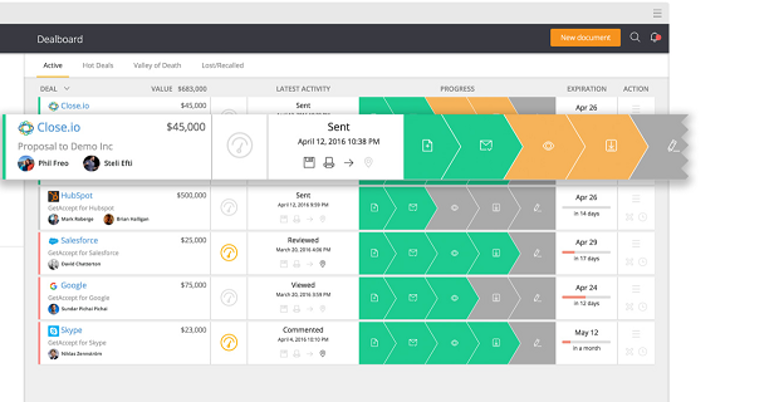 GetAccept is a digital sales room built on eSignature technology. Easy to use, GetAccept's contract management tool is safe, secure and compliant with global and local regulations such as GDPR, ESIGN and the UK's Electronic Communications Act 2000.
GetAccept offers a free contract management plan, and pricing starts from $15 per month for small sales teams.
2. PandaDoc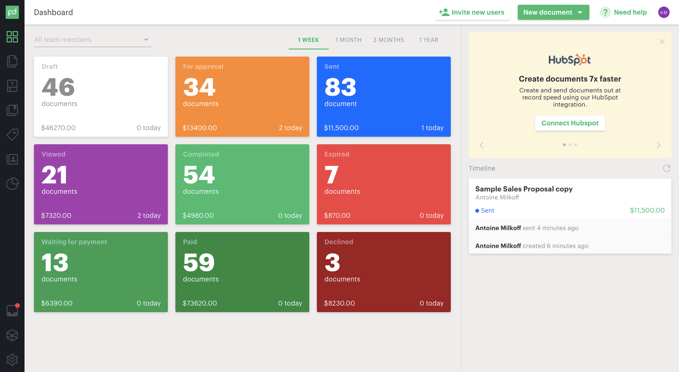 PandaDoc offers a content management solution with an easy-to-use, content block-based user interface. Create proposals and contracts in minutes, and have clients sign them remotely with the in-built electronic signature feature.
PandaDoc offers free eSignature and their "business" package starts from $59 per month.
3. Proposify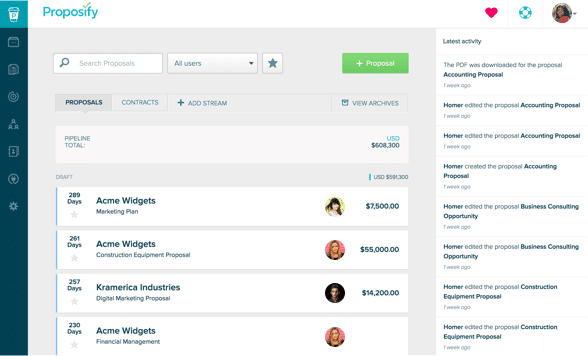 One of Proposify's key USPs is that it offers "custom fields and variables that automatically populate sales contracts with important information, such as prospect and company names," allowing salespeople to quickly create accurate documents and reduce the risk of a costly error.
Proposify offers a free plan and their team pricing tier is $49 per month.
Once you've decided on which contract management platform to use, here's a few tips on how to successfully implement it.
How to implement a successful contract management software process
To benefit from contract management software solutions, your process should align with the entire contract lifecycle management (CLM).
For starters, integrate you're a contract management solution with your CRM software to ensure a seamless approach to sales (which is important for modern-day sales managers).
Next, think of other time-saving ways to make your new workflow more efficient. Create a library of contract templates to speed up the contract creation and authoring process, with preset permissions for your legal team.
Use a cloud-based solution to quickly review any comments and feedback at the negotiation stage before your lead is ready to sign.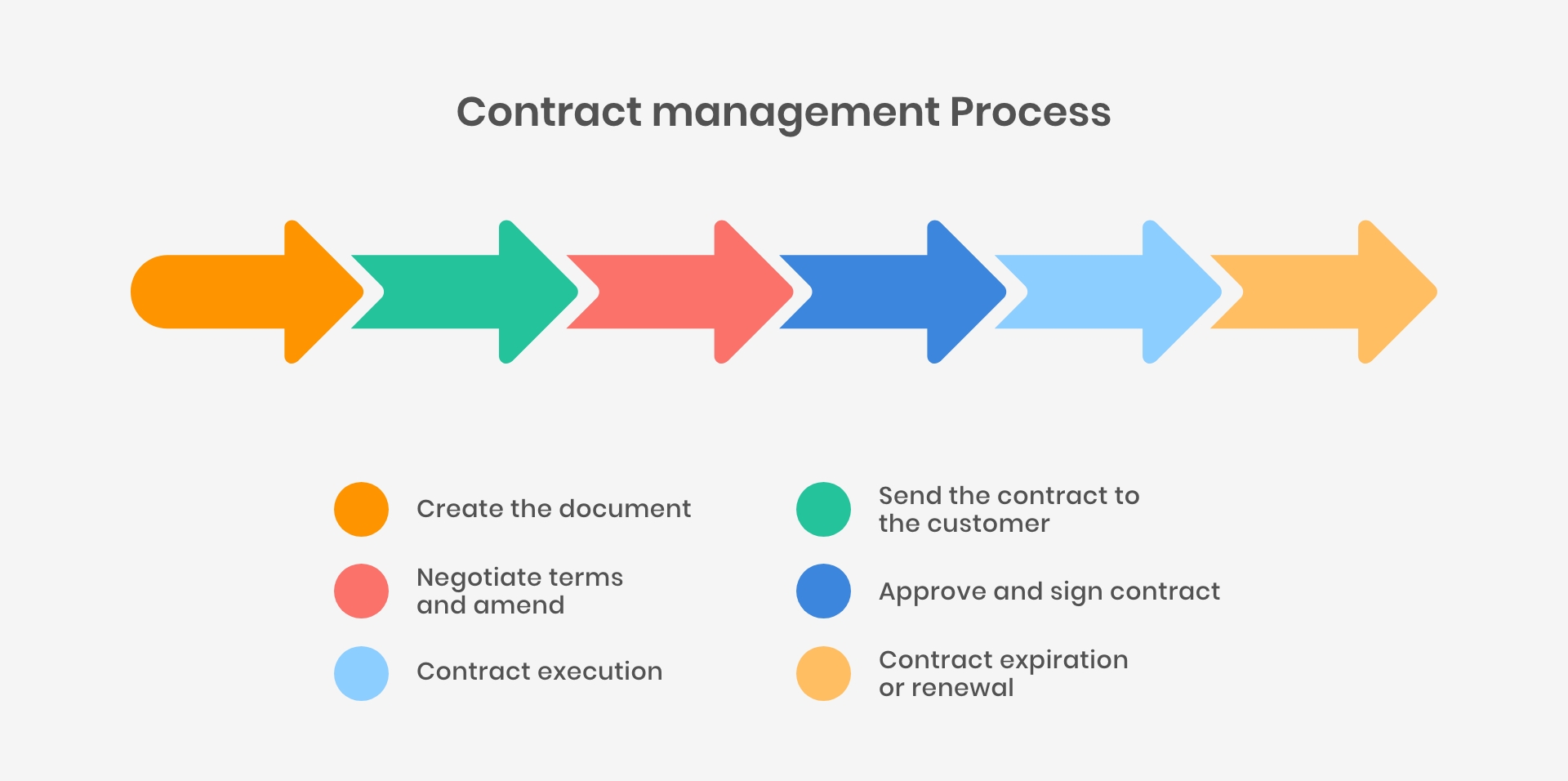 Once the agreement is in place, a good contract management platform should also allow you to easily amend the document when necessary (bonus points if it provides reminders as the document comes close to expiry or contract renewal dates).
Finally, set up contract automations to reduce the admin time at various trigger points of the process. For example, you could send automatic reminders to prospects who haven't opened your proposal or arrange for internal reminders to be sent when a contract is nearing expiration.
Contract management processes don't have to be complicated.
Choose the right cloud-based tool, integrate it to your key business systems and then set up automations to minimize the manual work. It makes the contract process so much easier.
Conclusion
Contracts play an important role in the life of a sales rep.
But they are notorious for stalling deals and slowing down the sales process.
(The back and forth, the typos, new versions and so on).
It's a necessary evil – without them, you won't close a single deal. So, why fight it?
Instead, embrace the digital revolution and start using contract management software.
It'll help you and your sales team save time, close more deals and increase revenue.
On the flip side, it's makes it easier for the buyer, too.
A happy buyer, an easy to use process and a tool that minimizes admin work….
…all hallmarks of a great sales experience. Who wouldn't want that?
Do you want to learn more about contract management and how GetAccept can support your organization's sales process?
Contact us today and get a free consultation