Sales teams thrive when they can focus on building relationships — which means finding ways to make the tedious, operations aspects of the sales process more seamless using automation.
For sales organizations in a range of industries, from tech and SaaS to hospitality, manufacturing, financial services, and more, who are currently using digital strategies to improve their sales processes — using sales platforms like the GetAccept integration with HubSpot makes every step of the process more effective and easier. That's because it's selling that incorporates modern technology designed to amplify every sales effort.
GetAccept and HubSpot give sales teams and marketing, sales, and revenue operations teams prospect engagement tools, tracking capabilities, sales rep performance dashboards, and shared marketing-sales brand libraries with sales enablement templates and content.
"We at Jeeng chose GetAccept for our e-sign and sales engagement solution, not only because of their great product, but also because of their professionality and attentiveness to our business needs," says Yanay Spinzi, IT and Business Applications Manager at Jeeng.
Here's how remote and digital-forward sales and marketing teams can use GetAccept and HubSpot to improve sales performance and gather valuable prospect and customer insights.
Why use GetAccept's digital sales room tools with the HubSpot CRM?
Sales teams who prioritize technology, particularly platforms with unified contact management between customer-facing teams and streamlined sales processes, see better client outcomes and retention rates. Here are additional benefits of using GetAccept's digital sales room tools with the HubSpot CRM.
Help sales teams prioritize relationship-building
Shorten the sales cycle up to 4X
Engage buyers in new ways and create a personalized buying experience
Differentiate from their competitors
Streamline sales operations by operating out of one tool
Close more deals and improve close rates
Who will benefit most from using digital sales room software that's built into their CRM?
Sales managers can use GetAccept's HubSpot integration as a coaching tool and performance dashboard to support their sales teams and identify areas to improve operations or reduce friction.
Marketing or sales enablement teams can host a marketing-approved library of templates, emails, strategic content, and other documents to make the selling process as quick as one or two clicks.
3 ways to improve sales strategy using the GetAccept integration with HubSpot
GetAccept and HubSpot make smart sales teams smarter, and use the latest sales technology to guide meaningful conversations and help prospects best understand how your product or service can benefit them in the long run.
1. Personalize sales interactions at scale to deliver a compelling buyer experience
Buyers are informed — they can gather their own competitive information from your website. The sales process is designed to build trust and serves as an opportunity for prospects to determine whether they want to partner with your brand or not. Using sales-specific software like GetAccept, sales team members can develop digital sales rooms (DSRs) that provide a secure place for seller-buyer negotiations and relationship-building.
When prospects are faced with multiple sales conversations at once, a DSR stands out as a unique, personalized buying experience. Sales reps can use HubSpot to assemble a customized library of content, like industry-specific case studies, testimonials, videos with company-specific data, and proposals for the client to review — then, they can set up automated alerts based on engagement with the DSR that tee up conversations at just the right time.
How personalized sales interactions establish trust
Spending time and energy to develop personal sales pitches is one thing, but actually taking time to meet with prospects and understand their needs takes time. Sales teams have busy calendars to manage, and need smart sales software to free up enough time for them to focus on relationships and build trust.
GetAccept users see more than 40% more engagement from buyers when sales reps use personalized videos and automated email or SMS reminders. The reduction in administrative tasks and manually hunting down client status updates leaves time for impactful sales conversations.
And with all of the documents and proof points right in the HubSpot tool, prospects can loop in team members, access and share collateral, and return to the resources easily over and over again, or — chat in real-time using the live chat feature.
2. Generate on-brand sales collateral for prospects using HubSpot data and automate the selling process
Quickly create quotes using automation tools and HubSpot data for a sales collateral personalization strategy that scales. Sales teams can automatically populate GetAccept templates with HubSpot data using workflows and auto-filling deal attributes like product type, quantity, and price.
Taking the process of manually creating a custom proposal or agreement from hours to minutes using automation and merge tags gives sales reps their time back and reduces the possibility of error along with administrative time.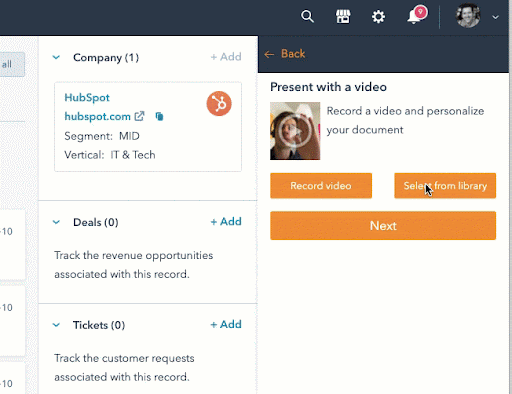 3. Track buyer engagement and use sales analytics to shorten the sales cycle
Waiting around to see if a prospect has opened a proposal is not only nerve-wracking but it's an ineffective use of time. When reps can see how their leads are interacting with sales communications (and marketing communications for those using the full HubSpot stack), they can take action instantly with an individual prospect's data and look at overall data to see if there is a bigger trend or opportunity. Or, they can set up automated alerts to help avoid the refresh game.
Use GetAccept and HubSpot to speed up selling by:
Tracking prospect engagement with documents and timing conversations during times of high intent
Implementing sales automation and workflows that reduce administrative tasks
Collecting ongoing prospect and lead data that can be used in sales and marketing
GetAccept's analytics tools offer automated collection of granular data like time spent reviewing documents or individual pages, opens, clicks, reviews, comments, and other interactions with content. It uncovers stakeholders, which gives reps insight into the decision-making process and approval workflows, and helps sellers optimize based on relationships.
"On a larger scale, sales analytics empowers reps to make smarter decisions about where to spend their energy and manage a strategic pipeline that helps to weed out promising deals from less qualified prospects. With document analytics and sales dashboards, sales leaders can help support team growth and identify opportunities for coaching and training." Amy Murch, Manager, Partnerships, GetAccept.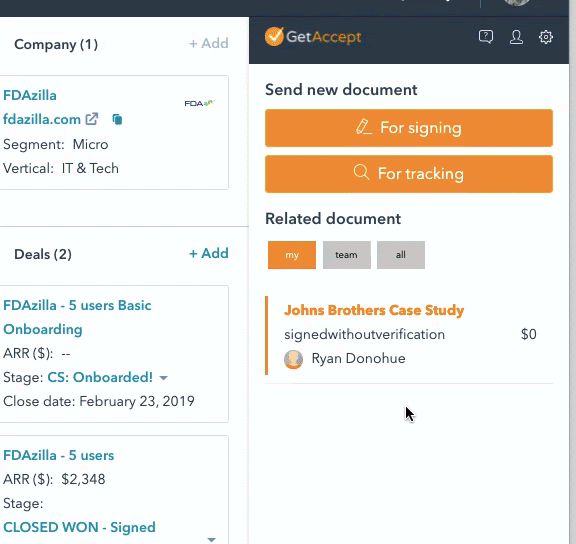 How Digital Theatre used GetAccept and HubSpot to develop a sales coaching program and streamline outbound communication
Digital Theatre had the beginnings of a smart sales program, but needed a more robust solution to support sales coaching and performance management, and outbound messaging with prospects. Using the GetAccept integration with HubSpot, Digital Theatre has improved communication with new prospects and leads, established a dashboard where managers can coach sales reps and monitor development, and created a brand messaging library to align all teams on the same strategic content.
The dealboard is a quick snapshot of lead health and rep development, and the data gathered from GetAccept and HubSpot give insights that contribute to better pipeline management.
Start using GetAccept's HubSpot integration to improve your sales process in 2022
Ready to bring HubSpot into your digital sales room? Install the GetAccept integration with HubSpot to simplify sales operations and give sales and marketing teams a chance to develop your next big client relationship using data.