We are excited to release some amazing features and updates for GetAccept. A facelift of the document workflow, video reminders and attachments are just some of the new things you will experience.
New Document Workflow
A facelift of the document creation workflow has been released to make it easier and faster to create and send new documents from GetAccept.

We have moved the basic document settings to the top and the side-bar starts with recipient information. Video and automated comment has been added to the new Engage-tab to make it more easy to find and use. This is just the first step of the new Engage-tab. Stay tuned for more!


Send Video Reminders to Engage
Video is a hot topic now and many companies see it as one of the most important channels to drive sales. If you haven't tried to add a video to you document you should, it helps you to get 41% more documents signed according to our statistics. We have also added the possibility to send video reminders to engage your recipients to open your document. The recipient will recieve a beautiful branded email with a video thumbnail. And who can resist to click the link to view the video?
Download the GetAccept smartphone app to record and send videos
Work Smarter with Templates
Use templates to upload standard company presentations, contracts, NDA:s etc. and send out documents in a few clicks. You can add editable fields that can be filled out either by the sender before sending or by the recipients before signing. Prepare a template with attachments and video to make the document creation more efficient for the user.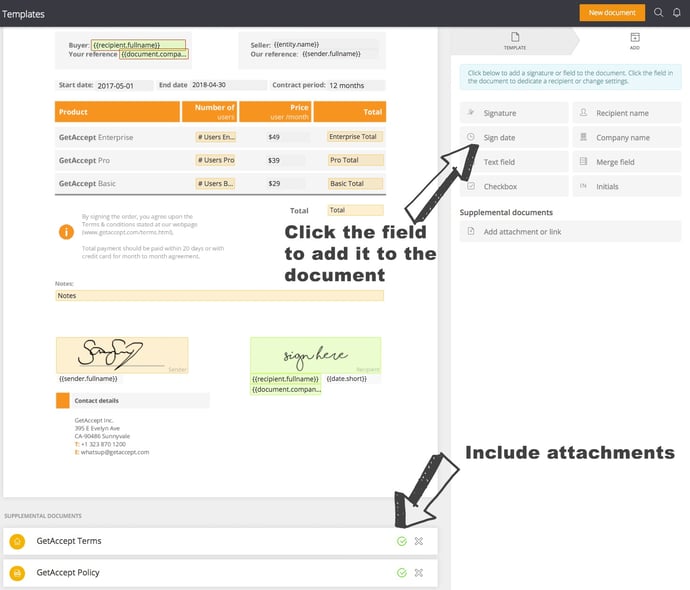 Create templates with content, form fields and attachments to save time
Attachments & Links in the Document
You can now add attachments and links related to your document. Upload any file or add a link to a webpage and they will show up at the bottom of the document. Great if you have testmonials on your webpage, terms of conditions to accept or if you want to include a demo video from your Youtube channel. If you have attachments that you use frequently you can add them to the library and share them with your team.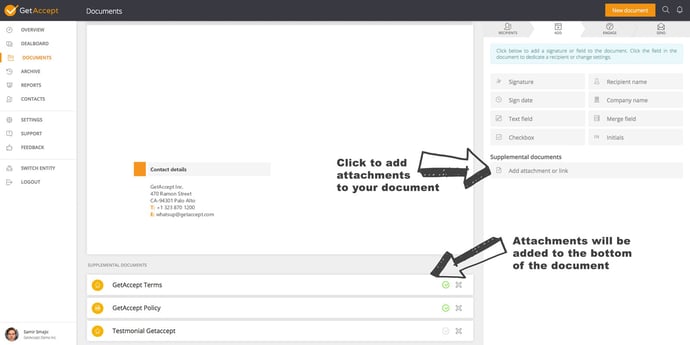 Add additional files and links related to your document
Small changes can make a big difference and we listen to all users feedback to make the experience even better. See some of the best new features and improvements in the list below:
Allow signature transfer for recipients (settings/document settings)
Receive notifications when an attachment is opened
Select and reorganize or remove multiple document pages
New option to disable document chat (settings/document settings)
New option to turn off expiration notifications (settings/notifications)
API Debug Console for logging and debugging API integrations (settings/integrations/api)
Added websafe font list to branding templates (settings/branding/edit themes)
Change auto-detected gender avatars for a recipient
Do you have any thoughts on how to make GetAccept even better? Please share them in the feedback section.