You're probably here because you're researching Salesforce document generation and e-sign complements. And the good news is that you've come to just the right place.
In this article, we're looking at how it can improve your team's work processes and what you should look for when choosing a provider.
Of course, we'll also take a closer look at GetAccept specifically, sharing a step-by-step guide to working with our digital sales room (DSR) native integration to create dynamic documents and gather e-signatures directly from within Salesforce.


---
9 things to 🧡 about the GetAccept Salesforce integration
---
What is Salesforce document generation software?
When we talk about document generation in this context, we're referring to proposal software that helps to enhance, yet simplify, how companies work with sales-related material. This includes creating effective documents, sharing them with recipients, and collecting electronic signatures – without ever having to leave your CRM.
Advanced document generation solutions for Salesforce also help reps to work in a more dynamic, fast, and automated way. They can support multi-media content like videos and images, and their responsive design means they flex to look good on all kinds of devices. They also help reps to save time by automating manual data entry. Compare all of this to static PDFs and the difference is night and day.
Tools like this help not only revenue teams, but departments across the organization, to deal with proposal generation in a smarter, more efficient way.
Sales can spend less time working with static PDFs and close deals faster, marketing can easily make sure all content is up-to-date and accurately branded, and customer success managers can easily find everything they need for smoother handovers.
And finally: e-signatures. Not currently an out-of-the-box feature provided by Salesforce, this is another useful feature made possible with an integration.
With GetAccept, for example, you can create dynamic proposal documents and then send them out for e-signing. Once the contract is signed, a copy is automatically saved to Salesforce for you.
Common limitations of some document generation integrations
Of course, you'll find loads of tools on the market offering document generation support for Salesforce, but there are some shortfalls worth keeping in mind before committing to a provider. Here are a few of the most common:
Limited to PDF export. PDFs come with a lot of limitations. From the need to pinch-and-zoom to view tiny text on mobile devices to having to edit and reupload every time you make changes, they're just a bit of a faff to work with. And when every little change you make results in a completely new PDF, you also risk different – and incorrect – versions of documents running rogue. Furthermore, it's difficult to measure engagement on a PDF, with no easy way to see how the recipient interacts with the proposal or quote.


Hard-coded HTML templates that are hard to edit. This is when the content, structure, and design of your document templates are embedded directly within the code. This means that if reps want to change the text, layout or add any additional content to the template, they'll need help from RevOps or a Salesforce admin. With this in mind, watch out for solutions that make it difficult to take an agile and personalized approach to document creation and management.


Templates in Word format (.docx). Word documents can feel familiar but lack branding styles and a modern look and feel. Similar to using PDF files, it's hard to display multi-media content – like videos or slide decks – in your documents to make them more informative and engaging. Plus, we still have the problem of resending a new document every time a change is made. You might also find limitations to how large your documents can be.


You might face charges for the document generation function or extra sendouts and signatures. Some available integration providers have pricing models that can mean costs quickly add up if you send many documents out. For example, they may be broken down into bands by the volume of documents generated or the amount of signatures collected. If you're a business that sends a high volume of quotes and contracts, an uncapped solution may be a better option.


No e-signature support. Most document generation tools are limited to just that: document generation. This means that you'd have to invest in another tool to actually get your documents signed! As if our tech stacks weren't already overloaded enough! Instead, look for a solution that combines the power of dynamic proposal generation and e-sign. Like GetAccept. 😇
The case for dynamic proposals
Now that we've considered the proverbial red flags of some doc gen solutions for Salesforce, let's take a look at a big green one: dynamic proposals.
Offering flexibility, speed, better branding options, and an improved experience for your recipients, dynamic proposals are a world away from the static PDFs we've been used to working with for so long. Here's a closer look at how:
Save time with proposal templates. Whether you're building simple or more complex, multi-page documents, a dynamic proposal integration will speed up and improve your processes. With GetAccept's Salesforce integration, you'll have access to a content library that houses all of your media and easy-to-use templates that will empower reps to craft stunning proposals in minutes. And all of this is super easy to work with: You can build a proposal in minutes with our intuitive drag-and-drop content blocks.


Make live edits without sending multiple versions. As we know, it's really common for contacts to request amendments to proposal documents. With a dynamic proposal integration like GetAccept, revisions can be made directly to documents without voiding and resending anything. Instead, your prospect keeps the original document but gets notified every time a change is made. All in all, this instant system significantly cuts down on wasted time in the sales process.


Boost sales. Dynamic proposals make it

easy for your contacts to say yes

. People enjoy the convenience of being able to supply an electronic signature and we've found that

most who sign will do so within the first day

of receiving the proposal. When you remove unnecessary barriers from your client's experience, they are more likely to engage more openly and interact promptly.


Track buying intent and identify hidden stakeholders. Using insights from your proposal software, you'll always know where you stand with your clients and the best way to move forward. Tracking interactions is especially useful when multiple prospects need to examine and approve the proposal before you can move forward. Personalized proposal management software should allow you to track each person's progress through the proposal process, enabling you to make informed decisions on who you should contact.
---
Read more about the benefits of proposal software here
---
How document generation and e-signature works with GetAccept
Next up, we want to share a step-by-step guide to how document generation for Salesforce works specifically with GetAccept.
Step 1: Set the stage with templates
First things first: You want to align with your marketing department and make sure you're on the same page about the content you'll be using and how you'll be using it. Then, every time marketing produces any sales-related material, they can store it directly in the GetAccept Content Library, ready for you to use later.
Enter Sales Operations and Revenue Operations stage left. You can then use the content in the library to create ready-to-go templates based on your sales process, unique ICP, different industries, or sales stages.
From this point onwards, reps don't need to create documents from scratch, and managers can ensure that every rep follows the same process. From branding and tone to messaging at each stage of the buying journey, the stage is set to give your sellers and buyers a consistent, harmonious experience.
P.S. This is the only part of the process that takes part outside of Salesforce. Once your templates are set up, they're ready to use and personalize from directly within your CRM.
---
Get started with our free proposal templates
---

Step 2: Pick your template, personalize it, and get it signed– without ever having to leave Salesforce
Once your templates are set up, it's really easy for you and your reps to start using them:
Select the best-fit template for the scenario, and watch your recipient's data be automatically filled in via merge tags.
Add a personal touch to the template by including an introductory video and personalized email.
If you need to add more details or information to your sendout, you can add documents already housed inside Salesforce or upload additional PDFs.
Step 3: Say goodbye to guessing with document tracking inside of Salesforce
Thanks to the GetAccept integration, you no longer have to wonder if your emails or documents are being sent, received, or seen.
From within Salesforce, you can access an overview of all the documents you send via the GeAccept integration and their status.
This means you will get a live notification within Salesforce whenever your recipient views the document, forwards it, comments, or sends you a chat message.
Step 4: Update your sent documents live on the fly
Nothing is set in stone in today's sales world – opportunities change all the time. And our integration makes it easy to keep up.
From within Salesforce, you can update every section of your document, whether the terms and conditions, changing case studies, adding new videos, or adjusting the pricing and discounts.
And the satisfying thing about our integration is that there's no need to export a new PDF or resend a thing.
Once you've made all the changes you need to, simply 'update' the live document and add a note to your recipients if you want to (NB: they'll be notified of the changes either way, but you can make it personal!).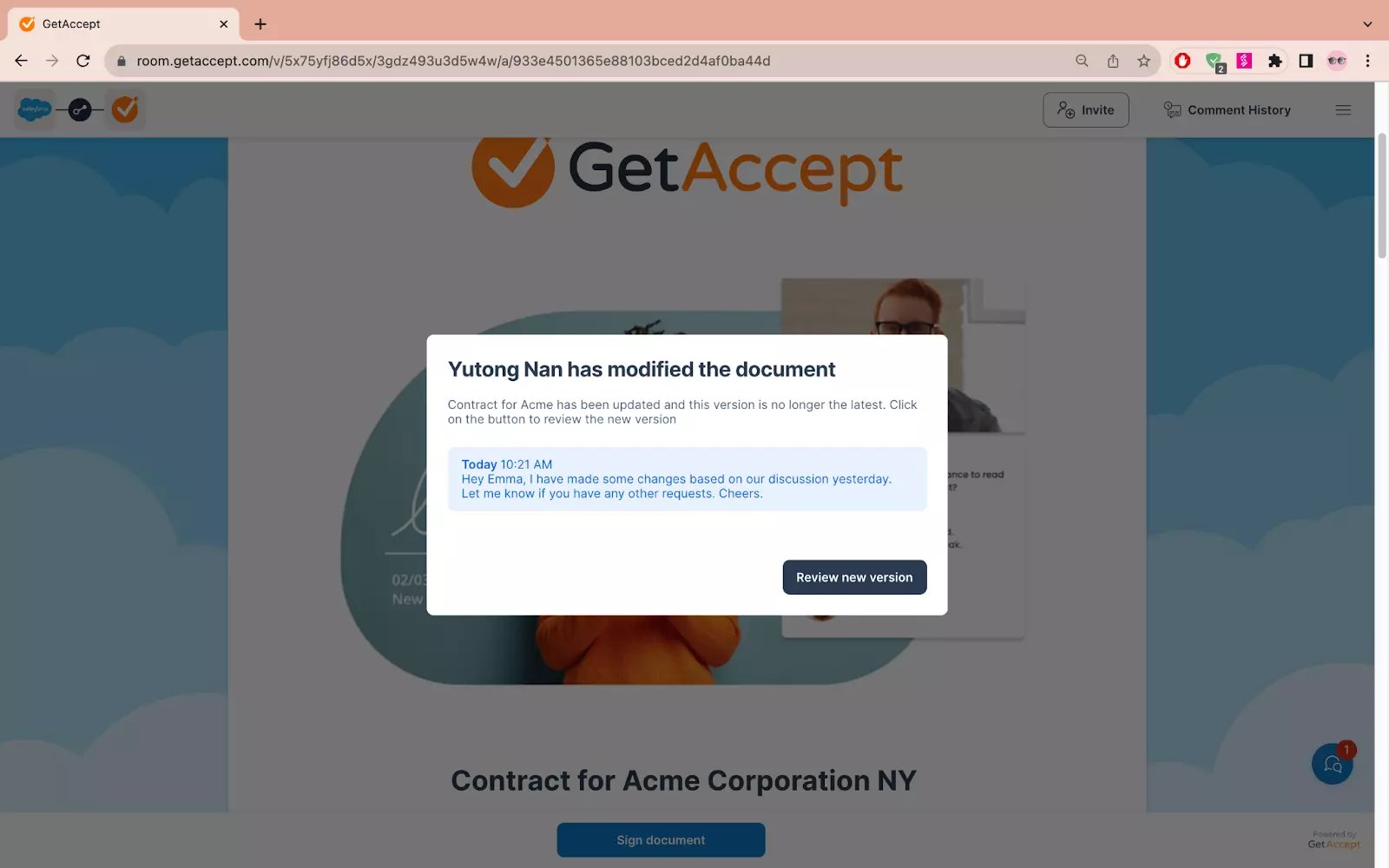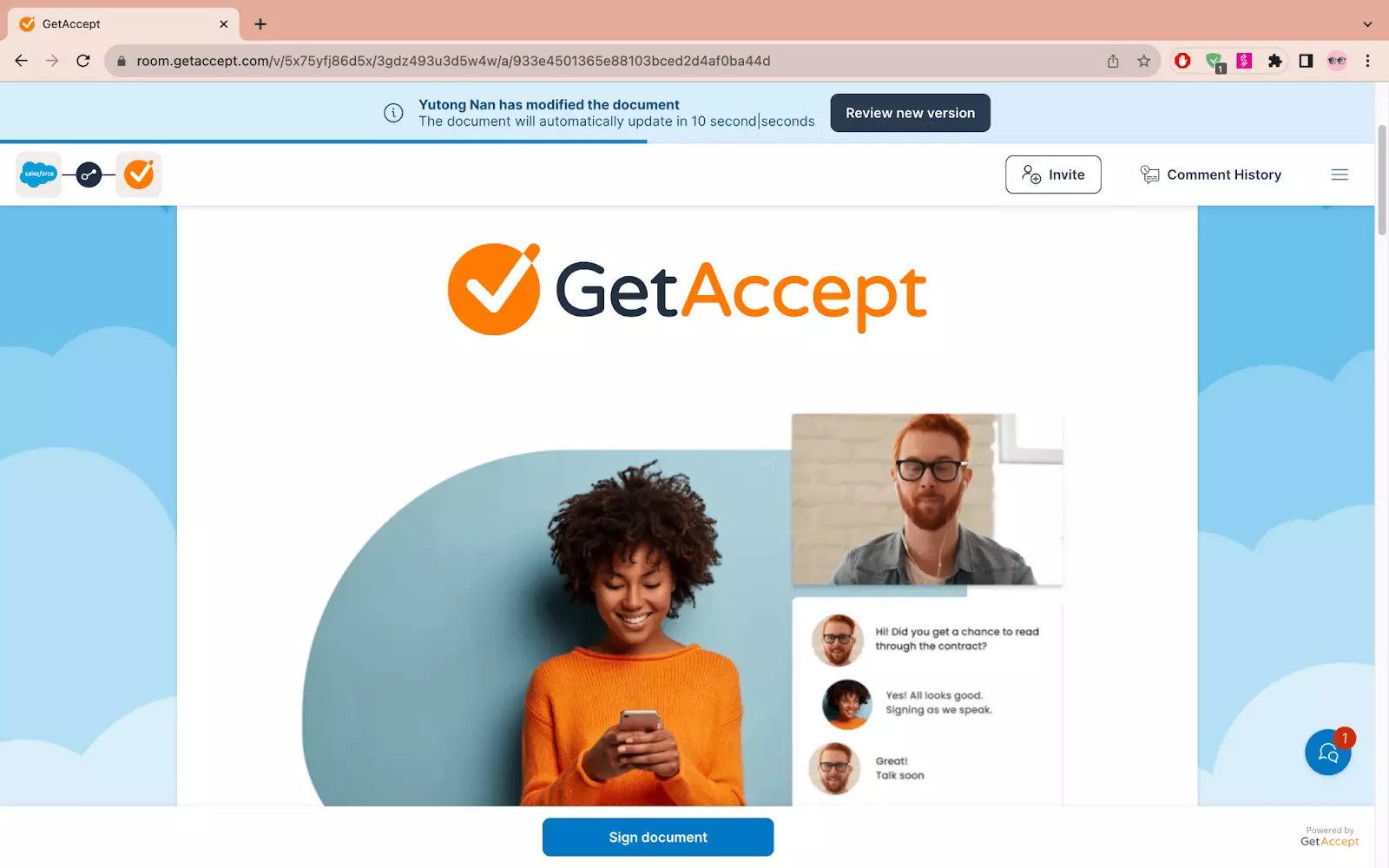 Step 5: Use document triggers to keep your Salesforce opportunities up-to-date
Our integration makes it really easy to trigger actions to update records and ensure accuracy in Salesforce.
Once your document has been signed, all the information inside can be sent back to your CRM. This includes any data the recipient may have put into the text fields you included in your contract.
All of this means your team won't need to spend time copying data from one system to another. It can all be handled automatically, and Salesforce remains your single source of truth. This can help to improve efficiency and boost individual and team quota attainment.
Step 6: Automatically store the copies of your signed documents in Salesforce
The final step. All your hard work has paid off, and your contract is signed.
After you have received your legally binding a-signature, a PDF copy of the contract can be automatically sent back to Salesforce for storage.
At the same time, the opportunity status is auto-updated to "Closed Won," thanks to the seamless, plug-and-play flows between GetAccept and Salesforce.
All in all, our integration gives you great e-signature functionality as part of a much more comprehensive solution. Unlike providers such as DocuSign, for example, we can address this last step in the sales process, as well as so much of what comes before.

This means that sales teams can grow into GetAccept and see recurring value without having to add multiple single-function integrations to the tech stack.
The GetAccept Salesforce integration in action
Why SocialTalent's RevOps and Sales reps love the GetAccept Salesforce integration

"We can honestly say that GetAccept is one of the best products in our revenue tech stack."


Gabby Ziolkowska
Revenue Operations Manager
The RevOps perspective
Gabby, the admin of the documents, can maintain control over the master templates, ensuring consistency and accuracy.
RevOps love live updating because it means reps can edit and update the document without sending a new version every time. This is very unlike the static PDF solution they were using before GetAccept.
The GetAccept proposal generation integration makes for a 9x faster quoting process for reps.


The sales rep's perspective
When they need to send a proposal, SocialTalent's sales reps can

easily find the GetAccept template Gabby built for them within Salesforce.

They don't need to fill in any information, thanks to merge tags that pull data from within Salesforce.
Before sending out, most reps add a video to greet and guide their buyers through the next stages.
As the deal progresses, they also use the real-time chat function to negotiate terms, discuss documentation details, and answer questions timely.
After a contract is signed, GetAccept's two-way sync automatically saves a copy of the signed doc to Salesforce.