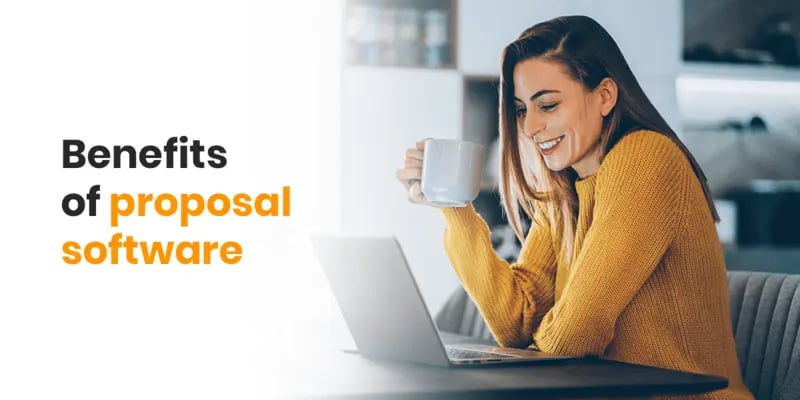 If you've ever worked in sales, you've probably sent a business proposal to a client before. In the past, clients could take ages to get back to you. You would send a proposal to a client by mail, wait for them to review and sign it, and then wait even more time for the proposal to return to you.
Thankfully, there's an easier and more efficient way to send proposals to your prospects. By using automated proposal software, you can submit proposals faster and with a greater conversion rate. Learn the benefits of proposal software and how it can fit into your business.
What is proposal software?
Proposal software, also known as proposal management software, is a program that allows you to automate the process of creating proposals and sending them to prospects. Core features vary depending on the program, but they usually offer more than a simple proposal editing tool.
Standard functions found in most proposal software include:
Automating proposal creation.
Sending proposals to clients online.
Allowing clients to quickly and easily request revisions.
Letting clients accept and e-sign proposals.
A salesperson's most valuable asset is time. While business proposals are powerful tools, they also take a long time to craft well. Online proposal software makes the mechanical aspects of proposals quick and easy so your sales team can focus on generating leads and landing sales. And best of all, everything is accessible in an all-in-one sales platform.
Who benefits from proposal software?
Every person involved in the sales process can enjoy the benefits of modern proposal management software. From clients to customer success representatives, anyone can find an aspect of proposal software that meets their needs.
From a client perspective, the ability to review and accept proposals quickly is invaluable. Imagine that you are a prospect yourself, and you have a choice between two companies with similar products. One business promptly responds to your inquiries and gives you an easy way to accept proposals. The other company takes a day or two to process an initial proposal and each subsequent revision. Which company would you choose?
By promptly submitting proposals with proposal automation software, you make it easier for your prospect to make a decision.
For sales specialists, automated software can be a powerful tool for the proposal process. Content creation tools like automated templates save time so account executives can send proposals faster.
Account executives can use the software's unique conversation tools to interact with prospects. From automated chats to dynamic video content, account executives can find success in interactions that humanize the sales experience.
With features like document tracking and analytics, customer success representatives can see real-time data on how clients interact with proposals. By reviewing factors like click rates, downloads, and whether the prospect has printed the proposal, customer success reps can easily see which clients need nurturing or could benefit from a follow-up.
What are the benefits of proposal software?
Are you still trying to decide if proposal automation software is right for your business? Here's are 18 benefits of proposal software:
1. Save time with proposal templates
Sales teams should focus on communicating with customers, but building proposals from scratch takes time. You might find a decent document template online for proposals, though sometimes you end up doing so much reformatting that you might not be saving time. Sales teams spend less than 36% of their time selling, with most of their time dedicated to writing proposals.
Thankfully, you can make proposals quickly and easily if your proposal management software offers an all-in-one content creation suite. The software's content library places all of your infographics and other media alongside easy-to-use templates so you can craft stunning proposals that close deals in minutes. Templates can even include areas for multimedia experiences, like videos, to make your proposal come alive.
2. Use content management tools to keep everything in one place
Landing a sale takes more than an excellent presentation and a winning smile. You'll often need to back up your proposals with statistics, case studies, and other client materials. The content manager in your proposal software can make it easy to keep track of all of your data so you can reference it any time you need it. That way, sales reps can access everything they need in one place rather than switching between multiple apps.
3. Update documents and proposals quickly
Rather than waiting for days for a client to get back to you with change requests, online proposal software allows your prospects to submit revisions within the document. You'll receive notification of the changes right away, and revising your proposal only takes a moment. This instant system significantly cuts down on wasted time in the sales process.
4. Increase your document hit rate
Proposals are only practical if your prospect reads through them, and your proposal software can increase the chances that they want to. By adding video, branded design, and live message elements to your proposals, you can dramatically improve their hit rate.
5. Make a lasting impression on clients
By personalizing proposals to your client, you prove that you value their consideration and want to work with them. Proposal software can help you add a personal touch by opening the doors to communication. Adding video demonstrations or live chat features to your proposals can help you build an instant connection with your clients. Best of all, insights can help you determine your clients' communication preferences, so you always know the best way to reach them.
Analytics can even help with the creation of your content. Sales reps can create content based on what content their clients find engaging. Over time, the sales rep will understand what makes personalized content valuable to prospects, and they can use that knowledge to inform more content in the future.
6. Accept secure and legally binding electronic signatures
The signature is the moment of truth for your sale. By including an electronic signature field, you make it even easier for your customers to approve your proposal. Electronic signatures are secure and legally binding, and audit trails attached to each signature protect all parties involved.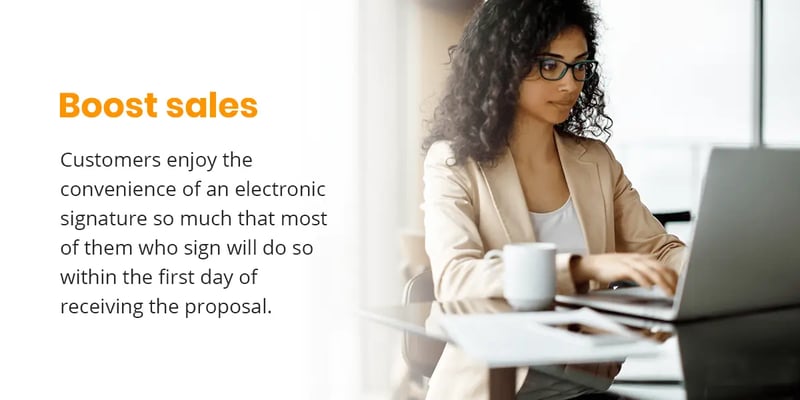 7. Boost sales
With traditional proposal methods, many factors can get in the way of the final sale, and most of those barriers are logistical. Even if you send a proposal digitally through email, prospects might drag their feet on signing a proposal if they have to print, sign, scan and then email documents back to you.
Online proposals make it easy for customers to say yes. Customers enjoy the convenience of an electronic signature so much that most of them who sign will do so within the first day of receiving the proposal. When you remove unnecessary barriers from your client's experience, they are more likely to engage more openly and interact promptly. And when your clients say yes more often, your sales representatives have more time to reach out to even more clients.
8. Track interactions with your proposals
By using insights generated from your proposal software, you'll always know where you stand with your clients and the best way to move forward. Tracking interactions is especially useful when multiple prospects need to examine and approve the proposal before you can move forward. Personalized proposal management software should allow you to track each person's progress through the proposal process, which will enable you to make informed decisions on who you should reach out to.
9. Set automatic reminders for clients
With traditional proposals, it can take days for clients to respond. They may be so busy with work that they completely forget about your proposal! With proposal software, forgetting is an issue of the past. Your software can send automatic reminders to prospects if they take a long time to open a file or only review half of the form before navigating away. If the client forgets to follow through, they'll thank you for the reminder!
10. Seal the deal faster
You can use proposal software to keep track of your customer's contract approval rights. That way, when you have proposals that need multiple levels of approval, you can speed up the process by making sure all necessary parties have seen, interacted with, and accepted the proposal. This level of targeting allows you to keep the sales flow moving towards a deal.
11. Receive instant project alerts
If your online proposal software supports instant project alerts, the program will notify you when a prospect opens an email or document. You'll also know any time a client submits a question in the chat so you can follow up right away. These alerts indicate that customer is ready to engage with you!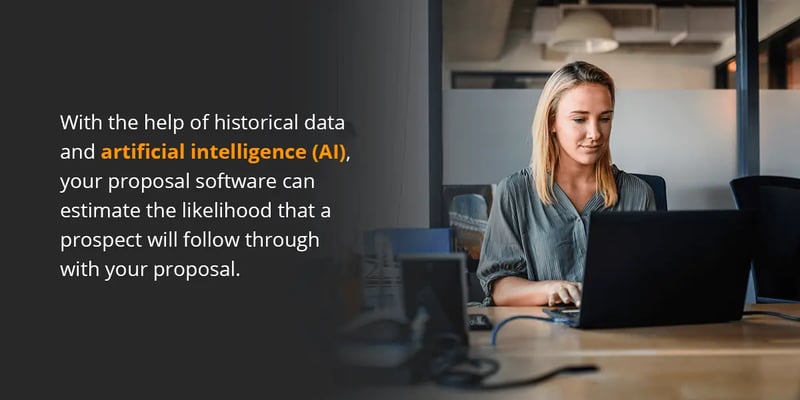 12. Estimate closing probability with AI
With the help of historical data and artificial intelligence (AI), your proposal software can estimate the likelihood that a prospect will follow through with your proposal. The AI can even provide insight on how to increase the likelihood of follow-through and which actions in your sales cycle contribute to success.
13. Follow-up with clients when it matters
Proposal management software makes it easy for customer success representatives to know which prospects to reach out to. By reviewing the way that clients interact with your proposals, the software can see which elements of a proposal were frequently interacted with or which were glossed over. This review helps your team understand a prospect's likes and dislikes, even if they don't submit a revision.
14. Revive old prospects
Previously, if a prospect had been forgotten or set aside for later, reaching out to them was often uncertain and prone to errors. As time passes, the memory of the interaction might fade, and you can be left guessing which parts of a contract the client was interested in and which needed work. Thankfully, proposal software keeps track of all aspects of customer interaction, so even if it takes a while for you to return to an old prospect, you can start right where you left off.
15. Enhance B2B communication
When you're trying to sell to another business, you need to consider how the organization makes purchasing decisions. Your proposal might need to impress several decision-makers, each with their own conflicting ideas. This dynamic can make it difficult for them to make a final decision.
The best strategy to resolve this is to ease the burden of communication. You can create personalized B2B proposals that keep every decision-maker informed on the progress of the proposal. By detecting potential blockers early in the process, you can target decisions that satisfy all parties involved and increase your win rate.
16. View your team's progress
When proposal software includes a project dashboard, sales representatives and managers alike can easily view a proposal's performance. This transparency allows for better company-wide communication, opening the doors to collaboration and goal discussions for future success.
17. Track proposal metrics to improve future sales
The sales journey doesn't end after a proposal is accepted. Using metrics gathered from all of your proposals, you can identify areas of your strategy that work exceptionally well for engagement. Conversely, if something isn't working as well as it could, you can use proposal metrics to see what you can improve for future sales.
18. Align your company's sales goals
Your collected analytics can help you improve sales performance and project future goals for the company. As time progresses, your data will show which parts of your contracts prospects commonly reject, revealing areas for restructuring or improvement. For example, if clients rarely accept the pricing in one specific area of your proposal, you might need to find a better way to present that aspect of your product in the best possible light.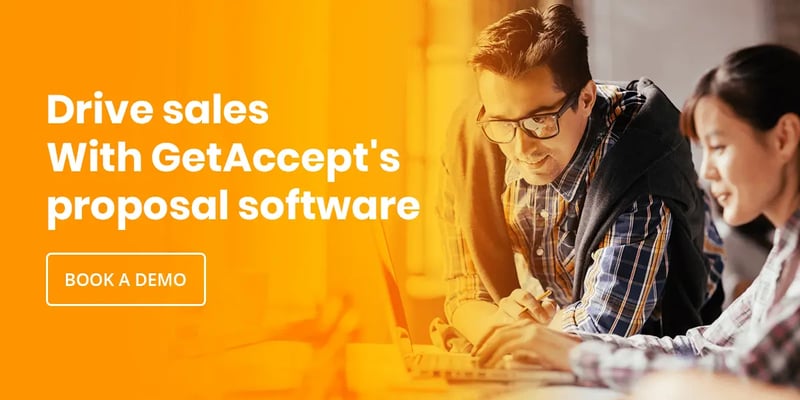 Drive sales with GetAccept's proposal software
GetAccept's proposal management software allows you to engage buyers in new and unique ways. With our all-in-one Digital Sales Room platform, you can make dazzling proposals that leave a lasting impression. Tracking and analytics help you map out stakeholders to know which prospects to follow up with. With proposals hosted online, you and your clients can interact with them anywhere, from any device.
Presenting your prospects with online proposals is more important than ever. Ready for your contracts to GetAccepted? Book a demo today to learn more about how our proposal software can help you close deals quickly and drive more sales.