GetAccept is a digital sales room (DSR) platform that empowers revenue teams to increase their win rates. We do this by providing a one-stop-shop software solution that lets you manage and optimize the buying and selling process from opportunity to signature. You can create dynamic proposals, say goodbye to long email chains, chat with your contacts, quote faster, and close opportunities with electronic signatures. And the great news is that you can plug GetAccept straight into your CRM and experience Salesforce optimization like never before.
How does the GetAccept Salesforce integration work?
GetAccept is a native integration, meaning it's been designed to seamlessly integrate into Salesforce. So seamlessly, in fact, that some reps aren't even aware that they're using an integration – and this is exactly what we want. By utilizing the functionality that Salesforce has and combining that with GetAccept, we ultimately create a powerhouse of value for revenue teams.
Being a Salesforce Independent Software Vendor (ISV) partner also means that we really understand Salesforce and its users. Our feature roadmap aligns with Salesforce's development, we can offer more insightful customer support, and we're compliant with the necessary security and compliance guidelines.
In a nutshell, we're in the best possible position to increase functionality and value within Salesforce while keeping your tech stack consolidated.
So, what's in it for you?
1. Dynamic, frustration-free content and proposals
Picture the scene: You've already sent your buyer 3 emails containing attachments and you're about to send another one. That's 4 emails and a bunch of files they need to sort through in order to decide whether to do business with you or not. Not to mention the amount of time you already spent finding or creating the content. In an ideal world, you'd be able to share all of the information needed to push an opportunity forward– easily and in one place.
This is solved with GetAccept.
Our integration lets reps create dynamic shareable proposals in a single location. And they can do this without starting from scratch every time. Instead, they can work with ready-to-go templates shaped around your sales processes and unique ICPs. This gives teams a huge amount of flexibility and the power to maximize output.
In Salesforce, reps can use pre-made templates to create multi-page sendouts that gather essential information about your product or service, customer cases, videos, mutual action plans, and more. They can also include pricing groups and tables using your company's Salesforce Products and/or CPQ data alongside our CPQ enhancement, which we talk about in more detail below. This ability to push data from Salesforce into dynamic proposal templates is one of our core, most-loved features.
When it comes to managing the templates, revenue operations have the option to maintain control. For example, they can lock parts that shouldn't be changed, while giving reps the freedom to amend the rest to meet the unique requirements of each individual deal.
It's worth noting that you're not forced to work solely with our dynamic content and templates. Your GetAccept proposal can be a mix of PDFs already stored in and generated from Salesforce, our templates, and any other documents you like. We're confident that you'll come to love working with dynamic content, but our integration will work for you until you're ready to make the switch.
2. Quote faster and keep Salesforce as your single source of truth
With the GetAccept integration, you get all the benefits of our Salesforce Products, Quotes, and/or CPQ enhancement directly in Salesforce. This lets you create professional-looking and dynamic quotes with ease.
The integration works by automatically fetching your product data from Salesforce (Pricebooks, quotes, Salesforce CPQ, etc.) and using it to populate the price tables in the dynamic proposals you create with GetAccept.
It can also deal with more complex situations like having different products displayed in different tables or groups depending on product type or pricing, for example. Essentially, it helps you to make the proposal as clear and readable to the buyer as possible while keeping it simple for you in the backend.
Any updates you make to your product data in Salesforce can be instantly reflected in your GetAccept documents with one click. This means you don't need to amend and send updated quotes and documents whenever changes are made.
For example, as a deal progresses, your reps can quickly edit and update any product information, including prices, discounts, and units as requested by a prospect within the GetAccept proposal using our chat or commenting feature.
And it's easy for reps to make these changes directly from within Salesforce, whether via product line items, quotes, CPQ, or CPQ+, and reflect these product modifications in the sent proposal with a click of a button No more time spent on the tedious administration of recalling/voiding outdated documents and generating/delivering new versions via email attachments. This can help to achieve faster response times and shorter sales cycles.
Of course, your contacts are notified of changes to the sent GetAccept document every time they access it. Plus, you can leave a message in the integrated chat to let them know you've made amendments. More on this handy communication feature later.
Thanks to the seamless nature of our Salesforce Product and CPQ enhancement, you can rest assured that Salesforce will always remain the single source of truth for your product data.
---
Got a question about the integration? Let us help.
---
3. Gain consistency across your sales collateral management
It can be frustrating not knowing what the most updated version of a document is, or accidentally sending the wrong one and getting told off by marketing or your sales ops manager. 🙃
The GetAccept integration has been designed to nip this problem in the bud. We've already talked about how you can create and use dynamic content with the integration, and the added benefit here is that you get a unified template repository to house all the content you need.
For sales reps working with an opportunity in Salesforce, our integration means you can use existing, approved templates to quickly create compelling, customized content that accurately and beautifully reflects your brand and offer.
The content and template libraries also help teams to follow a more structured selling process. Using GetAccept to organize content and templates will make it easier for reps to find the right content for the right buyer and make sure it's sent at the right time in the sales journey.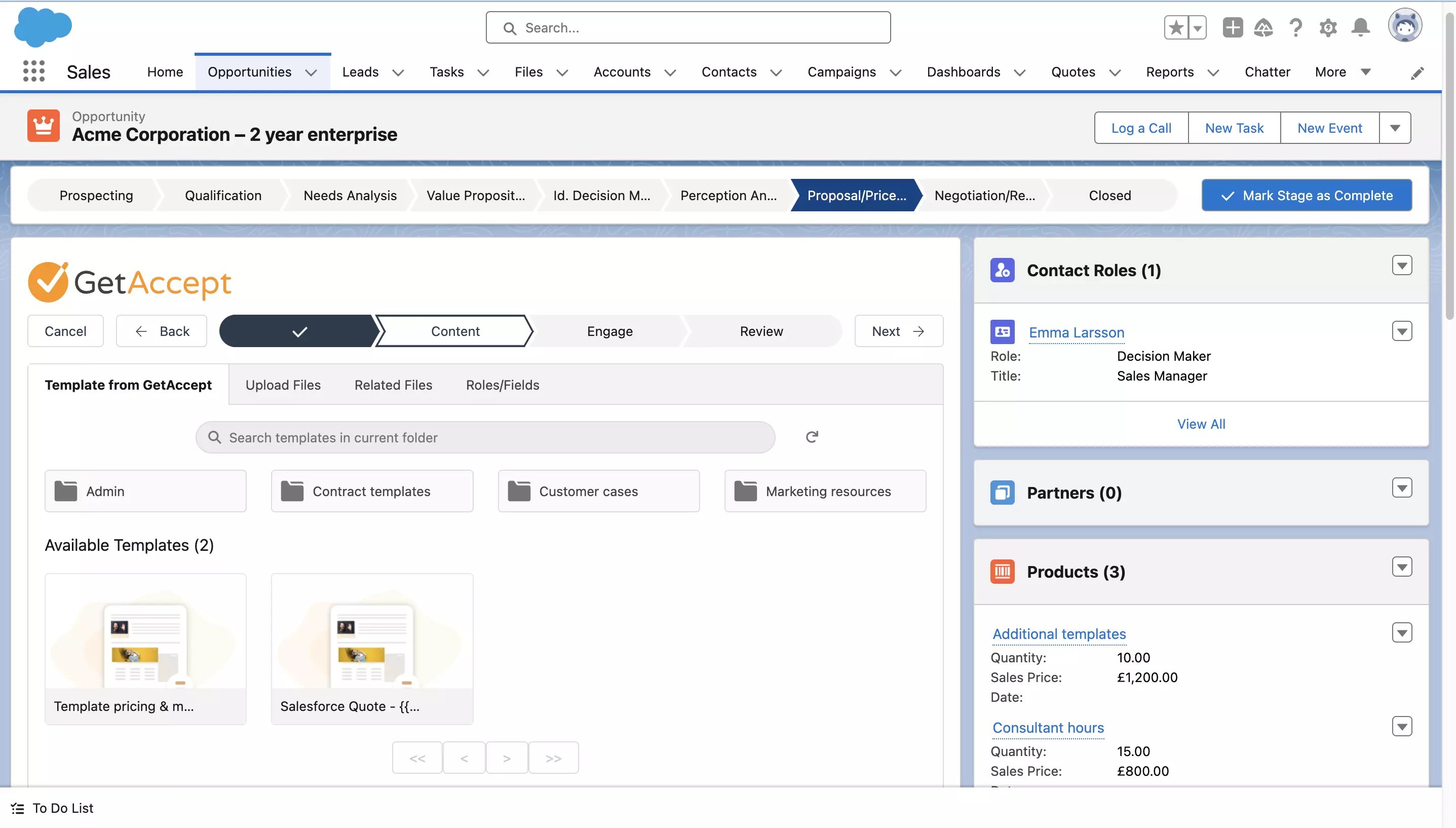 4. Get real-time insights and analytics on who's engaging with your sales content
Imagine being able to see when a customer or prospect has looked at a document you've sent or even forwarded it to somebody else.
The good news is that this is possible with the GetAccept integration.
Every time your prospect views or reviews a document you send, you'll get a notification directly in Salesforce. This means you don't have to spend time wondering if they've received or read it. You'll even see how long they've spent reviewing the document.
This ability to track your sendouts also extends to seeing who your contacts may have forwarded them to. This is a brilliant way of building a more comprehensive understanding of who is involved in – and can influence – the buying process. And what's really handy is that GetAccept allows you to automate the creation of a lead or contact in Salesforce when the proposal is forwarded to a new stakeholder via our pre-built Flows.
Essentially, you'll get insights that will help you to stay on top of deals with activity, produce more precise pipeline forecasting, and take the next best step towards closed-won.
---
Fancy a demo of our Salesforce integration? Book a meeting here.
---
5. Easily add video for relationship building and selling
Building trust is one of the biggest challenges in digital sales. By using personalized video, you're in a better position to start creating instant connections and trust with your contacts from the get-go.
With the GetAccept integration, sales reps can easily add a personalized video to accompany their document sendouts. Hitting record directly in Salesforce (or uploading a prepared file, if you like) takes no time but makes all the difference in adding a personal touch to the selling process.
One of the most common ways to use the feature is to record a quick video summarizing any discussions you've already had with your contact, referring to the documents you're including, and providing an outline of the next steps.
You can read more about sending personalized videos with GetAccept here.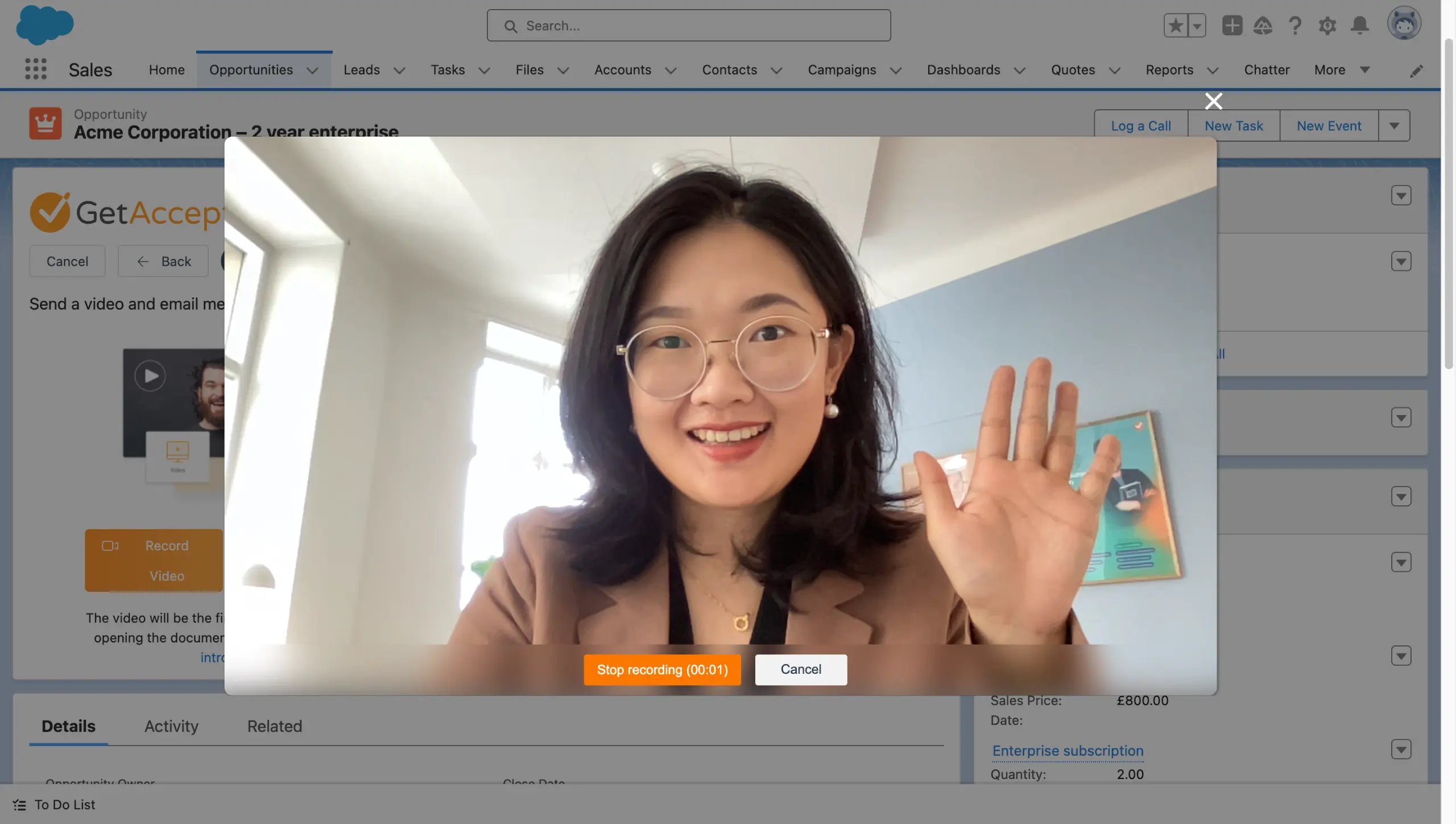 6. Real-time chat
Thanks to GetAccept's integrated chat function, you can say goodbye to endless email chains and scattered messages. In every proposal document you send, you and your contacts can chat in real time about the deal directly from the shared Deal Room or Contract Room.
Whether additional stakeholders have questions or your original contact would like an amendment to the quote, you can manage it all in the chat. Plus, you can do all of this and keep your conversations securely documented, without leaving Salesforce.
Our new commenting feature also allows people with access to the proposal and/or contract to add comments anywhere in the document. This will make it easier for contacts to leave feedback, request changes, and keep a deal moving.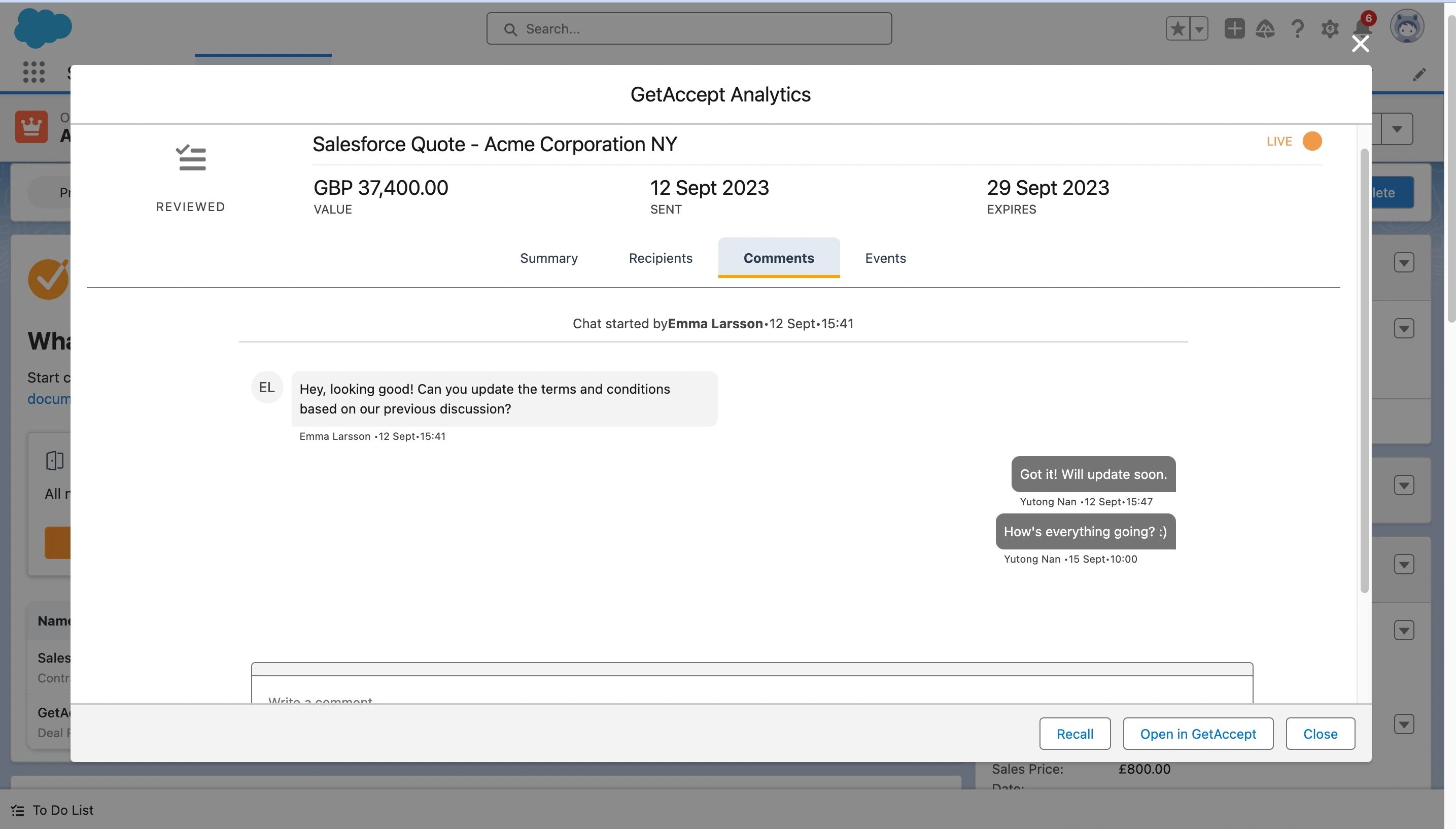 7. Increase convenience and speed with our electronic signature solution
Currently, e-signature isn't available as an out-of-the-box feature through Salesforce. And that's where GetAccept comes in.
Our integration gives Salesforce users access to a robust e-signature solution that follows necessary regulations. It also includes Qualified Electronic Signature (QES) support, the most complete and secure method to digitally prove a signer's identity.
At GetAccept, we've found that sales teams using our e-signature feature have a 51% higher win rate, and 44% of all documents sent with us are signed electronically within 60 minutes.
You can send any document for e-signature via our Salesforce integration, and once you receive the legally-binding signature, a PDF copy of the contract can be automatically sent back to Salesforce for storage.
At the same time, the opportunity status is auto-updated to "Closed Won," thanks to the seamless, plug-and-play flows between GetAccept and Salesforce. Keep reading to learn more about the flows and 2-way sync.
All in all, our integration gives you great e-signature functionality as part of a much more comprehensive solution. Unlike providers such as DocuSign, for example, we can address this last step in the sales process, as well as so much of what comes before. This means that sales teams can grow into GetAccept and see recurring value without having to add multiple single-function integrations to the tech stack.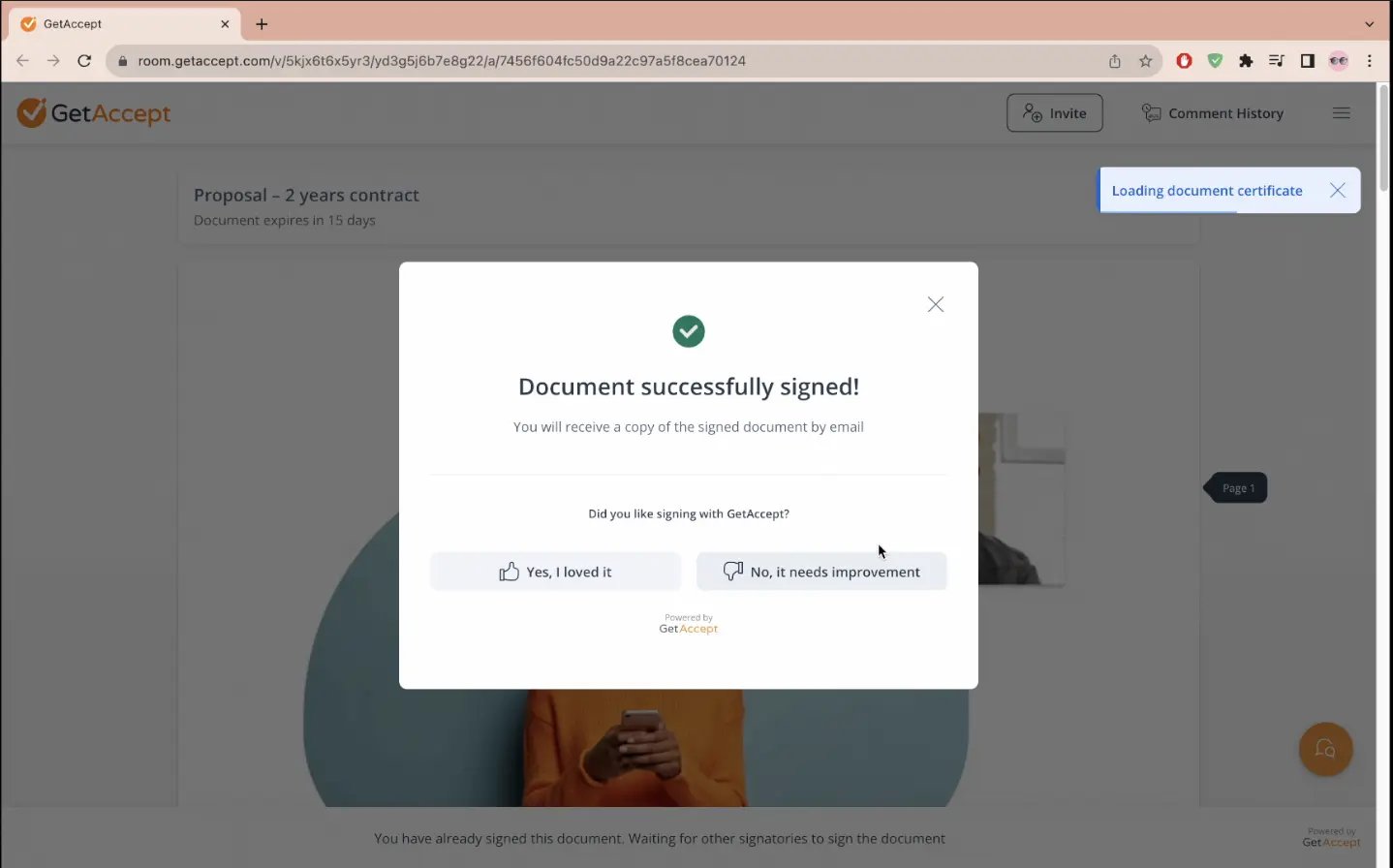 8. Plug and play automations to speed up your sales processes
Nearly 20% of a rep's time is spent on reporting, administration, and CRM-related tasks. At GetAccept, we want to further try and reduce that; so with our integration, you get access to out-of-the-box flows and 2-way sync that will automate repetitive admin tasks for you:
Auto-fill data fields like name, address, and more in your sendouts using merge fields.
Sync recipient input fields back to Salesforce after a contract is signed, making sure that Salesforce reflects the data supplied in your GetAccept sendout. Like we said: a single source of truth!
Create automated follow-up activities after sharing documents.
Auto-update opportunity stage once a contract is signed.
Use the GetAccept flow template to set up notifications about document views, signatures, or stagnating deals.
---
Read more about how to automate your sales process with GetAccept.
---
9. Dashboard and analytics
GetAccept provides out-of-the-box reports to help reps and sales leaders with forecasting and pipeline management. Plus different dashboards for both gives access to individual versus team insights.
Within Salesforce, you can quickly get an overview of all the documents sent with GetAccept, including their status, docs sent by each employee, how the numbers evolve over time, and more.
By using customer reports to combine your GetAccept data with other Salesforce data, you're in a great position to level up your reporting capabilities.
Key benefits of the GetAccept Salesforce integration wrapped up
Improved team workflow speed: The combination of features we offer means you can keep your finger on the pulse of your deals. You can send better proposals, communicate more efficiently, and get contracts signed faster. All of which significantly speed up the time it takes to close your deals.
Increased Salesforce adoption and ROI: By upping the functionality in Salesforce and providing those cherry-on-the-top features, you will see a better return on your Salesforce investment, whether that's through optimizing your Salesforce CPQ purchase or the adoption of pre-built Flows.
Better sales content creation and management: PDFs are increasingly outdated, and it's tough for sales and marketing to make sure the right content is being used in the right way. With GetAccept and Salesforce, you can enjoy dynamic proposal creation and quoting that will transform the way you work.
Ease of implementation: Installing the GetAccept app for Salesforce is easy and fast, with the possibility of implementation within a day– a dream for Salesforce Admins and Architects.