Having to negotiate with clients naturally happens in almost every deal. Terms may not be exact, pricing might not match expectations, or the project scope might be missing steps. Whatever it may be, having the ability to quickly address customers' concerns not only shows your attentiveness to their needs but can also keep your deals progressing with less hesitation.
Before the release of comments, you'd have to negotiate and address concerns within the live chat without any context as to what the concern was referring to in the document. But not anymore!
Now, buyers and sellers can highlight specific text within the document, leave a comment, notify the other party, and resolve concerns seamlessly without any confusion.
After sending a contract, both the recipient and sender can highlight and comment on text within the document. Once the comment thread is complete, either the recipient or sender can resolve and remove the comments. It's important to know that this commenting feature is only available in the contracts module and can only be used with documents created with the editor, not uploaded PDFs.
Check it out with the interactive demo below!
What are the benefits for you and your team?
Close deals even faster
With the ability to communicate and address specific parts of your contract, concerns can be addressed, questions can be answered, and prices can be negotiated with speed like never before! One aspect of this feature that helps progress deals is that both the buyer and seller are notified if there is a comment left on the contract. This ensures a quicker response time from all parties involved in making the deal happen.
Better buying experience
With customers being able to address a specific part of their presented contract, they can easily explain to their salesperson what is holding them back from committing to the purchase. The ability to be transparent and direct when making a purchase can increase the overall buying experience between the customer and seller.
Familiar collaboration
This feature is built to make collaborations between all parties smoother. And it is intuitive and easy to use – just like how you usually make a comment in Google Docs, your buyers won't need extra explanation to get the gist of it.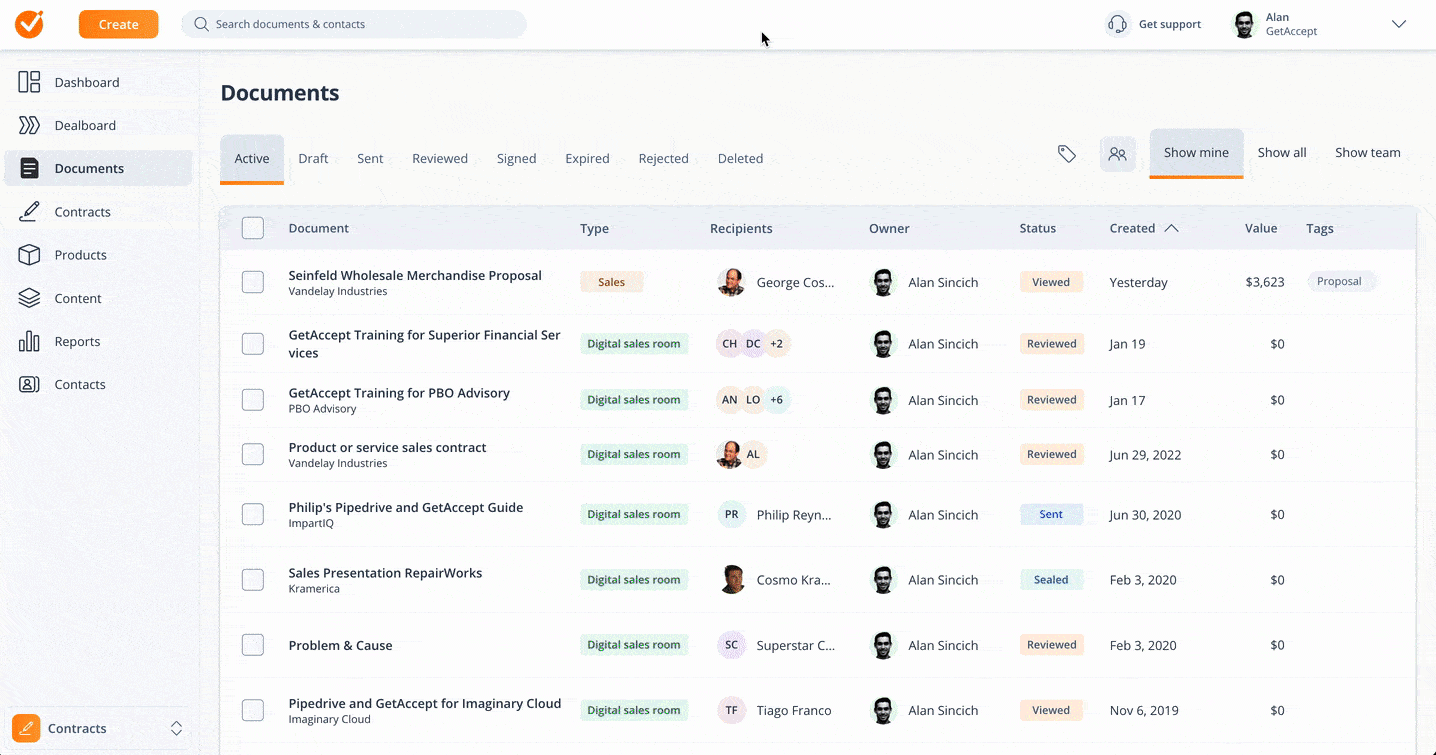 Examples of using commenting
Case 1: Negotiate pricing with buyers
It's inevitable that your potential customer wants the best deal. Depending on your industry, it can be very rare to run into a deal where the buyer is not concerned about getting a price they deem fair. With this notion in mind, negotiating prices is a natural part of making any deal happen.

Depending on your pricing structure, this could be addressing certain line items, the total price, add-ons, or discounts. With the new commenting feature, this can be done much easier between parties to help agree on a price that is beneficial for everyone involved.
Case 2: Reviewing terms and conditions
For deals that require a review of terms and conditions, it is now easy to highlight specific parts that your team needs to address internally or with the seller. This could relate to deadlines, liability issues, or anything else that will hinder the deal from progressing.

After the comment has been added to the terms, the seller can review, comment, and update the document text if it is something he has the ability to change. All parties will be updated on the changes made to the terms and the buyers can feel confident to sign the contract.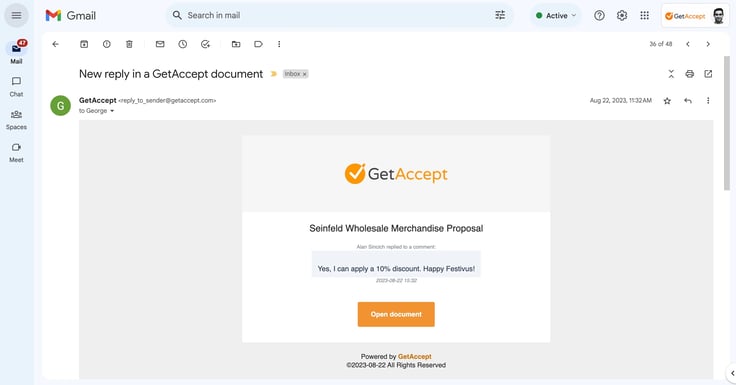 Who is it for?
This feature is available for all users on the Professional and Enterprise+ plan.
Where do we find the commenting feature?
After logging into GetAccept, you can find and check all related comments under the document summary. Leaving a comment is very similar for both buyer and seller. Simply hover over the text, highlight it, and leave your comment in the prompt that appears on the right. You can also view the comment history at the top of the page to help everyone stay up to date as the deal progresses.
Check the help article for more detailed information, and don't hesitate to reach out to your designated GetAccept contacts if you have any questions.