Sales and technology go hand-in-hand. Technology and tools are rapidly evolving and becoming more integrated with how consumers and brands interact.
The pandemic caused a shift in the norm. People relied on technology more than ever as they developed new sales strategies to navigate the new sales environment. In short, tech brands had to deliver to stay relevant.
Today, we will go through the most prominent sales tools and technology trends that businesses should watch.
The benefits of tools and technology in sales
Technology can play a beneficial role in many areas of sales. Whether you want to automate menial tasks, track your teams' sales, or answer customer queries, investing in technology can help.
Boost productivity

: Sales technology is great for offsetting repetitive tasks. It can also be used to complete lengthy tasks, such as following up with customers after a sale. Companies like Inventory Planner boost productivity by ensuring your supply chain runs smoothly, for example. This enables sales teams to use their time and skills more efficiently.
Boost sales: There is a plethora of sales-boosting tech out there. Chatbots and voice assistants are types of conversational AIs that use the data from text annotation to operate human-like. They are programmed to answer questions from your website visitors, thus nurturing prospective customers and encouraging sales.
Understanding your customers: Using technology, you can identify your buyer persona. Technology can gather information on customers so that you can refine and streamline your marketing campaigns.
Ultimately, as tech companies develop new and innovative ways that tech can help in sales, the benefits of investing in sales tools and technologies will grow.
SaaS feedback is another important aspect to consider when investing in sales technology, as it can provide valuable insights for improving and optimizing your tools.
Sales tools and technology trends you need to know about
Let's have a look at the sales tools and technology trends that you need to know about:
1. AI integration growth
It is not surprising that AI integration is becoming a more prominent feature of sales. It is the future of B2B digital sales.
The global AI market is expected to reach $1,591.03 billion by 2030. Compare that to 2022's AI market value of $119.78 billion, and you can quickly see how AI integration will find its way into business and consumer operations.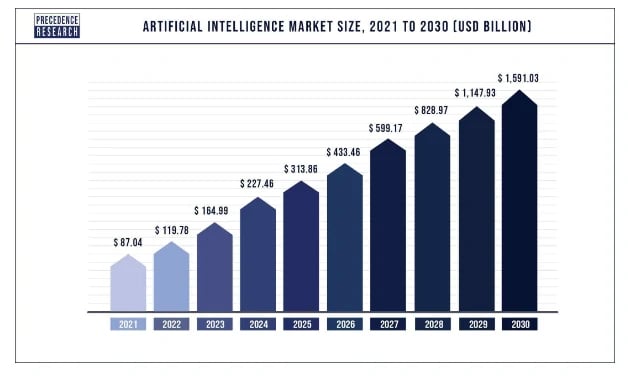 AI lays the groundwork for many sales tasks. It can be integrated into technologies like analytics, process automation, and sales calls, to name just a few. It can help you nurture leads, personalize customer experiences, and produce targeted content. Chatbots and voice assistants are types of conversational AIs. But AI can achieve so much more.
As technology evolves, AI may take on larger roles in a sales environment. Chatbots, for example, will give more accurate and comprehensive answers to questions. Analytics will become more refined and thorough, and automated tasks will be more sophisticated. And using chatbot apps might make the process much easier, too.
2. Increased technology spending
When you think about your sales tech stack, some things spring to mind as must-haves. A CRM, for example, or an event scheduling tool.
Even though consumer spending is down, experts predict that enterprises will continue to invest in technological business initiatives.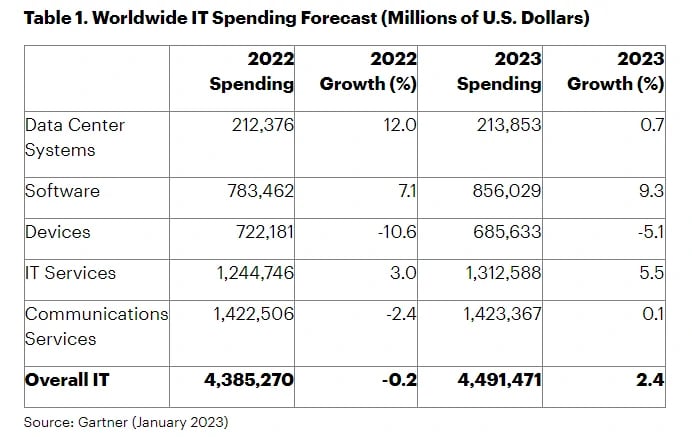 It's important to remember, though, that it is not necessarily a case of "more is better". Whether you opt for adding to your telephone processes with features like Call Waiting that Dialpad offers or you want to upgrade your CMS, you need to invest in smart tools. These should be integrated into your systems and processes.
3. Better CRMs
CRM is at the heart of every modern sales company. Even small businesses can leverage the power of a robust CRM to manage and streamline their processes.
Salesforce is a popular option for a CRM, but there are also some fantastic Salesforce CRM top alternatives.
A CRM should help sales teams manage all forms of customer communication. This includes social media, email, live chat, and phone calls. Furthermore, an effective CRM will gather data to enable sales teams to make informed decisions.
As CRMs become more comprehensive, users are getting additional benefits that assist with sales growth. As CRMs become more comprehensive, users are getting additional benefits that assist with sales growth. For example, as demonstrated in the Publitas features overview, sales teams can create engaging digital catalogs and share them with potential customers, providing an interactive and personalized experience.
A CRM can help teams to take control of a customer's journey. They give them a complete picture of their customers and predict future selling opportunities.
4. Mobile-friendliness
Mobile devices have changed the way people make purchases and interact with brands. According to a recent study, 76% of U.S. adults make purchases on mobile devices. As such, businesses need to adapt all of their channels of communication to overcome this modern sales challenge.
For example, Google prioritizes mobile-friendly websites in its SEO algorithm. This means mobile websites need to be quick to load, easy to navigate, and responsive. It has to focus on providing a positive user experience.
Furthermore, many companies are developing mobile apps to connect with customers. Having an app on your customers' phone screens will place you at the forefront of their minds when they want what you're selling.
Global App Store and Google Play user spending will reach a predicted $270 billion by 2025. And 2022 saw 171 billion app downloads from these two app stores combined.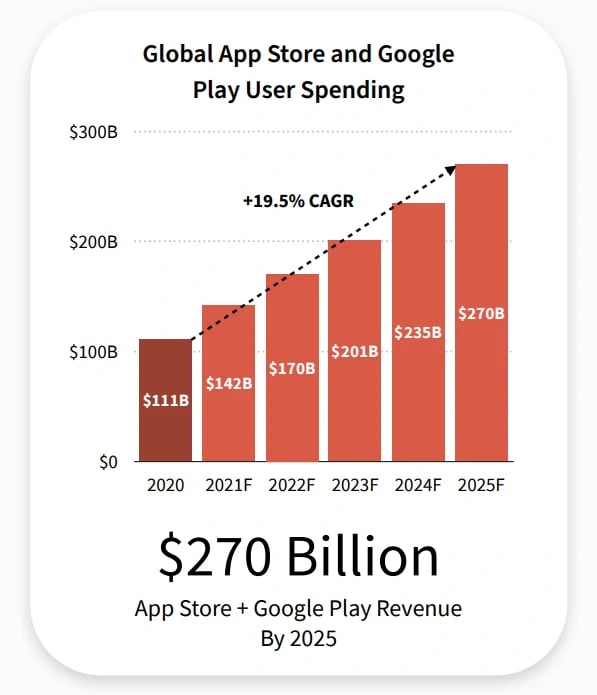 An app is brilliant for building brand loyalty and recognition. It acts as a tool that supports sales and communication. It makes it easier for consumers to interact with your brand. Providing, of course, that the app is well-developed.
5. Call analytics
Not all consumers have access to telephone numbers for businesses. But having the option of speaking to someone over the phone about a product or query can go a long way in establishing trust.
Speaking on the phone in a sales environment is not just about closing a deal or answering a query anymore. Call analytics are becoming increasingly popular amongst sales companies, and for good reason. Call analytics is a technology-focused method of gathering data from phone calls.
Artificial intelligence (AI) and machine learning (ML) solutions, in particular, are invaluable. They can be part of your voice marketing campaign. The technologies analyze conversations between sales reps and customers. They can identify the tone of voice to decipher information such as what products pique customers' interests and which customers are quality leads. Along with this, call analytics software can help you spot problems within your sales system.
Here are some sales aspects that call analytics can enhance:
Segmenting your audience and customers
Understanding your customers' journeys
Identifying where online your callers found you
Coaching your agents
Measuring the results of your campaigns
Evaluating KPIs
In addition to all these, call analytics can often be integrated into your existing communication processes, for example, your chatbots and text messaging.
6. Virtual product demos
Spending money on new technology can be daunting. You don't always know whether it will live up to your expectations or what challenges you might face using the new technology. This can be particularly true when you purchase SaaS solutions and commit to a monthly or yearly subscription.
This is why some SaaS solutions, such as PBX in the cloud, offer free trials of their products. However, free trials are not always a viable option, particularly if you're only just starting a business.
This is where product demo platforms come into play. If you sell a virtual product, such as SaaS or an app, consider creating an interactive demo or a digital sales room of how it works. Not only will this help to alleviate any pre-downloading tension, but it can help to convert potential customers into paying customers.
In a survey, 86% of people said that watching a demo video showing how to use an app would make them more likely to download it.
But demos are not just for showing off what you have to offer. Virtual product demos can be integrated into your marketing campaigns. Demo software collects data and provides unique insights into your demo's success. It enables users to take full control over their demo campaigns, tracking and analyzing data each step of the way.
Which trends will you follow?
While trends come and go, technology continues to get stronger. It plays an increasingly prominent role in our day-to-day lives. If you're a sales rep or you own a business that depends on sales, keeping track of the top digital selling trends mentioned above can give you an edge over your competitors.
Some trends will become a must for online businesses that want to remain relevant to their consumers. Integrating AI into sales processes, for instance, will likely become the norm as dependence on technology grows. If your competitors are harnessing these technological advances and you're not, you run the risk of getting left behind.
If you're not in a position to spend more money on your technology stack just yet, that's OK. Follow the sales technology trends and add some to your business growth plan.