A lot has happened in the sales industry through the years. Gone are the days when old hard-sell tactics worked. Nowadays, aggressively reaching out to prospects will just turn them off and put a black mark on your brand.
Word would spread online about their methods, and people would start bashing their business, affecting its ability to generate revenue.
As a sales manager, these are just some things you don't want to happen in your company.
If this is the case, you must find the most effective ways to overcome these sales challenges. And below are tips to help you get started.
Establish trust
We are now in the permission age, where people can make their own decisions.
This means you can't force people to buy something they don't want. By forcing them to choose your products and services, you're pushing them away instead.
In this case, you want them to choose your business on their own. To do this, showcase your authority to win prospects and turn them into customers.
Creating high-quality content across your blog, social media, emails, and other channels is one way to show your audience that you are knowledgeable about your industry.
For this to work, the content must be informative and deliver what your audience is looking for about the topic.
To know which topics to tackle in your content, research your audience's interests, goals, and problems. Check your conversations with them via email and phone to uncover insights into these factors.
From here, brainstorm for topics that most people have problems with and create content that will provide the solution.
Developing a content strategy revolving around providing value to your audience is a great way to win your audience. By making it about them and fixing their problems, you present yourself as a trustworthy brand worth their time and money.
Map out your competitors
To better understand your audience, you have to step back and look at the market as a whole. This enables you to identify who you're up against.
Once you've identified your competitors, dig deeper into their sales tactics and strategies. Know which methods they're using that have been working well for them.
And since you share the same audience, using them in your sales campaign should help you achieve similar results, if not better.
To do this, you must first gather the results of their campaigns and use them as benchmarks for your upcoming campaigns. The goal is to get comparable, if not better, results than your competitors.
Also, capitalize on your competitors' weaknesses to differentiate your business as a superior option. For instance, if they offer higher prices, use that as a talking point with prospects to help bring their business over to yours.
Finally, look at their marketing approach. Since the volume and quality of prospects depend on your marketing initiatives, you want to see how other businesses are doing before you develop yours.
Which channels are they promoting their content and reaching out to their audience? How engaged are their audience with their campaigns?
Answering these questions should help you create a marketing plan with the best chances of getting the same audience.
Take the inbound sales approach
Speaking of marketing, we can describe some of the abovementioned tactics as part of your inbound marketing strategy.
Unlike traditional sales and marketing, where you have to go to your prospects, you let them come to you for information about your products and services.
With inbound marketing, you can create a content strategy that people would want to read. To do this, you must determine where your content topics belong in your sales pipeline.
For instance, content that informs belongs to the top of the funnel (TOFU), while sales enablement content that helps facilitate the buying process belongs at the bottom of the funnel (BOFU).
Regarding BOFU content, embed lead captures like forms, call widgets, live chat, chatbots, and popups to get your audience to contact you.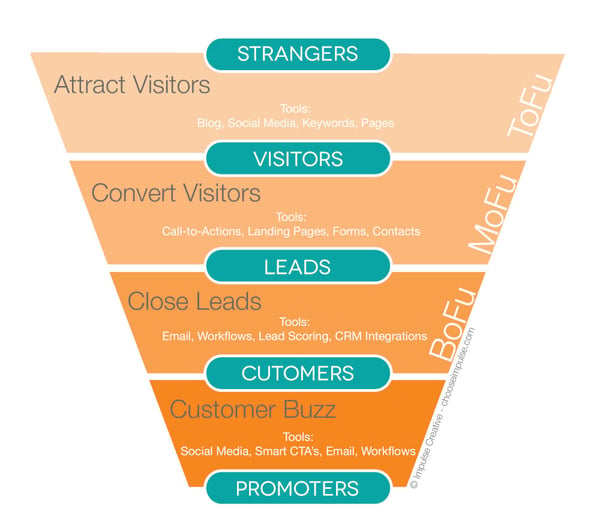 Improve your outbound sales tactics
Just because inbound marketing is an effective way to generate highly qualified leads doesn't render outbound sales tactics ineffective.
When used together, you can build a lead generating, sales closing machine that allows you to maximize your reach and close out more prospects.
Two of the most popular outbound tactics are cold calling and email outreach. Both require you to reach out to prospects without any prior conversation.
Herein lies the problematic part of outbound sales. Because they don't know who you are, there's a higher chance of getting rejected and not getting a response.
But when approached correctly, outbound sales is a much faster way to convert people into paying customers.
The trick is to segment prospects using data. For example, if you're selling digital products, you want to determine your prospects' tech stack.
Here you can see which tools they're using for their business. And if they're using your competitors' apps, you can reach out to them asking to try out your product instead.
From here, you also need to observe the best practices for either of the tactics above.
For instance, if you send personalized emails to prospects, you need email tracking to know what happens after sending the emails. You could then see who opened the emails and how many. Then, use this information to improve your email open rates on your next campaign.
Prepare for negotiation
Once you've presented your pitch, expect prospects to either resist the offer or prepare for a counter-offer.
In these cases, negotiations are always a toss-up, so there's no way to know if prospects will become clients. However, the best thing you can do is be prepared for all possible outcomes.
Conduct a mock call session to practice for the negotiation. Focus on staying calm and thinking before replying.
Also, prepare for prospects saying "no" to your offer and how you should respond to them. Overcoming sales objections helps you understand your services' pain points and allows you to work on them to improve your reach.
Develop negotiation tactics based on possible replies, i.e., prepare the most affordable but limited plan for your product or service if prospects find the initial offer too high.
Conclusion
Nobody said making sales was easy. If it were, everybody would be doing it.
Unfortunately, you and your team are chosen to bear the responsibility of making money for your business.
And as the saying goes, modern problems require modern solutions.
The tips above should help you leapfrog over sales issues that most teams have problems with.
You can engage with highly qualified prospects by simply passing these challenges with flying colors and closing them into customers.