It's notably difficult to go anywhere or turn on any news without hearing the dreaded word: recession. As a result, news releases and stories are filled to the brim with talk of the 2023 recession.
Not knowing whether a full-blown recession will hit or if we are just laying low to stay safe is a hard pill to swallow. We are all in a position where we need to count our pennies and ensure we are making the right financial choices. In a 2022 survey, HubSpot found that 30% of respondents were purchasing less than they were in previous months.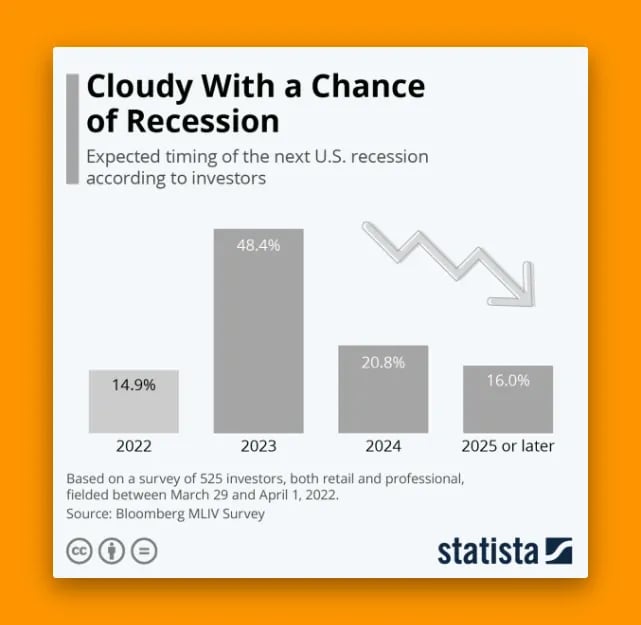 Statistics from the Census Bureau also show that in 2020 e-commerce sales increased by 43%. During this time, companies were doing anything and everything to keep up with the high influx they saw in sales.
Many companies increased their workforce, hired additional lawyers for legal advice, and adapted new systems and technology. The companies did this in a rampant rush to keep up with the increase in sales. As a whole, we should have expected that there would come a time when this era of excess and more would come to an end.
Thankfully, we have not seen things take a turn for the worse yet. But, it is sobering to know that there may be a time when you need to tighten your budget to prepare for any economic downturns.
As a sales leader, it is within your control to find ways to help your company survive these upcoming times of change. Now is the time to take action and implement changes that will ensure success for you, your team, and your company.
In this article, we will look at 5 ways sales leaders can boost efficiency and save money in the economic downturn. Equipped with these recommendations, you will be well on your way to successful and strategic planning.
1. Prepare for layoffs and staffing shortages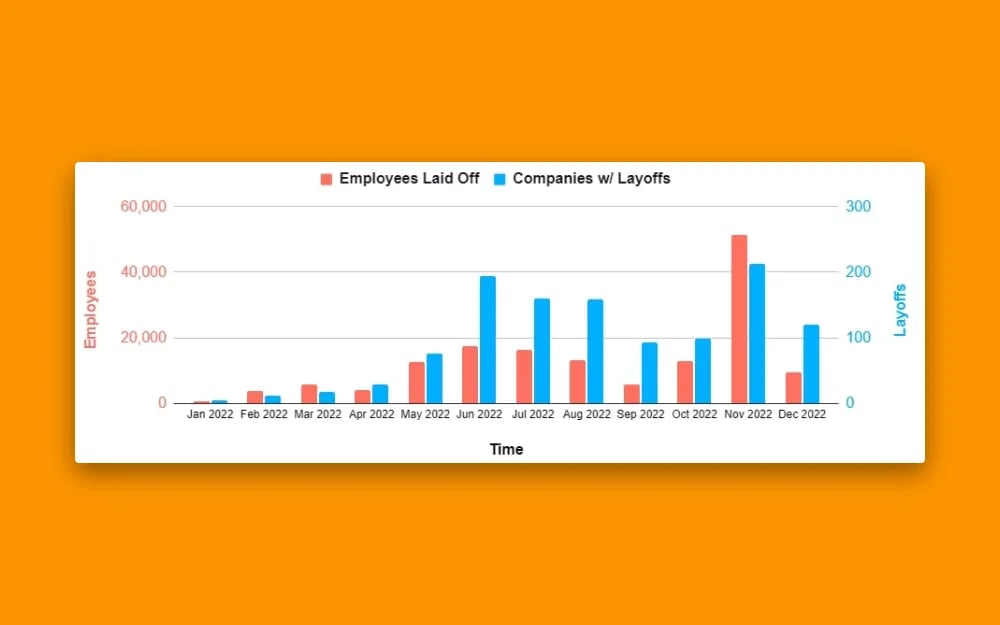 An in-depth study by 365 Science found that the tech layoffs affected over 150,000 people in 2022. This wave continues in 2023, with over 68,500 new job cuts in January alone. So even if your company has not started any layoffs, you should prepare for the possibility.
Learning how to work efficiently is important at any time, but even more so now. Motivating your employees to do so will give positive outcomes later. For example, if salespeople are having difficulty reaching clients by phone, a strategy to put in place is adapting a live chat feature.
That way, salespeople will be free to use their time in other ways instead of just cold-calling prospects who may or may not turn into customers.
As a sales leader, you should also invest your time in team building and ensuring you have the right people. There may come a time when you will need to lay off some staff. You will need to be certain that you choose A players who stand out from the rest of the team members.
2. Improve your online footprint
As a sales leader, you should be concerned about whether prospective customers are finding information online about your company. Undoubtedly, you want to be one of the first companies a customer finds when looking for whatever you sell.
Investing in online marketing, such as Search Engine Optimization (SEO), search ranking, and online ads, will bring more prospects to your website. In addition, the cost for these investments is on the lower side. So, they are a creative and easy way to reach more customers and build customer loyalty.
If you're eager to discover practical tips on scaling your business effectively, consider reading Hostinger's guide on how to scale a business.
Making your offline marketing meet your online efforts
You should also consider investing some time in synergizing your online and offline efforts. A good first step to get the ball rolling could be including a QR code near the checkout area of your store or near reception.
This suggestion is backed by data. 59% of respondents in the US believe that QR codes will be part of their phone usage for the long haul, and 75% of respondents are eager to use more QR codes in the future.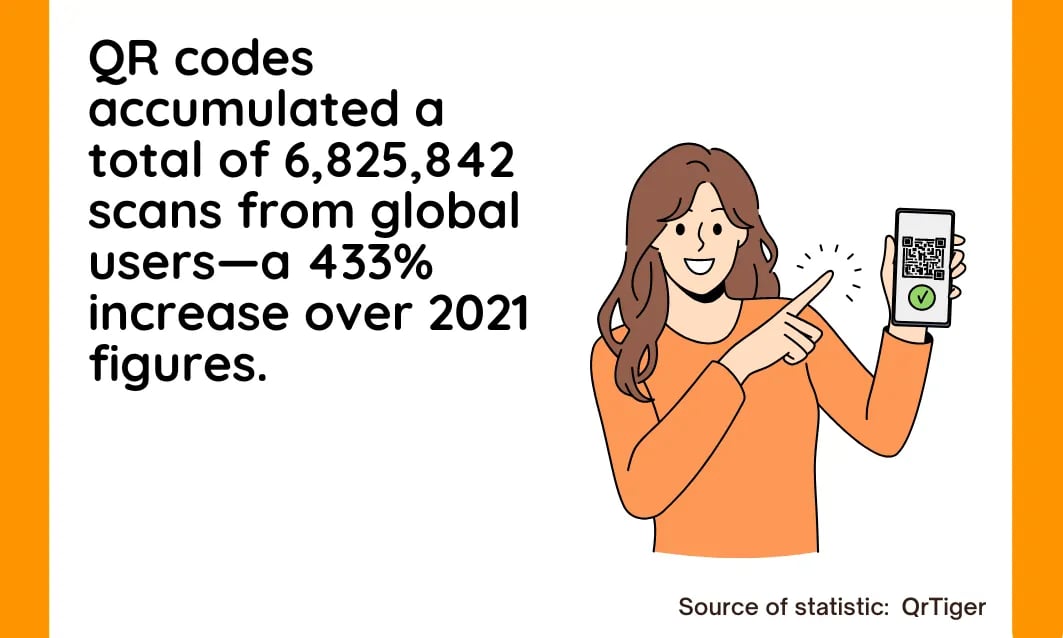 The code can be used to connect customers to your website or have them connect with you on social media.
Having customers engage with your business online helps you stay connected with customers.
You can do this by promoting offers that are relevant to their previous purchases or making sure they know you care by sending over a satisfaction survey for them to complete if they have made a purchase in the recent past.
If you are a more service-oriented business, you could use a tool like GetAccept to connect your customers with personalized videos, case studies, and proposals.
Who says digital marketing cannot be face-to-face? If you know what you are doing and using the right tools, selling digitally could simply mean an extension of your office.
As an example, here is a sales funnel for a law firm that includes the usage of a QR code and GetAccept: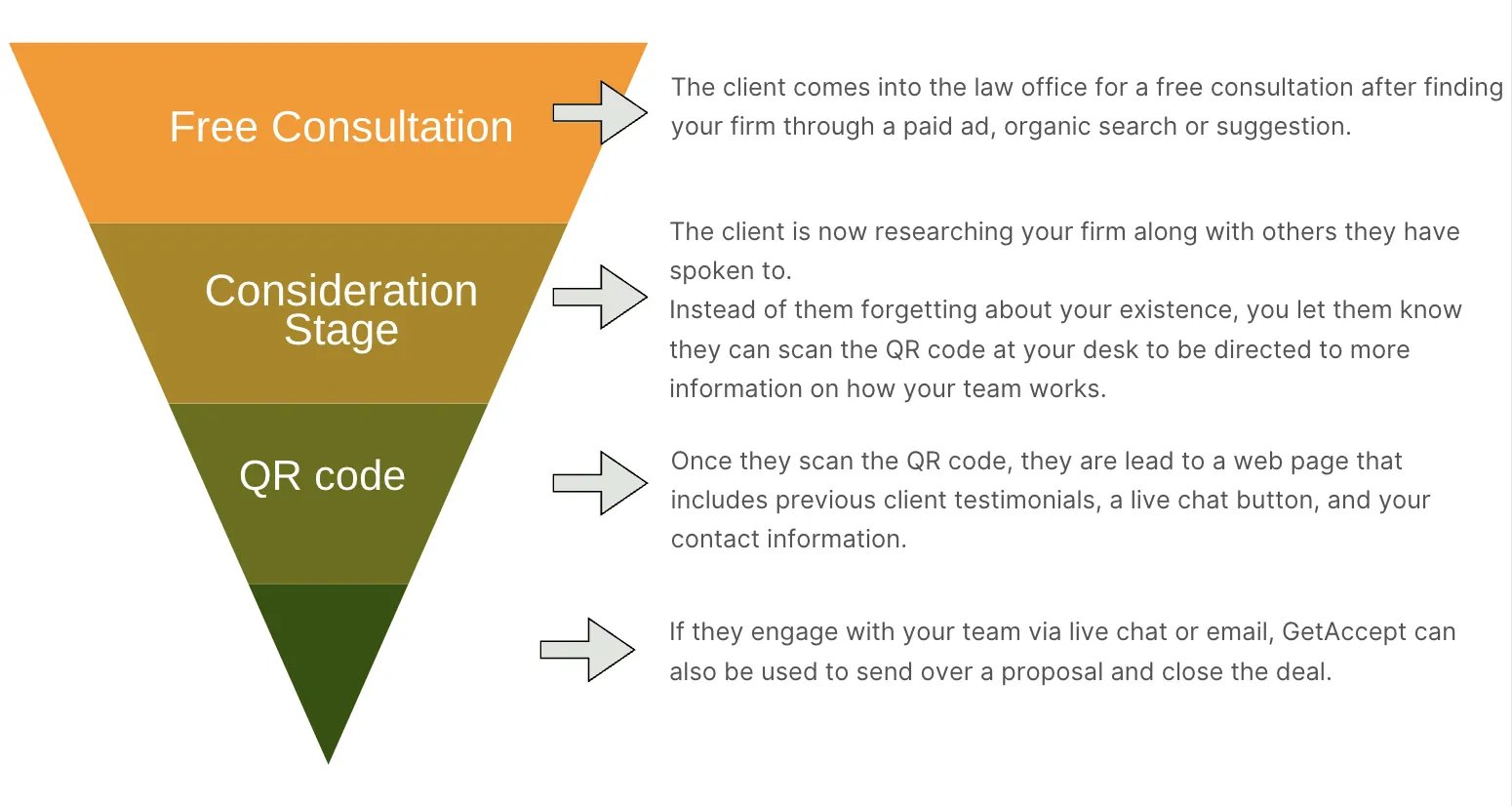 3. Adopt all-in-one platforms instead of point solution tools
A point solution tool is any tool that addresses or resolves a single use or challenge in a business.
Examples of this tool are room booking, helpdesk, space management, and maintenance planning software. Essentially, a separate point solution tool would be needed for each need.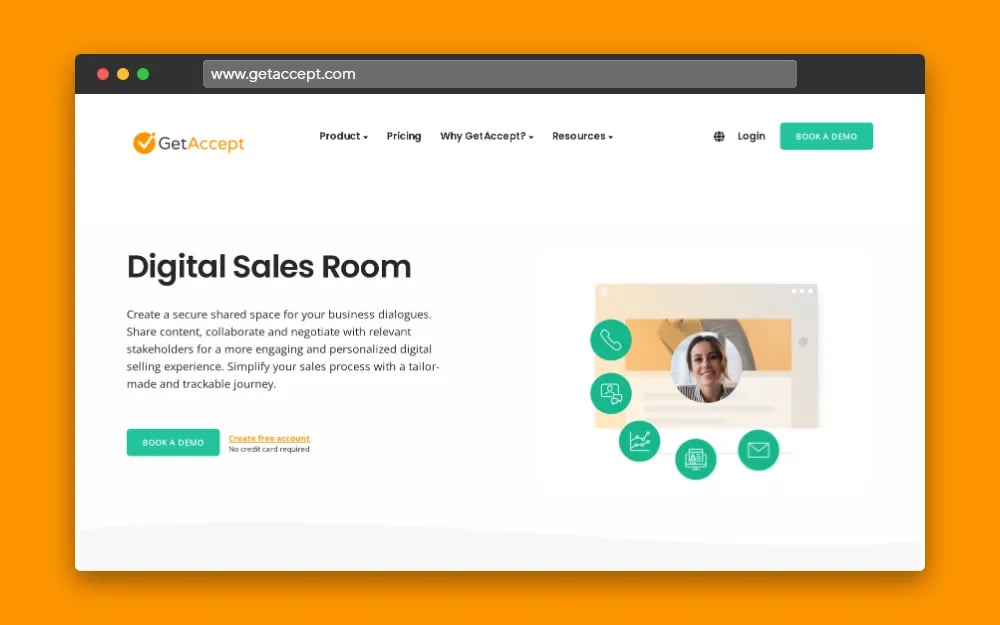 An all-in-one platform, however, offers several different features all in one place. Instead of having to use a separate tool for different functions, everything is centralized. An excellent example of this is GetAccept's Digital Sales Room. This all-in-one platform empowers teams to increase win rates. They can engage and understand buyers from the beginning of the opportunity to the signed deal.
Sadly, 9 in 10 companies use 2+ lead enrichment tools to learn more about prospects. Instead, they could adopt GetAccept's platform and consolidate their prospecting. Not only will this save money, but it will also facilitate the salespeople's process.
GetAccept offers all-in-one content creation, sales interaction, document tracking, analytics, proposals, quotes, sales on autopilot, and secure electronic signatures, all within its program. Your sales will increase while your budget sees a boost since GetAccept eliminates the need for point solution tools.
4. Evaluate your current tech stance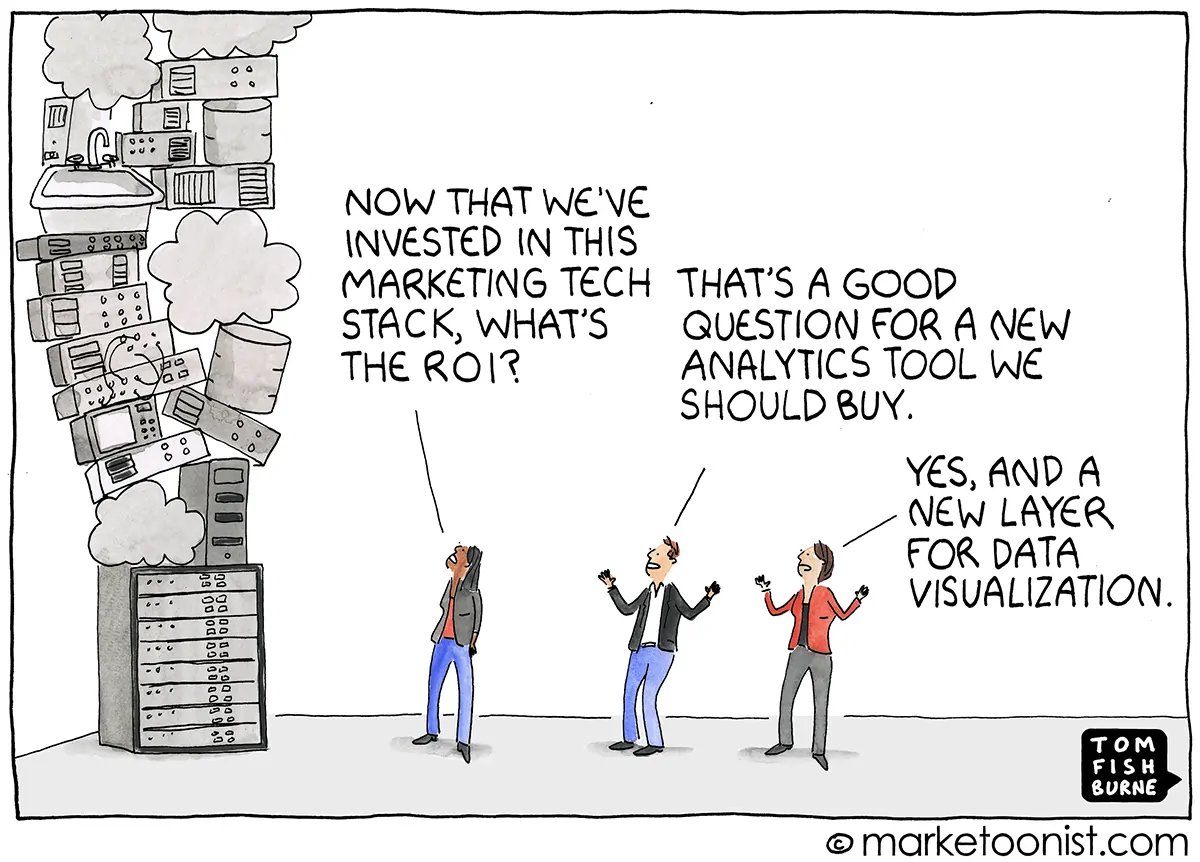 (Image source)
As a skilled sales leader, the first place you should start looking to save money is on programs that your company uses.
Here are some things you need to evaluate:
What programs do you currently have?
Make a list of all the programs your company uses for different things. Once that list is complete, start researching what each program accomplishes. Have this list ready as you further evaluate your current tech stance.
What is the cost of the programs?
You should know how much your company is spending on all these programs as a whole. Although one program for this and another for that does not seem like it would be that much, the truth is that those costs add up quickly. They may even be significantly more than one would expect.
You should also make sure that you are not using a paid service when a free option is available. This is a pretty common occurrence in the world of online software since a lot of lesser-known (and cheaper) options are not as popular.
What tech needs do you still have?
In your current state, are all your tech needs taken care of? Or are there still things you feel your company could benefit from but are currently not doing due to budget restraints? Even though you are looking for ways to cut programs, you still should ensure that your salespeople have all the tools they need to be successful.
Once you have this data, you should move on to your tech stacking strategy.
5. Consolidate your tech stack
Once you have evaluated your current tech stance, define what you can do to consolidate your tech stack. This means looking at the list you made of features that each program you use has, then cross-checking them to see if any are overlapping.
The truth is that many programs are only point solution tools and do not offer many different features in one place as a platform does.
However, once you know what your tech needs are and what you currently use, you can find an all-inclusive platform with everything you need in one place.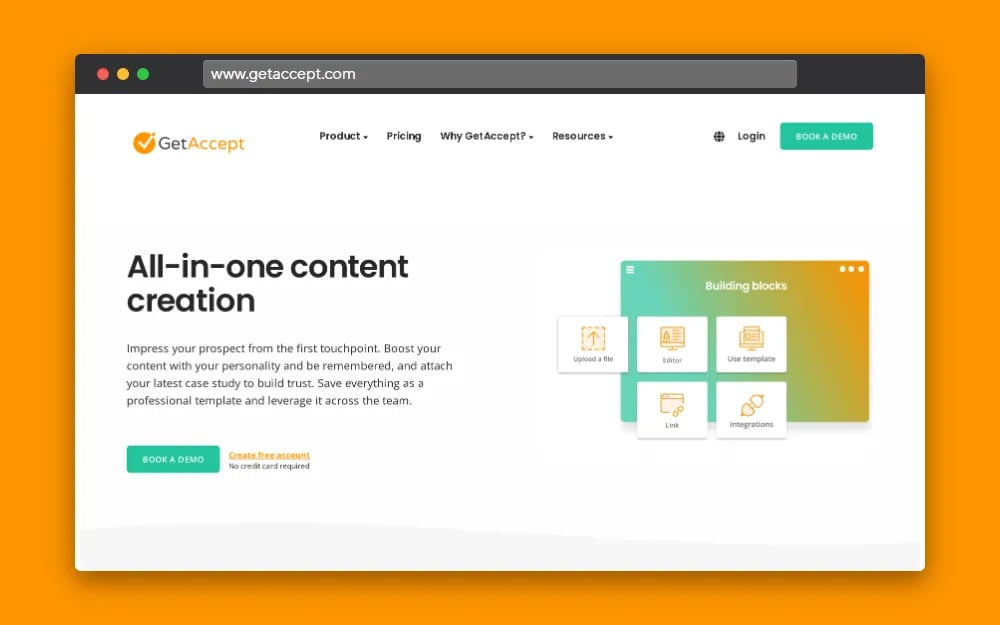 GetAccept, for example, offers sales leaders the opportunity to empower their salespeople. The Digital Sales Room accelerates the sales cycle, delivers a superior buyer experience, and improves the average-performing rep by 30%.
The CPQ GetAccept offers an automated quote generation process from within the CRM to ensure salespeople spend more time selling and less time correcting data or toggling between tools.
The sales templates enable salespeople with strategic collateral and communication methods. This allows them to increase quality in early-stage deals and quickly send proposals for a seamless close.
Instead of having three different point solution tools, you can use GetAccept's all-in-one platform to ensure your salespeople's success.
Why is consolidating your tech stack so important?
Consolidating your tech stack is a quick win toward saving money. Not only because there are fewer monthly subscriptions, but it will maximize the outflow of your workforce.
An all-in-one, consolidated platform will reduce complexity for your salespeople. It will also allow them to turn their focus to what they do best: selling. Your team will spend time finding new prospects and increasing sales. This will remove feelings of frustration with the administrative side of things.
To ensure you are getting the max capacity of the platform you select, you should track and measure identified key target areas. This will allow you to quantify if the platform is reaching and surpassing your needs.
Final thoughts on how sales leaders can boost efficiency and save money in the economic downturn
In this upcoming year filled with so many unknowns, the best thing a sales leader can do is prepare for uncertain times. Simple things like cutting down expenditures and increasing efficiency are easy to implement and certainly quick wins.
Other, more difficult decisions, such as whether to lay off staff or cut certain programs, are harder to conclude but still very necessary.
Regardless if there is or isn't a recession in 2023, as a sales leader, there is one thing you can always implement that will benefit you, your team, and your company: consolidating your tech stack. Finding the right, all-in-one program is key to consolidating efforts and expenses.
With GetAccept's platform, you can rest assured that it has everything you and your sales team need. The program will easily increase visibility into deal progress and performance. It will also reduce the number of tools in your sales tech stance while creating a single source for sales enablement collateral.
You will enhance your customer's experience by eliminating the need for constant back and forth of emails. GetAccept's Digital Sales Room allows in-person engagement with your prospects through quality interactions via personalized videos, real-time chat messages, and automated SMS.
Certainly, the best thing you can do to boost efficiency and save money in an economic downturn is to consolidate your tech stack with a platform like GetAccept.