Don't you just love the feeling of being on top of things? We sure do. One thing that really helps us get there is organizing our documents and content in a structured way.
Up until now, this has been quite a time-consuming process in GetAccept, forcing you to edit things one by one.
Editing one by one is a thing of the past - let us introduce bulk actions!
Organize your content library
Folders are a great way to keep your templates and resources organized, and with bulk actions, it's really quick and easy to move things around (or delete them if you need to). Simply select your files, choose which action you would like to take, and voilá - you're done!
Stay on top of your documents
As your list of documents grows longer, bulk actions help you stay organized with minimum effort.
Add

Tags

for easier filtering

Edit Reminders to update when they go out
Change owner for a draft to help a coworker in need, and change back after it is signed to keep track of renewals and expiration dates
Edit expiration date to give your recipients more time
Download your selected documents as a .zip-file
Select and Delete all those drafts or documents that are no longer needed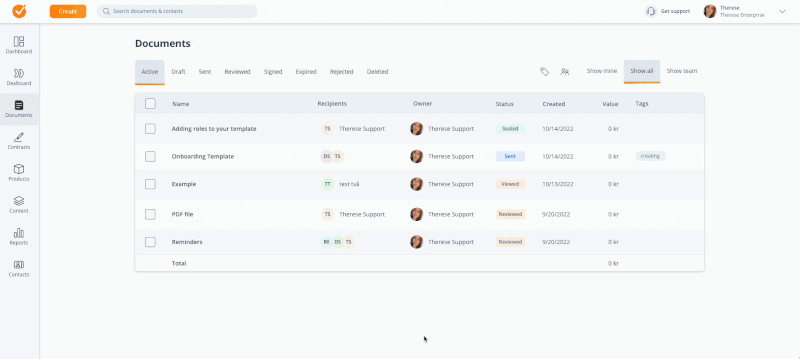 More details on how these all work can be found in this help article
Easily handle your contacts
Got documents meant for a larger audience? Don't enter all their contact information manually - import it! And now you can just as easily download your contacts information to be used elsewhere - simply select and hit download. Effortless and efficient!
Check out this help article for full details on bulk upload and download of contacts.
What would help you work even more efficiently in GetAccept?
We'd love to hear your ideas! Get in touch at marketing@getaccept.com