Like it or not, artificial intelligence is here to stay. Whether you embrace it may make the difference between a sales quarter that's in the black or sinking deep into the red.
Adopting AI into their everyday practices has been clunky for many business executives. Chatbots are painfully noticeable, whereas "automated" systems are anything but automated due to the massive setup they require. No one would ever trust that software with their precious sales leads.
Except now, AI has advanced to a level that many never anticipated. It's become so ubiquitous in everyday interactions that we most likely don't even notice it. And if users do notice it, they usually don't care. According to a Survey Monkey and Drift report, only 38% of customers even want to talk to a human when dealing with a company. They actually prefer chatbots.
Which is precisely why it can be so valuable. When your customers don't see the difference between an AI setup or a sales team member (or don't care), it's a game changer in more ways than one.
Why should I use artificial intelligence for my sales staff?
The decision to use AI isn't without its own pitfalls, but there are a few ways in which it shines, primarily in efficiency.
Saves time
The more time your sales team has students spend inputting data and sifting through endless amounts of leads (qualified or not), the less time they have to handle high-value targets. A 2022 report by SnapLogic found that a whopping 89% of employees believe AI could handle at least half of their workload.
Most AI software will do much of this heavy lifting for you — siphoning through emails and correspondence to see which ones are worth your team's time. It also helps automate processes by providing sales and follow-up email templates to enable reps to focus on interactions that require a more personal touch.
More accurate
No matter how skilled your sales team is, there'll always be an inevitable miscalculation. Data will be misrecorded or misinterpreted, leaving gaps your competitors can exploit.
AI software is ruthless in its efficiency, making sure that every jot and tittle is recorded accurately. Although the software is only as good as it's been trained, once it is set up, you won't have to worry about the accuracy of its reports nearly as much.
Automated reporting
The difference between sales teams that close leads and those that watch opportunities pass them by could be a matter of only a few days or hours. When a lead is hot, you want your sales team to pounce on it as quickly as possible to secure the client.
Since software analyzes data nearly instantaneously, it can send notifications to relevant team members that need to jump into action. Managers can also analyze these interactions in real time, making note of performance issues or gaps in their pipeline. We should also not forget the importance of competitive analysis tools, which help us save a lot of time.
10 sales tools that'll help your sales team close more deals
While AI software will never be able to replace your sales staff, the tools listed below can be of great help. They generally fall into a few categories – reporting, communications, coaching or training – but some juggle multiple responsibilities.
Having the right set of tools, along with top talent, are factors that greatly impact a company's sales performance. One role still foreign for many is the Chief Revenue Officer (CRO), but what does a CRO do for your business? In short, this position aligns and leads all revenue-generating departments, like marketing, sales, and customer success. This alignment among teams and a top-notch AI toolset can make your sales revenue go through the roof.
Nearly all of them work with your current CRM, but be sure to check the available integrations to ensure they're fully compatible.
1. MindTickle
One of the hardest things for sales teams to overcome is when their star performer leaves the company. Their clients often get shuffled to other team members who may not be as familiar with the client, and revenue for the company inevitably takes a dip due to a loss of talent.
The best way to protect yourself against this inevitable circumstance is by improving ‌training and performance levels across your entire sales team. Ideally, all of your sales team members would become top performers in their own right, creating a turnkey operation where one staff member can seamlessly integrate into another area.
Using AI to analyze your team members' performance across every stage of the sales process, MindTickle's revolutionary product provides valuable coaching and training recommendations customized for each individual. MindTickle will monitor their phone calls and emails with clients and suggest different ways by which they can optimize their interactions.
Managers can access this information to give individual sales team members extra training in a certain area or add to their onboarding process for new sales staff. Over time, it'll create a culture where everyone is expected to continually improve and will usually do so without being prompted.
Instead of leaning heavily on your top performers, it'll create an entire staff that's well-trained and can handle virtually any scenario.
2. Conversica
If your sales staff wants to close leads, you need to make sure they're in constant communication with all potential leads, regardless of which stage they are in the sales funnel.
The problem is most sales staff don't have the time to handle every conversation that needs to take place with inbound leads or maintain constant communication with all the clients they're currently engaged with.
Using artificial intelligence, Conversica automatically follows up with all leads through chatbots, emails, or even text messages. They automate the acknowledgment messages that are usually the initial touch point between the client and the business. This frees up your reps to spend more time on high-value sales interactions.
Doing this keeps your leads warm, accelerates the sales cycle, and moves leads faster through the funnel.
If you truly want to double down on your artificial intelligence software, you can even use AI copywriting software to develop templates for your outreach. These will identify valuable keywords that'll draw the attention of future buyers and implement them into your outbound messaging.
3. Clari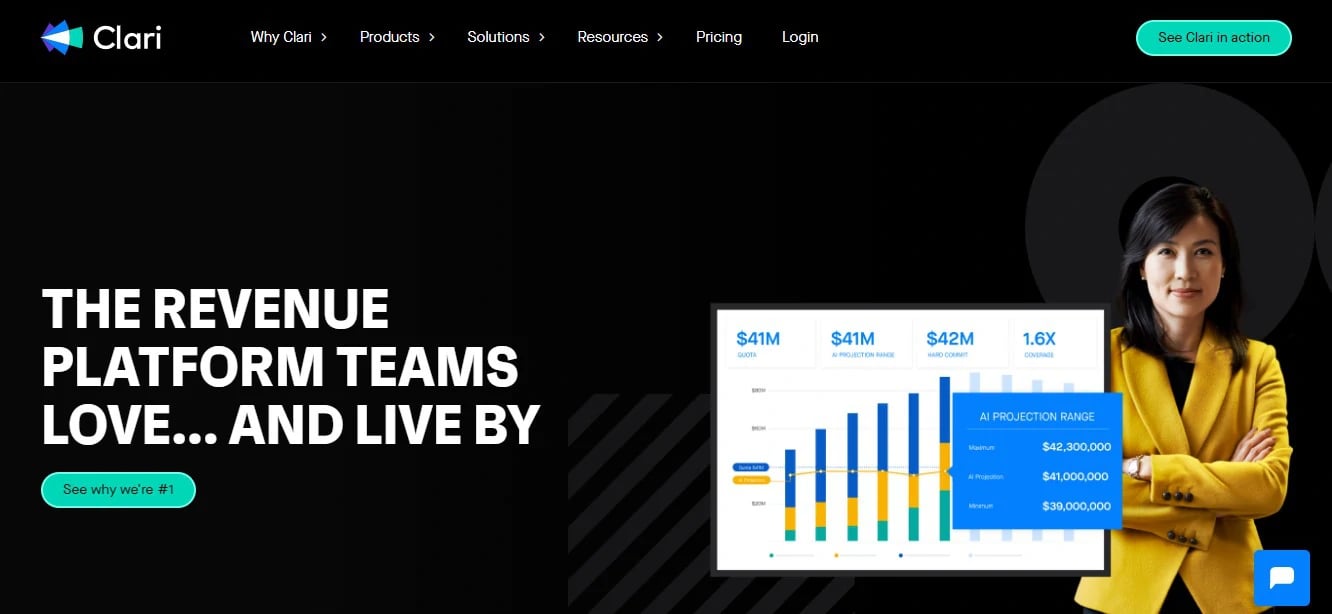 No business has a crystal ball, but the responsible ones try to peer into the future by creating sales forecasts that can accurately estimate revenue over the next several months or years. These forecasts are vital in ensuring the company doesn't over-extend itself and its investments. The more realistic projections can be, the more a company will know what to prepare for.
Clari helps with this by automatically gathering and synthesizing the data from your internal communications, marketing outreach, and just about anything else to create real-time insights into your organization's future. They can identify the deals that are most likely to close, then share those forecasts with any decision-makers you appoint.
Not only are these forecasts more accurate, but they also eliminate the time wasted on manual data entry by your staff. Since it uses AI, it's also constantly updating itself, ensuring you have the most accurate projection possible.
4. Troops
Revenue projections are valuable, but insight into today's performance can be just as important. Troops — and AI-based software that connects your CRM with messaging apps like Slack — pulls back the curtain on your sales pipeline, notifying you every time something happens that may significantly impact your revenue.
If one of your sales team members has a deal that needs to be closed or a product update that isn't being communicated to the customer, Troops will let all relevant team members know. If necessary, you'll be able to draw on additional support to close deals or allow managers to step in to give more hands-on support.
Troops also helps with sales forecasting by analyzing your current funnels. By giving real-time insights and increasing your visibility of all the different processes inside your business, you'll be able to position the resources where they'll have the most impact.
5. Gong
While some AI software will monitor and analyze your interactions with clients, Gong will actually record and transcribe your sales calls for training purposes. It'll record audio and video, as well as any screen shares and presentations you may do on calling apps like Zoom.
Gong will also analyze your sales calls so other team members can learn from the customer interactions. For example, HelloRache is a company that provides virtual receptionist services and can analyze if a seller spends too much time talking and not enough time listening. Gong will recommend decreasing their talking time to allow the customer more space to vocalize what they want. These types of tweaks will do wonders for your team's performance.
The only caveat to using Gong is that you must inform customers that certain calls are being recorded. With privacy laws in effect, this can potentially cause problems for your company if not implemented. As part of your standard operations, though, Gong can shine a light on previously-unnoticed areas your staff can improve.
6. Drift
While chatbots have been around for several years by this point, AI chatbots are just now beginning to make waves. Instead of setting up a few prerecorded messages and then forwarding those conversations to different people within your organization, companies like Drift can engage leads with authentic, human-style messaging.
Drift can even initiate conversations with potential customers that your sales staff may have forgotten. They can be set up to reach out to clients who are revisiting your site or send a follow-up email after a certain period to gauge interest. They can even automatically set up appointment times for your staff when coordinated with your calendar.
Another unique feature of Drift is to track the ideal time of engagement with clients. Instead of sending out an email at an odd time of day that may get lost in the shuffle, Drift can monitor similar encounters and correspond at the optimal time.
AI chatbots can be a very useful tool in several industries. For example, it's fundamental in real estate as they can have conversations with prospects attracted through digital marketing strategies. Luxury Presence, a real estate SEO company, highly recommends adding real estate chatbot software to ‌agents' websites to help convert these leads to clients, gain trust, and increase engagement.
7. Crayon
The challenge with performing competitive research isn't only collecting the relevant data but knowing which type of data to interpret. With so many more businesses entering the arena than ever before, it's imperative that businesses have access to competitors' movements in real-time. Product updates, pivots and messaging, and personnel changes can change the landscape virtually overnight.
By analyzing up to a hundred different data types from various sources, Crayon allows businesses to target gaps in the marketplace. They can look for key competitive signals and set up alerts to deliver those competitive insights to team members to act on.
But collecting ‌data isn't enough. Crayon also works to sift through the "noise" to identify the intelligence relevant to your business. That way, you have the most pertinent information you need right at your fingertips, ready to deploy.
8. HighSpot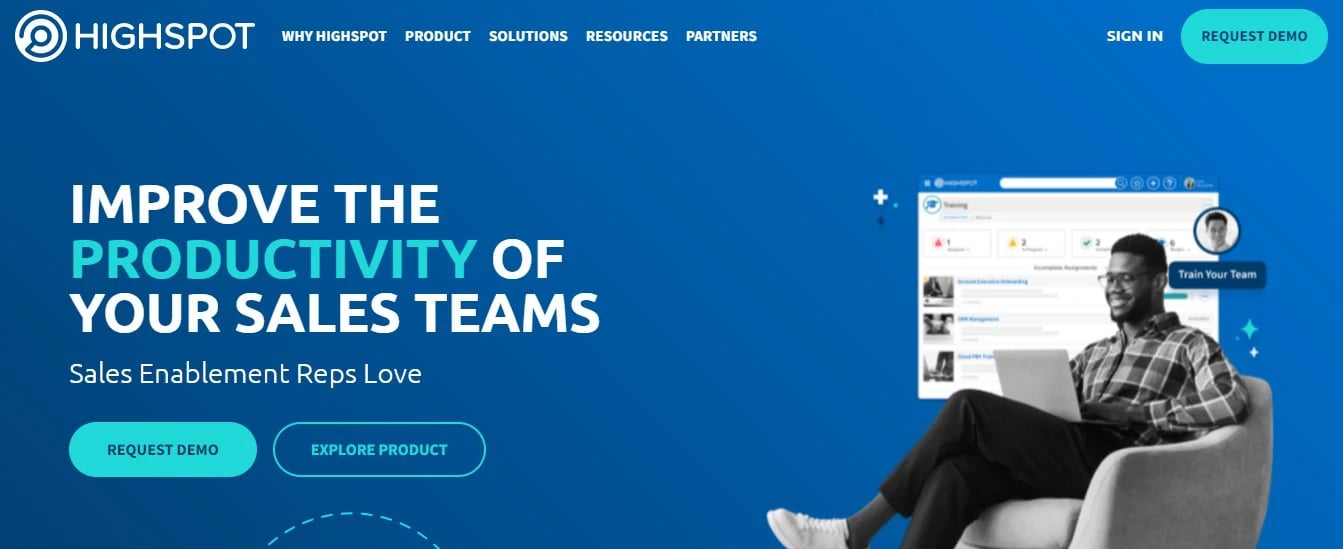 You can have the best salespeople in the world, but unless they're aware of the innovations that are constantly happening in your company, they'll be ineffective when it comes time to interface with the client.
That's why AI software like HighSpot is so important. It identifies resources and other information that your salespeople need about different products, initiatives that you've recently undertaken, and best practices for using them.
In short, HighSpot is a fully automated, personalized sales playbook for each sales team member.
Since not every salesperson needs to be aware of everything happening inside your business, HighSpot only delivers what's absolutely necessary. It also analyzes that person's sales performance and uses that data to coach them further. By doing this, HighSpot cuts down on training time and increases the productivity of your entire sales team.
9. GetAccept
GetAccept was a category leader in G2's winter 2023 Digital Sales Room category. The reason is simple — GetAccept streamlines the sales process.
Its intuitive design brings sales teams and stakeholders together for convenient, real-time contract management. Everyone can meet in a digital sales room, discuss proposals, and review documents together. No more worrying about someone not having the most up-to-date copy of a proposal.
This tool is the best of both worlds, as it features the latest tech without sacrificing the human touch.
Your sales team will swoon for time-saving automation like reminder emails, SMS, and even video. Watch hit rates soar with unique, personalized video messages set up to send automatically.
GetAccept also lets you brand everything from start to finish, so your message stays consistent, and every message builds familiarity and trust with your customers.
And they didn't forget analytics.
From notifications that lead to better collaboration to insights that generate better proposals, the detailed and real-time tracking and analytics GetAccept provides are game-changing.
10. BenchmarkONE (formerly Hatchbuck)
Most of the AI software on this list has something to do with messaging. Whether that's automated correspondence with potential customers, monitoring interactions during sales calls, or notifying managers about their pipeline status, staying abreast of relationships is the backbone of sales.
BenchmarkONE takes this up a notch by giving your salespeople priority notifications when a customer is ready to buy. They monitor your assets and notify team members when they exhibit certain buying behaviors, such as scrolling through a conversion-focused page or clicking a certain link. The salesperson can then reach out and initiate a warmer sales call.
By pinpointing which channels are worth investing in for your company and rerouting assets to take advantage of opportunities, BenchmarkONE has the ability to make an immediate impact on your bottom line. This level of understanding is almost impossible without some form of artificial intelligence.
Which software serves your needs?
No matter what your sales team is like, there's always an opportunity to improve. By utilizing one or more of the above AI tools, you'll be able to elevate your team members across the board and close leads you may not have known about otherwise.