More conversions and deal closures are the ultimate goals of every sales meeting. To achieve such goals, sales reps need to be well-prepared in advance and not lose out on a high-value deal due to a lack of foresight.
That's when setting an out-of-the-ordinary sales meeting agenda lets sales reps crush their deal closures.
A sales meeting agenda puts your sales reps in the driver's seat. It helps them control and move the sales meeting's direction in the right path of winning the customer.
This article will lead the way if you're clueless about creating a super-effective sales meeting agenda for your sales teams.
What is a sales meeting agenda and its benefits
A sales meeting agenda is the outline or blueprint of the upcoming meeting for sales prospecting. It helps your team stay on track, productive, and confident about the outcome. While being effective, a sales meeting agenda should also provide flexibility to your sales reps and ensure a healthy flow of conversation.
Here are some of the main benefits of having a sales meeting agenda:
Motivates the sales team to face prospects confidently as the agenda outlines the points to be covered during a meeting.
Helps build your team's knowledge around the company's products or services.
Gather all the right information beforehand to help your sales team handle objections better and close a deal rapidly.
Ensures the conversation stays on track and does not dwindle at any point.
Keeps your sales team effective and lets them concentrate more on deal closures rather than planning.
So how to create a sales meeting agenda and set your team up for success? Let's find out.
8 steps to create an effective sales meeting agenda
1. Set a clear goal for the sales meeting
Having a goal set well ahead of the meeting lets your sales reps and prospects stay on the same page.
You can set a goal in two steps. First, ask yourself what you want your team to achieve from the sales meeting. Is it to provide a quick demo of the product? Is it to understand the pricing? Or do the prospects wish to assess if your product or service is a great fit for them?
Whatever the goal may be, ensure it is also relevant to your prospect. So the second step is to directly reach out to your prospect before the meeting and get their feedback.
Once both parties are on track, you have defined a meeting goal and are ready to execute it.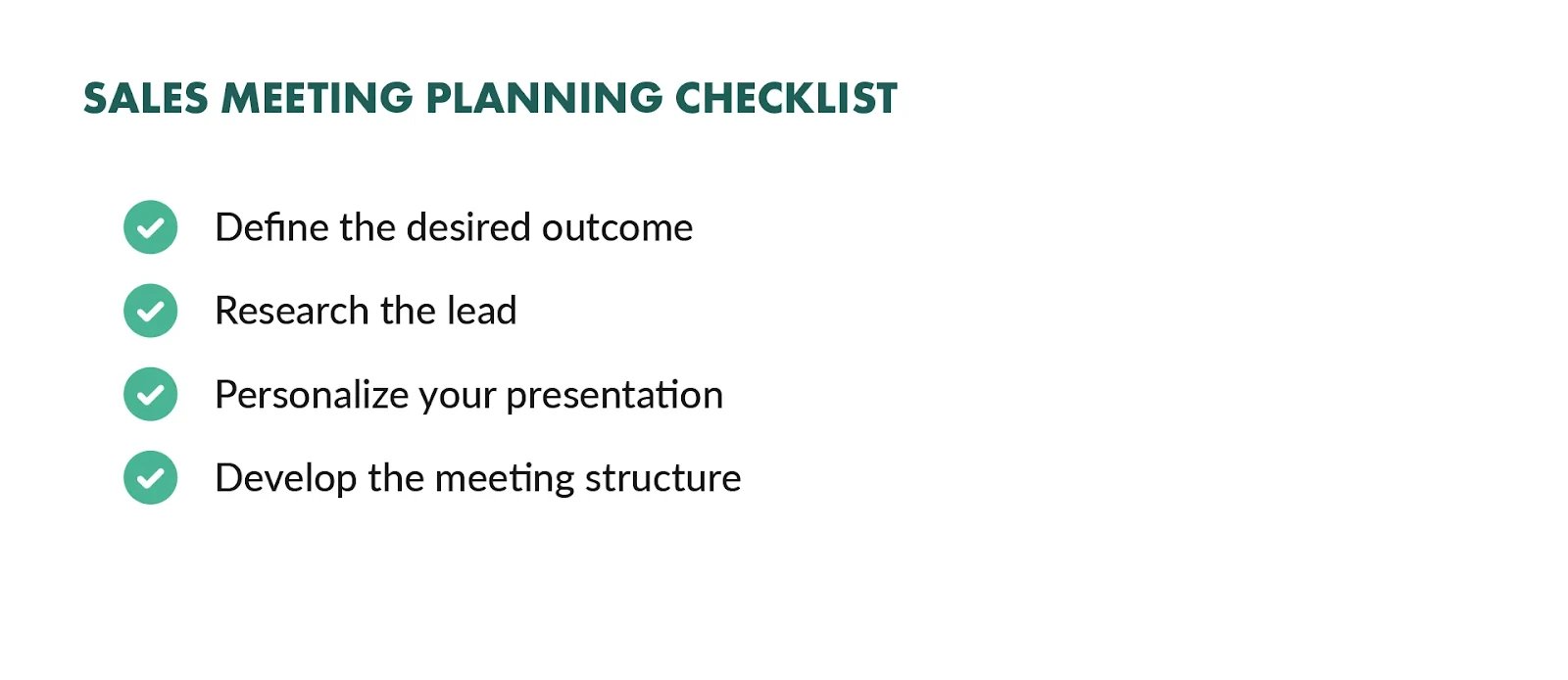 2. Start researching your prospect inside out
You may have already done basic research before zeroing in on your prospects. But the current research from a sales meeting perspective must be more in-depth.
The intention is to understand your prospects, their position, and the company inside out so that the meeting can have natural talking points. And thanks to social media, researching people is just a few clicks away.
Since most, if not all, prospects hang out on LinkedIn, it's only wise to start your research from this platform. Scour through their profiles, updates, company pages, and anything you may come across that seems attention-worthy.
You could also research the company on its websites to clearly understand its services, pain points, and problems.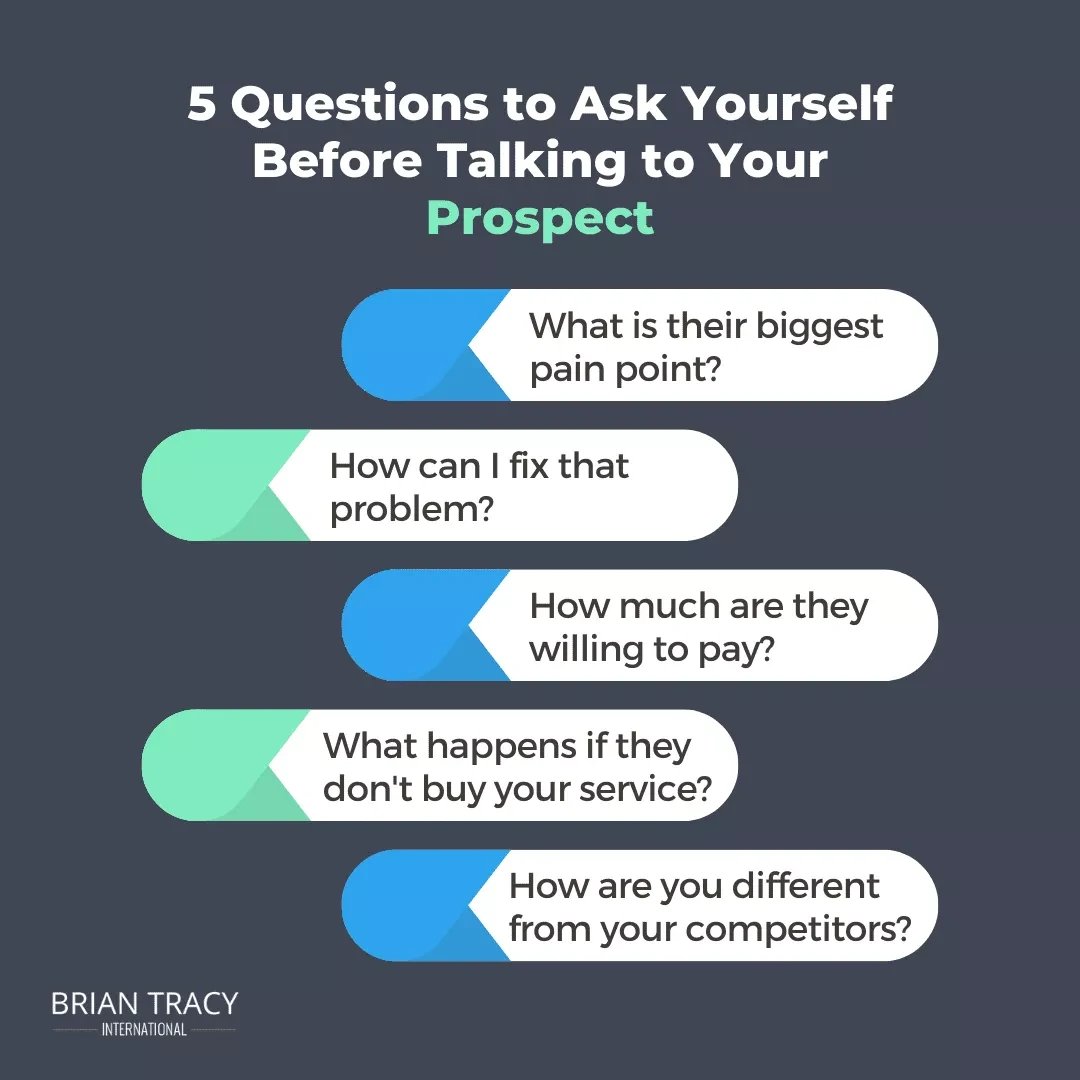 It helps a lot to have clear customer personas and customer journey maps. This way, you have a great deal of customer intelligence insights to draw upon and ace your prospect researching process.
3. Set an approximate flow or timeline for the meeting
Sales meetings must naturally flow through without sticking to strict timelines. This does not mean that timelines are all that bad.
Having loose and flexible timelines lets your sales team stick to the meeting's goal and come to a conclusion by the end of the conversation. So set an approximate flow that ensures both your prospects and the team's time are not wasted beating around the bush.
For instance, you can set a 30-minute or 45-minute slot for the entire sales meeting, of which only the first 5 to 10 minutes should be kept aside for small talk and greetings. You could have a sales call script handy to execute this more efficiently.
By fixing an approximate flow or timeline for the sales call, you leave no room for unnecessary follow-up meetings that may consume your team and prospect's time.
4. Personalize your sales pitch to each prospect to build trust
How to leave a lasting impression on a prospect? By personalizing the sales pitch instead of generalizing it.
Personalization adds the much-needed human touch to business-to-business selling.
Here's how you can personalize your sales team's pitches to build trust:
Create a great first impression. Send engaging presentations as sales pitches that are tailored to each prospect.
Stand out through videos. Use video content to build a better relationship with your prospects and to induce trust.
Craft optimized sales content through accurate information, use consistent branding and offer smoother transitions through the sales funnel.
These small yet effective tactics can help your sales reps propel the deal closure forward and improve sales performance.
5. Focus on the prospect's problems and pain points
You may have already gathered some of your prospect's pain points during the research phase. But now, the point is to hear them directly from your prospects and guide the conversation.
This step ensures your team does not end up talking about your company's solution for a long time and concentrates on the prospect's objections, if any.
You can ask questions beforehand, like:
"What was the biggest drawback of using the X product/service?"
"Which competitor are you the most worried about?"
"What's your company's stance in the current competitive market?"
"What's your company's objective with this project?" And more.
Asking such open-ended questions lets you set a clear agenda and leads to an extra productive sales meeting.
6. Showcase your successful case studies for solid social proof
The results speak for themselves. Once the team finishes the previous step of understanding the prospects' pain points and objections, it's time to talk about your company's wins.
Case studies turn claims into factual pieces of evidence. They let prospects visualize their potential results and trust your efforts.
Research suggests 92% of B2B buyers trust reviews before making a purchase decision. And case studies as forms of social proof are not any different.
Here's a snippet that shows how social proof affects buyer behavior: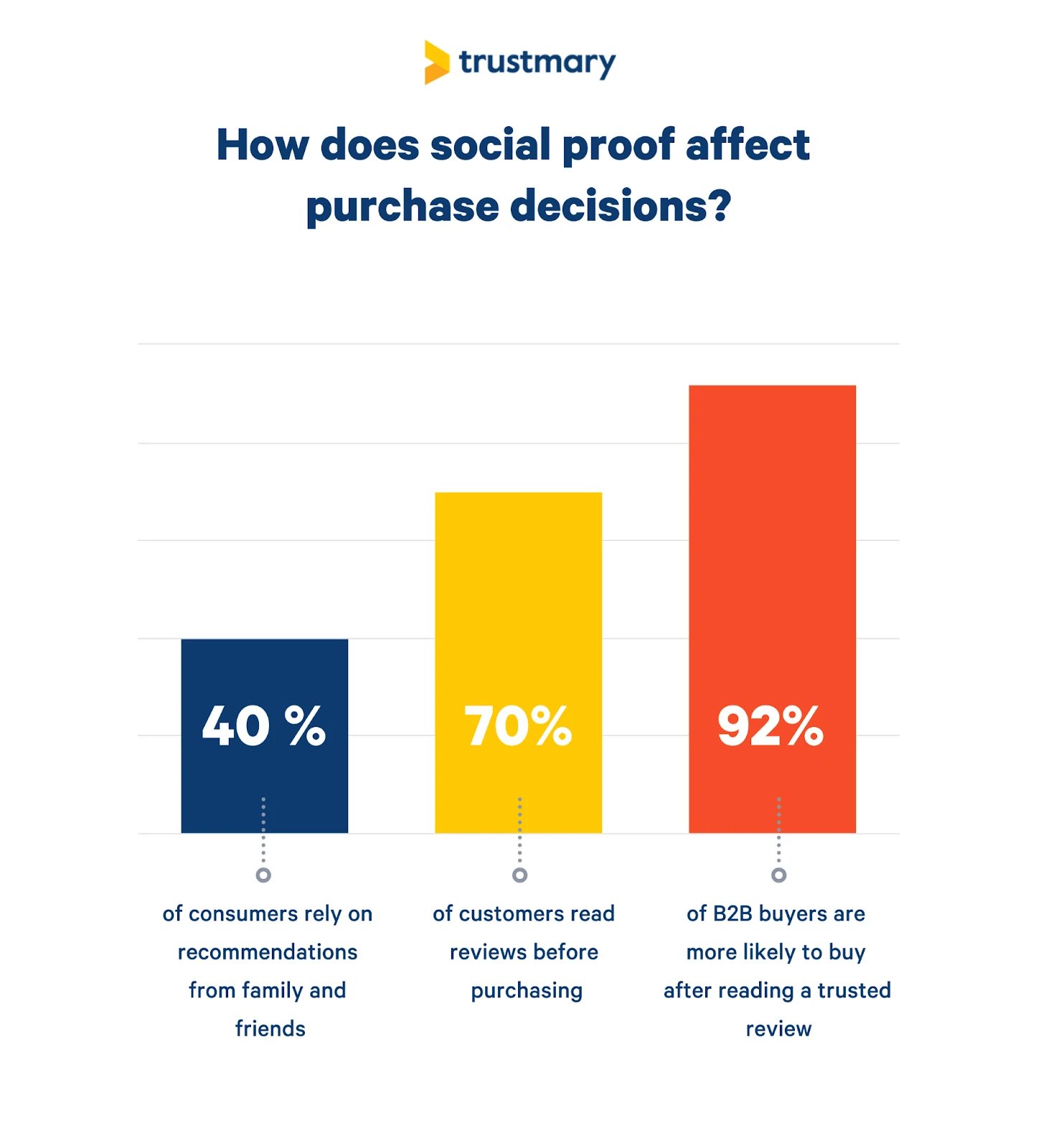 But before you share your wins, remember that the prospect must resonate and picture themselves in your success stories. Say the prospect is from the healthcare industry, then you must ensure the team is ready with a case study from a healthcare industry or a company that dealt with similar problems that your company helped solve.
7. Listen to all your prospect's questions
While setting your agenda, make sure there's always room for your prospects to ask questions. Do this so that the meeting is not one-sided and gives your prospects enough time to fully engage and understand your product or service.
A simple "Do you have any questions at this point?" or "Do you wish to share any ideas with us?" etc., go a long way toward ensuring a healthy meeting flow.
8. Close a meeting with an actionable call to action
Having a call to action (CTA) at the end of every sales meeting is critical to determine the next steps and action items to take the deal forward.
This way, both parties are aware of what to expect at the end of a call.
But what makes a CTA actionable? Here are some tips:
Avoid vague and general CTAs. Instead, set specific CTAs like "Let's schedule the next call in the upcoming week to discuss your budget alignment."
Set aside a fixed 5-minute window at the end of the sales meeting to ensure the team doesn't miss out on adding a CTA.
Create a slow transition to the CTA. Summarize the main points of the sales meeting and slowly transition into the CTA instead of awkwardly going at it all at once.
Pro tip: End the call and CTA by letting them know how to reach you for further queries. Provide your business phone number for reachability.
Wrapping up
These eight steps form the jinx of the ultimate sales meeting agenda checklist. They put an end to confusion and aid in building a long-term relationship with your prospects.
Above all, remember to personalize your sales proposals and help your sales reps be discreet by following the discussed essentials.