Pipedrive is known to be one of the more simple CRMs in today's sales enablement environment. For the original Pipedrive customers, you'll know that before the only fields available were those by default. Now, Pipedrive has updated its platform to enable custom fields.
This means that if you need to report on any other specific information you now can use the data in these fields for other documentation and filter using these custom fields as well.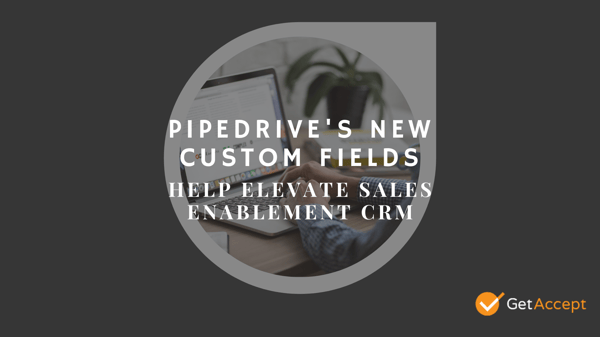 Why Customizing Your Fields Are Important
Every CRM comes we pre-defined fields which is helpful, but in order to have the best sales enablement process you will want to create your own custom fields. For those unfamiliar with what we're referring to - a field is simply somewhere you have entered the information. For example, a name or company.
CRMs will always have standardized fields based on any common information that is always needed. However, each individual company will need other key details which is why having the ability to create custom fields is so important. Your team's sales enablement process needs to be the most relevant for you and setting up custom fields will allow you to elevate this. Having custom fields allows you to set up more detailed filters and create tasks based on this information.
Using Custom Fields with Your GetAccept Template
If you have Pipedrive and GetAccept integrated - then you are likely using GetAccept to merge information directly from your CRM. If you haven't yet done so, we highly recommend getting familiar with that and you can find more information on how to do so here.
Previously, it was a bit limited with merging information from Pipedrive into a GetAccept template but we have updated our features along with Pipedrive to increase the amount of information that can be carried over. The available template parameters that you could merge from Pipedrive to GetAccept consisted of the standard ones we previously talked about. Now, you can merge custom fields to your templates and not have to worry about manually putting in any information for your send-outs.
These updated features are important to note because they continue to elevate your sales enablement process and create less manual work for you and your team. Each automation step that you can add to your workflow will allow you to spend your time elsewhere. It ensures less busy work for each send-out, which can help increase the number of documents you send and will be easier to manage overall.
__
GetAccept change and simplifies a seller's processes and allows the digital signing of the agreement to take place on the customer's terms with the seller's control. Read more about our product and how you can streamline your sales processes with sales enablement!