It's extremely important as a sales person to essentially be "on call" for your prospects whenever needed. It's best practice to always be prepared should they have a question or if they're ready to sign the deal!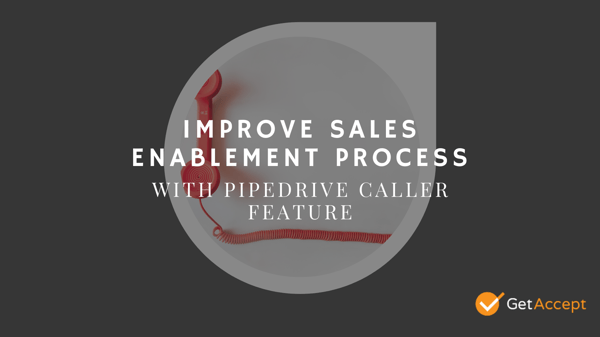 The best sales enablement tools will have a call feature right in the platform so you are able to quickly reach your prospect. Now, with Pipedrive's Call Feature you can stay on the line from your desktop version or your smartphone! This will be available to all customers on the Professional Plan.
Having the ability to choose to make a call from your mobile or desktop version will allow you to be the most engaged given the setting you are in. If you're on-the-go and need to use your smartphone to dial the call you'll have the option, or maybe you need both hands free to take notes, then you have the option to dial from your desktop.
Important features
Fast call tracking
Recording
Insights
Users will be able to see a new entry point in every Deal or Contact
Change in Caller Credits

Whenever you see your call credits running low you can easily add and manage control over your budget
Integrating Pipedrive with GetAccept for multiple caller feature options
Integrating Pipedrive with GetAccept is another great way to be easily accessible for your prospects and vice versa. The Pipedrive caller feature will allow you to easily reach your prospects but it's important that they are able to easily reach you as well.
Whether you have your Pipedrive connected to your GetAccept account or not, you still have access to make calls within GetAccept. However, connecting the two will save you time and it will be very convenient. This way you'll be able to make calls from within your proposal and also from within the CRM. With our Click-to-Call feature on your document, your recipient can easily reach you with one simple click.
Think about how much more fluid this will make your sales enablement process. When your recipient is deciding between you or a competitor and has a last minute question, they will probably go with someone who is easily able to be reached. Or, if you know that deal is about to go dark, think about how quickly you can get to them simply opening up your Pipedrive app. Make every effort seamless and meaningful.
__
GetAccept change and simplifies a seller's processes and allows the digital signing of the agreement to take place on the customer's terms with the seller's control. Read more about our product and how you can streamline your sales processes with sales enablement!