Webcast
Episode 2:
Sales Enablement
What the heck is Sales Enablement? In this episode we strip the word and give you our top tips.

Tune in to listen to Dailius Wilson, VP of Growth & Sales @GetAccept and Tapi Roll, Head of Business Development @SalesScreen together moderated by Frida Ahrenby, VP Marketing @GetAccept.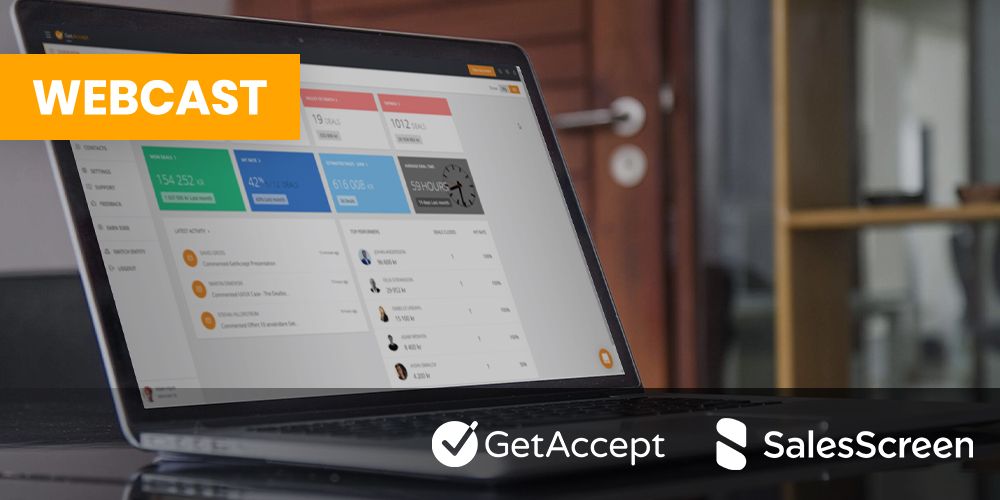 February 14, 2023
11:45 CEST / 15:45 EST
Our top Sales enablement best practices summarized
The definition of Sales Enablement - 3 EEE's
- Effectiveness: How to be effective and improve the way people are selling
- Efficiency: How to remove frictions and to move quickly in the cycle
- Equality: How to make sure to have equal access to tools and how to equally share techniques across the entire organisation
The sales spartan analogy - the difference between sales enablement and leading sales?
- Sales enablement: What's the weaponry that we give this army to succeed in battles, what's the tactics? What places or strategies have worked in the past that we can repeat again?
- Sales leaders are more actually the people on the ground leading those people
In other words, Sales Enablement is:
The process of providing the sales organization with information, content, training, and tools in order to help them engage with the buyer, at the right time, throughout the customer journey, and as a result, sell more efficiently
Key points for being a sales enablement organisation
- Has a higher deal value - above 1000 USD.
- Has considered purchasing, buying is not made in one quick transaction
- The human being is still important in the sales process
- Decisions are not mainly made on price
Top 3 tips to get started with Sales Enablement
- Run a survey to gain input on current satisfaction levels and to seek input on what needs to change before just following your own plan
- Make sure to identitet what content you have today, whether it's being used and then to determine what you need to create
-Create KPIs unique to sales enablement like onboarding time per rep, NPS for sales reps, deal time by ACV etc.
Let's stay in touch!
Subscribe to GetAccept's monthly newsletter packed with sales trends and tips, product releases, invitations to special events and webinars — and more! Zero spam. Unsubscribe at any time.