GetAccept x Hubspot
Take a closer look at how we work with Hubspot and what value we can give you. If you want to know more - don't hesitate to contact us →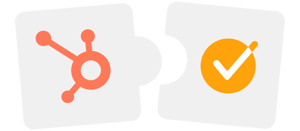 "The best thing about GetAccept is that it is very EASY to sign contracts and other documents, both internally and externally. Earlier, the process could take a week, now it's done within a day. The record is 10 minutes!"
Shared customers




Partnership
We share the one and true passion - sales! We both aim to be leaders in our separate niches with a mindset to always strive to be better and deliver more value to our customers. We love to inspire and share our thoughts about growth and an efficient customer-oriented sales process.
Integration
• GetAccept has a Chrome plug-in that lets HubSpot CRM users send documents to prospects directly from the HubSpot CRM.
• Track and follow how your prospects engage with your documents, without leaving the HubSpot CRM environments.
• Gain full control of the entire sales process, streamline your workflows and give yourself and your sales team more time to focus on the next deal.
• Make it easy for all parties to close a deal with simple and secure, and legally binding electronic signatures, directly from HubSpot.

Value Together
HubSpot and GetAccept both have a strong belief that a customer-oriented buyer journey is key to shorten the sales cycle and increase customer satisfaction. With HubSpot flywheel focus combined with both HubSpot and GetAccept tracking possibilities, you will always be one step ahead to deliver spot-on insights to your customers. Use the insights to increase the engagement and continue being personal during the whole customer lifecycle enabled by two customer-oriented tools.
See our integration
Turn prospects into customers, today
GetAccept is with you all the way! Understanding where you are in your digital transformation is the first step. Contact us and we will find a solution together.
HubSpot integration
HubSpot and GetAccept will simplify the life of every sales team. Look at this demo video to see how to create and deliver a send-out in HubSpot
About HubSpot
HubSpot is a leading growth platform with thousands of customers around the world. Comprising a Marketing Hub, Sales Hub, Service Hub, and a powerful free CRM, HubSpot gives companies the tools they need to grow better. HubSpot was founded in 2006.