GetAccept x Freshworks
Take a closer look at how we work with Freshworks and what value we can give you. If you want to know more - don't hesitate to contact us →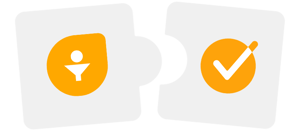 "We were looking for a solution to allow us to use videos to engage prospects, send trackable sales materials, forward proposals, and gather signatures on contracts all within Freshsales CRM. GetAccept was the answer."
Shared customers


Partnership
Freshsales and GetAccept have a strong partnership, GetAccept being the first combined Sales Enablement and e-signature tool integrated with Freshsales. We love hosting events together and to share our experience and insights within sales.
Integration
• Powerup your Freshwork with GetAccept's document tracking, sales automation, and electronic signatures features.
• Create and send GetAccept proposals and contracts directly from Freshsales CRM.
• Get important push notifications when prospects are reading your proposals, contracts and attachments.
• Make it easy for all parties to close a deal with simple and secure, and legally binding electronic signatures, directly from Freshsales CRM.

Value Together
Empower your sales team with GetAccept's possibilities to engage, track and sign documents directly from Freshworks CRM. Provide your sales team with the best possible conditions to work efficiently. With Freshsales and GetAccept combined you can be certain all your deals will be followed up, and supported by automated workflows. The two solutions combined will ensure that your sales team always stays focused on the right deals.
Turn prospects into customers, today
GetAccept is with you all the way! Understanding where you are in your digital transformation is the first step. Contact us and we will find a solution together.
Rescue isolated prospects
Dailius Wilson from GetAccept hosted a webinar together with George Hackett and Teja Kinger from Freshsales titled, 'Rescue Isolated Prospects'. In this webinar, we discussed how to dramatically increase your win rate and implement a world-class sales process.
About Freshworks
Freshworks believes in your business and that everyone deserves a better software - a software that's ready to go, easy to setup and use, and requires minimal customization. All of Freshworks products live up to this promise and are backed by Freshworks world-class support. Today ,Freshwork is trusted by over 40,000 customers.