Favourite functions —
Native Salesforce integration | Real-time insights into buyers' activities and intent
Background
Goodlord is a rental technology platform that works with thousands of letting agencies across the UK. It works alongside the agencies' CRM to help agents manage the entire tenancy process in one place, from sending the offer letter through to rent collection.
Goodlord first chose GetAccept for its sharing and e-signing capabilities in 2017. In the past five years, GetAccept has been an active part of Goodlord's digital transformation journey, continuing to support as the business scales.
Currently, Goodlord is using GetAccept and its Salesforce integration to cover the whole journey from generating contracts and sharing them with buyers to tracking engagement and e-signing. It's not just sales that benefit from the integration. GetAccept is also used by other teams at Goodlord and Vouch, a Goodlord company.
Key Challenges
Previously, Goodlord used two different platforms to create, send, and sign contracts. They used one document creation platform integrated into Salesforce to create templates and contracts. Due to the limited functionalities of the platform, they had to download the contract as a PDF and upload it to another platform to get it signed.
This created misinformation between the two systems and slowed down the sales process. The sales team had to make changes in both platforms every time they needed to amend a contract during the negotiation process. It was also hard for them to track recipients' activities and their buying intent after they sent the contract.
To improve operational efficiency, Goodlord was determined to choose one tool to cover the whole sales process, provide insights along the way, and help them stay on top of deals.
To be more efficient, the Goodlord team was searching for a tool that could cover different stages in the sales cycle — and it's easy to use and implement. After evaluation, GetAccept outshined the competitors with its intuitive interface for creating templates, powerful Salesforce integration, and dedicated support from the team.
With the native Salesforce integration, teams can create, send and track proposals and contracts directly within Salesforce, enjoying higher efficiency and better results without learning a new tool.
Over the years, Goodlord has adopted more features and introduced more teams to work seamlessly within Salesforce using GetAccept integration.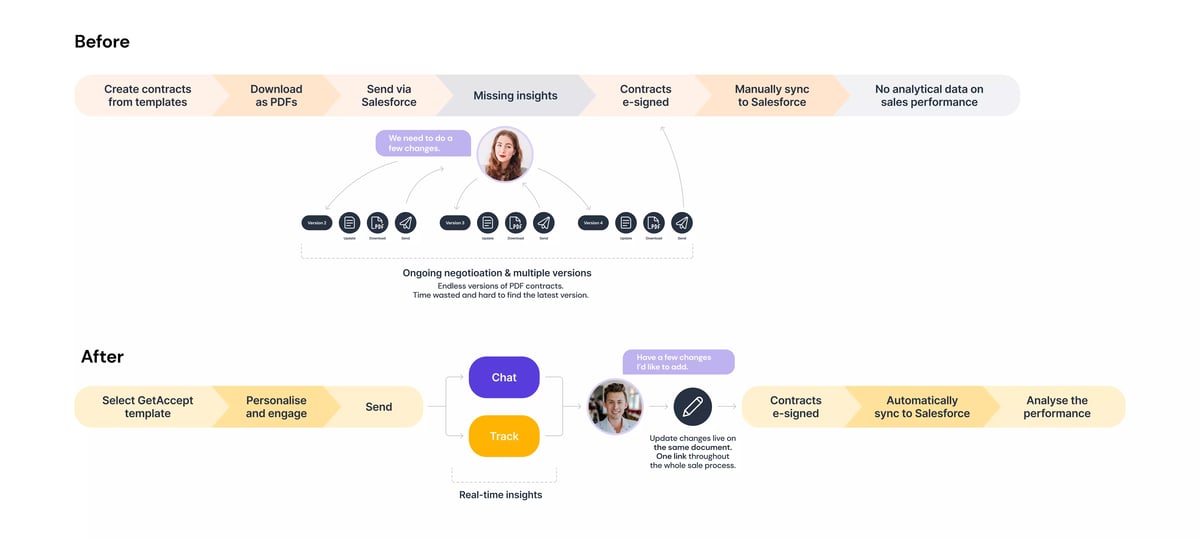 Dynamic contracts with a modern look and feel
Compared to the previous templates, contracts built with GetAccept look cleaner and neater. When sending out contracts, Goodlord sales reps start by selecting a pre-made template within Salesforce. All relevant data is automatically pulled from Salesforce and displayed in dynamic formatting in the document, whether company names, buyer's names, billing information, payment plans, or complicated product line items.
The team doesn't have to worry about text overflowing from the relevant space, broken layouts caused by character limits, or extra white spacing that makes the pricing table look odd.
Close deals faster with real-time buying intent
GetAccept's engagement features, tracking abilities, and powerful Salesforce integration make it easier for the Goodlord team to follow up on ongoing deals and get them signed faster.
After sending the contract, they set a smart reminder that automatically pings the recipients again if they haven't done anything.
At the same time, every time the recipients view, review, sign, or share the contract with other stakeholders, the teams receive a real-time notification — both in Salesforce and email.

During the negotiation process, the sales team can communicate with buyers in the chat section and get a more instant response. It's more efficient than trying to get everyone involved in a meeting or on a call.
Improved Salesforce data integrity
The GetAccept team has built 10 out-of-the-box Salesforce flows for Goodlord to automate repetitive tasks and maintain data integrity within the Salesforce environment.
Once the sendout is signed, the deal's status changes to "Closed", and the signed contract is uploaded to Salesforce automatically. This makes sure that the finance team can always find the information they need to send out invoices from Salesforce.
The automated process also helps reduce manual tasks and avoid missing information.
Fast implementation for the whole company
Since 2020, Goodlord has acquired several companies and introduced GetAccept to different departments and teams. Each team owns a GetAccept sub-entity, so they can create unique templates and dashboards to better analyse their team performance.
Thanks to GetAccept's customer success team and intuitive user interface, it only took one training session for the sales team at Vouch, a company acquired by Goodlord, to start using GetAccept's Salesforce integration.
Currently, the sales, customer success, and insurance teams at Goodlord use GetAccept to upsell.

The GetAccept team continues discovering more functionalities to help them fulfil their mission – making renting a property as easy as shopping online.