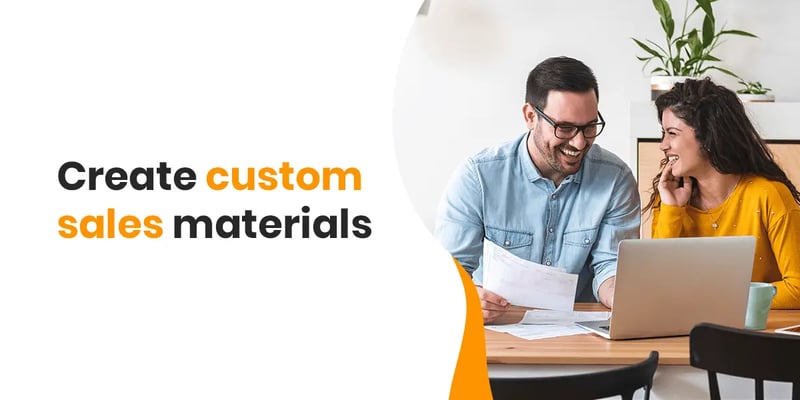 Personalization in the final product of your marketing materials can bring excellent opportunities for building deeper prospect relations. Create personalized branded sales materials for your organization that will impress your prospects, increase customer retention, and help you close more deals. Let's begin with how your company can benefit from creating custom marketing and sales materials for your prospective clients.
Benefits of custom marketing materials
A touch of personalization can bring significant benefits to any company's sales strategy. Large and small companies from various industries have found success with custom marketing materials. Here's how your business can benefit, too.
Helps increase conversions
Timely materials produced with the right level of personalization create more and better opportunities for conversion throughout the buyer journey. As your prospect's purchasing habits increasingly move online, it's essential they feel you genuinely understand them and their needs. Companies that adapt their sales process to align with the buyer journey are more likely to be seen as trusted partners capable of helping customers reach their goals.
When you push the communication and signature workflow into the digital sphere, you also create new circumstances for personalized sales materials. Advanced tracking and analysis of how prospects interact with your content allow you to follow up more efficiently. See the progress of active sales and send automated custom reminders, so you don't let deals stall or slip away. Timely, personalized follow-ups will help accelerate your business — from the first touchpoint with a prospective client to the close of a sale or contract.
Boosts customer loyalty
Custom sales materials create more opportunities to form strong relationships with prospects and customers. A bit of personalization can help build these relations far quicker than "one-size-fits-all" materials. This is because marketing materials are more likely to float under the radar when the content is based on ideal demographics only. The content lacks the spark needed to gain and keep a prospect's interest.
Customized branding gets you noticed. A memorable takeaway targeted to the customer will keep your business relevant in their mind. While most companies use offers and landing pages focused on the ideal customer, these materials often lack the level of personalization required to boost lifetime customer loyalty. To truly personalize your materials, you may need to build several slight variations of an offer. The precision and control afforded from micro-targeted content will help you show an immediate understanding of your customer and may even raise your sales.
Motivates sales cycle engagement
Personalized sales materials mean your content has greater importance to each customer. The typical user won't care to send their thoughts or ask questions about professional marketing materials that don't matter to them. Any interactive formats that can impact your sales — like video or chat — will only help if people engage.
Prospects are more likely to use "live chat" widgets and other engagement features when content piques their curiosity. This engagement leads to more feedback and more data for your business to use when designing future marketing materials. Spark a conversation with automated chat following a proposal, or allow prospects to contact you via real-time chat with any questions about your most recent offer. These engaging communication features are more likely to increase your hit rate when the content is tailored and relevant — bringing you even closer to a deal.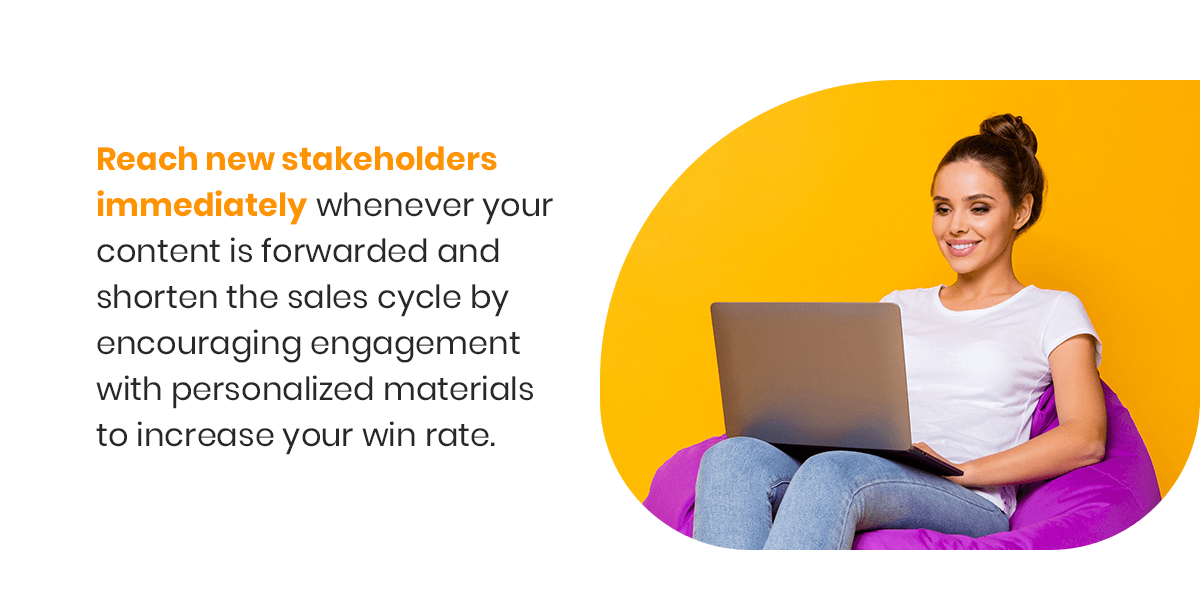 Builds consensus with all stakeholders
The average purchase decision involves 6.8 stakeholders, making it crucial to identify and engage all decision-makers with truthful information customized to gain their interest. See the progress of your active sales with advanced document tracking and analysis, including which stakeholders have sent, opened, reviewed, and signed your document. Reach new stakeholders immediately whenever your content is forwarded and shorten the sales cycle by encouraging engagement with personalized materials to increase your win rate.
Additionally, smart AI can accelerate your deals with scheduled activities like customized automatic reminders. Be informed of the latest activities on your document so you can follow up efficiently and punctually. Secure electronic signing methods avoid the hassle of paperwork, allowing stakeholders to sign from anywhere. Globally trusted standards ensure eSignatures are safe, quick, and reliable.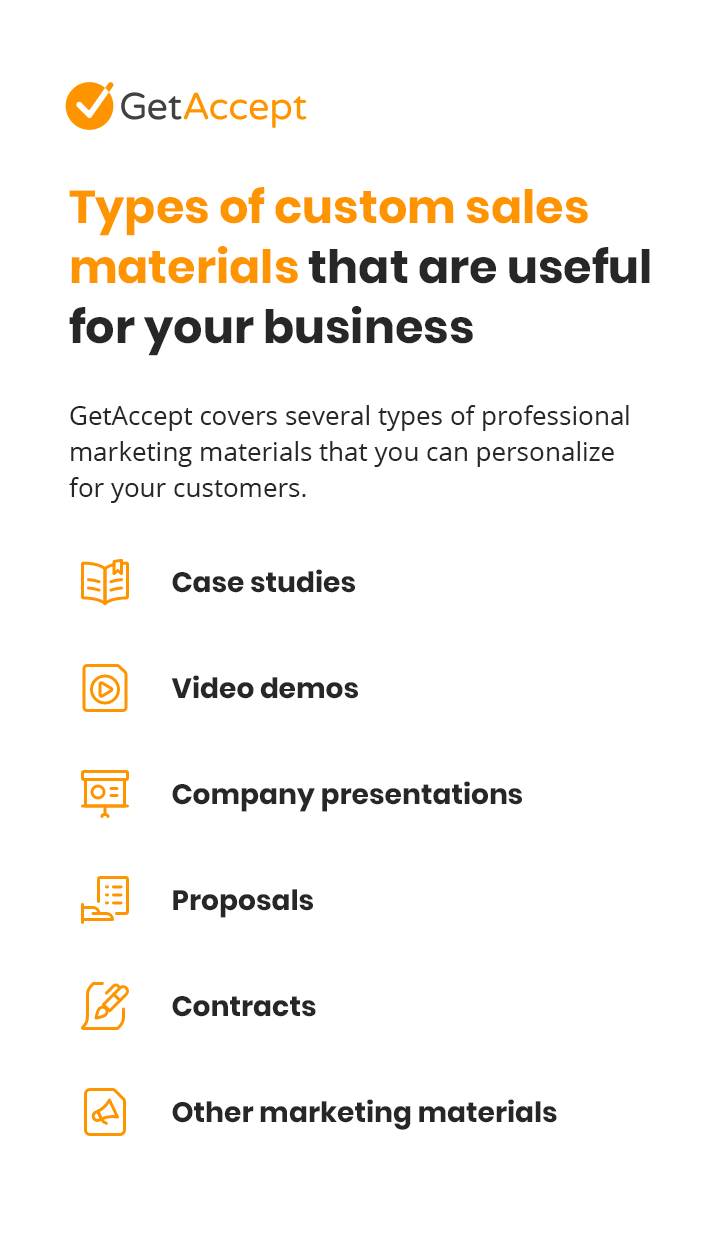 Types of custom sales materials that are useful for your business
Impress your prospects with all-in-one content creation. Personalization raises the hit rate by 30% compared to documents without this level of attention. From the first interaction all the way to a sealed contract, GetAccept covers several types of professional marketing materials that you can personalize for your customers.
Case studies
Create custom sales send-outs to gain and keep a prospect's interest. Personalizing your customer send-outs helps your sales team close deals faster. Case studies are easy and quick to share with an entire team or a group of higher-ups who may need further convincing before a contract is signed. Propel the deal forward by attaching your latest case study to the send-out for users who would appreciate a more in-depth, detailed resource.
Video demos
Dynamic video content allows your sales team to communicate their value uniquely. Show prospects your true self and humanizes your sales process, all while emphasizing your proposal's key points.
Video demos are a primary tool for success. Self-recorded videos personalize the customer experience, building trust instantly and making your business more personable. Meanwhile, corporate-wide videos and customer testimonials help strengthen your content and enhance the points that influence the deal.
Company presentations
Engage prospective clients with company presentations that emphasize the content they want to see. Similar to a company profile, company presentations allow you to represent the best of what your business offers, but with a more personal display of the information.
While personalization is vital to the final product, you want to communicate the following items in every company presentation:
The company mission
Overview of services or products
Relevant financial growth data
Significant accomplishments or case studies
Corporate information
Because engagement is more likely when the materials are meaningful to the customer, consider adding a real-time chat alongside your presentation. This feature can personalize the customer experience and encourage prospective clients to communicate with you instantly. Keep the presentation brief and authentic to your brand by highlighting only the necessary business details that matter to the prospect's goals.
Proposals
Effective proposals must be communicated in a compelling and timely manner. Your proposals have a limited direct-selling window, which can sometimes make customization seem like an extra step you can't afford to take. In reality, personalized customer interactions are essential for building trusting relationships.
By creating and sending proposals through integrations with Salesforce CRM, you can optimize workflow for your sales team through a range of engaging communication tools in just one environment. This solution enables you to create custom proposals that humanize your business without taking away from your time spent on other administrative tasks.
Contracts
With GetAccept, you see when your contract has been downloaded, opened, reviewed, commented on, and more. This knowledge helps you give each customer a personalized experience. You no longer need to wonder where the contract is held up, and in turn, you can offer prospective clients better assistance should there be a stall in the deal. Ask valuable follow-up questions relevant to where a customer is in the process.
You can also give your customers the luxury of e-signing their documents from anywhere. Secure electronic signatures speed up and simplify the signing process so that contracts are sealed faster, too. All stakeholders can sign from wherever they are without the added hassle of printers, scanners, and fax machines. Specific signing procedures for multiple signers and approvers can also be upheld digitally, thanks to custom signing sequences for your contracts.
Other marketing materials
Create various custom sales send-outs to boost the number of personalized touchpoints in the sales process. For example, thank you cards are a professional way to share sincere appreciation for a customer or follow up with a prospect. Consider sending a physical or digital thank-you card after a proposal meeting or close of a sale or at the end of a successful quarter. In addition to the "thank you," your cards should include something personal to the prospect or customer that lets them know you understand their goals.
Personalize other sales materials like catalogs and brochures to list products and services relevant to the customer. Custom letterhead, envelopes, and white papers may seem like a simple approach compared to other marketing materials, but these targeted documents can significantly impact a prospect's view of your business.
5 tips for creating custom sales materials
Creating personalized branded sales materials takes research, creativity, and a deep understanding of your business. Here are some tips to help you create custom marketing materials.
1. Check out past materials
If you've created printed or digital marketing materials before, referring to this past content can significantly boost the design of new content. Save time, money, and resources by reworking your past content into something valuable for current prospects.
First, gather your previous marketing materials together. You'll want to consult your sales team about what worked and what you can do to improve this content. If your brand identity or company mission has changed, you may need to adapt your previous materials to reflect your new objectives. Consider wording, imagery, layout, and physical materials when deciding what to reuse or update.
For companies that are creating marketing materials for the first time, consider effective methods that have worked for others, such as:
Establishing a clear call to action (CTA) for each of your marketing materials: Your CTA could be visiting your website, contacting your sales team, or connecting with you on social media. Place your CTAs at the bottom of your marketing materials to grab the reader's attention after they've already absorbed the rest of the content.
Adding deals and deadlines to incite a sense of urgency: Offers with time limits help prompt customers to take action, especially when the content is tailored just for them. Set deadlines for your discounts and promotional codes. You can also track codes to see how successful your sales materials were in encouraging prospects to make a purchase.
Designing simple, clean, and well-organized content that looks professional: Complex text, images, and colors may overwhelm readers and hinder your message. Your brand identity and company mission need to reach your prospects. Short text, simple layouts, and cohesive imagery are crucial. Choose wording that prompts the customer to act.
2. Focus on branding
Consistency is crucial for professional marketing materials. Your brand must be recognizable across all sales materials. However, this doesn't have to limit your creativity. Start by placing your logo on all your marketing materials. Then, find ways to personalize your content and interest your prospects.
Rather than making everything identical, utilize a single approach across your:
Logo and iconography
Font or font family
Color palette
Heading
Slogan or strapline
Brand-oriented words or phrases
Illustration or design style
Key graphics
Create a style guide for your team that highlights the essential design elements for all your sales materials. When combined, these elements should represent one unique brand — your brand.

3. Ask what current customers found engaging
The most effective sales enablement material is engaging and timely. Companies must understand that most customers will have no reason to put effort into discovering more about a product or service. Engagement occurs when your prospects take a personal interest in your content.
Asking what current customers have found engaging about your business is a great way to inspire future marketing materials that get you noticed. There are two ways to achieve this:
Encourage customer feedback. While this information is ultimately the most valuable, it can be challenging to get quality responses if engagement is already low with your marketing materials. Integrate CRM or social media listening tools to help identify what your typical customers value most.
Step into your audience's shoes: Consider what would entice you to look at your materials. Focus your content on the kinds of benefits that might draw you in. Then, work to keep consumers' attention with a fantastic product or service. Widely applicable advantages will entice more visitors.
What would convince your prospects to take action? Let your current customers' feedback and your own answers to this question become the messages you lead with concerning your marketing. With time, you'll begin forming a tighter understanding of what works for your potential clients.
4. Draw in prospects with video
Self-recorded videos, corporate videos, and customer testimonial videos can serve your business in numerous ways. For example, self-recorded content provides a more personable demonstration of what your company can do. Corporate videos add professionalism and cover key points needed to drive deals forward.
Video testimonials bring out strengths and benefits from the customer's perspective. While self-recorded and corporate videos are great for educating prospects about what you offer, video testimonials from unbiased customers provide positive proof of the benefits in action. Customer testimonials can also reveal different aspects you should advertise, leading to more informed custom marketing materials.
5. Use templates to save time
Creating custom sales materials for your customers doesn't mean you have to start from scratch. Hiring an independent designer for every marketing material you make would take time and money — expenses you can use to acquire new customers. Templates are easy to reuse and help prevent your team from redoing unnecessary work.
With GetAccept's editor tool and content library, you can save existing documents as professional templates and leverage them across your entire team. Create complementary templates for different assets to help maintain brand consistency. Use our free proposal templates to streamline as much of the process as possible, so you can focus on personalizing the content that truly matters for closing deals.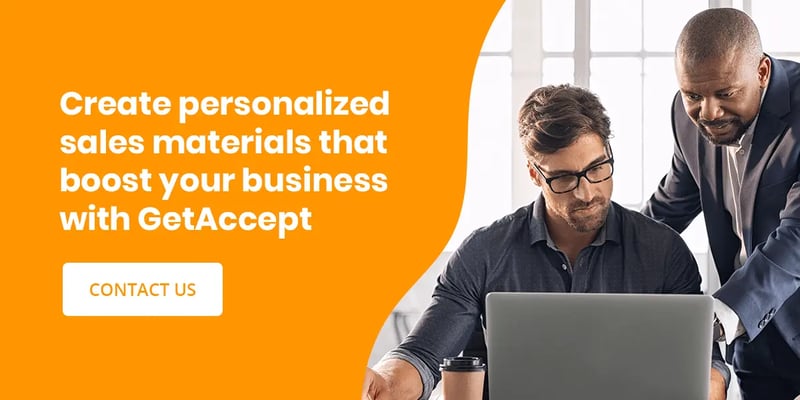 Create personalized sales materials that boost your business with GetAccept
GetAccept offers an all-in-one sales engagement platform dedicated to helping companies from contract to close. Create custom sales materials for B2B sales and enhance your customer experience with features like video, text, custom templates, smart AI, analytics, and more. Want more tips for improving your sales collateral? Sign up for the GetAccept Newsletter!