Sales are the lifeblood of your business. Without a steady stream of leads and an efficient sales cycle, it's only a matter of time before your business goes bust.
But don't worry. With the proper systems in place, you can streamline your sales cycle and close more deals by doing less work.
Does this sound idyllic to you? That's where sales content management comes into play.
From speeding up the time it takes to close a sale to improving the lead-nurturing process, sales content management makes a world of difference.
In this post, we'll share how optimizing your sales content management can help improve your sales cycle and boost your bottom line.
Let's dive right in.
What is sales content management?
Before getting into the nitty-gritty details, it's important to understand the basics of sales content management.
Sales content management focuses on the creation, storage, organization, and delivery of materials that salespeople use throughout the different stages of the sales cycle.
With an effective sales content management system in place, your salespeople can quickly and easily access content that's relevant to the sale at hand.
So what does sales content entail?
Sales content is one of the most important aspects of a modern sales team. It helps you tell your story to clients so they understand why they should buy from you. You use sales content to create new leads, retain existing customers, and provide personalized experiences.
Here are some types of content you might find in a sales content management system:
Cold calling scripts
Email templates
Slide decks
Research reports
Case studies
Webinars
Training videos
Sales playbooks
Onboarding documents
If your sales content isn't well organized — or if it doesn't exist — your entire sales team might struggle to turn a lead into a paying customer.
That's why optimizing your sales content management system is so important. It allows your salespeople to spend less time searching for content and more time focusing on closing deals with customers who are actively searching for a solution to their problem.
5 benefits of optimizing sales content management
Now that we have the basics down pat, it's time for the meat and potatoes.
Let's look at the five benefits of implementing and optimizing a sales content management system in your organization.
1. Enhance the productivity of your sales team
According to data from a McKinsey Global Institute report, salespeople spend 61% of their day on non-revenue-generating tasks.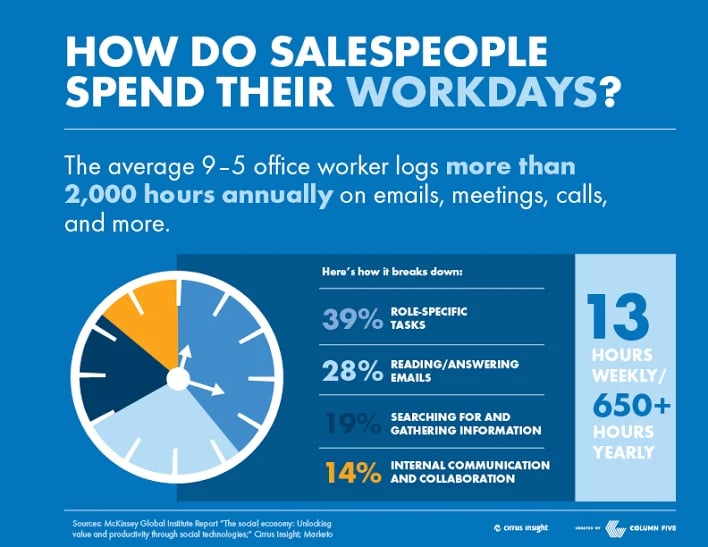 Considering salespeople are hired to bring in sales, that statistic is pretty astonishing.
Taking a closer look at the data from the same McKinsey study reveals that salespeople spend 19% of their day searching for and gathering information.
Thankfully, you can help your sales teams do their jobs more efficiently with the proper implementation of a sales content management system.
For instance, the sales team can focus on closing more deals and spend less time on administrative tasks like searching for slide decks and training materials.
Taking this burden off their plate gives them 1.5 hours of their eight-hour workday back to focus on role-specific tasks like nurturing leads, closing deals, or building relationships. That's a huge win.
2. Reduce the time it takes to close a sale
If you're looking to improve the efficiency of your sales cycle, it's helpful to conduct an audit to learn how long it takes for your team to close a sale. The audit will highlight bottlenecks and shed light on what areas need attention.
It's not just about minimizing the time it takes from initial contact with a prospect to a conversion — it's also about reducing time spent on activities that don't directly contribute toward closing a deal.
For example, suppose 50% of salespeople spend 25% more time writing copy or searching for the appropriate case study because they're using inefficient tools or processes. In that case, this will undoubtedly impact their ability to close deals on time.
At the end of the day, proper sales content management systems help salespeople find the right content at the right time.
To take it up a notch and further reduce these unnecessary delays, consider creating standardized templates. Templates enable faster creation and modification of documents without sacrificing quality control or consistency.
3. Provide a personalized customer experience
Personalization is key to closing more deals.
As Salesforce research shows, 75% of customers expect the companies they buy from to provide personalized experiences, anticipate their needs, and provide relevant solutions.
An organized library of content lets your salespeople find content that matches the buyer persona they're talking to during each step of the sales process, making their message more personalized and effective.
The odds are that your salespeople connect with dozens of customers daily through phone calls, emails, and face-to-face meetings. When using email, make sure to follow the latest phishing statistics, to ensure your messages are sent properly.
But it can take a lot of work to keep track of the sales content you send each customer and how they interact with it across the buyer's journey.
With a content management system, your salespeople can track the buyer's engagement with each piece of content to improve future communications with clients. What's more, they can use apps like Shift to manage emails more efficiently and avoid having their content land in the spam folder.
4. Improve the client onboarding process
A smooth onboarding process is vital to a successful sales funnel. The onboarding process is the first touchpoint for a new client, and it's your chance to prove that you're the right fit for them.
Here's what a typical onboarding process might look like:
Send a

welcome email

with a pre-recorded webinar or case study.
Share an account setup guide to access your custom dashboard for tracking milestones.
Follow up with an email thanking them for getting started.
Weeks later, you reach out with cross-selling opportunities.
Share a customer satisfaction survey as you near the end of the contract (to address any issues and for the best chance of securing a contract renewal)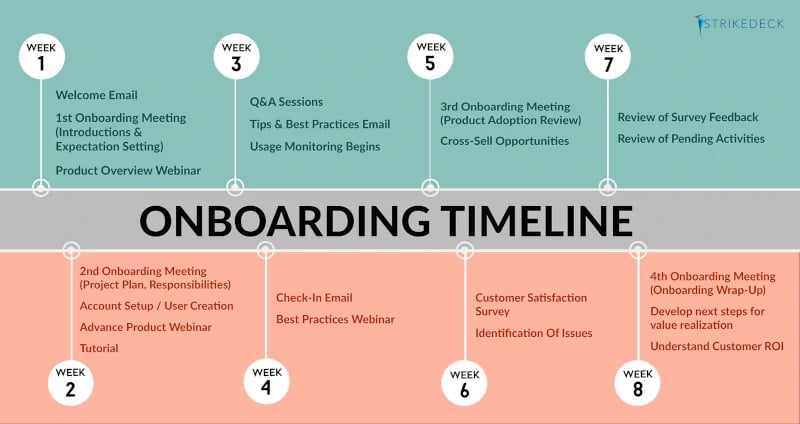 There's quite a bit of content to share during the onboarding process. And one wrong move could be all it takes to turn a good customer experience into a bad one.
The last thing you want is to hurt your chances of renewing a contract or missing out on future word-of-mouth referrals.
5. Avoid wasting valuable content
Content is crucial to your marketing, sales, and customer success strategies. So you want to make sure you have as much content as possible.
Research shows that 76% of organizations approach content management strategically, but only 59% have a documented content strategy. That said, 41% of businesses may need help handing over their systems to new employees, making sure that the process is followed, or determining which aspects of the strategy are no longer working.
Sales content management systems help organize and ensure that all content within your organization is available and can be seen and used by your sales team.
If your sales team doesn't end up using the available content, it's time to discuss with your marketing team to determine if any tweaks are required.
Wrapping up
Gone are the days of tedious administrative tasks taking up most of your sales rep's day.
A content management solution lets you find, organize, and share sales collateral, so your salespeople can spend less time searching for information and more time selling.
Keeping your sales content centralized makes sure that the correct information is always available to the right people.
And most importantly, you'll have more time in the day for closing deals. Can you already hear the sales rolling in?