Digital transformation has been fast-tracked.
Today, more and more businesses are making the shift from traditional paper-based signing methods to safer and more secure methods of signing important documents digitally.
That includes electronic signature solutions.
According to a report by Lunarpen, businesses that go paperless reduce their processing errors by an average of 90%.
The entire market is projected to grow to $16.8 billion by 2026 – but there's more to going paper-free than choosing a platform.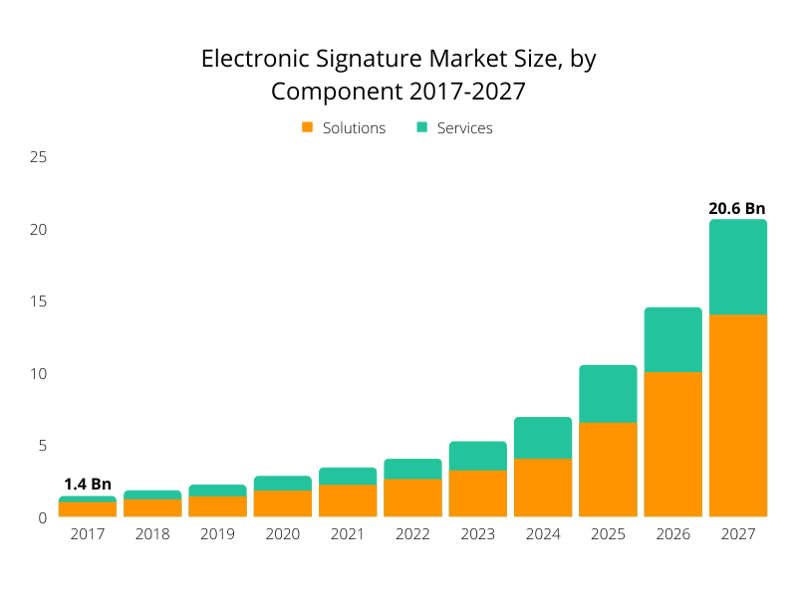 Uncertainties can hinder the use of e-signatures and often limit the confidence of professionals and individuals in their use. A lack of employee training or internal procedures can cause costly mistakes and negatively affect your customer relationships.
Having inconsistent processes will turn clients away and seek out the services or products from your competitors.
Understanding some electronic signature best practices will make sure you get it right every time by building trust and exceeding your customers' expectations.
Let's deep dive and learn seven electronic signature best practices that you can embed in your business now.
1. Check for compliance certificates
Your business' security is at risk if you use e-signature software that isn't compliant with legislation. Your electronic signature software should clearly show how they comply with laws and regulations.
Compliance under the E-Sign Act 2000 and other electronic legislation and regulations, such as eIDAS and UETA, requires e-signatures to meet specific terms and conditions:
Give consent to do business electronically.

All parties signing must agree to sign documents electronically.

Association of signature with the record.

Signers must make a visible mark or statement on the electronic document. The signature must be connected to the document being signed.

Intent to sign.

Electronic signatures are only valid if the signer intended to sign. Signature requests need to be declinable.

Attribution

. Whether a name or a unique mark, the signature must easily show who signed the document.

Set out rules.

eIDAS establishes the legal framework for the provision and effect of electronic signatures.
Check that each digital signature software on your shortlist complies with laws and regulations. Your legal team can help conduct a risk assessment that ranks documents as high, moderate, or low risk.
Once you've identified any potential risks, take steps to make sure your documents are legally binding. It's the best way to secure your business from invalid or fraudulent signatures and cyber criminals.
2. Develop a robust, uniform electronic signature policy
Do you have a separate e-signature policy that all team members and customers are aware of and comply with?
Without a clear policy in place, there's a risk that the electronic signature processes being used may not be compliant, and electronic records are not supported—or worse, not enforceable.
For example, some legal documents are unable to be signed electronically, such as wills or deeds. These must be witnessed by an independent third party and are unable to be signed with an electronic signature. If those kinds of documents are signed by an electronic signature, your document may be invalid.
When writing your electronic signature policy, keep these things in mind:
State its objective.

Linked to regulations and legislation, for example, eIDAS regulations.

Summarize its content.

State the purpose, scope, background, and context, such as who the policy applies to.

Share it formally with all team members and customers.

After all, there's no point in having an electronic signature policy if your organization or customers don't know about it.

Define who can sign what documents

. Your policy should explain their role(s), when documents should be signed, and information about secure storage.

Explain familiar terms and definitions.

For example, defining the difference between electronic and digital signatures.

Best practices to implement

. You may want to include an opt-out clause. Signers should be given an opportunity to opt-out of signing an agreement electronically. Your policy should show the procedures to follow for signers who prefer to sign an agreement by hand.

Links to any existing company policies where appropriate.

For example, data protection and GDPR.

Review and evaluate your policy periodically

. Invite feedback from electronic signature users and customers and update your policy to reflect changes and organizational improvements.
Once you have developed your electronic signature policy, share it with your team using your preferred communication platform, for example, slack or email.
Invite staff feedback and encourage all users to suggest improvements. Make sure new hires are aware of and read your policy. Otherwise, you won't have a consistent approach across your organization.
Finally, you will want to know if your policy is effective. Check this out by random sampling. Periodically, choose a document and audit the whole process. Feel confident your policy is working efficiently whilst driving forward continuous improvement.
3. Provide quality staff training
Whether you have a new hire or have existing staff, training your team on the right way to use your electronic software solution helps increase confidence and performance.
It also standardises the usage of electronic signature software across your organization.
Lack of quality training and poor communication in the workplace is one of the biggest challenges.
In fact, a report from Expert Market states that 86% of CEOs, educators, and employees say that ineffective communication and poor collaboration are "reasons for failures in the workplace."
When team members don't fully understand how to use your electronic signature processes and don't have access to quality training, they may start cutting corners or decide not to chase up that sales contract with a new customer.
Streamline your eSignature workflows and keep your employees and customers up to date with the latest electronic signature legislation. Embed best practices by reducing risks to your employees and customers, losing sales and personal data.
4. Check for an audit trail
Audit trails capture and store information about the delivery and signing process for each record presented–an important role when the authenticity of an electronic signature is in conflict.
For example, a document with a digital signature is legally valid, but that doesn't mean every digital signature is on an equal par if it's contested in a court of law.
In fact, a signature on a deed needs a little more attention and be witnessed. Statutory execution formalities mean it may not be possible to execute them validly using electronic signature platforms.
A case study from DocuSign highlighted a court case that rejected an argument that an electronic signature on an agreement had been forged, where DocuSign e-signature audit logs showed it had been viewed and signed the agreement through her DocuSign electronic signature account.
Check your e-signature software has an audit trail or certificate of completion that shows:
A timestamp indicating when signatures occurred

The signer's IP address

The signer's name

The signer's email address

Detailed documentation of any changes made, including when who, and how.
Audit trails give you proof of transactions with documentary evidence that can't be tampered with. Make sure your process of signing a document is valid, secure, and compatible with legal requirements.
5. Offer multiple signing options
Does your business value the diversity of all customers?
Digital inclusion helps users with issues related to digital understanding and access to technology regardless of ability. Offering multiple electronic signature signing options is no different.
A study found that inclusive companies are 1.7 times more likely to be innovation leaders in their field.
Make sure staff have the right skills and capability to recognise and respond to the needs of your customers. Flexible customer service and communications will help customers understand what to do when they receive a document for signing.
Your client may prefer to opt-out of signing a document electronically. In that case, give them the option to decline signature requests.
Similarly, in-person signing allows customers to sign your template links on the spot using a tablet or mobile device. In fact, a mobile web browser is a preferred device for opening almost 30% of all agreements.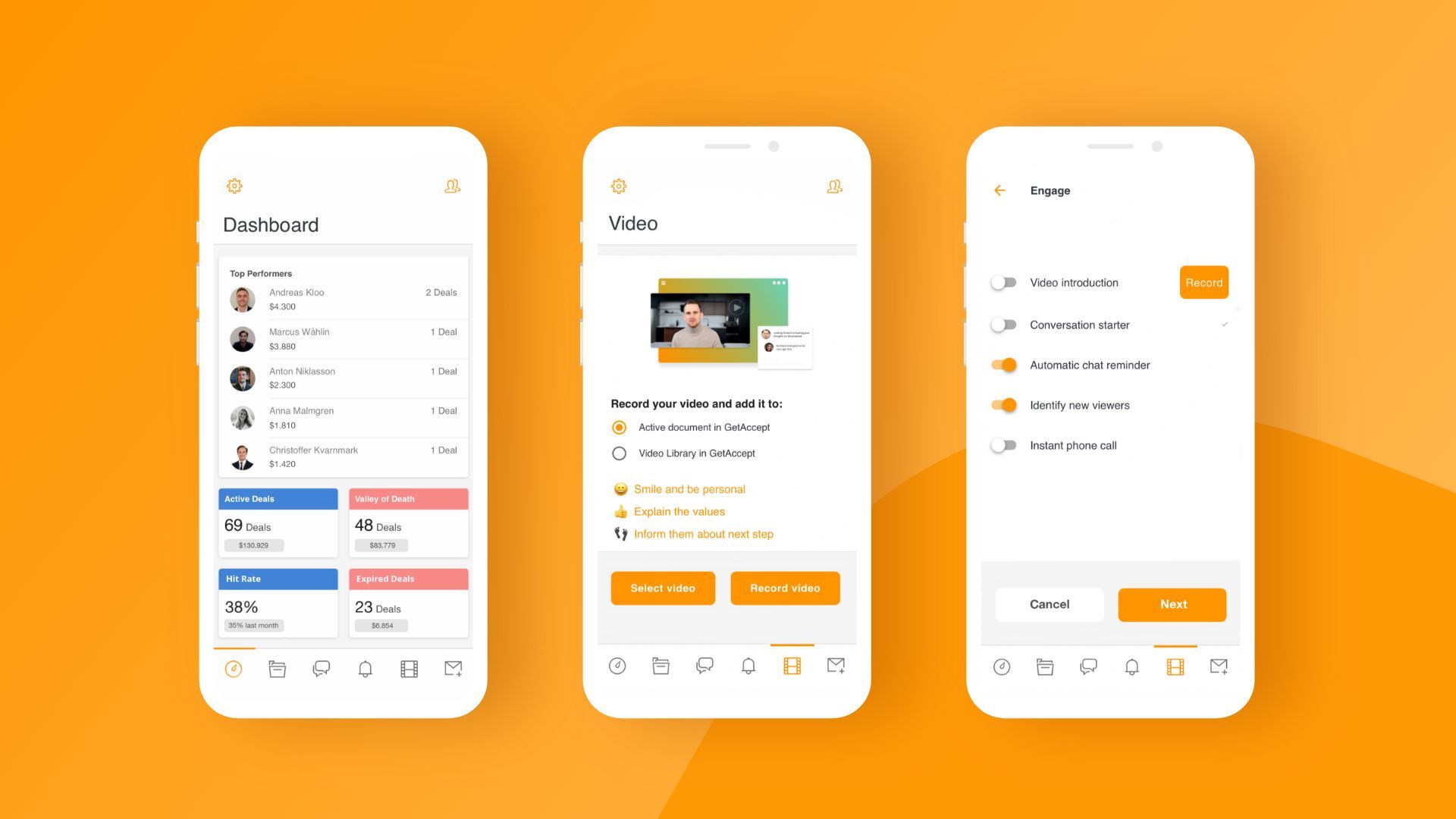 So, make sure you take advantage of these preferences with multiple signing options for vulnerable customers so that these groups can adopt a method of signing that suits their individual needs.
6. Use as an opportunity to include additional information
Recent studies show that 65% of businesses say generating traffic and capturing leads are their biggest marketing challenges. Almost three-quarters say that converting leads into customers is their top priority.
Identifying opportunities to add relevant and timely information is a clever use of a marketing tactic.
Your electronic signature platform can be used in many different ways to promote and scale up your business. For example:
Include a call to action.

Encourage your customers to check out a new product or read a related blog post.

Add links to your social media pages.

Build trust and credibility by connecting with potential customers, answering their questions, and sharing product knowledge.

Promote your rewards programme or subscription service.

Retention marketing

increases the likelihood of customers returning. Encourage your customers to sign up for a loyalty scheme with special offers or discounts.
Effective use of using your e-signature solution for ongoing promotion can help retain existing customers and win new ones.
7. Evaluate and measure success
Perhaps one of the most effective best practices of all is to factor in evaluation processes for how you're using an electronic signature platform.
Since 86% of customers are likely to switch companies after just one bad experience, working out whether your processes are working is vital.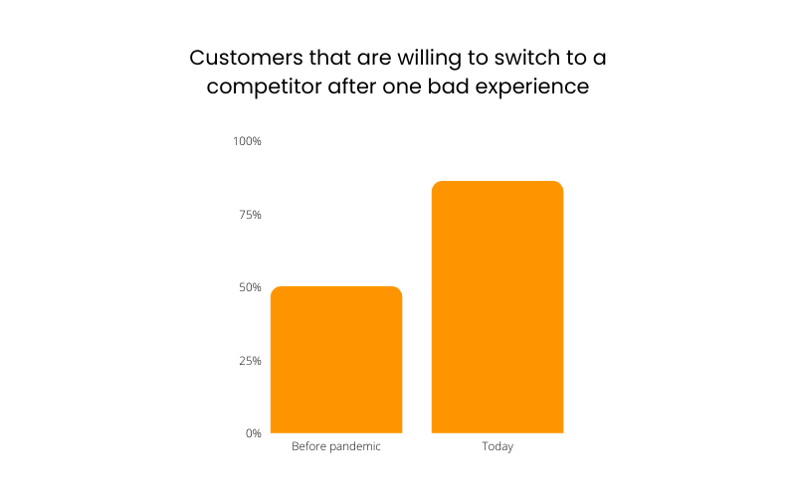 The evaluation seeks to assess how well a particular service or process is achieving its intended aims.
Take a step back and evaluate how your e-signature software solution is working – it will identify any issues and tackle problems as they arise.
Ask yourself:
What are our customers' pain points using the eSignature software solution?

How can we strengthen our existing customer relationships when sending documents for signing?

Did we meet our intended outcomes? For example, how many documents were signed within our agreed timeframe?

What mechanisms can we put in place to improve the buyer experience?
Evaluation can drive forward service improvements and gives the opportunity to adapt, improve, or get rid of anything that doesn't contribute to reducing workflows or costs.
Conclusion
Your electronic signature reflects your brand – use it as a marketing tool.
The seven best practices here will help you maintain consistent communication across your business and build trust and confidence with your team members and customers.
Embed these electronic signature best practices and get the very best out of your chosen software solution.
And if you're new to electronic signatures, check out GetAccept – where 3 out of every 4 proposals sent get accepted.
Sign up for our free electronic signature or subscribe to a paid plan today.